Two brief news reports plus Notes and links.


Sammy Ghozlan, founder, president and chairman of the BNVA. A retired French police captain and outspoken zionist, he is notorious in France for the number of complaints he has filed, mainly against BDS supporters, alleging 'racial hatred' and 'racial discrimination' by critics of Israel. The French state either supports or indulges his activities.

French court acquits boycott activists of hate crime
By JTA
August 18, 2013
A French court acquitted three activists charged with discrimination and hate crimes for calling for a boycott of Israeli products.
The correctional court in Perpignan, in southwestern France, last week upheld a recommendation from prosecutors that the activists be found not guilty for the boycott call made in 2010, the France 3 television station reported.
The activists — Bernard Cholet, Jeanne Rousseau and Yamina Tadjeur — called for the boycott during a protest at a shopping center in Perpignan and were charged following a complaint from the BNVCA anti-Semitism group.[ Bureau National de Vigilance Contre L'Antisemtisme]
The group to which the activists belong, Collectif 66 Peace and Justice in Palestine, supports a blanket boycott of all Israeli products as well as a "boycott only of products from Israeli colonies [in the West Bank]," according to a statement from 2011.
Prosecutors had said that even if the call were discriminatory, there was no evidence it was an incitement to hatred or violence, as stated in the original indictment.
The trial was suspended and resumed five times, four [of those] times because of appeals by the defendants that their prosecution was anti-constitutional.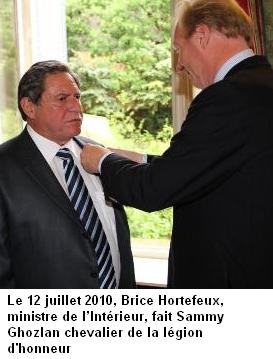 As well as state prosecutors taking up several of Ghozlan's charges of racial hatred, he was made Knight of the Legion d'Honneur in 2010.
France acquits activists over Israel boycott call
By The Local/AFP
August 14, 2013
A court in Perpignan, south-western France on Wednesday found three pro-Palestinian activists not guilty of discrimination and hate crimes, after they called for a boycott of Israeli products during a protest at a shopping centre.
The court in Perpignan upheld a recommendation from prosecutors that the three be found not guilty for the boycott call, made during a protest at a shopping centre in the southern city in 2010.
The activists were charged following a complaint from the BNVCA anti-Semitism group, which launched a series of legal actions against activists calling for boycotts of items produced in areas annexed by Israel following the Six Day War of 1967.
Prosecutors had said there was no evidence the boycott call by Jeanne Rousseau, Yamina Tatjeur, and Bernard Cholet was an incitement to hatred or violence.
"This is a recognition of our fight for peace and justice," Tatjeur told AFP after the ruling.
Wednesday's acquittal is not the first occasion in recent months that a French court has ruled in favour of pro-Palestinian activists.
In April, The Local reported how Air France was forced to pay €100,000 in damages for discriminating against a pro-Palestinian activist.
Horia Ankour had been attempting to travel to Israel to take part in the "Welcome to Palestine" campaign, which saw hundreds of activists seek access to Israel in a bid to travel to the Palestinian territories.
The nursing student was ejected from a plane in Nice, southern France, which was destined for Tel Aviv, after an Air France employee asked if she was Jewish, and she replied "no."
---
Notes and links
Who is Sammy Ghozlan [In French]
Some of the venomous rantings of Sammy Ghozlan against Barack Obama (who is trying to start a third intifada against all Jews, is a new Pharoah trying to enslave all Jews and against Richard Goldstone, from the EuroPalestine website.
Who finances Ghozlan and his BNVA? [In French]
Answer: the Verbe et Lumiere association, which operates under the auspices of the Simon Wiesenthal Center.
Summary of statement by Union of French Jews for Peace, UJFP
The "Bureau National de Vigilance contre l'Antisémitisme" [National Office of Vigilance against Antisemitism] is nothing to do with its name. It was created by Sammy Ghozlan alone, a political activist whose beliefs are wholly opposed to all forms of antiracism.
It is a lobby for unconditional support for all Israeli governments. He regards all criticism of the state of Israel as antisemitism. He uses threats and intimidation to try to prevent the denunciation of Israeli policies of colonisation, occupation, apartheid and ethnic cleansing. He tries to get all actions in support of Palestinian rights, especially BDS, treated as the criminal acts of racial discrimination and incitement to hatred and violence.
Trial Alima Boumediene-Thiery and Omar Slaouti
Gozlan loses his case against Alima Boumediene-Thiery (an Arab, Green French senator) and  Omar Slaouti. He had filed a suit against them (and others, including Stephane Hessel, Member of the Russell Tribunal for Palestine) for antisemitism. The court of Pontoise dismissed it on October 14, 2010.
In blow to Israel, French BDS activists acquitted of crime in calling for boycott
Ghozlan/BNVA loses case against 12 BDS activists, December 18th, 2011, by Ali Abuminah