Three articles here – from Haaretz, Ynet and Washington Post – plus notes and links

The 'March of Hope' organised by Women Wage Peace, at the Qasr al-Yahud baptismal site near the West Bank city of Jericho on October 19, 2016. Photo by Abbas Momani/ AFP
Thousands Finish Women's Peace March With Plea for Action at Netanyahu's Door
'They told me there was nobody to make peace with. Today, we proved that wrong,' Israeli singer Yael Deckelbaum says of the two-week 'Women Wage Peace' event.
By Yair Ettinger, Haaretz premium
October 20, 2016
A march that began two weeks ago as a minor event in Rosh Hanikra ended in Jerusalem on Wednesday night as a mass rally, when thousands of Jewish and Arab women from all over the country gathered outside the Prime Minister's Residence to urge his government to make peace with the Palestinians.
The prime minister's security was so heavily deployed it was impossible to see what was happening outside his house on Balfour Street. But the presence of thousands of women in downtown Jerusalem was evident.
The so-called March of Hope was organized by Women Wage Peace, a group founded after the end of the 2014 war in Gaza. At a time when the peace process has been relegated to the bottom of the public agenda, it was surprising to see the march sweep up thousands, most of the participants dressed in white.

Thousands of women rally in Jerusalem for the closing of the two-week 'Women Wage Peace' event, on October 19, 2016. Photo by Baz Ratner/Reuters
In addition to marching through Israel, they marchers entered the West Bank near Jericho on Wednesday morning. Tens of thousands of people participated in the two-week event, organizers said.
The guest of honour at the march and Wednesday's rally was Leymah Gbowee, one of three Liberian women to win the Nobel Peace Prize in 2011 for heading a women's group that helped end their country's civil war and oust its dictator, Charles Taylor.
Gbowee said the two days she spent marching with Israeli and Palestinian women were days of hope and of looking toward the future, and they had convinced her that peace was possible. She also discussed the establishment of the women's movement in Liberia, comprised primarily of women who had been raped or wounded at war.
Hadassah Froman, widow of the late Rabbi Menachem Froman of the settlement of Tekoa, also won a lengthy applause when she addressed the crowd, as did her daughter-in-law, Michal Froman, who was wounded in a stabbing attack at her home in Tekoa in January.
The younger Froman, who ascended the dais along with a four-month-old baby she had been  pregnant with when the attack occurred, told the crowd that while she was en route to the hospital that day, she decided that God had been "addressing me and trying to wake me up."
"To choose life is to choose to see the complexity of the situation here," she said. "To learn, of necessity, to defend one's life, but also to see the distress and extend a helping hand. Someone who is dead no longer feels. I chose to feel and to give space to the full range of feelings inside me – to the pain and the anger, but also to mercy and love.
"Death is separation," she continued. "Life is an encounter, life is peace. Life here will be possible only if we stop blaming each other and stop being victims. We all need to overcome and to take responsibility and start working hard for the sake of life here."
Huda Abu Arqoub, a political activist from Hebron, won rousing applause when she said, in English, that she was there as a free woman, and that the time had come for women to speak their piece and to work for peace, security for everyone and mutual recognition. She ended her speech by declaring that there is a partner for peace.
Singer Yael Deckelbaum, who performed at the rally, spoke about the women's prayer service she had attended Wednesday morning at Qasr al-Yahud, near Jericho.
"We were 4,000 women, half of them Palestinians," she said. "They told me there was nobody to make peace with. Today, we proved that wrong."
The rally, outside Israeli Prime Minister Benjamin Netanyahu's office in Jerusalem October 19, 2016. Photo by Baz Ratner/ Reuters

---
Thousands of women rally for Israel-Palestinian peace

Organization Women Wage Peace stage rally outside the President's Residence in Jerusalem calling on both Palestinian and Israeli leaders to forge a peace agreement; speakers included Israeli female rabbis and former terror victims.
By Yael Freidson, Ynet news
October 19, 2016
Thousands of women demonstrated for peace outside the Prime Minister's Residence in Jerusalem on Wednesday evening at an event entitled the "March of Hope."
The women called on both the Israeli and Palestinian leaderships to take steps to reach a diplomatic agreement.
Hadassah Froman, the widow of Rabbi Menachem Froman, and her daughter-in-law Michal Froman, who was wounded in a stabbing attack in 2015, attended the rally.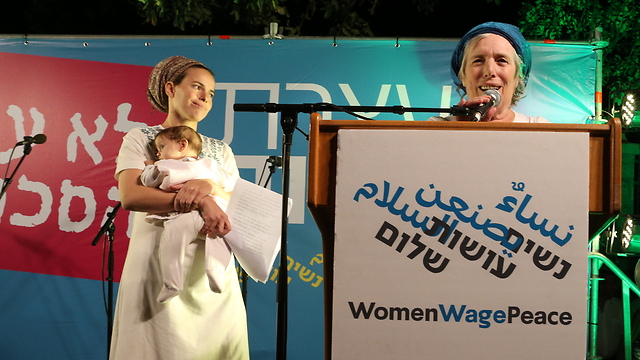 Hadassah Froman, her daughter-in-law and grandchild. Photo by Amit Shabi
"There is a lot of energy which will lead us on a new path—maybe even to change. I hope that it will be possible to see the connections and to see what can be done to create a solution," Froman said.
Michal attended the rally with her baby daughter. "I believe that the peace we want will happen, and that it will come after we see what is possible and what is definitely not possible. Even the right-wing will work with us towards peace," she said.
"Life will be possible for us here only if we stop being victims of terror, of the occupation. We all need to rise up and begin to work very hard for the sake of our lives here," she continued
She went on to say that "death only goes in one direction. To choose life is to choose to understand how complicated life is here, and while it is of utmost importance to defend life, it is also important to fully understand the hardships, and to find a way to lend a helping hand. Life here, in this land, will be possible only if we stop blaming each other, only if we stop being victims."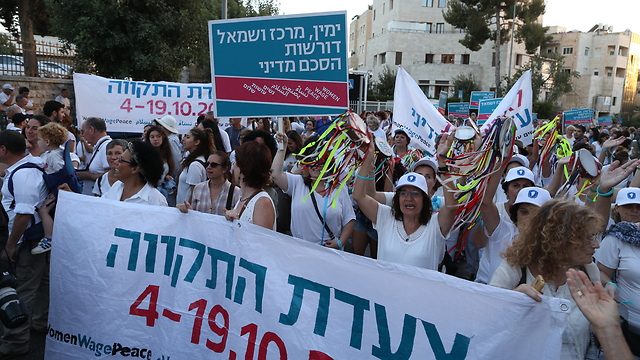 Sign reads 'Rightist, Centrists and Leftists want a political agreement'. Photo by Amit Shabi
The women have marched in different places throughout Israel with people from every sector of Israeli society.
They held a multi-faith prayer service at Qasr al-Yahud on the Israel-Jordan border in which 1,000 Palestinian women participated, along with hundreds of Jordanian women on the other side of the border.
The head of the Peace Authorities in the Middle East, Huda abu al-Arkub from Hebron, called for a political agreement between the two sides. At the Jerusalem rally, she said ,
You have a partner. I'm standing here with Women Wage Peace to say loudly and strongly on behalf of the women of the region: enough! No more war, no more bloodshed, and no more discrimination. No more separation barriers between us!

The time has come for mutual recognition of our rights to live as free people in the Holy Land. The time has come for our hope to bring us closer to a safer future, so that the next generation of Jews and Palestinians will be able to use their full potential as free people," she continued. "I am here today to tell you that there is indeed a partner for peace. So let us be done with this myth.
Participants included, among others, Nobel laureate Leymah Gbowee who helped work for an end to the civil war in her native Liberia, head of the Eshkol Regional Council Gadi Yarkoni and former mayor of the Israeli-Arab city of Sakhnin Mazen Ghanim.
The world's largest Sukkah was erected at the end of the rally, wrapped in a quilt with thousands of patches expressing hope for a better future.
---

Drawing Palestinian women, and the odd man, into a dance at Jericho, October 19th. Photo by Mohamad Torokman/Reuters
These Israeli women marched from the Lebanese border to Jerusalem. Here's why.

By Ruth Eglash, Washington Post
October 19, 2016
JERUSALEM — Two weeks ago, a small group of Israeli women set off on a protest march to Jerusalem from northern Israel to demand that the Israeli government restart a peace process with the Palestinians.
On Wednesday, after reaching the Palestinian city of Jericho in the West Bank, the core group of 20 women were joined by more than 3,000 others, including about 1,000 Palestinian women.
Although most of the Palestinians could not proceed beyond the barrier that separates the West Bank from Israel, the Israeli women headed for Prime Minister Benjamin Netanyahu's formal residence, where they held an emotional rally.
The group, which calls itself Women Wage Peace, is made up of women from across the political spectrum and the religious divide. At the rally, many held banners reading, "Right, Center and Left are all calling for an agreement, Women Wage Peace."
"We are not an organization; we are a movement. We have defined goals, and when we reach those goals we will disband," said Marie-Lyne Smadja, a co-founder of the group. "From history we have seen that when women are involved in resolving conflicts, there was much more success."


Participants assemble in front of Prime Minister Benjamin Netanyahu's residence in the capital October 19. Photo by Marc Israel Sellem/JPost
Organizers of the group points to U.N. Resolution 1325, which "urges all actors to increase the participation of women and incorporate gender perspectives in all United Nations peace and security efforts." They say that it worked in Northern Ireland and in Liberia.
The movement was founded two years ago after the Gaza war, when many Israeli mothers had to send their sons to fight.
Vardit Kaplan, who serves as the movement's spokeswoman, said that more than 10,000 women have registered with the group. And, she said, they have been building connections with Palestinian women, some of whom joined the march to Jerusalem.
"I came because I want to see a peace agreement with the Palestinians," said Tanya Harkavi, who is from the city of Kfar Saba, near Tel Aviv.
Harkavi, a mother and a grandmother, said that women are better positioned to solve disputes because of their roles within the family and that it was time they become involved in the dispute with the Palestinians, too.
"Two years ago, my son was in the army; he fought in the Gaza war. I decided then that I did not want to launder army uniforms anymore. I want peace," said Miki Rom, who also lives near Tel Aviv.
One of the rally's key speakers was Michal Froman, a religious Jew from the Israeli settlement of Tekoa. She was stabbed this past January at a clothing store by a Palestinian teenager from a nearby village. Froman, the daughter-in-law of the well-known peace activist Rabbi Menachem Froman, was three months pregnant at the time.
"It was important for me to speak here because I want people to know that the settlements are not preventing peace. I think the opposite: that peace will come from the settlements," said Froman, who brought her 4-month-old daughter to the rally.
Olfat Haider, an Arab Israeli from Haifa, was among the group that walked from the north of Israel to Jerusalem. She said she believes that "Jews and Arabs can live together, and must live together."
"It's time to hear some women's voices. Women can talk to each other, they don't fight with their egos," she said.
Each speaker at the rally received rapturous applause. But for many in Israel, such gatherings come with a degree of hopelessness, not only because the momentum for peace has all but disappeared, but also because many do not believe that there is a negotiating partner on the other side.
Since peace efforts by U.S. Secretary of State John F. Kerry failed more than two years ago, there has been little attempt by either side to return to talks.
Among the speakers was Liberian peace activist Leymah Gbowee, who helped bring an end to the Second Liberian Civil War in 2003. After two days in Israel, walking with Jewish and Palestinian women, she said she believed that there were partners for peace on both sides and that finding a solution was possible.
"I say to my sisters in Israel, that this is your time to stand up and say no to war and yes to peace," said Gbowee, the 2011 Nobel Peace Prize laureate. "When you stand firm for what you believe, the men with guns are afraid of you."
---
NOTES AND LINKS
Women Wage Peace works to bring about a viable peace agreement. We will place the option of a political resolution at the top of the public agenda, as it is the only outcome that offers life and hope. A new and different reality in the Middle East is feasible, and we must strive for it.

Our movement works throughout the country to raise awareness and engage the public in a discussion about the feasibility of a political resolution. It creates opportunities for dialogue with individuals and groups through formal and informal meetings within the community. The movement also organizes national events, such as demonstrations and protests, in order to pressure decision makers to work toward reaching a viable peace agreement.
Thousands of women rally for peace outside PM's home, Times of Israel, October 20, 2016
Women Wage Peace rally in Jerusalem for peace talks, JPost, October 19, 2016
According to the organization's website, its mission is a "nonpolitical, broad-based and rapidly growing movement of thousands of women to restore hope, and work toward a peaceful existence".