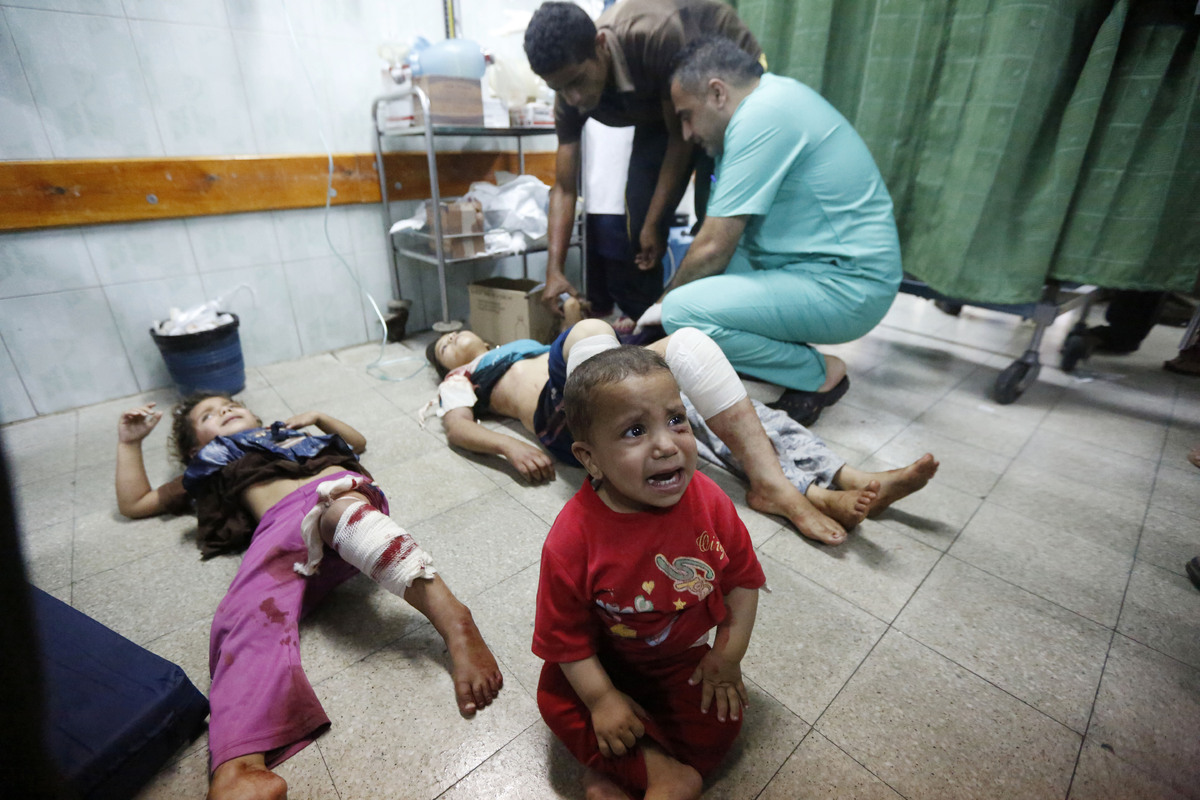 Palestinian children, wounded in an Israeli strike on a compound housing a U.N. school in Beit Hanoun, in the northern Gaza Strip, on the floor at the emergency room of the Kamal Adwan hospital in Beit Lahiya, Thursday, July 24, 2014. Photo by AP
UN considers leaving Israel off child's rights violators list, would compare IDF to Boko Haram
Report lists countries where serious violations against children's rights have occurred.
By Reuters, Tovah Lazaroff, JPost
May 29, 2015
UN Secretary General Ban Ki-Moon is leaning toward not including Israel on a list which would compare the IDF to Boko Haram and ISIS when it comes to violating children's rights in armed conflicts, according to diplomatic sources.
Earlier this week Prime Minister Benjamin Netanyahu spoke with Ban about the report, which was authored by Leila Zerrougui, the Special Representative of the Secretary-General for Children and Armed Conflict.
At issue is an annex to the report, which would place Israel on a list with terror organizations and states that are considered to be among the world's worst human rights abusers.
Netanyahu told Israeli reporters on Thursday that he had warned Ban these comparisons may start with Israel, but they risk destroying international norms.
Ban has the discretion to make changes to the report which has been Zerrougui has submitted to his office prior to its June publication.

UN Secretary-General Ban Ki-Moon's special envoy for children and armed conflict, Leila Zerrougui. Photo by Mohammed Huwaid /AFP / Getty Images
In an annual report on the state of children in armed conflict delivered to the UN Human Rights Council in March, Zerrougui spoke of her concern for Palestinian children in Gaza who were killed and injured during last summer's war between Israel and Hamas.
She compared their situation with that of five other worst crisis areas such as the Central African Republic, Nigeria, South Sudan and Syria.
"In the State of Palestine, at least 539 children were reportedly killed during the Israeli military operations launched in Gaza between 8 July and 26 August 2014. Thousands more were injured and suffered life-long disabilities or lost family members, homes, schools and hospitals in the bombings," Zerrougui said in her March report.
UN spokesman Stephane Dujarric said Ban had not made a decision on whether to include Israel on the annex list of worst groups and states when it comes to harm done to children in armed conflict.

Four-year-old Shaima al-Masri, wounded on July 9th 2014. Photo from B'Tselem
Foreign Ministry spokesman Emmanuel Nahshon said Israel had reason to believe that Ban would remove the IDF from that list.
A draft of the report by Ban's special envoy for children and armed conflict, Leila Zerrougui of Algeria, included the IDF for incidents including attacks on schools and hospitals in the Gaza Strip war last year. It also cited reports of violations by the Palestinian group Hamas during the conflict.
During last summer's conflict, 66 IDF soldiers and six Israeli civilians were killed, according to Israeli statistics. Israel further counts 2,140 Palestinians killed, of which half were militants. The UN counts 2,200 Palestinians deaths of which it calculates that 605 were militants.
A UN inquiry published in April said Israeli soldiers had fired on seven UN schools during the Gaza war, killing 44 Palestinians who were sheltered at some of the sites, while Palestinian fighters hid weapons and launched attacks from several empty UN schools.
Human rights organizations have given the United Nations arguments for listing the IDF and Palestinian groups like Hamas on the annex list in Zerrougui's report.
Some sources said UN officials had indicated to rights groups that the IDF and Hamas would most likely be on the list.
"Now, under pressure from Israel, the secretary-general is leaning towards not heeding the recommendation of Ms. Zerrougui and probably won't include Israel," one source said.
Other UN diplomatic sources echoed this and spoke of heated discussions among senior UN officials, with one argument being the IDF should not be categorized with groups like the Taliban in Afghanistan.
On April 27, following release of the UN inquiry, Human Rights Watch recommended to Ban that Israel and Hamas be listed. The group's Philippe Bolopion wrote that in their case the UN's "standard of a pattern of violations involving a multiple commission of acts has been met." He said countries had been listed for less serious violations.
---
Israel could join Isis in United Nations list of groups and states that harm children
By Adam Leyland, The Independent
May 29, 2015
Israel may be included in a blacklist of states and organisations that cause harm to children, after a push by a top UN envoy to include the country alongside the likes of Islamic State (Isil) and al-Qaeda for its conduct during the 2014 attack on Gaza.
U.N Secretary-General Ban Ki-Moon's special envoy for children and armed conflict, Leila Zerrougui, included the Israel Defence Forces (IDF) on a draft annual list of states responsible for violating children's rights in armed conflict.
If included in the blacklist, Israel could join groups such as Isis, Boko Haram and the Taliban. It could also lead to harsh UN sanctions and international isolation.
Zerrougui's draft report cited IDF attacks on schools and hospitals during the 2014 war in the Gaza Strip, along with violations by the Palestinian group Hamas, who she is expected to include in the list.
U.N Secretary-General Ban Ki-Moon, however, is said to be leaning towards not including Israel in the list, amid what several diplomatic sources anonymously said was intense lobbying from Israel.
However, U.N spokeswoman Stephane Dujarric has said he had not yet made a decision to include the country in the report, which is due in the coming weeks.

The sisters of the four boys of the Bakr family who were killed on the beach by naval fire.
Israel's 50-day war in Gaza, dubbed Operation Protective Edge, was launched in July 2014. Over 2,100 Palestinians, including hundreds of children were killed in the conflict, along with 67 Israeli soldiers and six civilians in Israel. The UN has estimated over 20,000 homes have been rendered uninhabitable following Israeli attacks.
The envoy's draft report criticises Israel's treatment of children, saying the 2014 attack on Gaza killed 500 children and left 3,300 wounded.
Elsewhere, the plight of Gaza's children has been well documented. Unicef reported earlier this year that 373,000 shell-shocked children in Gaza were in need of psycho-social support following the conflict.
Hamas are expected to be put on the UN list of organisations harming children over their conduct during the Gaza war. (AP) Hamas are expected to be put on the UN list of organisations harming children over their conduct during the Gaza war. (AP)
A UN inquiry in April cited an Israeli attack on seven UN schools during the war, which killed 44 Palestinians who were sheltering at the sites. Palestinian fighters, meanwhile, had hidden weapons and launched attacks from a number of empty UN schools.
In March, the Guardian reported that senior UN officials in Jerusalem had caved in to Israeli pressure to not include the country in Zerrougui's list following telephone calls from senior officials, though since then the UN is believed to have changed course.
In the US, which is Israel's closest ally, senator Lindsey Graham threatened to cut funds to the UN if Israel was blacklisted, claiming it was an attempt to marginalise the country.
"There's a report that may come out any day now where the United Nations is considering the State of Israel in the same category as Boko Haram when it comes to crimes against children," he said.
"If that ever happened, if the United Nations embraced a report putting the State of Israel in the same categories with terrorist organizations in terms of the way they treat innocent people, particularly children, that would be an outrage that would not go unanswered."
In response to the report, a senior Foreign Minister official in Israel said: "Israel-haters are threatening the United Nations and no one is complaining about them. It's a scandal and it's hypocrisy.
"There are unfortunately a lot of situations in which children are killed in zones of conflict and yet no one dares put them on the list. Do you know how many kids the Saudis have killed while bombing Yemen? I want to see the UN secretary-general's Algerian envoy dare to include Saudi Arabia on the list."
Israel has denied that they have pressured the UN into excluding the country from the list. Israel's Foreign Ministry spokesman Emmanuel Nahshon said, "There is absolutely no Israeli pressure on the U.N. secretary-general. The pressure comes from those countries who want to include Israel in the worst possible list."
"Those countries are motivated by hatred and totally blind to their own failings," he said. "This is a heinous and hypocritical attempt to besmirch the image of Israel and it is doomed to fail."
Additional reporting by Reuters