Reports from Ma'an news, Haaretz, Vice News.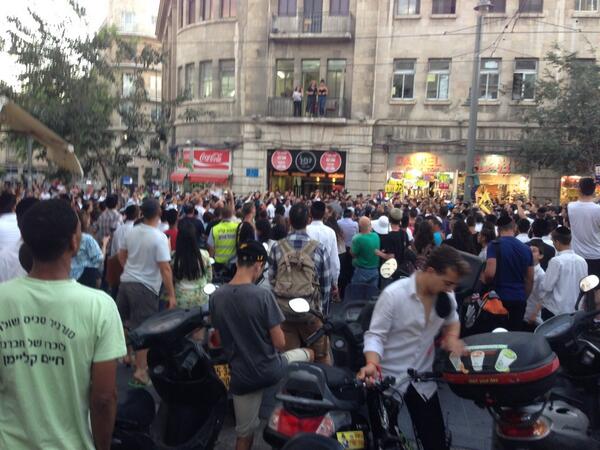 Tweeted by benwedeman @bencnn, July 1st, 'Mob on Jaffa Road, Jerusalem chanting "death to the Arabs." Man tells me, "after sundown we will attack them." '
Palestinian teen abducted, killed in suspected revenge attack

By Ma'an news, AFP
July 02, 2014
JERUSALEM — A Palestinian teenager from occupied East Jerusalem was kidnapped and killed early Wednesday in a suspected act of revenge for the killing of three Israeli youths, Israeli army radio reported.
Locals identified the victim as 16-year-old Muhammad Hussein Abu Khdeir from the Shufat neighborhood.
Witnesses told Ma'an that footage from surveillance cameras shows Israelis stepping out of a Hyundai in front of Abu Khdeir's house and forcing the teen inside before speeding off.
The murder sparked a wave of clashes in East Jerusalem where around 200 angry young Palestinians threw stones at police, who responded with sound bombs and rubber bullets, an AFP correspondent and police said.
Quoting witnesses, the radio said the youth was seen being forced into a car in the Palestinian eastern half of the city.
A body was found shortly afterwards in another part of the city, the radio said, describing it as a "suspected revenge attack" for the kidnapping of three Israeli teenagers from the southern West Bank on June 12.

Muhammad Hussein Abu Khdeir, 16
Israel has blamed Hamas for their killings in an incident which has triggered calls for revenge.
Hamas has denied involvement in the incident.
Several hours after they were buried on Tuesday, around 200 Israelis rampaged through Jerusalem, stopping cars and the light rail and shouting "Death to Arabs," police and witnesses said. Police said 47 people were arrested.
Police spokeswoman Luba Samri confirmed they were investigating reports of a kidnapping and said they had found a body but refused to say whether the two incidents were connected. She did not give details on the victim's identity.
"In the early hours of Wednesday morning, police received a report of a person being forced into a car in Beit Hanina," Samri told AFP, referring to a well-heeled East Jerusalem neighborhood.
"Within an hour, a body was found in Jerusalem that has still not been identified. We are looking to see if there is a connection between the two incidents."
Quoting witnesses, army radio said a black car had stopped next to a youth who was hitchhiking and he was forced inside. The car then took off.
Some time later, the family of the youth reported him missing, it said.
Jerusalem mayor Nir Barkat denounced the murder and called for calm.
"This is a horrible and barbaric act which I strongly condemn. This is not our way and I am fully confident that our security forces will bring the perpetrators to justice," he said in a statement.
"I call on everyone to exercise restraint."
The body was discovered in a forest in Givat Shaul in southwest Jerusalem. An AFP correspondent said police had sealed off a large area around the neighborhood.
---
Extreme rightists attack Palestinians in Jerusalem as teens laid to rest
Rioters injure five Palestinians, disrupt public transportation, even burst into McDonald's looking for Arabs as undercover police, security guards protect potential victims.
By Nir Hasson, Haaretz
July 01, 2014

Police evacuate an Arab man from the mob. Jerusalem, July 1, 2014. Photo by Olivier Fitoussi
Several hundred right-wing extremists in Jerusalem started demonstrating, some of them attacking Arab passers-by, as the families of the three murdered teenagers were burying their sons in Modi'in.
Five Palestinians were attacked, and two of them needed medical treatment. The extremists were engaged in violent confrontations with police in the capital's center for several hours.
The police arrested 50 people suspected of involvement in the incidents. Public transportation in the center of town was disrupted for hours, and hundreds of youths ran through the downtown city streets yelling racist slogans and calling for revenge against Arabs.
The incidents began with a demonstration that right-wing extremists, headed by former MK Michael Ben Ari and Itamar Ben Gvir, organized under the Chords Bridge by the city's western entrance. Demonstrators shouted slogans like "we want revenge" and "enough of the murderous government."
About 400 demonstrators attended and managed to block the road under the bridge for an extended period. The police evacuated them from the spot, and they proceeded along Jaffa Road with the declared goal of reaching the Old City in order to attack Arabs.
Police officers blocked their path to Zahal Square, located between City Hall and Jaffa Gate. The demonstrators dispersed into smaller groups that began running into the center of town looking for Arabs. The groups, some made up of pro-settler "hilltop youth," many ultra-Orthodox Jews and right-wing activists, shouted slogans such as "death to Arabs," "a Jew is a brother, an Arab is a bastard," "we want war," "Mohammed is dead," and "Kahane was right."
While running, some of them were asking dark-skinned people "what's the time?" in Hebrew in order to check for an Arab accent in the reply.
Others rushed into businesses or shouted at tourists and other spectators to stop watching the World Cup and join them. In two instances, they burst into McDonald's because they heard that Arabs were employed at the restaurant, from where they were forced out by policemen and employees. In one of the incidents, police arrested a masked rioter tried to attack an Arab worker.
In a more serious case, a group of a hundred demonstrators identified three Palestinian workers in a downtown parking lot. The three were having their evening meal to end their daily Ramadan fast, when the mob attacked them. One of the Palestinians chased away some of the attackers with a club and then one of the mob members used pepper spray on the Palestinians. Others started to throw stones at them.
One of the workers suffered a head injury and was evacuated for medical treatment.
"I was in the middle of a Ramadan meal. Someone passed by and noticed I am an Arab," said Mohammed Sayyad of A-Tor. "He called out to everyone else, saying 'Here's an Arab, here's an Arab.' They started throwing stones and spraying gas, and cursing, 'Tomorrow we're going to kill you.'"
Undercover police who were there quickly intervened, moved the attackers back and arrested three of them.
According to Sayyad, the police also threatened to arrest him. "Can I beat up 500 people? What can I do, besides throwing stones back?" he said. "It's the third time they have attacked me, but it was never as big as this." Two years ago, it was Sayyad who called the police after Jewish youths in 2012 lynched Jamal Julani, 17, who was seriously wounded.
It took the police hours to restore scheduled service to the light rail because of the demonstrators. When the trains stopped at individual stations, the rioters got on board and looked for Arab passengers. Light rail security guards stood next to Palestinian passengers to protect them from the mob.
---
Violent Reprisals Begin After Israel Finds Bodies of Three Missing Teens
By Olivia Becker, Vice News
July 01, 2014
Israel's retribution on the occupied territories following the discovery yesterday of the bodies of three missing Israeli teens began almost immediately.
Last night, Yusef Abu Zaga, 16, was killed by live fire in clashes with the Israeli military after soldiers entered the West Bank city of Jenin. Three other Palestinians were arrested in the raid.
The Israeli military also stepped up its aerial bombing of the Gaza Strip Monday night. According to the Israeli military, airstrikes hit 34 targets overnight. Three Palestinians, including an infant, were injured.
Israel says the strikes are in response to homemade rockets that Hamas has launched into southern Israel in recent days. On Monday, militants reportedly shot 14 rockets into southern Israel, causing no injuries. The aerial bombing by Israeli forces commenced soon after the teens disappeared June 12.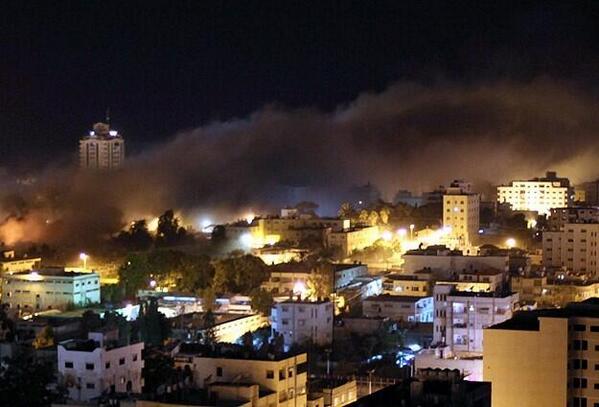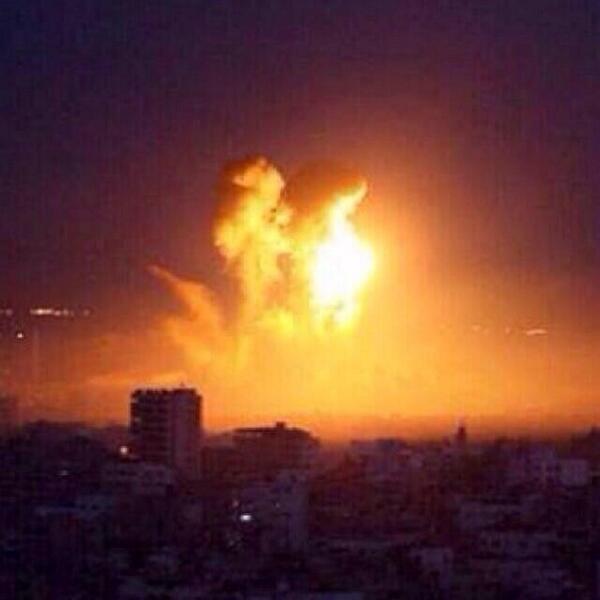 Israeli air strikes hit Gaza Monday night. Tweeted by Dr. Shahid Masood, @Shahidmasooddr
On Friday, two Palestinians in Gaza were killed, according to Palestinian reports. The strikes there have prompted use of the hashtag #GazaUnderAttack on Twitter; the same hashtag was used during the 2008 and 2012 Israeli military operations in Gaza.
Soon after news broke that the bodies of the three boys had been discovered, Israeli forces raided the homes of the two Hamas members accused of kidnapping the teens, Marwan Qawasmeh and Amer Abu Aisha. The Israeli military set off explosives in both homes, located north of Hebron; one child was wounded. The Israeli military also closed all entrances to Hebron and put the entire city on lockdown.

The home of Amer Abu Aisha, one of the two Hamas militants Israel has accused of the kidnappings, after the Israel military raided it Monday night. Photo by Kelly Lynn
The Israeli military's campaign to search for the missing boys, dubbed "Operation Brother's Keeper," lasted 18 days and was the largest military operation in the West Bank since the Second Intifada a decade ago. The operation killed at least five Palestinians, saw more than 2,100 Palestinian buildings in the West Bank raided, and led human rights groups to caution Israel about imposing collective punishment on the Palestinian population.
Yesterday, the Israeli military reported that the bodies of the three teens, 19-year-old Eyal Yifrah, 16-year-old Naftali Fraenkel, and 16-year-old Gilad Shaar were found in a field outside the Palestinian village of Halhul, in the southern West Bank. Thousands gathered in Tel Aviv and Jerusalem today for the funeral of the three Israelis. Last night, vigils were held in both Israel and the Israeli consulate in New York to mourn the death of the teens.
Palestinian Authority President Mahmoud Abbas issued a statement Monday morning condemning the kidnapping and killing of the Israeli teens, saying that "both sides should refrain from violence."
In an emergency security cabinet meeting convened today, Israeli Prime Minister Benjamin Netanyahu said that the teens "were kidnapped and murdered in cold blood by animals." He added "Hamas is responsible, and Hamas will pay."
Other Israeli politicians quickly echoed this call for military action and revenge.
"This tragic ending must also be the ending of Hamas," Israeli Deputy Defense Minister Danny Danon said today. "The nation is strong and ready to absorb [attacks] for the sake of a mortal blow against Hamas. [W]e have to destroy the homes of Hamas activists, wipe out their arsenals everywhere, and stop the flow of money that directly or indirectly keeps terror alive."
President Barack Obama said in a statement Monday, "As a father, I cannot imagine the indescribable pain that the parents of these teenage boys are experiencing. The United States condemns in the strongest possible terms this senseless act of terror against innocent youth."
Several reprisal attacks on Palestinians by Israelis were also reported Monday night in Jerusalem. A Palestinian was hospitalized after he said he was attacked by Israelis, and another Palestinian taxi driver was reportedly attacked with tear gas by a 17-year-old Israeli.
Anti-Arab and Palestinian graffiti was sprayed throughout Jerusalem and near Israeli settlements in the West Bank, calling for "revenge" and "death to Arabs."
Today, hundreds of right-wing Israelis demonstrated in Jerusalem demanding revenge for the deaths of the teens and chanting "death to the Arabs" in Hebrew.
Demonstrators clashed with police during the protests, as Israeli security forces attempted to quell the riots, resulting in dozens of arrests. According to CNN reporter Ben Wedemen, one demonstrator told him that they "after sundown we will attack them."