Another clutch of responses to the EC decision on labelling settlement goods
1) Israeli Petition in Favour of EU Labelling of Settlement Products, text and many of the signatories;
2) Greens/EFA: Welcome for EU guidelines on Israel settlements in Palestine, press release supporting EC guidelines from MEP Alyn Smith;
3) Ynet: Rivlin cancels visit to EU parliament following labelling decision, more on the angry Israeli gov't reaction;
4) FT: EU introduces mandatory labelling of Israeli settlement goods, Christian Oliver and John Reed provide the most far-reaching of the assessments;
5) NY Times: E.U. Move to Label Israeli Settlement Goods Strains Ties, possible consequences;


Young Palestinians at work in a textile factory in the Industrial Park of the Jewish settlement of Barkan, south-west of Nablus November 8, 2015.

Israeli Petition in Favour of EU Labelling of Settlement Products
Posted by Scribd.com
Israeli Petition on EU Labelling of Settlement Products by "Indication of Origin" Contributes Significantly to the Future of Israel and to Peace
We, Israelis who care deeply about the future of our country, now more than ever, welcome the European Union's decision to label products from Israeli settlements with correct indication of origin, and hope that other countries will follow suit. The international community distinguishing between Israel and the settlements is a step that could help promote a peace agreement, and it will also strengthen Israel's overall status in the world and will undermine attempts to delegitimize Israel. This kind of distinction can also serve to reduce the current levels of tension, fear and despair, among both Israelis and Palestinians.
This is an important first step. We call upon the EU and other world governments to take further steps in this direction, in order to differentiate between Israel within the 1967 borders and the occupied territories. Millions of Israelis and Palestinians may now hope for a better future if the International community continues to be involved, helping both sides to achieve a fair two-state solution, which will make possible the existence of both nations, the Israeli and the Palestinian, side by side, in peace and security.
Among the over 550 signatories, are the following notable individuals:
Alex Levac, [L] Israel Prize in photography
Alon Liel, Former Director General of the Israeli MFA & former Ambassador to S. Africa and Zimbabwe
Avishai Margalit, Israel Prize in philosophy
Avraham Burg, Former Speaker of the Knesset and Chairman of The Jewish           Agency
Baruch Minke, Prince of Asturias Prize for Science and EMET Prize
Dani Karavan, Israel Prize in sculpture
Daniel Kahneman, Nobel Prize in economics
David Harel, Israel Prize in computer science, EMET Prize,
and Vice President of the Israeli Academy of Sciences and Humanities
David Shulman, EMET Prize & Rothschild Prize
David Tartakover, Israel Prize in art design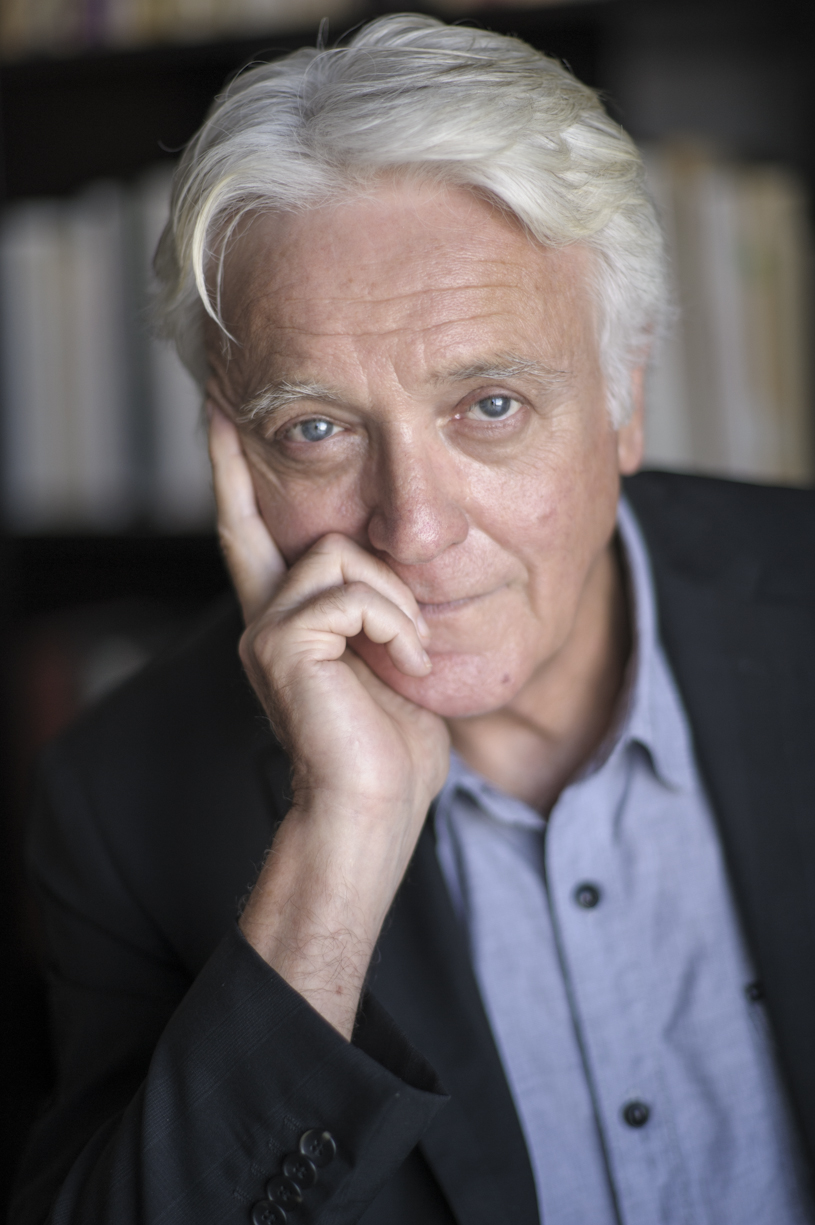 Elie Barnavi [L] , former Israeli Ambassador to France
Ilan Baruch, former Ambassador to S. Africa & Zimbabwe
Immanuel Etkes, Bialik Prize in Jewish studies
Michael Benyair, former Attorney-General
Michal Ne'eman, Israel Prize in plastic artsMiki Kratsman, EMET Prize in    photography
Ruth Berman, Israel Prize & EMET Prize in linguistics
Mossi Raz, Former MK (Meretz) & General Secretary of Meretz
Naomi Chazan, former MK (Meretz), and former President of the New Israel Fund
Ram Loevy, Israel Prize in communications
Shimon Sandbank, Israel Prize in poetry translation
Tzali Reshef, former MK (Labour)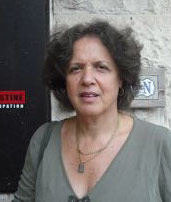 Nurit Peled Elhanan [L], Sakharov Prize
Uri Segal, Orchestra conductor
Yael Dayan, former MK (Labour) & former Deputy Mayor of Tel Aviv
Yair Tzaban, former MK (Meretz) & former Minister of Absorption
Yehoshua Kolodny, Israel Prize in earth sciences
Jona Rosenfeld, Israel Prize in social work
Yoram Bilu, Israel Prize in sociology & anthropology
Yossi Sarid, former Minister of education & MK (Meretz)
Zeev Sternhell, Israel Prize in political science
---

Welcome for EU guidelines on Israel settlements in Palestine
Alyn Smith MEP, Scottish member of the Foreign Affairs Committee of the European Parliament, welcomed today (Wednesday) the release of the EU guidelines on the import of produce from illegal Israeli settlements in the Occupied Palestinian Territories, but said they should be improved and extended to cover all commercial dealings with illegal settlements, not just agricultural produce.
Press release from EFA MEP Alyn Smith (SNP), posted by Greens/European Free Alliance
November 12, 2015
  MEP Alyn Smith
Alyn Smith said:
I welcome the EU guidelines on settlement produce as a step forward to ensure the EU enforces international law and does not fall complicit to Israel's illegal occupation of the Palestinian Territories. The EU was quick enough to act when Russia illegally annexed Crimea, yet the fact we welcome these guidelines today on labeling of illegal produce shows just how slow the EU's actions have been when it comes to Israel.
It is clear European consumers want more clarity, more transparency on the produce they buy from illegal Israeli settlements.  It is equally clear that while these guidelines will have limited economic impact, they will underline to the Israelis that the EU is finally starting to get serious.
To be clear, the EU guidelines are a reminder that we recognize Israel's right to exist and has a right to expect security within its own borders. But as I said in Strasbourg before, this does not give Israel a right to illegally occupy Palestinian land or allow settlers to illegally occupy Palestinian land and exploit it for their profit.
Most importantly, I note that both Israeli and Palestinian figures supporting peace have welcomed the EU efforts today, with a public endorsement from over 550 Israeli figures such as former Speaker of the Knesset and Chairman of the Jewish Agency Avraham Burg, Israeli Nobel Prize winner Daniel Kahneman or former Israeli Ambassadors Elie Barnavi.
But we can and should do much more.  Yesterday in the Foreign Affairs Committee I told the EU Special Envoy to the Middle East Peace Process, Fernando Gentilini, that EU guidelines needed to be improved to prevent EU-based companies from issuing bank loans and mortgages to Israeli settlements, also we should not recognise qualifications earned in settlement-based institutions and we should end the tax-exempt status of European charities that deal with Israeli settlements.
We have seen a small step forward today but we still have a long way to go.
---

Rivlin cancels visit to EU parliament following labelling decision
Uri Ariel trades European-made vehicle with Japanese car, while Israel suspends diplomatic dialogue in EU forums.
By Yedioth Ahronoth reporters, Ynet news
November 12, 2015
The EU decision on Wednesday to label products from Israeli settlements in the West Bank, Golan Heights and East Jerusalem, has led to a series of retaliatory moves from Israel.
President Reuven Rivlin cancelled his planned visit to the European Union headquarters in Brussels, which was scheduled for December 2.
Rivlin, who was invited back in March, was supposed to speak in front of the EU parliament and meet with EU officials.
The President's Residence confirmed the trip had been postponed, but would not address the reasons behind the decision.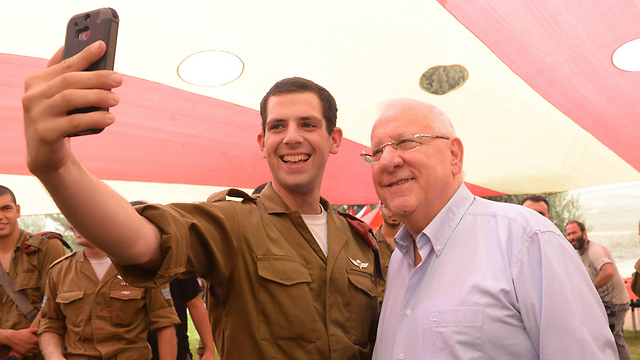 President Reuben Rivlin in the warm embrace of the IDF. Photo from President's Residence
The EU's Ambassador to Israel, Lars Faaborg-Andersen, was summoned to the Foreign Ministry, where he was informed Israel was suspending diplomatic dialogue in several important European forums.
Prime Minister Benjamin Netanyahu called the decision "hypocritical" and "a double standard."
"The European Union should be ashamed," Netanyahu said in a video statement in English.
"The European Union has decided to label only Israel, and we are not prepared to accept the fact that Europe is labelling the side that is being attacked by terrorism," he added.
Minister of Immigrant Absorption Ze'ev Elkin was blunter, calling the decision "anti-Semitic and outrageous," while Minister Ofir Akunis said he "scorns the decision, which constitutes a moral stain on Europe."
Agriculture Minister Uri Ariel, meanwhile, traded his Citroën vehicle, which is manufactured in Europe, with a Japanese Mazda.
The guidelines approved by the EU executive on Wednesday mean Israeli producers must explicitly label farm goods and cosmetics that come from settlements when they are sold in the European Union. The EU guidelines aren't expected to necessarily apply to Israeli industrial or electronic products, or to non-fresh foods.
The EU does not recognize the legitimacy of Israel's presence in the West Bank, East Jerusalem and the Golan Heights, territories captured by Israel in the 1967 Six-Day War. As such, goods from there cannot be labelled "Made in Israel" and should be labelled as coming from settlements, which the EU considers illegal under international law.
EU officials defending the decision said the labelling "will give consumers the option of making a conscious decision whether to buy the product or not."
The damage to the Israeli economy is estimated at only $10 million a year, out of $300 million of export from factories in the settlements.
"The Israeli economy is strong and will withstand this," Netanyahu said. "Those who will be hurt will be those Palestinians who work in Israeli factories."
Currently, some 15,000 Palestinian workers are employed in Israeli factories in the West Bank and make up about 60 percent of the work force. If the factories lose money because of the European move, some of these workers could find themselves out of a job.
Two international law experts, Prof. Avi Bell and Prof. Eugene Kontorovich, published a legal opinion that determines the labelling of products is a violation of international trade laws, and that Israel could challenge the decision in the appropriate forums.
Itamar Eichner, Eldad Beck, Gad Lior, Elisha Ben-Kimoon, Amihai Attali, and Elior Levy contributed to this report.
---

EU introduces mandatory labelling of Israeli settlement goods
By Christian Oliver in Brussels and John Reed in Jerusalem, Financial Times
November 11, 2015
The EU introduced mandatory labelling of agricultural goods from illegal Israeli settlements on Wednesday, in a move that Israel has slammed as hypocritical and antisemitic.
The European Commission argues that consumers in the EU's 28 member states should be able to see clearly whether goods are produced by Israeli settlers in occupied territories seized after the 1967 Six Day War.
The EU is Israel's biggest trade partner and Israeli politicians have expressed concerns that the move could fan a broader boycott against its exporters.
Benjamin Netanyahu, Israel's prime minister, condemned the new rules. "The EU decision is hypocritical and constitutes a double standard; it singles out Israel and not the 200 other conflicts around the world. Those who will be hurt will be those Palestinians who work in Israeli factories. The EU should be ashamed."
Saeb Erekat, secretary-general of the Palestine Liberation Organisation, welcomed the labelling guidelines. "The EU has once again moved from the level of statements to taking concrete policy decisions," he said, but added that further action was needed to hold Israel accountable for what he called its "crimes" against Palestinians.
Look at Crimea, where the EU imposed a total import ban after Russia's annexation. Labelling of settlement goods is peanuts in comparison.
EU officials noted that labels would be mandatory for agricultural goods and cosmetics. For other products from the West Bank, the Golan Heights and East Jerusalem, the labels will be voluntary.
The wording of labels is left to the discretion of member states, which will have to police their own importers.
However, the phrase "Israeli settlement" will have to appear clearly. In some indication of a possible wording, Britain has already introduced the measures voluntarily from 2009. It labels goods as: "West Bank [Israeli settlement]" or "West Bank [Palestinian product]". Denmark and Belgium have also introduced some national guidelines on labelling products from settlements.
Israeli goods made from settler produce will not be affected if value is added within its internationally-recognised pre-1967 borders. For example, wine made from settlement grapes can be marked "Made in Israel" as long as the wine itself is produced and bottled in Israel.
EU foreign ministers committed themselves to applying rules on settlement products in 2012, but publication of the guidelines was postponed during the last round of peace talks led by US secretary of state John Kerry, which collapsed in April 2013.
In economic terms, the volume of trade affected by the new measure is tiny. Settlement goods account for about €200m of Israeli exports to the EU — less than 1 per cent of total trade — but David Walzer, the Israeli ambassador to the EU, insisted that the political significance would not be "taken lightly" in Israel.
Israel's government claims that the guidelines will hurt thousands of Palestinian families with members who work in settlements, and harm the cause of peace by hardening Palestinian negotiating positions for a future state along the 1967 borders in any peace agreement.
Ayelet Shaked, Israel's far-right justice minister, called the product labelling move "an anti-Israeli and anti-Jewish decision" and said she was considering taking legal steps against the move.
However, left-leaning campaigning groups and individuals in Israel and the Palestinian territories welcomed the publication of the guidelines. A group of 550 Israelis released a petition supporting the decision, saying it "contributes significantly to the future of Israel and to peace", and called upon other countries to follow suit.
Mahmoud Nawajaa, general co-ordinator of the Palestinian BDS National Committee, representing the "Boycott, Divestment and Sanctions" movement, said that the labelling was "a welcome sign that European governments are reacting to public opinion, civil society campaigning, and Israeli intransigence and are becoming more willing to take some basic action against Israeli violations of international law".
"Israel protests that it's being singled out, but it should be careful about making comparisons," said Martin Konecny, director of the European Middle East Project, a Brussels-based NGO specialising in EU policy towards the region. "Look at Crimea, where the EU imposed a total import ban after Russia's annexation. Labelling of settlement goods is peanuts in comparison."
---

E.U. Move to Label Israeli Settlement Goods Strains Ties
By Jodi Rudoren and Sewell Channov, NY Times
November 11, 2015
JERUSALEM — In a stinging rebuke to Israel, the European Union insisted on Wednesday that some goods produced on land seized in the 1967 war must be labeled "made in settlements," a mandate that added to Israel's deep unease over a growing international boycott.
European officials tried to play down the decision, saying the guidelines merely clarified existing rules. But the move exacerbated already simmering tensions between Israel and Europe as Israeli politicians condemned it as an echo of the Holocaust-era branding of European Jews and their storefronts with yellow stars.
The European Union is Israel's top trading partner, though products from the occupied West Bank, the Golan Heights and East Jerusalem that will now require special labels amount to less than 1 percent of Israel's $13 billion in annual exports to the bloc's 28 countries. But while the immediate economic impact is expected to be minimal, there is fear that the logic behind the labeling could be extended to the broader economy by targeting businesses that have operations or affiliates in the contested areas, as many do.
For example, Israeli banks that provide mortgages to homeowners in the West Bank could become vulnerable to divestment from Europe, retail chains with outlets in settlements could be barred from the Continent and manufacturers that use parts made in factories there could face labeling or sanctions.
Some have even suggested that settlement residents could lose the privilege that allows Israeli citizens to travel to Europe without a visa.
"The Israeli pushback is about trying to intimidate Europeans from not going further down this path," said Daniel Levy, Middle East director at the European Council on Foreign Relations. "The Israelis want this process to move as slowly as possible, because at a minimum it's a headache, and at a maximum, ultimately, it could be devastating."
The European Union's decision to proceed on guidelines years in the making, despite fierce lobbying by Israel and intervention by a group of United States senators, came after several of its member states, and its own Parliament, formally or symbolically recognized an independent Palestinian state. Those resolutions reflect mounting frustration in Europe over the stalemated peace process and the growing political pressure on leaders in countries with large Muslim populations sympathetic to the Palestinian cause.
A spokesman for the European Commission, speaking on the condition of anonymity because of the sensitivity of the subject, said Wednesday's move "in no way changes" the bloc's stance on the peace process or Israel's special treatment in European markets, where "Made in Israel" items carry little or no tariffs. But "products coming from the settlements cannot benefit from those preferences," the spokesman said.
Israel summoned the European Union ambassador, Lars Faaborg-Andersen, to the foreign ministry and informed him that Israel was suspending diplomatic talks scheduled for various forums in the coming weeks. Prime Minister Benjamin Netanyahu and a host of other Israeli leaders denounced the move as hypocritical because no such labels were proposed for products from occupied territories elsewhere in the world, and they said it was particularly painful after weeks of Palestinian attacks against Israeli Jews.
"The E.U. should be ashamed," Mr. Netanyahu said in a statement. "The E.U. has decided to label Israel, and we are not prepared to accept the fact that Europe is labeling the side that is being attacked by terrorism."
The labeling rules apply to fresh fruit and vegetables, wine, honey, olive oil, eggs, poultry, organic products and cosmetics coming from Israeli-owned businesses and farms outside the state's original borders.
Rather than "product of Israel," these goods must be labeled with the term "settlement," or "its equivalent," the rules say, as in "product of West Bank (Israeli settlement)." Goods from Palestinian-owned businesses can say "product of Palestine" or "product of West Bank (Palestinian product)."
The producer, exporter and importer are responsible for complying with the regulations, but it is up to member countries to ensure that the rules are followed, officials in Brussels said. The new standard is optional, not mandatory, for packaged foods and industrial products.
The guidelines from the European Commission, the bloc's executive body, come after foreign ministers from some member nations, first in 2013 and again this April, urged Brussels to take action. Some nations — Britain in 2009, Denmark in 2013 and Belgium in 2014 — had already issued their own labeling guidelines.
Palestinian leaders welcomed the initiative, but said it did not go far enough.
Settlement-based businesses "make products with stolen natural resources on the land of the Palestinian people," Saeb Erekat, secretary general of the Palestine Liberation Organization, said in a statement. "Those products should not only be labeled, but should be banned."
Mahmoud Nawajaa, a Palestinian leader of the boycott, divestment and sanctions movement, known as B.D.S., said labeling was "hardly a proportionate response to repeated Israeli war crimes."
The boycott movement, which started a decade ago, calls for cultural, academic and economic boycotts of Israel and has gained steam over the past year. The movement has growing support on American college campuses, and has claimed credit for the withdrawal by various international companies from projects in East Jerusalem and the West Bank. Israeli professors lately have reported cold treatment from universities abroad. This past weekend, the Brazilian singer Caetano Veloso announced that he would no longer perform in Israel because of what he saw this summer in the West Bank after a concert he did in Tel Aviv in defiance of calls for a boycott.
There are about 1,000 Israeli companies operating in more than a dozen industrial zones in West Bank settlements, and roughly 23,000 acres of Jewish-run farms. The Golan Heights has many wineries whose wares have won international accolades.
About 25,000 Palestinians work legally for Israelis in the West Bank, earning as much as three times the wages paid by Palestinian companies, and Mr. Netanyahu and other Israelis said they would be the first to suffer from the step. But Mohammed al-Arqawi, a Palestinian union leader affiliated with the boycott movement, said such consequences were worth achieving a broader goal.
"We believe that economic and political pressure is needed to challenge Israel's ability to deny us our basic rights," he said in a statement. "People who are genuinely concerned about Palestinian workers should take action to end Israel's deliberate destruction of the Palestinian economy and its exploitation and oppression of our people."
Israeli politicians aligned with Mr. Netanyahu and those very much opposed to him seemed to be competing in their condemnations on Wednesday.
Yair Lapid, head of the centrist Yesh Atid party, said the move "discriminates against Israel and encourages terror."
Avigdor Lieberman, the ultranationalist former foreign minister, wrote in a post on Facebook: "Each time Europe marks Jews is a sign that anti-Semitism, insanity and hypocrisy have taken over and will lead to disaster for the entire free world." Michael B. Oren, a lawmaker in Mr. Netanyahu's coalition and former Israeli ambassador to Washington, included with his denunciation a Nazi-era photo of a storefront painted with "Jude," the German word for Jew, and a Star of David.
For Vered Ben-Sadon, it was personal. She is co-owner of the Tura Winery in the West Bank settlement of Rechalim, which exports 40 percent of its 56,000 bottles annually with labels that say "wine from the Land of Israel." She is also the granddaughter of a Holocaust survivor.
"In the past Jews were marked with a yellow patch, and today they are looking to mark our products," Ms. Ben-Sadon, 38, said on Israel Radio. "Europe, rather than atoning for what it did 70 years ago, is repeating the same ideas."
But Yariv Oppenheimer, director of the Israeli group Peace Now, said that anyone who likened labeling to a boycott — which he opposes — was "getting confused."
"This decision can strengthen Israel because it says there is a difference, and what is produced in Israel is legitimate — buy it, invest and continue the ties," Mr. Oppenheimer said in a radio interview. "It is the right of every person and every country to say we don't want to be part of this thing you are doing in the territories."
Jodi Rudoren reported from Jerusalem, and Sewell Chan from London. Irit Pazner Garshowitz contributed reporting from Jerusalem.
Link

To read the 'Interpretative Notice' which contains the EC guidelines, and other reactions to their publication, see
Cries of 'antisemitism' and 'boycott' at EC demand for labels