The bright yellow bulldozer smashing Palestinian homes into smithereens has become the iconic image of Israeli policy – violent, inhumane and illegal. Thus does Israel 'delegitimise' itself (here, in E. Jerusalem, 2010). Photo from AIC.
The boycott is our Palestinian non-violent resistance
BDS is gaining global traction as an effective and responsible protest against Israel's settlements – in contrast to Scarlett Johansson's endorsement.
By Hanan Ashrawi, Ha'aretz
February 10, 2014
The SodaStream controversy, which recently caught the attention of media worldwide, has highlighted Israel's ongoing military occupation and contributed to the growing awareness of global consciousness and social responsibility towards Palestine. It has laid wide open the whole issue of Israeli impunity and the imperative of multifaceted intervention and accountability.
Scarlett Johansson's choice to be the face of SodaStream, a company that operates a factory in the illegal settlement of Ma'ale Adumim, has brought to the forefront the debate on continued Israeli settlement activity and the real cost of such a dangerous and irresponsible policy. Ms. Johansson, who was also an ambassador of the human rights organization Oxfam, suddenly faced a conflict of interest and the challenge of individual responsibility and choice. The fact that Ms. Johansson decided to cast her lot with SodaStream, is, at best, naïve, and, at worst, an expression of a total lack of regard for justice and human rights.

Peaceful and legal protest in Ireland.
Various complementary forms of nonviolent resistance, which share their respect for international law, universal values and principles, and the requirements of a just peace, have begun to gain momentum in the international arena. The aims of this resistance are firstly, that Israel's exceptionalism and sense of entitlement must be brought to an end; and secondly, the consequences of its continued occupation must be brought home, including the moral, economic and political costs.
Initiated by Palestinian civil society and sustained by solidarity groups and people of conscience worldwide, including within Israel itself, the Boycott, Divestment, and Sanctions (BDS) movement is, in several respects, modelled after the long but efficacious struggle to end apartheid and institutional racism in South Africa. Its success in raising global awareness and prompting action within economic, cultural and academic spheres has gained traction incrementally.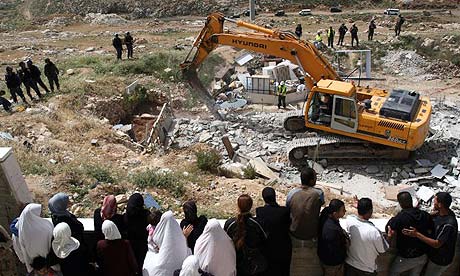 Palestinians watch an Israeli excavator destroying a Palestinian house in a village in the West Bank. Photo by Ahmad Gharabli/AFP/Getty images
This global movement represents an effective and responsible way of dealing with the escalation of Israeli violations, particularly its settlement activities, the confiscation of Palestinian land, the demolition of Palestinian homes, the military blockade of the Gaza Strip, and the annexation and isolation of Jerusalem. It also constitutes a proactive method of nonviolent resistance that is essential to the Palestinian struggle for equality and freedom. It provides individuals, groups and networks all over the world with an opportunity to engage effectively and to make a difference by means of individual and collective acts of social responsibility.
Such a solidarity movement empowers both Palestinians and their supporters and enables them to withstand the Israeli occupation's oppressive measures and to resist in a responsible and nonviolent manner. It further demonstrates that the occupation is costly and creates an incentive for members of Israeli civil society to hold their government accountable and to call it to end such policies that are undermining their own national interests and destroying the two-state solution.

Feb. 5, 2013, Beit Hanina Home Demolition – Photo by WAFA 8
Increasingly, individual states are delinking from the settlement colonial enterprise, whether at the bilateral and multilateral levels or in the public and private spheres. These steps are an implementation of policies and principles, as well as domestic and international law, and are intended to rescue the two-state solution in the face of Israel's profoundly damaging policy of settlement expansion.
With this paradigm shift, the rules of engagement have changed. The citizens, states and governments of the world are no longer prepared to tolerate the Israeli government's mad rush to create a "Greater Israel" or an apartheid system of occupation and discrimination. When U.S. Secretary of State John Kerry alluded to this reality, rather than heeding the message, Israeli officials launched a hysterical campaign against the messenger.
No amount of spin or "hasbara" (however well-funded) will be able to counter such an expanding global movement. The overuse of the tired old mantra of "delegitimization" and anti-Israeli bias are disingenuous given the Israeli government's persistent and systematic violations and flouting of international law and international humanitarian law. If Israel chooses to define itself solely through its occupation project of colonization and ethnic cleansing, then it alone bears the sole responsibility of its own "delegitimization."
Dr. Hanan Ashrawi is a member of the PLO Executive Committee and head of the PLO's Department of Culture and Information.