This posting has 4 items:
1) Samer Issawi: We are fighting for all Palestinians;
2) Phoebe Greenwood: Palestinian hunger striker demands UK impose sanctions on Israel;
3) +972: Hunger striker Samer Issawi is another statistic in an unjust legal system;
4) AFP: Abbas warns over Palestinian prisoner hunger strike;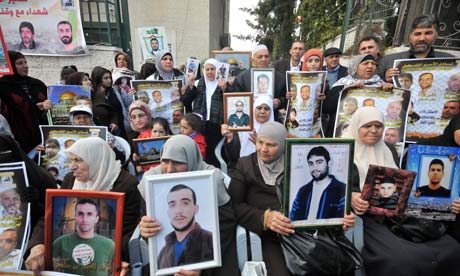 Palestinians holding photos of their imprisoned relatives on hunger strike rally outside the International Committee of the Red Cross offices in East Jerusalem. The ICRS has a mandate under the Geneva Conventions to protect the humanitarian interests of prisoners. Addameer says there are currently twelve prisoners on hunger strike in Israeli prisons. Photo by Mahmoud Illean/Demotix/Corbis

We are fighting for all Palestinians
In jail, my fellow hunger strikers and I are doing battle against the Israeli occupation that humiliates our people

By Samer Issawi, CiF, Guardian
March 03, 2013
My story is no different from that of many other Palestinian young people who were born and have lived their whole lives under Israeli occupation. At 17, I was arrested for the first time, and jailed for two years. I was arrested again in my early 20s, at the height of the second intifada in Ramallah, during an Israeli invasion of numerous cities in the West Bank – what Israel called Operation Defensive Shield. I was sentenced to 30 years in prison on charges relating to my resistance to the occupation.
I am not the first member of my family to be jailed on my people's long march towards freedom. My grandfather, a founding member of the PLO, was sentenced to death by the British Mandate authorities, whose laws are used by Israel to this day to oppress my people; he escaped hours before he was due to be executed. My brother, Fadi, was killed in 1994, aged just 16, by Israeli forces during a demonstration in the West Bank following the Ibrahimi mosque massacre in Hebron. Medhat, another brother, has served 19 years in prison. My other brothers, Firas, Ra'afat and Shadi were each imprisoned for five to 11 years. My sister, Shireen, has been arrested numerous times and has served a year in prison. My brother's home has been destroyed. My mother's water and electricity have been cut off. My family, along with the people of my beloved city Jerusalem, are continuously harassed and attacked, but they continue to defend Palestinian rights and prisoners.
After almost 10 years in prison, I was released in the Egypt-sponsored deal between Israel and Hamas to release the Israeli soldier Gilad Shalit in exchange for Palestinian prisoners. However, on 7 July 2012, I was arrested again near Hizma, an area within the municipality of Jerusalem, on charges of violating the terms of my release (that I should not leave Jerusalem). Others who were released as part of that deal were also arrested, some with no declared reason. Accordingly, I began a hunger strike on 1 August to protest against my illegal imprisonment and Israel's violation of the agreement.
My health has deteriorated greatly, but I will continue my hunger strike until victory or martyrdom. This is my last remaining stone to throw at the tyrants and jailers in the face of the racist occupation that humiliates our people.
I draw my strength from all the free people in the world who want an end to the Israeli occupation. My weak heartbeat endures thanks to this solidarity and support; my weak voice gains its strength from voices that are louder, and can penetrate the prison walls.
My battle is not just for my own freedom. My fellow hunger strikers, Ayman, Tarik and Ja'afar, and I are fighting a battle for all Palestinians against the Israeli occupation and its prisons. What I endure is little compared to the sacrifice of Palestinians in Gaza, where thousands have died or been injured as a result of brutal Israeli attacks and an unprecedented and inhuman siege.
However, more support is needed. Israel could not continue its oppression without the support of western governments. These governments, particularly the British, which has a historic responsibility for the tragedy of my people, should impose sanctions on the Israeli regime until it ends the occupation, recognises Palestinian rights, and frees all Palestinian political prisoners.
Do not worry if my heart stops. I am still alive now and even after death, because Jerusalem runs through my veins. If I die, it is a victory; if we are liberated, it is a victory, because either way I have refused to surrender to the Israeli occupation, its tyranny and arrogance.
---

Palestinian hunger striker demands UK impose sanctions on Israel
Samer Issawi, whose imprisonment has sparked West Bank protests, argues Britain must take responsibility for oppression

Phoebe Greenwood, guardian.co.uk
March 03, 2013
Tel Aviv–A hunger-striking Palestinian prisoner whose detention without charge in Israel has sparked violent protests across the West Bank has called on the British government to force Israel to abandon its practice of administrative detention.
Writing for Comment is free, Samer Issawi – who was hospitalised last Wednesday evening having refused food for more than 210 days in protest at his imprisonment – argues that Britain should take responsibility for its role in the genesis of the Israeli-Palestinian conflict and the subsequent suffering of Palestinians.
Pointing to the UK's "historic responsibility for the tragedy of my people", he says the British government should impose sanctions on Israel "until it ends the occupation, recognises Palestinian rights and frees all Palestinian political prisoners".
"Israel would not dare continue its oppression of the Palestinians without the support of western governments," Issawi writes.
Issawi, who was affiliated with the Democratic Front for the Liberation of Palestine, was arrested in April 2002 and sentenced to 26 years in prison for membership of an illegal organisation, attempted murder and possession of explosives. During the second intifada he was convicted of manufacturing and distributing pipe bombs, and in several incidents opened fire indiscriminately on Israeli civilian vehicles.
Hundreds of Palestinian protesters met Israeli soldiers in clashes across the West Bank following midday prayers last Friday. Demonstrations were organised in support of the hunger strikers at flashpoints including Ofer prison, Qalandiya checkpoint and Bili'in, a village whose struggle against encroaching Israeli settlements was captured in the Oscar-nominated documentary 5 Broken Cameras.
Tariq Qaadan and Jafar Azzedine abandoned their hunger strike last week after a deal was struck securing their release at the end of May. Negotiations are now under way to resolve the cases of Issawi and Ayman Sharawna.
Sharawna, who has been on intermittent hunger strike since July, is also under observation in hospital. Both men were freed by Israel as part of the Gilad Shalit prisoner exchange in 2011 but subsequently rearrested for allegedly violating the terms of their release – charges they deny.
"The Israeli side has begun dialogue today to find a solution to this issue, but so far they have not presented an acceptable offer," Issa Qaraqe, the Palestinian Authority's minister for prisons told reporters on Friday, adding that Issawi and Sharawna had refused an offer 3to be freed and deported.
Sivan Weizman, a spokesperson for the Israeli prison service, said on Thursday that Issawi's condition was stable but "it's better that he be in hospital".
---

Hunger striker Samer Issawi is another statistic in an unjust legal system
Unlike Prisoner X, there is no public outrage in Israel over the way the legal system is preventing Samer Issawi from receiving a fair trial. But then again, Issawi is Palestinian.
By Michael Omer-Man, +972
February 21, 2013
Samer Issawi, the Palestinian prisoner who has been on an intermittent hunger strike for over 200 days, had his day in court on Thursday. According to the sentence handed down by the Jerusalem Magistrate's Court, one might ostensibly believe that Issawi would be released on March 6, when his prison term is completed. But Samer Issawi is Palestinian, and therefore subject to a multi-layered legal system in which his fate is not determined by civilian judges, but rather by three IDF officers.
Before Israel agreed to release 1,027 Palestinians in exchange for captured IDF soldier Gilad Shalit, the army quietly modified Article 186 to Military Order 1651. Article 186 codifies special military tribunals that have the power to cancel early releases. The panels operate using secret evidence and do not even reveal to Palestinians what they are accused of.
So while according to Thursday's sentencing hearing in the Magistrate's Court Issawi is to be released within weeks, he will likely be re-sentenced by the military tribunal to the 20 years that remained when he was freed in exchange for Shalit. He will not know for what alleged crime he is being re-incarcerated.
Even Israel's most secretive prisoner in recent years, Prisoner X, knew what he was charged with. But Prisoner X was Jewish. Samer Issawi is Palestinian.
One other Palestinian hunger striker is being held under identical circumstances. Two others are being held in administrative detention, the practice of holding suspects without charge or informing them of what they are accused.
The injustice suffered by Issawi and the others is not theirs alone, it is one that has and continues to unite Palestinian society. Solidarity hunger strikes are being held both in and out of Israeli prisons. Protests are taking place across the West Bank and judging by the number of injured protesters, the Israeli military response to those protests is becoming more violent.
On Thursday, thousands of Palestinians marched toward the Ofer Military Prison compound in solidarity with the hunger strikers and to protest the practice of administrative detention. At that protest alone, at least 29 protesters were injured by rubber-coated steel bullets and tear gas canisters.
Days earlier, nearly two-dozen Palestinian demonstrators were injured at another protest in Hebron. Similar protests have been taking place almost daily in Nablus and throughout the West Bank. Solidarity tents have been erected and protests launched in Palestinian cities and neighborhoods throughout Israel, in Jaffa, Acre and Nazareth, among others.
The situation could explode should the hunger strikers die in prison.
Palestinian parliamentarian Mustafa Barghouti warned as much on Thursday. "Should anything bad happen to Issawi, I predict that the entire West Bank will rise up and a new, non-violent intifada will break out," he told Israeli news site Ynet.
It is a very real possibility.
Something could happen to Issawi at any time, without warning, explained Physicians for Human Rights executive director Ran Cohen.
"The main problem [with hunger strikers] is that there can be heart failure or something else you can't predict," he said in a telephone interview earlier this week.
But there is a much larger issue at stake than Issawi or any of the other current hunger strikers. It is not their individual cases that are necessarily unjust, although they are. Subjecting a civilian population to a military legal system is the larger injustice.
There is a word for when one regime rules different people under different sets of laws based on their nationality, religion or the color of their skin. At a conference in Jerusalem Thursday, former Israeli Foreign Ministry director-general and previous Israeli ambassador to South Africa Alon Liel explained: "In the situation that exists today, until a Palestinian state is created, we are actually one state. This joint state — in the hope that the status quo is temporary — is an apartheid state."
Much of Israel, particularly journalists and those concerned with civil and human rights, was up in arms in the past few weeks over the case of Prisoner X's secret imprisonment, specifically that the charges against him were being kept secret from the public and media. Prisoner X, however, knew the charges against him and his lawyers were given access to the state's evidence against him.
Unlike Prisoner X, Samer Issawi does not even know the charges against him nor will he have an opportunity to contest them in court, let alone a civilian court, adjudicating civilian law, with proper civilian oversight.
Samer Issawi is Palestinian.
Unlike Prisoner X, there is no public outrage in Israel over the way the legal system is preventing Samer Issawi from receiving a fair trial.
Samer Issawi is Palestinian.
---

Abbas warns over Palestinian prisoner hunger strike
By AFP
February 12, 2013
RAMALLAH, Palestinian Territories — Palestinian president Mahmud Abbas Tuesday called on the international community to intervene urgently in support of Palestinian prisoners on hunger strike in Israeli jails.
"Things may get out of control if the lives of the hunger strikers are not saved," Abbas said on Palestinian television.
"We ask the international community to respond effectively to ease the situation, otherwise it will be impossible to control and it will deteriorate across the Palestinian territories.
"These prisoners are on hunger strike in response to the policy of administrative detention and ill-treatment by the occupying authorities," he added in reference to Israel.
Abbas singled out four detainees in need of special attention — Samer Assawi, Jaafar Ezzedine, Ayman Sharawneh, and Tareq Qaadan.
The Palestinian leader also sent an urgent letter to UN Secretary General Ban Ki-moon to condemn the health and living conditions for the hunger strikers, as well as to demand their release.
Last year, between 1,600 and 2,000 Palestinian prisoners in Israel took part in a collective hunger strike which ended with an agreement with prison administrators on May 14.
One of their main demands was the release of prisoners being held in "administrative detention" under which suspects can be imprisoned without trial for six months, which is renewable indefinitely.