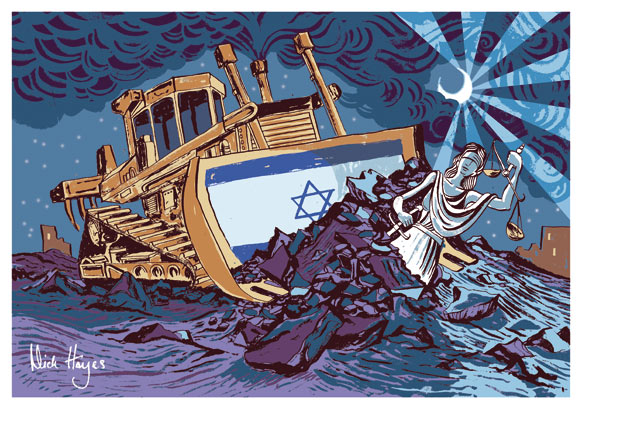 Cartoon by Nick Hayes, Guardian
This posting has 15  items:
1) Amnesty UK:  Rachel Corrie verdict highlights pattern of impunity for Israeli military;
2) JVP: JVP deplores Rachel Corrie verdict;
3) Jeff Halper: In Rachel Corrie verdict, Israel deals new blow to international law;
4) Ben White: A decade on, some justice for Rachel Corrie's family?;
5) TIME magazine:Israel's Rachel Corrie Verdict: Court Rebuffs Case of Slain U.S. Activist;
6) Chris McGreal Rachel Corrie verdict exposes Israeli military mindset ;
7) Huffington Post UKRachel Corrie Verdict: Family Laments 'Bad Day For Human Rights' While Others Blame Pro-Palestinians ;
8 ) Washington Post:Rachel Corrie ruling 'shameful,' some pro-Palestinian activists say ;
9) Gulf News: Rachel Corrie's verdict highlights Israel's disregard for justice ;
10) Guardian editorial: Rachel Corrie: a memory that refuses to die ;
11) Ami Kaufman: For many Israelis, Rachel Corrie was a nuisance ;
12) Daily Telegraph blog: The secular beatification of Rachel Corrie sums up everything that is wrong with modern solidarity with Palestine ;
13) Ma'an news: Palestinian factions denounce Corrie verdict ;
14) Tikun Olam: Rachel Corrie Among First in Long Line of Foreign Rights Activists Murdered, Maimed by IDF ;
15) Jewish Forward: Rachel Corrie Case Hinged on Driver ;

Rachel Corrie verdict highlights pattern of impunity for Israeli military

Amnesty UK
August 29, 2012
Amnesty International has condemned an Israeli court's verdict that the government of Israel bears no responsibility in the death of Rachel Corrie, saying the verdict continues a pattern of impunity for Israeli military violations against civilians and human rights defenders in the Occupied Palestinian Territories (OPT).
Amnesty says the verdict shields Israeli military personnel from accountability and ignores deep flaws in the Israeli military's internal investigation of Corrie's death.
The verdict, issued by Judge Oded Gershon in the Haifa District Court yesterday, maintained that the Israeli military is not responsible for "damages caused" because the D9 Caterpillar bulldozer which killed Corrie was engaged in a combat operation in Rafah in the southern Gaza Strip on 16 March, 2003.
International humanitarian law prohibits the destruction of property unless required by imperative military necessity, and requires that in any military operation constant care is taken to protect civilians.
By upholding the original flawed Israeli military investigation, completed within one month of Rachel Corrie's death in 2003, yesterday's verdict seems to have ignored substantial evidence presented to the court, including by eyewitnesses. The full military investigation has never been made public.
Amnesty International USA Middle East and North Africa Advocacy Director Sanjeev Bery said:
"Rachel Corrie was a peaceful American protester who was killed while attempting to protect a Palestinian home from the crushing force of an Israeli military bulldozer.
"More than nine years after Corrie's death, the Israeli authorities still have not delivered on promises to conduct a 'thorough, credible and transparent' investigation. Instead, an Israeli court has upheld the flawed military investigation and issued a verdict that once again shields the Israeli military from any accountability.
"Rachel Corrie was clearly identifiable as a civilian, as she was wearing a fluorescent orange vest when she was killed.
"She and other non-violent activists had been peacefully demonstrating against the demolitions for hours when the Israeli military bulldozer ran over her."
Amnesty has made similar criticisms of Israel's system of military investigations for many years. For example, the organisation has monitored the investigations carried out by IDF commanders and the Israeli military police into violations during 2008-9's Operation "Cast Lead" in which hundreds of unarmed civilians in the Gaza Strip were killed.
Israel's military investigations have lacked independence, impartiality, transparency, appropriate expertise and sufficient investigatory powers. The failure of both Israel and the Hamas de facto administration to conduct credible investigations into violations committed during the Gaza conflict led Amnesty to call for the situation to be referred to the International Criminal Court.
Palestinian civilians from the OPT are frequently killed or injured by the Israeli military but they or their relatives face significant barriers in accessing Israeli civil courts, which means that Israeli civil courts rarely examine the killings of civilians in the OPT, particularly those in Gaza. Steep court fees required of claimants before the case can begin are beyond the means of most Palestinians. As part of Israel's continuing closure of the Gaza Strip, the Israeli authorities deny Palestinian victims or witnesses from Gaza permission to enter Israel to testify in court, lawyers from Gaza cannot represent clients before Israeli courts, and Israeli lawyers cannot enter Gaza to meet clients.
Amnesty has repeatedly condemned Israel's policy of demolishing homes and other structures in the OPT, but demolitions are still routine in the occupied West Bank. More than 600 structures were demolished in 2011, resulting in the forcible eviction of almost 1,100 people. In the first seven months of 2012, the Israeli military demolished 327 structures in the West Bank, displacing 575 people, according to the UN Office for the Coordination Affairs.
---

JVP deplores Rachel Corrie verdict
By Cecilie Surasky, JVP blog
August 28, 2012
NEW YORK–Jewish Voice for Peace (JVP) is deeply disappointed by the verdict read by Judge Oded Gershon this morning in the civil court case brought by the Corrie family against the State of Israel, which exonerated the state and the army of any responsibility for the killing of their daughter, Rachel Corrie, in 2003. At the time of her death, Corrie was attempting to defend a civilian home in Rafah, Gaza from demolition.
This verdict–declaring American peace activist Rachel Corrie's death to be merely an accident–reflects the impunity of the Israeli army and the deficient investigation undertaken by Israel after Rachel's death. The U.S. Ambassador to Israel, Dan Shapiro, told the Corrie family last week, ahead of Judge Gershon's decision, that Israel's investigation into the death of their daughter was not satisfactory, and wasn't as thorough, credible or transparent as it should have been.
In response to the Judge Gershon's verdict, Cindy and Craig Corrie, Rachel's parents said: "We are deeply saddened and troubled by what we heard today in the court of Judge Oded Gershon. This was a bad day, not only for us, but for human rights, for humanity, the rule of law, and the country of Israel. From the beginning, it was clear that there was a system to protect the military and soldiers, to provide them impunity. This extends to the courts. The diplomatic process failed us. The Israeli court system demonstrated that it failed us too. Rachel was a human being who deserved accountability, and we as her family deserve that too."
Sydney Levy, Director of Advocacy at Jewish Voice for Peace said: "We at JVP deplore Judge Gershon's verdict, and we applaud the Corrie family and their legal team for successfully putting on trial Israel's flawed justice system. This verdict is yet another flagrant disregard for international law by Israel, which is obligated, as are all countries, to take all feasible precautions to spare civilians from the dangers of military operations. The Israeli military undoubtedly violated this principle in the killing of non-violent human rights activist Rachel Corrie."
The Israeli policy of home demolitions, sometimes extending to entire villages, remains as urgent an issue today as it was in 2003. Palestinians in Jerusalem, the Jordan Valley and Hebron Hills live daily with the threat–and reality– of their homes being demolished, often with the same Caterpillar bulldozers as were used in Corrie's death.
JVP joins the Rachel Corrie Foundation in urging concerned activists in the US to mark the trial verdict with actions to end the housing demolitions that deny Palestinians the basic human right of being secure in their own homes. We urge activists to visit the local offices of retirement fund TIAA-CREF to deliver a letter remembering Rachel Corrie and drawing attention to Israel's policy of home demolitions, frequently carried out using Caterpillar bulldozers.
While TIAA-CREF recently dropped Caterpillar from their social choice funds, they continue to invest over $1 billion in Caterpillar in their general funds. Jewish Voice for Peace is the founding member of the national coordinating committee of the We Divest campaign (wedivest.org) demanding that TIAA-CREF divest from companies, like Caterpillar, that are profiting from the Israeli occupation.
---
Palestinians demonstrate in honour of Rachel Corrie

In Rachel Corrie verdict, Israel deals new blow to international law
The verdict on the 2003 killing of Rachel Corrie absolved Israel of any wrongdoing, essentially blaming the victim for her death. The trial revealed Israel's approach to the most fundamental principles of international law, and especially to the duty to protect non-combatants.

By Jeff Halper, +972
August 28, 2012
For those who hoped for a just verdict on the death of Rachel Corrie, the American student and ISM activist killed by an Israeli bulldozer in Gaza in 2003 as she was defending a Palestinian home about to be demolished, this is a sad day. Not surprising, but still sad and bitter. The judge who decided the case, Oded Gershon, absolved the army of all blame, despite massive and internally contradictory testimony to the contrary. Moreover, he essentially blamed Rachel for her own death, commenting that a "normal person" would have run away from the bulldozer rather than confront it.
Palestinians and Israel human rights activists have learned that justice cannot be obtained through the Israeli judicial system. The Haifa District Court, in which the trial was held, could not have ruled other than how the state wanted. For the past 45 years of Israeli occupation, the Supreme Court has excluded from its rulings all reference to international humanitarian law and to the Fourth Geneva Convention in particular, which protects civilians living in conflict situations and under occupation. Only Israeli law applies in the Occupied Palestinian Territories – military law and orders – and the courts have restricted even that form of law by declaring that in instances of "security," they defer to the military. As in Rachel's case, the IDF thus has carte blanche to commit war crimes with impunity, with no fear of accountability or punishment.
Sending IDF American-made Caterpillar bulldozers to demolish Palestinian homes in Gaza or anywhere in the Occupied Territories is a war crime. To what degree Israel ignores, violates and distorts international law was particularly evident in the testimony of Pinhas "Pinky" Zuaretz, the brigade commander who supervised the illegal "clearing" of Palestinian homes from that area of Gaza. "There are no civilians in military conflicts," he testified, directly contradicting one of the most fundamental principles of international law, the duty to protect non-combatants.
When justice and law become separated as they have in Israel, the law is demeaned and becomes merely another tool of oppression. As a human rights defender, a status articulated and defended by the UN, Rachel Corrie had every right – even a responsibility – to intervene in the violation of universal human rights. It is incumbent on governments, courts and concerned individuals alike to ensure that human rights are enforced, especially when those being oppressed have no power to defend themselves. The attempt of this Israeli court to present Rachel's death as the consequence of the irresponsible actions of a person who should not have been defending Palestinian human rights in the first place denies both the culpability of a state engaged in illegal activities and the duty of citizens to work for universal justice.
While we all would have hoped that Rachel and her family could have received justice from the Israeli legal system – something also denied to the other human rights defenders, including Israelis, who have been killed and injured in their battle against the Israeli occupation – the issue at stake is even larger: holding Israel accountable for its actions. But eliminating any reference to international law, the Israeli judiciary, all the way up to the Supreme Court, has helped construct a legal system in which justice is impossible.
Universal jurisdiction requires that state courts enforce the provisions of the Fourth Geneva Convention. The International Criminal Court could be an appropriate venue to try Israeli military officials and their civilian superiors, including the defense minister at the time of Rachel's death, Shaul Mofaz; the Chief of Staff, Moshe Ya'alon (now Israel's deputy premier); the commander who presided over Gaza, Doron Almog; "Pinky" and the driver of the bulldozer. But since Israel (like the United States and China) is not a party to the ICC, that will not happen.
Until such a time that international law, human rights and justice are genuinely incorporated into national legal systems, in Israel and internationally, the rights and lives of all of us, "normative" citizens as well as the oppressed, are in jeopardy. This is what Rachel and her family have shown us so clearly. This is their genuine contribution, even if justice has been denied them. It is up to all of us to join with the Corries to carry on Rachel's struggle for a just peace between Palestinians and Israelis – and for a world based on human rights and universal principles of justice.
Jeff Halper is the head of the Israeli Committee Against House Demolitions (ICAHD). He can be reached here. jeff@icahd.org
---

A decade on, some justice for Rachel Corrie's family?
Whatever the verdict in the Haifa court tomorrow, the case of Rachel Corrie sheds light on the Israeli army's crimes.
By Ben White, Al Jazeera
August 27, 2012

Tomorrow, Tuesday, August 28, Haifa District Court in Israel will announce the verdict in the civil lawsuit brought against the State of Israel for the killing of Rachel Corrie in March 2003. For the best part of a decade, Corrie's family has been seeking justice and accountability for the crushing to death by a bulldozer of the American human rights activist.
The lawsuit, originally filed in 2005, charges the State of Israel "with responsibility for Rachel's killing and failure to conduct a full and credible investigation in the case".
I have been given access to professional translations of the legal summaries submitted to the court, which analyse the evidence, court testimonies and legal arguments. Whatever the judge's decision, this case has shed light on Israel's grave breaches of human rights and the impunity enjoyed by its military.
In the summary submitted by the State of Israel, it is claimed that "the IDF is a cautious, proportional, considerate, humanitarian army that acts with caution, proportionality and reasonableness". Yet evidence in the case, corroborated by other incidents external to the killing of Rachel Corrie, suggest that the Israeli army has killed civilians – Palestinians and internationals – as a result of official policy.
Shocking evidence
Evidence submitted to the court included extracts from the battalion operations log on the day Rachel Corrie was killed, March 16, 2003. The summary given that evening by the deputy battalion commander (referred to as "Sh R") included the following:
We must not, as an army, allow such incidents to disrupt the ongoing missions. We are aware of the problem of the foreigners in this area and, as a policy, we do not halt activity because of the presence of foreigners in the area in order to avoid creating a dangerous precedent… But again, this incident was unavoidable and these foreigners should be dealt with and prevented from entering the Strip.
Here, the IDF officer states that the reason why the bulldozers did not stop their work, despite the presence of foreign activists, was not because of any "security" imperative but to avoid creating a "precedent".
Even more shocking evidence was to follow. The battalion log then records Sh R as stating that "the rules of engagement are to shoot to kill any adult person on the route". In the State's document, the accuracy of the log at this point is immediately denied, with Sh R testifying that those were not his words "and apparently the operations sergeant misunderstood him" – only a person "identified as a terrorist should be shot to kill".
However, when the former Gaza Division's Southern Brigade Commander Colonel Pinhas (Pinky) Zuaretz – in charge in 2003 – was questioned in court, he affirmed these instructions.
Q: And on the level of principle, a person who comes to this [Philadelphi] route in the daytime, it is permissible to kill him.
A: Affirmative.
When Col Zuaretz was shown the deputy commander's remarks in the operations log, "he said that the statements were correct and accurately reflect the open-fire orders and that every adult person who comes into the route, from the standpoint of the open-fire orders, can be hit".
These words are all the more chilling when you remember that within seven weeks of Rachel Corrie's killing, award winning journalist James Miller and activist Tom Hurndall, both British citizens, were shot and killed in Rafah – and in the case of Miller, the same deputy commander was involved (as he testified to during questioning by the plaintiffs' lawyer as part of the Corrie suit).
The Israeli soldier convicted of manslaughter in the case of Tom Hurndall, Sergeant Taysir Hayb, told a military court that he only did what he was "supposed to", that "anyone who enters a firing zone must be taken out. [The commander] always says this". He added: "They tell us all the time to fire; that there is approval. All the troops [in Rafah] fire without approval at anyone who crosses a red line".
That summer, a report by Chris McGreal for The Guardian documented in detail incidents of Palestinian children being killed by the Israeli army. A military spokesperson told McGreal that he could not name the IDF commander in Gaza in his article, since "he has admitted his soldiers were responsible for at least some of those killings" and "in this day and age that raises the prospect of war crimes, not here but if he travels abroad he could be arrested sometime in the future". That commander, of course, was Col Zuaretz.
Culture of impunity
The Rachel Corrie lawsuit has further exposed a culture of impunity in the Israeli military, where claims of unlawful killings and war crimes are ignored, or superficially investigated. The plaintiffs' summary, for example, describes how the doctor who carried out the autopsy on Rachel Corrie at the Institute for Forensic Medicine "destroyed evidence documenting the proceedings of the autopsy, evidence that might have contained additional findings supporting the plaintiffs' version". Overall, the plaintiffs claim that "the work of the investigation team" suffered from "significant defects", with a lack of "ingenuity, experience and possibly even the will to arrive at the truth".

Inside Story – Justice for Rachel Corrie?
Just last week, it was revealed by Amira Hass in Ha'aretz that the US government concurs with the plaintiffs assessment, and that "Israel's investigation into the death of American activist Rachel Corrie was not satisfactory, and wasn't as thorough, credible or transparent as it should have been". In May 2011, US Ambassador to Israel Dan Shapiro told the US Senate Foreign Relations Committee:
For seven years, we have pressed the government of Israel at the highest levels to conduct a thorough, transparent and credible investigation of the circumstances of her death. The government of Israel has responded that it considers this case closed and does not plan on reinvestigating the incident.
This serious criticism echoes findings in the 2005 Human Rights Watch (HRW) report "Promoting Impunity", which adjudged Israel's "operational and Military Police investigations into Corrie's killing" to have fallen "far short of the transparency, impartiality and thoroughness required by international law". HRW was able to obtain a copy of the summary of the IDF's "operational investigation", a document "laden with generalities and emotive commentary", containing "major factual errors" such as the incredible statement that "no signs substantiate assertion that Ms Corrie was run over by a bulldozer".
Just last week, Human Rights Watch issued fresh condemnation of what it called Israel's "broken military criminal justice system" following a military trial that "failed to hold anyone accountable for the killings of a mother and daughter" in Gaza during the massacre of "Operation Cast Lead".
Human rights organisations have long complained about the lack of accountability in the Israeli military. Various studies have produced statistics such as "a complaint made to the military law enforcement bodies of offenses by soldier against Palestinians have a 96.5 per cent chance of being dismissed without an indictment being filed against the suspected soldiers". Over a 10-year period, indictments were filed in just 3 per cent of the cases where B'Tselem demanded a criminal investigation into the killing of Palestinians by soldiers.
The plaintiffs end their response to the State of Israel's summary with the Mahmoud Darwish poem "Think of Others", "on the premise that these are the words the deceased would have addressed to the soldiers who were involved in precipitating the end of her young life". Another Darwish poem, "Our Country is a Graveyard", is a reminder of the injustices recorded and resisted by Rachel and many others – and an opportunity to affirm that those responsible will have their day in court.
Gentlemen, you have transformed
our country into a graveyard
You have planted bullets in our heads,
and organised massacres.
Gentlemen, nothing passes like that
without account
All what you have done
to our people is
registered in notebooks.
Mahmoud Darwish
Ben White is a freelance journalist, writer and activist, specialising in Palestine/ Israel.
---

Israel's Rachel Corrie Verdict: Court Rebuffs Case of Slain U.S. Activist
An Israeli court rejects a suit filed by the family of an American activist slain by the Israel Defense Forces in 2003
By Karl Vick, Time
August 28, 2012
Coming almost a decade after her death beneath the tracks of an armored Israeli bulldozer in the Gaza Strip, the verdict in the Rachel Corrie case was the furthest thing from a surprise. By the time Israeli judge Oded Gershon gathered his robes about him and took his seat in an airy Haifa courtroom Tuesday morning, the trajectory of the proceedings had emerged across 15 court sessions stretched over 2½ years. On the day of judgment, as during the trial, his honor stood with the Israel Defense Forces (IDF). Israelis overwhelmingly do.
"I reject the suit," Gershon said. "There is no justification the state pay any damages."
What followed in the hallway outside moments later was more illuminating than most of what transpired in almost all of the testimony. As camera operators jostled for position, attorneys for the state spoke first — but only in Hebrew. The Corries' lawyer followed in English, then Arabic, and finally in Hebrew. Everyone knew their audience and where they could get a hearing.
The wonder is that the Corries sought theirs in Israel. The family began with Israel's promise to Washington to conduct a "thorough, credible and transparent investigation," something U.S. diplomats say has not occurred. But filing suit in Israel in hopes of producing firm facts meant squaring off against the IDF, the most admired institution in the country, routinely ranked far above any elected official or organ. Among Israel's Jewish majority, identification with the military is almost total and not only because young Jewish men are obligated to three years' service in it (two years for women). The force operates under a motto that translates roughly as "purity of arms" and is often put as "the most moral army in the world." Others may note the challenge of squaring the motto with the coarsening that inevitably flows from 45 years as an army of occupation in the Palestinian territories of the West Bank and Gaza, which were afire with the second intifadeh at the time of Corrie's death. But the ideal remains so firmly fixed in the Israeli mind that when an unambiguous instance of brutality emerges — like the video of a lieutenant colonel rifle-butting a Danish activist — shocked dismay occupied the public discourse for most of a week.
The Corrie lawsuit, however, challenged no one's preconceptions. Rather it extended Rachel Corrie's mission in life — using the privileges afforded the holder of a U.S. passport to assert rights into the courts where Palestinians rarely have standing (and from which a proposed regulation would bar them altogether). The case took more than six years to complete and with Gershon's verdict, appeared to end about where it began: the district court judge articulated the widespread Israeli assumption that a misguided young foreigner flirted with death, and lost. "The state did not risk the defendant," he said. "The defendant risked herself." Gershon described the group Corrie was with, the International Solidarity Movement, as pro-terrorist — also a common view in Israel — and insisted that "under no circumstances" were the IDF bulldozers that day aiming to demolish the Palestinian homes the non-violent activists were aiming to protect.
The Corries (whom, for the record, my wife volunteered to assist) replied at a news conference as they had in court — with specifics that the state had called beside the point. Cindy Corrie quoted a Human Rights Watch tally of 16,000 Palestinians whose 2,500 homes were destroyed between 2000 and 2004, most of them in the area near the Egyptian border where her daughter would die. Israeli officials argued that the properties provided cover for attacks. The Corries held aloft a photo of the family whose house stood in the area behind where Rachel Corrie stood facing the bulldozer, in a fluorescent orange vest.
"We believe that Rachel was seen," Cindy Corrie said. The heavily armored Caterpillar bulldozer may have had limited sight lines, the Corries acknowledge, but in addition to a driver, a second soldier was also in the cab, and conflicts in their assorted statements have never been reconciled. In fact, a pair of IDF investigations produced strikingly inconsistent accounts of the incident. The first was cursory at best: investigators failed to interview any eyewitnesses except Israeli soldiers and appeared to misidentify which of two bulldozers on the scene that day was involved. A second investigation, reached into by senior officers, strained to avoid contradicting the first, producing a muddle that the trial did little to sort through.
"I reject the idea that making these things known is somehow an attack on Israel," said Craig Corrie, who left his job as an insurance actuary to work full time on understanding his daughter's March 16, 2003 death. He noted the deaths of two other foreigners in the same area within weeks of Rachel's. In a seven-month period, Cindy Corrie said, the Israeli human-rights advocacy group B'Tselem counted 100 civilian deaths, including 40 children.
"I'm an army veteran," said Craig Corrie. "In 11 months in Vietnam, I was given nine medals. I think I can talk on some of this. I think that in controlling a military you have to start that before these incidents happen, and we have seen that that's not the case. We have seen from the highest levels of this military that they thought they could kill people on that border with impunity."
By the time Rachel was killed, at around 5 p.m., the activists and the crews had been sparring on the rubble field since noon. During the trial the Corries said, as much as anything, filing suit was a way to finally look into the eyes of the driver of the bulldozer. But he was allowed to testify from behind a screen. "I can say without a doubt that I believe my sister was seen as that bulldozer approached her," Sarah Corrie Simpson said. "As for the intent of the driver, I hope someday he will have the courage to sit down in front of me and tell me what he saw and what he feels."
---

Rachel Corrie verdict exposes Israeli military mindset
Corrie's parents have not received justice, but their quest reveals the lie of the IDF's claim to be the world's 'most moral army'
By Chris McGreal, Comment is Free, Guardian
August 28, 2012
Reporters covering Israel are routinely confronted with the question: why not call Hamas a terrorist organisation? It's a fair point. How else to describe blowing up families on buses but terrorism?
But the difficulty lies in what then to call the Israeli army when it, too, at particular times and places, has used indiscriminate killing and terror as a means of breaking Palestinian civilians. One of those places was Rafah, in the southern tip of the Gaza strip, where Rachel Corrie was crushed by a military bulldozer nine years ago as she tried to stop the Israeli army going about its routine destruction of Palestinian homes.
An Israeli judge on Tuesday perpetuated the fiction that Corrie's death was a terrible accident and upheld the results of the military's own investigation, widely regarded as such a whitewash that even the US ambassador to Israel described it as neither thorough nor credible. Corrie's parents may have failed in their attempt to see some justice for their daughter, but in their struggle they forced a court case that established that her death was not arbitrary but one of a pattern of killings as the Israeli army pursued a daily routine of attacks intended to terrorise the Palestinian population of southern Gaza into submission.
The case laid bare the state of the collective Israeli military mind, which cast the definition of enemies so widely that children walking down the street were legitimate targets if they crossed a red line that was invisible to everyone but the soldiers looking at it on their maps. The military gave itself a blanket protection by declaring southern Gaza a war zone, even though it was heavily populated by ordinary Palestinians, and set rules of engagement so broad that just about anyone was a target.
With that went virtual impunity for Israeli troops no matter who they killed or in what circumstances – an impunity reinforced by Tuesday's verdict in Haifa.
The Israeli military commander in southern Gaza at the time was Colonel Pinhas "Pinky" Zuaretz. A few weeks after Corrie's death, I (as the Guardian's correspondent in Israel) spoke to him about how it was that so many children were shot by Israeli soldiers at times when there was no combat. His explanation was chilling.
At that point, three years into the second intifada, more than 400 children had been killed by the Israeli army. Nearly half were in Rafah and neighbouring Khan Yunis. One in four were under the age of 12.
I focussed on the deaths of six children in a 10-week period, all in circumstances far from combat. The dead included a 12-year-old girl, Haneen Abu Sitta, killed in Rafah as she walked home from school near a security fence around one of the fortified Jewish settlements in Gaza at the time. The army made up an explanation by falsely claiming Haneen was killed during a gun battle between Israeli forces and Palestinians.
Zuaretz conceded to me that there was no battle and that the girl was shot by a soldier who had no business opening fire. It was the same with the killings of some of the other children. The colonel was fleetingly remorseful.
"Every name of a child here, it makes me feel bad because it's the fault of my soldiers. I need to learn and see the mistakes of my troops," he said. But Zuaretz was not going to do anything about it; and by the end of the interview, he was casting the killings as an unfortunate part of the struggle for Israel's very survival.
"I remember the Holocaust. We have a choice, to fight the terrorists or to face being consumed by the flames again," he said.
In court, Zuaretz said the whole of southern Gaza was a combat zone and anyone who entered parts of it had made themselves a target. But those parts included houses where Palestinians built walls within walls in their homes to protect themselves from Israeli bullets.
In that context, covering up the truth about the killings of innocents, including Corrie, became an important part of the survival strategy because of the damage the truth could do to the military's standing, not only in the rest of the world but also among Israelis.
The death of Khalil al-Mughrabi two years before Corrie died was telling. The 11-year-old boy was playing football when he was shot dead in Rafah by an Israeli soldier. The respected Israeli rights organisations, B'Tselem, wrote to the army demanding an investigation. Several months later, the judge advocate general's office wrote back saying that Khalil was killed by soldiers who had acted with "restraint and control" to disperse a riot in the area.
But the judge advocate general's office made the mistake of attaching a copy of its own confidential investigation, which came to a very different conclusion: that the riot had been much earlier in the day and the soldiers who shot the child should not have opened fire. In the report, the chief military prosecutor, Colonel Einat Ron, then spelled out alternative false scenarios that should be offered to B'Tselem. The official account was a lie and the army knew it.
The message to ordinary soldiers was clear: you have a free hand because the military will protect you to protect itself. It is that immunity from accountability that was the road to Corrie's death.
She wasn't the only foreign victim at about that time. In the following months, Israeli soldiers shot dead James Miller, a British television documentary journalist, and Tom Hurndall, a British photographer and pro-Palestinian activist. In November 2002, an Israeli sniper had killed a British United Nations worker, Iain Hook, in Jenin in the West Bank.
British inquests returned verdicts of unlawful killings in all three deaths, but Israel rejected calls for the soldiers who killed Miller and Hook to be held to account. The Israeli military initially whitewashed Hurndall's killing but after an outcry led by his parents, and British government pressure, the sniper who shot him was sentenced to eight years in prison for manslaughter.
That sentence apparently did nothing to erode a military mindset that sees only enemies.
Three years after Corrie's death, an Israeli army officer who emptied the magazine of his automatic rifle into a 13-year-old Palestinian girl, Iman al-Hams, and then said he would have done the same even if she had been three years old was cleared by a military court.
Iman was shot and wounded after crossing the invisible red line around an Israeli military base in Rafah, but she was never any closer than 100 yards. The officer then left the base in order to "confirm the kill" by pumping the wounded girl full of bullets. An Israeli military investigation concluded he had acted properly.
Tuesday's court verdict in Haifa will have done nothing to end that climate of impunity. Nor anything that would have us believe that Israel's repeated proclamation that it has the "most moral army in the world" is any more true than its explanation of so many Palestinian deaths.
---

Rachel Corrie Verdict: Family Laments 'Bad Day For Human Rights' While Others Blame Pro-Palestinians
By Jessica Elgot, The Huffington Post UK
August 28, 2012
An Israeli court which ruled the state is not to blame for the death of Rachel Corrie has reignited the debate over human rights in Israel, and whether a pro-Palestinian group bears blame for putting Corrie in harm's way.
Cindy and Craig Corrie, who lost their civil suit against the State of Israel and the Israeli army for causing the wrongful death of their daughter, said Tuesday's verdict was "a bad day, not only for our family, but for human rights, humanity, the rule of law and also for the country of Israel.
"As a family, we've had to push for answers, accountability and justice."
Corrie, 23, was killed in 2003 after acting as a "human shield" attempting to stop Palestinian home demolitions during the second intifada.
The bulldozer driver, who apparently ran over Corrie, said he did not see her, and the army ruled she was killed by a slab of concrete falling on her.
Witnesses said she wore a hi-visibility jacket, in clear view of the driver.
Bill Van Esveld of Human Rights Watch, said the verdict "set a dangerous precedent in its claim that there was no liability for Corrie's death because the Israeli forces involved were conducting a 'combat operation'.
"The idea that there can be no fault for killing civilians in a combat operation flatly contradicts Israel's international legal obligations to spare civilians from harm during armed conflict, and to credibly investigate and punish violations by its forces.
"Military investigators repeatedly failed to take statements from witnesses, to follow up with the witness's lawyer, and to re-interview witnesses to clarify discrepancies."
Edith Garwood, Israel and Palestine specialist at Amnesty International, wrote in a blog describing how "shoddy investigations were rubber stamped and that Israeli military impunity has been preserved."
She said the verdict would "implicitly declare 'open season' not only on non-violent Palestinian and Israeli human rights activists, but also on international human rights defenders as well."
But Professor Gerald Steinberg, president of Jerusalem-based NGO Monitor, said Corrie's parents should now shift their focus towards the pro-Palestinian group International Solidarity Movement that Corrie had volunteered with, suggesting they may have deliberately put her in harm's way to garner more publicity for their cause.
He said: "Rachel Corrie's death was a tragedy, but it could have been prevented. Leaders of the ISM movement have repeatedly made statements in support of violence."
"ISM describes itself as 'a Palestinian-led movement committed to resisting the Israeli occupation of Palestinian land using non-violent, direct-action methods and principles.'
"ISM's cynical and immoral strategy endangers the lives of its members. ISM co-founder Thomas Saffold showed an utter lack of regret over Corrie's death, boasting afterwards that 'we're like a peace army. Generals send young men and women off to operations, and some die.'
"Her bereaved parents should address the ISM for causing her wrongful death, and not target the IDF that is charged with protecting Israeli civilians against terrorism.
"Despite the casualties, ISM continues to encourage activists' entry into conflict zones, further endangering them.
"Rachel Corrie's parents are compounding the tragedy by lending their names to the immoral campaigns to demonise Israel."
Huwaida Arraf, a co-founder of ISM, called the ruling "outrageous in so many ways, not least of which is the criticising of Rachel and the maligning of the International Solidarity Movement in an effort to place blame on all but those who killed Rachel and worked to cover it up."
A spokesman for the Israeli foreign ministry said: "The death of Rachel Corrie is without a doubt a tragic accident. As the verdict states – the driver of the bulldozer and his commander had a very limited field of vision, such that they had no possibility of seeing Ms Corrie and thus are exonerated of any blame for negligence.
"This verdict is based on three different investigations that were presented to the court by The State Prosecutor's Office making it clear that the driver could not spot Ms Corrie and thus could not have avoided this tragic accident.
"More so, an expert who testified on behalf of the Corrie family also noted that the driver could not and did not see Ms Corrie due to the nature of the vehicle he was operating.
"Furthermore, the action described in the suit was "a military action in the course of war" according to all criteria and that the state [therefore the Defence Ministry] is exempt from responsibility for it.
"The security forces at the Philadelphi Corridor during 2003 were compelled to carry out 'leveling' work against explosive devices that posed a tangible danger to life and limb and were not in any form posing a threat to Palestinian homes.
"The work was done while exercising maximum caution and prudence and without the ability to foresee harming anyone."
---

Rachel Corrie ruling 'shameful,' some pro-Palestinian activists say
By Olga Khazan, Washington Post
August 28, 2012
The ruling by an Israeli court that the 2003 death of Rachel Corrie was an accident drew immediate scorn from several pro-Palestinian groups and writers, who view the decision as evidence that the Israeli government ignores the human rights of Palestinians and their supporters.
The court decided Tuesday that the country's military was not responsible for the death of Corrie, an American activist who was run over by an army bulldozer as she was protesting the demolition of Palestinian homes in the Gaza Strip.
The bulldozer's driver said he didn't see the 23-year-old activist as she stood in the vehicle's path, and the military deemed her death an accident after an investigation. Corrie's parents filed a civil lawsuit, calling the investigation not credible and requesting just $1 in damages. Judge Oded Gershon cleared the Israeli military of any wrongdoing.
"She [Corrie] did not distance herself from the area, as any thinking person would have done," the judge said.
Some took to twitter to voice their outrage over the decision.
joseph dana@ibnezra
With the #RachelCorrie verdict, Israel has moved one step closer to erasing the idea that Palestinians and their supporters are civilians.
28 Aug 12
Michael Moore
@MMFlint
The verdict is in.Shameful. "@rcfoundation:State&army absolved of responsibility killing #RachelCorrie." Judge says Rachel caused own death
28 Aug 12
Yousef Munayyer@YousefMunayyer
As expected #Israel legal systems fails to provide Rachel Corrie's family with justice, read: "A History of Impunity"bit.ly/ddrSfe
28 Aug 12
In an editorial[sic], the Guardian's Chris McGreal wrote that the incident is indicative of an Israeli military mindset that "gave itself a blanket protection by declaring southern Gaza a war zone, even though it was heavily populated by ordinary Palestinians, and set rules of engagement so broad that just about anyone was a target."
Meanwhile, pro-Israel advocates called Corrie a "leftist radical" for her outspoken style:
Dennis@Dennis_Hostetlr
#RachelCorrie Leftist Radical who burned the US flag surrounded by Palestinians in the W. Bank:
In an interview activists say was conducted with Corrie two days prior to her death, she describes the circumstances that drew her to the region:
"I've been here for about a month and a half now, and this is definitely the most difficult situation that I've ever seen. In the time that I've been here, children have been shot and killed. On the 30th of January, the Israeli military bulldozed the two largest water wells. People are economically devastated because of the closure of the borders. I feel a lot of horror about the situation."
Tom Dale, now a news editor at the Egypt Independent, tweeted an account he gave after allegedly witnessing the incident in 2003:
"The bulldozer drove toward Rachel slowly, gathering earth in its scoop as it went. She knelt there, she did not move. The bulldozer reached her and she began to stand up, climbing onto the mound of earth. She appeared to be looking into the cockpit. The bulldozer continued to push Rachel, so she slipped down the mound of earth, turning as she went. Her faced showed she was panicking and it was clear she was in danger of being overwhelmed."

"All the activists were screaming at the bulldozer to stop and gesturing to the crew about Rachel's presence. We were in clear view as Rachel had been, they continued. They pushed Rachel, first beneath the scoop, then beneath the blade, then continued till her body was beneath the cockpit. They waited over her for a few seconds, before reversing. They reversed with the blade pressed down, so it scraped over her body a second time. Every second I believed they would stop but they never did."
In a statement given by the unnamed Israeli battalion deputy commander, troops claimed they were unable to see Corrie properly through the bulldozer's cockpit:
"As a result of the situation that has been created and the repeated but unsuccessful efforts to keep these people away, the event that occurred was unavoidable. The D-9's field of vision is small; the D-9 identified the impact only after it happened."
CNN quoted Rachel's mother, Cindy Corrie, as saying, "I believe this was a bad day not only for our family, but a bad day for human rights, for humanity, for the rule of law and also for the country of Israel" in response to Tuesday's verdict.
---
http://www.ynetnews.com/PicServer2/24012010/2457703/photo-Rachel-2008-3&91;1&93;_wa.jpg
corrie in front bulldozer

Rachel Corrie's verdict highlights Israel's disregard for justice
The young activist's death became a symbol of the Jewish state's harsh repression of non-violent protests to occupation
Editorial, Gulf News
August 29, 2012
It's been nearly a decade since American peace activist Rachel Corrie was crushed to death by an Israeli army bulldozer as she tried to block its path in the Gaza Strip.
The bulldozer was about to demolish a home in Rafah, part of systematic house demolitions undertaken by Israeli forces as a response to mortar attacks by Palestinians.
On Tuesday, a court in Israel ruled that the death of the 23-year-old activist was an accident, a verdict in a civil suit brought by Corrie's parents against the military. If Corrie's mother, Cindy, had honestly expected any other verdict, she would have been sadly mistaken — there simply is no justice for Palestinians, and certainly not in the courts nor judicial system of a state which has illegally occupied their homes, demolished their houses, killed and repressed them, and ignored the most basic and fundamental of human rights for the past six decades.
While several foreign activists who rightly support the Palestinian cause have been killed or wounded in confrontations with the Israeli military during the last decade, Corrie's case has taken on special meaning for Palestinian activists.
Her death became a symbol of the Jewish state's harsh repression of non-violent protest to occupation — a young middle class, idealistic American who died defending the homes of strangers from a oppressive and iron-fisted occupying force. She was also a passionate writer whose works showed how deeply moved she was by the suffering she saw around her. As a member of the Palestinian International Solidarity Movement, she sought justice and freedom. For Palestinians, the work of such pressure groups and nonprofit organisations are vital in maintaining international pressure on Israel to end its occupation, remove its colonies, and cease the repression of Palestinians.
Tuesday's verdict shows that Israeli authorities and military have carte blanche to act above the law without fear of retribution or justice.
And sadly, that's been the case for far too long.
---

Rachel Corrie: a memory that refuses to die
The judge's verdict did not merely spruce up the whitewash over Corrie's death. It spread it yet further
Editorial, guardian.co.uk
August 28, 2012
Nine years after Rachel Corrie, a 23-year-old peace activist, was crushed by an Israeli military bulldozer in Rafah, a judge in Haifa absolved the state of Israel of any responsibility for her death, or for failing to hold a full and credible investigation. Perpetuating the myth that her death was a tragic accident, the judge did not deviate from the official line. He found that the driver had not seen the peace activist in her high-visibility jacket. He found a military investigation which drew the ire even of the US ambassador (the investigators initially assigned were 19 years old; they repeatedly failed to take statements from witnesses, follow up discrepancies or even issue maps of the scene) both credible and thorough. Impunity prevailed, once again, over accountability.
Rachel Corrie died trying to protect a Palestinian home from demolition. At the time the Israeli military had demolished 1,700 homes in Rafah, which human rights groups claimed was collective punishment for the Palestinian suicide bombings. It was the height of the second intifada, or uprising. Tuesday's verdict did not merely spruce up the whitewash over Corrie's death. It spread it yet further. It said that, because the bulldozer was part of a "combat operation", no civilians – Palestinian or American – in the area had any rights, because they should not have been there. Corrie was, in the court's eyes, a human shield protecting terrorists.
She was not the only casualty. Three years into the intifada, more than 400 children had been killed by the Israeli army, many in circumstances where there was no combat. As the family of Rachel Corrie are the first to admit, Gazan families who have lost their children have had no opportunity of taking legal action against Israel. Even if they had the means to do so, the law has been amended to stop civil actions like the one the Corries mounted. To redress repeated rulings by the supreme court which narrowed the definition of combat activity, the Knesset passed an amendment to the law on compensation claims which widened it. No residents of an area, such as Gaza, that Israel deems enemy territory will be able to submit such a claim. So the limited form of legal redress available to the Corries as a civil lawsuit has now been ended.
In the last nine years, Cindy and Craig Corrie have been fighting for something that any parent who has lost their child has a right to – the truth. Revealing the truth about the death of their daughter would have cost the IDF dearly. But covering it up costs Israel more as, with each year of the occupation, it sheds international support. Rachel Corrie, Tom Hurndall, Brian Avery, Caoimhe Butterly – all killed or severely injured while bearing witness to what happens to civilians in Israel's combat zones – leave a stain no court can erase.
---

For many Israelis, Rachel Corrie was a nuisance
Since Rachel Corrie's death, the Israeli establishment has been losing patience with activists of any kind
Ami Kaufman, Comment is Free, guardian.co.uk,
August 29, 2012
The state of Israel is not to blame for the death of Rachel Corrie – this is the decision an Israeli court reached yesterday. The ruling, made by Judge Oded Gershon of the Haifa district court, may have come as a shock to some, but anyone following Israel's path on a slippery slope, particularly over the past decade, could hardly be surprised when the court literally blamed the victim for her own death. "An unfortunate accident," is what Gershon chose to call the tragedy. "She did not distance herself as a reasonable person would have done."
Corrie, bulldozed to death by a massive D9 Caterpillar on 16 March 2003, was part of an activist group called ISM – International Solidarity Movement. This is a group of international activists who advocate non-violent demonstrations in the West Bank (and Gaza back then, before the disengagement in 2005) in solidarity with Palestinians opposing the occupation.
A non-violent movement, you say?
Well, isn't that what Israelis were always looking for? For their enemies to abandon terror, suicide bombings and rockets and to go down the route of Gandhi? Yet, in reality the ISM is probably one of the most hated organisations roaming the roads of Judea and Samaria these days. Seen as foreigners who have come from afar to meddle in local affairs, they have been accused of antisemitism, supporters of terrorists and allies of Hamas. For a majority of Israelis, these people have nothing to do with peace. They're a nuisance.
A recent example of that attitude is the case of a young Dane called Andreas Ias, who took part in a non-violent ISM demonstration this year in the West Bank. Footage of IDF colonel Shalom Eisner ramming Ias in the face with his rifle as he was slowly walking around the protest area went viral, and showed clearly the true feelings Israelis have for the Rachel Corries of the world.
The Israeli establishment has less and less patience for activists of any kind of late. As part of the recent government offensive on human rights in Israel, freedom of expression has been hit hard. Not only are leftwing activists who oppose the occupation summoned for interrogations – even J14 activists, those who lead the peaceful social protests against the cost of living, have been interrogated by police long before they take to the streets in an attempt to intimidate citizens of "the only democracy in the Middle East" to exercise their freedom to protest.
As news of Judge Gershon's decision broke, and as it spread like wildfire across social networks, the local Hebrew media barely batted an eyelid. The items covering the Corrie verdict on websites of Israel's largest newspapers barely lasted an hour on the home page. Corrie's story may be well known to Palestinians and leftwing activists, but one would be hard pressed to find people in Israel who actually know who she is to begin with.
Another reason for the sparse media attention in Israel could be the fact that this is a long drawn out case which probably isn't over – as the Corrie family intends to appeal to the supreme court. And with the American ambassador to Israel, Dan Shapiro, saying only a week ago that the investigation so far into the incident has not been sufficient, the Corries may feel they have the administration's support to pursue this further. One can only hope that Gershon's ruling was indeed an "unfortunate accident" as well, to be amended in the future.
For the Corrie family this is, of course, another horrible blow in its attempt to bring someone, anyone, in the IDF to accountability. On that day in 2003, a D9 driver demolished a young girl and her family. Yesterday in Haifa, with what may seem like a single court decision, a judge pushed forward the ongoing demolition of the Israeli justice system and the remainders of Israeli democracy itself.
In a country where the military is considered sacred and investigates itself, and where the judicial system has enabled occupation for over 45 years, could one have seriously expected a different outcome?
---

The secular beatification of Rachel Corrie sums up everything that is wrong with modern solidarity with Palestine
Brendan O'Neill, Daily Telegraph blog
August 28, 2012
A court in Israel has ruled that the death of Rachel Corrie, a Palestinian solidarity activist who was crushed by an Israeli bulldozer in Rafah in 2003, was accidental rather than being caused by the negligence of the Israeli army. The ruling will not please Corrie's supporters. Over the past decade they have elevated her to saintly status, turning her into a paragon of virtue who wanted merely to "protect Palestinians" from Israel's raging war machine. They have long depicted her death as a simple case of "murder" by the marauding forces of the Israeli state, which apparently is not only happy to kill uppity Palestinians but also virtuous white Americans who want only to "help Palestinians". This secular beatification of Corrie, who has effectively been turned into St Rachel of the Put-Upon Palestinians, captures everything that is wrong with modern-day solidarity with Palestine.
Corrie's cheerleaders – which includes actor Alan Rickman, who turned her writings into a hit play – seem unaware of how much their sanctification of Corrie echoes the old crusading Christian desire to save foreigners from wickedness. Corrie is treated as a uniquely good Westerner whose sole motivation was to "save" Palestinians, especially Palestinian children, from what Corrie herself described as Israel's attempt to "erase" them. So one writer praises Corrie's purity of soul, the fact that she eschewed "having a good time experimenting with drugs, booze and sex", and even turned her back on her "Ivy League University", in the name of travelling thousands of miles and "giving her life to save Palestinian homes and families". Here, Corrie is turned into a kind of Christ-like figure, rejecting the shallow joys of Western privilege in favour of venturing into the desert to "give her life" for others.
Corrie is a "blessed and generous spirit", we are told. "She died for them"; she committed a "sublime sacrifice". "I thought people like Rachel Corrie only existed in books and movies", writers gush. This "human shield" for Palestinian families was "brimming with idealism" and a determination to halt Israel's "chronic, insidious genocide". Part-Oskar Schindler, part Rudyard Kipling, part Jesus of Nazareth, Corrie is depicted as a blessed individual who gave herself up in order to save the less fortunate, the destitute and the downtrodden of "Over There", from the brutal forces of repression.
The transformation of Corrie's life and death into a black-and-white morality tale – featuring a well-off white American who was pure of heart, poor little brown people who have no hope, and a Zionist entity that is supremely evil – sums up the bone headedness of modern-day Palestinian solidarity. There was a time when supporting Palestine meant looking upon Palestinians as a people capable of governing their own lives, even of running their own state, free from the meddling or bossing-about of outsiders. Now, Palestinian solidarity is all about treating Palestinians as the ultimate victims, as helpless, hapless, sad-eyed creatures who need decent Westerners, ideally well-educated ones brought up in Amnesty-supporting households, to come over and "save" them, in a not dissimilar way to how Bible-wielding white folk once tried to saved the savages of Africa.
Palestinian solidarity has become creepily anthropological. It increasingly treats Palestinians, not as a people who simply need more political independence, but as a threatened tribe that must be protected from further harm by "human shields" from the enlightened west. Decked out in Arafat-style keffiyehs (a PC form of blacking up), and possessed of a conviction that it falls to white-skinned, iPhone-armed westerners to expose Israel's "genocidal" crimes to the world media, solidarity activists who travel to Palestinian territories are becoming more and more like secular versions of the crusaders of old. They are effectively going to Palestine to find themselves, to try to give meaning to their potentially shallow lives through imagining that they can "save" an entire people and halt a "genocide" by standing in front of a tank or writing some blog posts about how tragic are the lives of cute Palestinian children. It is a peculiar form of solidarity that reduces an entire foreign people to the level of child-like victims who need the likes of St Rachel to save them.
Brendan O'Neill is the editor of spiked, an independent online phenomenon dedicated to raising the horizons of humanity by waging a culture war of words against misanthropy, priggishness, prejudice, luddism, illiberalism and irrationalism in all their ancient and modern forms.
---

Palestinian factions denounce Corrie verdict
Ma'an news
August 29,2012
BETHLEHEM– Palestinian leaders and factions on Tuesday slammed an Israeli court's decision which rejected accusations of negligence over the 2003 killing of American activist Rachel Corrie.
An Israeli court had cleared Israel's military of any blame for the death of Corrie, who was crushed by an army bulldozer while trying to stop the demolition of a home in Rafah in southern Gaza.
The PLO executive committee deplored what it described as "a miscarriage of justice."
"Despite the testimonies of eyewitnesses, the audio-visual evidence and the overwhelming proof that Rachel was deliberately murdered, the Israeli court insists on victimizing her again in her tragic death," senior PLO official Hanan Ashrawi said in a statement.
"This proves that once again the occupation has distorted the legal and judicial systems in Israel and that the lack of accountability for its violence and violations has generated a culture of hate and impunity," she added.
Ashrawi said Israel's practice of blaming the victim now applied to international activists and all victims of Israeli violence, and not just Palestinians.
"We must make sure that Rachel Corrie's death is not a senseless incident," Ashrawi added.
Palestinians will continue to love and cherish Rachel and her sacrifice will always be a source of hope and a tribute to genuine humanity, she said.
'Impunity must end'
Mustafa Barghouti, the head of the Palestinian National Initiative, said the court's decision showed its complicity in war crimes committed against Palestinians and peace activists.
Describing the decision as "unjust," Barghouti said Israeli leaders and army generals should be tried at the International Criminal Court.
He also called on the US, as Israel's financial and political backer, to take a stand against Israel's recklessness.
Gaza-based MP Jamal al-Khudari said conscience of humanity would remember Corrie's murder.
"Rachel came to Gaza after she knew the truth, she came in solidarity with people who are facing occupation, killing and destruction. She stood in the face of the Israeli bulldozers which were demolishing people's homes south of Rafah."
The Palestinian Center for Human Rights extended its condolences to Corrie's family, and condemned the continued impunity for her death.
"Israel's house demolitions are a violation of Article 147 of the Fourth Geneva Convention, which prohibits the targeting of civilian property. Rachel Corrie was within her rights protesting this illegal activity and should not have been attacked," PCHR said in a statement
"This decision by Israel's courts is just one of the many extending immunity to Israel's forces, including another recent case where a soldier responsible for the death of two Palestinian women received a lesser sentence that did not reflect the gravity of his crime and only resulted in 45 days of imprisonment. This air of impunity can no longer exist."
The Popular Front for the Liberation of Palestine and the Democratic Front for the Liberation of Palestine also condemned the court's verdict.
DFLP politburo member Qais Abdul Karim said the decision proved the role of Israel's judiciary in serving the Israeli occupation.
"This verdict confirms again the complicity of the Israeli judiciary and its courts with the occupation's army in justifying their daily crimes committed against Palestinians and internationals," he said in a statement.
---

Rachel Corrie Among First in Long Line of Foreign Rights Activists Murdered, Maimed by IDF

By Richard Silverstein, Tikun Olam
August 28, 2012
The list below was compiled by the Institute for Middle East Understanding and lists foreign peace activists brutally maimed or murdered by the IDF over the past nine years. It's a list of ignominy. It should also be noted that hundreds of Palestinian activists have been similarly maimed or murdered in the same period under similar circumstances at anti-Occupation protest rallies throughout the West Bank:
May 15, 2011 – 22-year-old Palestinian-American student Munib Masri is shot in the back with live ammunition by Israeli soldiers along the Lebanon border while he participates in a march to mark the 63rd anniversary of the Nakba, the expulsion of Palestinians from their homes during the establishment of Israel. The bullet destroys Masri's left kidney and spleen and broke apart in his spine. He remains in a wheelchair.
May 1, 2011 – 60-year-old American citizen Sandra Quintano suffers two broken wrists and a laceration to her head after being assaulted by Israeli soldiers in the West Bank village of Izbet al-Tabib during a peaceful demonstration against the construction of Israel's wall, which will cut off villagers' access to their land.
June 2010 – At a demonstration at the Qalandiya checkpoint in the occupied West Bank in 2010, 21-year-old American artist and student Emily Henochowicz is hit in the face by a tear gas canister fired by Israeli border police. The force of the impact fractures her jaw and orbital bone and causes the loss of her left eye.
May 2010 – American citizen Furkan Dogan is shot and killed by Israeli commandos who forcibly commandeer the boat he's traveling on in international waters as part of the Gaza Freedom Flotilla. Dogan is shot multiple times in his leg, foot, back, and twice to the head. A United Nations investigation concludes that he and five of the other victims have been shot "execution-style" at close range, finding that Furkan had been shot in the face after "lying on the deck in a conscious or semi-conscious, state for some time."
March 2009 – Oakland native and non-violent International Solidarity Movement (ISM) activist Tristan Anderson is shot in the face with a high-velocity tear-gas canister by Israeli forces while participating in a demonstration against a section of the wall Israel is building on land belonging to the town of Ni'lin in the occupied West Bank. Anderson suffers multiple fractures to his skull, a severe injury to the frontal lobe of his brain, and a collapsed eye socket, causing him to lose sight in his right eye. He spends more than a year in a Tel Aviv hospital recovering before returning to the US, where he continues to suffer the effects of his injury and is confined to a wheelchair.
May 2003 – British cameraman James Miller is shot and killed by Israeli troops while filming in Gaza. According to witnesses, there is no other shooting or violent activity in the area at the time Miller is killed.
April 11, 2003 – A week after American ISM member Brian Avery is shot in the face and seriously wounded by Israeli soldiers in the West Bank, British ISM member Tom Hurndall is shot in the head by Israeli soldiers in Gaza while he attempts to help a group of Palestinian children to safety after Israeli soldiers began shooting in the vicinity. After nearly a year in a coma, Hurndall dies in January 2004. Following pressure from the British government and Hurndall's family, the Israeli army laid charges of manslaughter against a soldier who confessed to the shooting. However critics says the soldier, who is a Bedouin Arab, is a scapegoat for a series of violent attacks on foreign activists by Israeli soldiers.
April 5, 2003 – American citizen and ISM volunteer Brian Avery is shot in the face by Israeli soldiers in the city of Jenin in the West Bank. Lucky to survive, Avery undergoes a series of facial reconstruction surgeries and suffers severe facial scarring. After initially refusing to investigate the incident, the Israeli government subsequently agrees to an out of court settlement paying Avery $175,000.
March 16, 2003 – 23-year-old Washington State native and ISM volunteer Rachel Corrie is run over and killed by an Israeli military bulldozer while trying to prevent the destruction of Palestinian homes in the town of Rafah in Gaza.
The Occupation is unsustainable. It must end. These individuals and all who protest it, especially under the brutal watch of the Israeli security forces, are heroes. The IDF (and Border Police) are murderers. They kill civilians. Unarmed civilians. Who protest for justice and human rights. This is not a defensive army as its name implies, but an army that defends theft and dispossession. Shame.
---

Rachel Corrie Case Hinged on Driver
Did Bulldozer Driver See Pro-Palestinian Activist Or Not?
By JTA/Jewish Forward
August 28, 2012
HAIFA — The verdict by an Israeli court in the case of Rachel Corrie, an American activist killed in Gaza by an Israeli military bulldozer in 2003, may have captured international attention and touched on a range of ethical issues at the center of Israel's military operations.
But at its core, Tuesday's ruling on whether Israel was responsible for Corrie's death nine years ago hinged on one simple question: Did the bulldozer driver who ran over Corrie see her or not?
The judge in Haifa District Court ruled that he did not. Corrie's family maintains that he did.
Larger issues were part of the proceedings and their surroundings: What are the responsibilities of civilian activists in an armed conflict? Does a civilian area with terrorist activity count as a war zone? What distinguishes between an organization that peacefully opposes the Israeli occupation of Gaza and one that aids terrorists?
Those matters, however, took a back seat to the actual reasoning of the legal ruling by Judge Oded Gershon.
Corrie, a 23-year-old from Olympia, Wash., has become a symbol for some American and other groups that oppose Israel's occupation of the West Bank and its policies toward Gaza. Her parents founded the Rachel Corrie Foundation for Peace and Justice, which "supports grassroots efforts in pursuit of human rights and social, economic, and environmental justice," according to its website, and a play titled "My Name Is Rachel Corrie" opened in London in 2005.
On March 16, 2003, Corrie was an activist with the pro-Palestinian International Solidarity Movement protesting in the southern Gaza city of Rafah during the second intifada. She was acting as a human shield for a house about to be demolished by the Israeli army when she became enveloped in the pile of dirt created by an armored bulldozer as it moved toward the house. Corrie died soon after in a nearby hospital.
Her parents brought a lawsuit in Israel that accused the state of responsibility for their daughter's death. But in clearing the state of all charges, Gershon said that Corrie voluntarily risked her life by entering a place where there was daily live fire. Moreover, the Haifa judge said the bulldozer driver did not see Corrie as she was standing behind a pile of dirt, and that Corrie did not move out of the way when she saw the bulldozer moving toward her, instead climbing on the pile of dirt.
Corrie "put herself in a dangerous situation opposite a bulldozer when he couldn't see her," Gershon said, reading the verdict. "She didn't move away like anyone of sound mind would. She found her death even after all of the IDF's efforts to move her from the place."
Gershon also dismissed charges that the state tampered with the evidence in its investigation into Corrie's death. He added that the demolition of the home by the Israel Defense Forces on that day was an "act of war" and the area was a closed military zone.
The judge reserved some of his harshest words for Corrie's organization, saying ISM was "mixed up in terror" and accusing the group of aiding terrorists behind a facade of human rights activism.
"There's a big gap between the organization's declarations and the character of its actions," Gershon read from the verdict. "ISM activities include placing activists as human shields for terrorists," and "financial, logistical and moral assistance to Palestinians, including terrorists."
But speaking at a news conference following the verdict, the Corrie family and its lawyer presented a narrative that contradicted the judge's.
The lawyer, Hussein Abu Hussein, called Corrie and the other ISM volunteers "all peaceful activists. The army did not try to stop them. There was no command that it's a closed military area. There was no threat to the lives of the soldiers. How could he say that?"
Hussein added that the driver of the bulldozer must have seen Corrie, as she was protesting in one spot for five hours before she was run over.
The Corrie family said it planned to appeal the verdict, which it must do within 45 days.
Cindy Corrie, Rachel's mother, blamed the ruling on "a well-heeled system to protect the Israeli military and the soldiers who conduct actions in that military, to provide them with impunity at the cost of all the civilians who are impacted from what they do."
"This was a bad day not only for our family but a bad day for human rights, for humanity, for the rule of law and also for the country of Israel," she said.
Craig Corrie, Rachel's father, said after the ruling that though they had sued the state, he rejected "the idea that simply making some of these things known is an attack on Israel." Israeli anti-occupation activists, he said, have supported the Corries "from the first moment we've done this."
The Corries grew most passionate, however, when discussing what happened on the day their daughter died. They contradicted a statement from Israel's State Prosecutor's Office declaring that "the driver of the bulldozer and his commander had a very limited field of vision, such that they had no possibility of seeing Ms. Corrie."
Corrie's sister, Sarah Corrie Simpson, still wants answers from the driver.
"I can say without a doubt that I believe my sister was seen as that bulldozer approached her," she said. "I hope someday he will have the courage to sit down in front of me and tell me what he saw and what he feels."