In this posting, articles on the Palestinian response to Mandela's death from 1) the Guardian and 2) Arab Times. 3) Peter Beinart explains why he doesn't think 'apartheid' is the right term. Plus Notes and links.

Palestinians light candles and hold pictures of Nelson Mandela, during a ceremony in his honour at the Unknown Soldier Square in Gaza City, Sunday, Dec. 8, 2013. Palestinians mourned Mandela as a loyal champion of their cause. Palestinian and South Africa flags are seen. Photo by Adel Hana/AP.
Palestinians draw parallels with Mandela's anti-apartheid struggle
Mahmoud Abbas says Mandela was 'symbol of liberation from colonialism and occupation for all peoples'
Harriet Sherwood in Ramallah, Guardian
December 13, 2013
The death of Nelson Mandela has given fresh impetus to Palestinian efforts to portray the Israeli occupation as a form of apartheid that should be confronted with a similar international campaign that took on South Africa's white regime.
Mandela's message of solidarity from a 1997 speech in which he said "our freedom is incomplete without the freedom of the Palestinians", has been repeatedly invoked across Palestine in the past week.
Demonstrators carried posters of Mandela who also strongly criticised Israel's close ties to the apartheid government, at regular weekly protests against Jewish settlements and the vast concrete and steel separation barrier in the West Bank on Friday. Israeli troops fired teargas, rubber-coated bullets and water cannon to disperse protesters, injuring dozens.
Congregations lit candles to honour Mandela's life at packed services and masses at churches across the West Bank on Sunday. At the Holy Family Church in Ramallah, Father Raed Abusahlia's sermon included many references to biblical figures, with unmistakeable parallels to the man who led the struggle for justice in South Africa.
The Palestinian president Mahmoud Abbas said Mandela's death was "a great loss to Palestine". He was, he added, "a symbol of liberation from colonialism and occupation for all peoples".
Khaled Meshaal, the political leader of Hamas, said Mandela was an inspiration "for nations suffering injustice and resisting occupiers".
A Palestinian demonstrator holds portraits of late South African Leader Nelson Mandela and late Palestinian leader Yasser Arafat as he stands in front of Israeli soldier during the weekly demonstration against Israel's separation barrier in the West Bank village of Bilin, near Ramallah, Friday, Dec. 6, 2013. Photo by Majdi Mohammed, AP
Marwan Barghouti, a Palestinian leader serving five life sentences in an Israeli jail who is sometimes described as a potential "Palestinian Mandela", wrote an open letter to the late South African leader: "From within my prison cell, I tell you that our freedom seems possible because you reached yours. Apartheid did not prevail in South Africa, and apartheid shall not prevail in Palestine…. The ties between our struggles are everlasting."
On Wednesday, 12 Palestinian human rights groups published a statement commemorating Mandela, saying "the success of the South African struggle against apartheid… provides us with faith that we, the Palestinian people, will also succeed in our struggle against the Israeli occupation and its practices of apartheid and colonialism."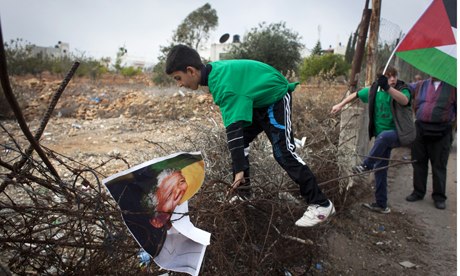 A Palestinian youth climbs a barbed wire barrier with a picture of the late South African leader in the West Bank village of Nabi Saleh. Photo by Nasser Nasser/AP
Israel is struggling to counter a widening global campaign likening its treatment of the Palestinians to apartheid – an assertion that for many years was regarded as a marginal view but which has gained currency because of the failure to establish a Palestinian state. Comparisons between the former regime in South Africa and the Israeli occupation of the Palestinian territories have become relatively commonplace – not just by Palestinians and their supporters, but also among Israelis and the international community.
When Jimmy Carter's book Palestine: Peace Not Apartheid appeared in 2006, the former US president was accused of anti-semitism for saying Israel operated a "system of apartheid" in the Palestinian territories. The same year, a Guardian article* which made a detailed comparison between contemporary Israel with apartheid-era South Africa was greeted with outrage in some quarters.
But, since then, warnings of an Israeli form of apartheid have been made by former Israeli prime minister Ehud Olmert, former intelligence chiefs Ami Ayalon and Yuval Diskin, as well as other public figures in Israel, academics, analysts, UN investigators and human rights groups.
In a 2007 report, John Dugard, then a UN special rapporteur and a former South African professor of international law, said: "Israel's laws and practices certainly resemble aspects of apartheid."
"The 'A-word' used to be taboo, but this has changed as the situation has changed," said Alon Liel, a former Israeli ambassador to South Africa. "The situation that has developed in the West Bank over four and a half decades is a kind of apartheid. If you compare the suffering of black people in South Africa under 40 years of apartheid, and the suffering of the Palestinians under 46 years of occupation, I don't know who suffered more."
He said the apartheid comparison was only valid in the West Bank, where Palestinians and Israeli settlers are subject to separate legal systems and have different access to land, water, natural resources and freedom of movement.
But Shawan Jabarin, director of the Palestinian human rights organisation Al-Haq, said Palestinians on both sides of the pre-1967 Green Line were living under a regime of apartheid, defined as "a systematic, institutionalised policy of discrimination against ethnic groups for the benefit of other ethnic groups".

Apartheid? An Israeli bulldozer demolishes five built homes in al-Funduq, West Bank on the grounds the owners did not have permits. Israeli planning laws are such that West Bank settlers have no difficulty getting bulding permits whereas Palestinians can hardly ever get one.
He cited current efforts by the Israeli government to forcibly move thousands of Bedouin Arabs off their ancestral land in the Negev desert into state-designated towns as an example of apartheid policy. "What we have is occupation, apartheid and colonialism at the same time. It's not a copy of South African apartheid, it's more complex – and it's worse."
The international community should impose sanctions on Israel to put pressure on the state to change course, Jabarin added. Supporters of the Palestinian cause say the campaign for boycott, sanctions and divestment against Israel is gaining traction.
Mark Regev, spokesman for the Israeli prime minister Binyamin Netanyahu, said the claim that Israel was operating an apartheid-type regime was "a libel that simply doesn't stand up to scrutiny". He added: "This is the Palestinians' marketing strategy to the international community. They are trying to artificially shroud themselves in Mandela's aura. It's a way of avoiding making necessary concessions."


Hanan Ashrawi joins the special service for Mandela at Holy Family Church, Ramallaha
Hanan Ashrawi, a member of the Palestinian Liberation Organisation's executive committee, who knew Mandela well, said he had "internalised the Palestinian issue, it was his issue, it wasn't just a question of solidarity. It is a question of self-determination, freedom, human dignity, human rights, persistence. These are the things the two struggles have in common."
---

Palestinian children pray next to a poster of Nelson Mandela, during a special service in his honour at the Holy Family Church in Ramallah, Sunday Dec. 8, 2013. Photo by Nasser Nasser / AP
'Madiba' Remembered As An Inspiration
Palestinians 'Mourn' Mandela With Special Prayers In Churches
By AP
December 08, 2013

RAMALLAH — Palestinians mourned Nelson Mandela as their most loyal champion, lighting candles in special prayer services Sunday and holding his picture like a shield in confrontations with Israeli troops. But the death of the South African leader who famously said that "our freedom is incomplete without the freedom of the Palestinians" also reminded many here of how far they are from establishing a state of their own. US-mediated talks between Israelis and Palestinians on the terms of such a state have reached their mid-way point and appear bogged down. "I don't think our leaders or the Israeli leaders or the American leaders will make peace here," Wael Shihadeh, 52, said Sunday while chopping eggplants in the kitchen of a Ramallah restaurant. Palestinians lack a leader of Mandela's caliber, he said.
Palestinian activists have compared Mandela's struggle against apartheid to theirs against Israeli occupation — a parallel Israel rejects — and some increasingly look to South Africa for help in pressure campaigns against Israel. Many South Africans also equate the Israeli treatment of Palestinians with their former apartheid regime's abuse of blacks. Last year, South Africa's government decided that goods imported from Israeli West Bank settlements cannot not be labeled "product of Israel." In 2011, the University of Johannesburg became the world's first to impose an academic boycott on Israel. In October, veteran antiapartheid leader Ahmed Kathrada, who was convicted alongside Mandela in 1964, launched a campaign from Mandela's former prison cell for Marwan Barghouti.

A Palestinian choir sings hymns during the service in honour of Mandela at the Holy Family Church Ramallah.
The Palestinian uprising leader was jailed 11 years ago and is serving five life terms after being convicted of a role in the uprising-related killings of four Israelis and a Greek monk. Asked about the use of violence by the Palestinians, Kathrada noted that Mandela's African National Congress also turned to it at one point. "When everything failed, every peaceful method failed, we also had to resort to armed struggle, realizing that the main struggle will be where masses of people were involved," the 84-yearold said by phone from South Africa. "We cannot prescribe to the Palestinian people how they should conduct their struggle," added Kathrada, who spent 26 years in prison, or a year less than Mandela, much of it in the same place. Palestinians want to establish a state in the West Bank, Gaza and east Jerusalem, lands Israel captured in 1967. More than 20 years of intermittent talks with Israel have been fruitless. A decade ago, Palestinians waged an armed uprising that was met by Israeli retaliation, and the fighting left more than 1,000 Israelis and more than 3,600 Palestinians dead.


Palestinian President Mahmoud Abbas shares a light moment with former S President Nelson Mandela after their meeting at Mandela's home in Johannesburg, April 1, 2006. Abbas was in South Africa on an official state visit.

The violence subsided after Mahmoud Abbas, who views negotiations with Israel as the preferred path to statehood, was elected Palestinian president in 2005, replacing one-time guerrilla leader Yasser Arafat. Two years later, Palestinians split politically, with the Islamic militant Hamas seizing Gaza, refusing to renounce violence and calling for an Islamic state in historic Palestine, including what is now Israel. Mandela's ANC and Arafat's Palestine Liberation Organization have cooperated closely since the 1960s, including in joint military training. Hanan Ashrawi of the PLO said ANC activists told their PLO colleagues they believed the Palestinians would reach their goal first. "The ANC would always tell us, 'when you are independent, when you are free, you mustn't forget us'," she said.
---

2002 Israeli wall in Jerusalem designed to protect the city from Palestinians.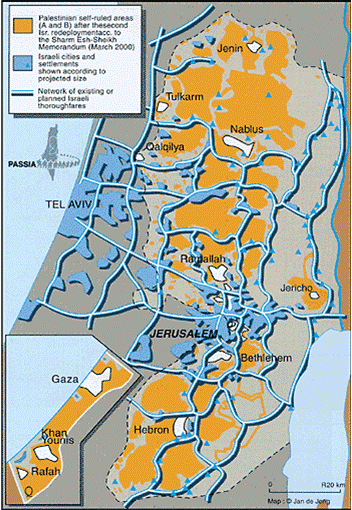 Segregation: Israeli-only roads in the West Bank. Map by Passia.
Why Do People Keep Calling Israel an Apartheid State When It's Not?
By Peter Beinart, Open Zion/Daily Beast
May 2013
I spent last Tuesday night in Tel Aviv at an Intelligence Squared debate on the topic: "If Israel continues on its current course, it cannot remain a democratic Jewish state." We argued yes; our opponents—who included former Israeli ambassador to the United Nations Dan Gillerman—argued no.
The responsibility for Israel's continued control of the West Bank, Gillerman insisted, rests largely with the Palestinians. Israel, he declared, has already produced five "De Klerks"—Shimon Peres, Yitzhak Rabin, Ehud Barak, Ariel Sharon and Ehud Olmert—leaders willing to cede land and midwife a Palestinian state. But the Palestinians have not yet produced "a Mandela," a leader truly dedicated to nonviolence and the two state solution.
Put aside the fact that by Gillerman's standards, Nelson Mandela—a man who for decades advocated armed struggle in pursuit of a one state solution—wasn't a "Mandela" either. Or that Sharon's chief of staff, Dov Weisglass, famously argued that his boss's decision to dismantle settlements in the Gaza Strip was designed to "prevent the establishment of a Palestinian state." What gobsmacked me was the analogy itself. To suggest that Israel needs "De Klerks" and the Palestinians need "Mandelas" is to compare Israel to apartheid South Africa. If an elected official or Jewish leader served up that analogy in the United States, they'd likely find themselves looking for work. When Jimmy Carter used the term in his 2006 book, Peace or Apartheid—despite insisting that he was referring only to the West Bank and not Israel proper—the Anti-Defamation League's Abe Foxman called him "bigoted." For using the far-less incendiary phrase "Jewish lobby," Chuck Hagel almost lost his bid to run the Pentagon earlier this year.
But here was a former Israeli ambassador to the U.N. using the analogy casually. And Gillerman is not alone. In 2010, Ehud Barak predicted that "If…millions of Palestinians cannot vote, that will be an apartheid state." In 2007, Ehud Olmert warned that "when the two state solution collapses" Israel will "face a South African-style struggle for equal voting rights."
Let me absolutely clear: I do not think Israel is an apartheid state. Inside its original boundaries, Israel offers Palestinians citizenship and the right to vote. There are Palestinian citizens in the Knesset and on Israel's Supreme Court. None of this was true in apartheid South Africa. As I've written, and argued countless times, calling Israel an apartheid state debases the term because if Israel deserves to be tarred with this unique epithet, various other Middle Eastern countries deserve it more.
Yet prominent, centrist Israelis keep invoking the analogy. And they go further. In The Gatekeepers, former Shin Bet head Avraham Shalom calls Israel in the West Bank "a brutal occupation force, similar to the Germans in World War II." (Shalom explained that he was referring to Nazi treatment of the French, Belgians and Dutch, not the Jews.)
I've noticed something similar speaking to American Jewish groups. After arguing that Israel should support a Palestinian state in the West Bank and Gaza, I'm sometimes asked, indignantly, whether we should give back the United States to Native Americans. What the questioners seem not to grasp is that by using the analogy they're comparing Zionists to colonialist ethnic cleansers, and thus affirming one of the core claims of the anti-Zionist left.
Something interesting is going on. On the one hand, American politicians and pundits realize that if they analogize Israeli behavior to apartheid or any other iconic historic injustice, Foxman and company will call them anti-Israel, if not anti-Semitic. As a result, mainstream commentators (as opposed to academic lefties) generally avoid the terms. But under the surface, there's also a gut-level recognition—even among centrists and hawks—that Palestinians in the West Bank lack basic liberties like citizenship, the right to vote, the right to due process and the right to free movement. And because human beings tend to think by analogy, references to apartheid, the Native Americans and even the Nazis sometimes slip out, especially when people are speaking off the cuff, and especially among people who don't fear Abe Foxman.
The day after my Tel Aviv debate I went to the Palestinian village of Susiya. Susiya is a motley collection of tents, people and animals in the southern West Bank that is facing demolition because its residents lack the necessary building permits, which isn't surprising given that Israel rarely grants Palestinians building permits in Area C, the sixty percent of the West Bank under direct Israeli control. (According to a 2008 report by the Israeli human rights group, Bimkom, between 2000 and 2007 Israel approved roughly five percent of Palestinian building applications in Area C.) Susiya's residents aren't the only ones in the West Bank who build without government approval. Across the West Bank, Jews have established roughly 100 "unauthorized" outposts, wildcat settlements illegal even under Israeli law. Yet they're barely ever bulldozed. To the contrary, the Israeli government provides them with water, electricity and military protection.
From Susiya, I went to Shuhada Street, once a bustling commercial thoroughfare in Hebron, now closed to Palestinians, including the Palestinians who live on it, some of whom have had their front doors welded shut and must exit by climbing out the roof and across the houses of neighbors. On Jewish holidays, the restrictions on Palestinian movement are even more severe. Here is one Palestinian boy's effort to get home from school on the first day of Passover, the Jewish festival of freedom.
I don't like analogizing Israel to apartheid South Africa, let alone Nazi Germany. South Africa and Nazi Germany were murderous, racist regimes on every spot of land they controlled. Israel is a flawed but vibrant democracy being corrupted by a brutal, undemocratic occupation on land it conquered in 1967. There's a big difference.
But as last Tuesday's debate in Tel Aviv made clear, the American Jewish establishment's effort to police the public debate in order to prevent such analogies is a waste of energy. Calling Israel an apartheid state is like calling Dick Cheney a "fascist." It's not factually correct, but it's not the real problem, either. Injustice doesn't stop being injustice because people describe it in imprecise, unfair ways.
So, in that vein, let me make a plea to the American Jewish leaders so outraged by apartheid analogies. Go to Susiya and Shuhada Street, or to a hundred other places in the West Bank that tell their own stories of state-sponsored suffering. Avoid analogies; avoid hyperbole; be scrupulously fair to the Israel that you and I love. Just talk to the people and keep your eyes open, and find your own language to describe what you hear and see. It will be awful enough.

New Israeli wall against Egypt, above and below

---
Notes and links
Israeli Apartheid: A Beginner's Guide, by Ben White, Pluto Press 2009. New edition due 2014.
Book review: "Israeli Apartheid: A Beginner's Guide, Electronic Intifada, July 2009
"Palestine: Peace Not Apartheid" by Jimmy Carter, published by Simon and Schuster November 2006.
From Ha'aretz, December 2006.
Former U.S. president Jimmy Carter said in remarks broadcast Monday that Israeli policy in the West Bank represented instances of apartheid worse even that those that once held sway in South Africa….
"When Israel does occupy this territory deep within the West Bank, and connects the 200-or-so settlements with each other, with a road, and then prohibits the Palestinians from using that road, or in many cases even crossing the road, this perpetrates even worse instances of apartness, or apartheid, than we witnessed even in South Africa."
*From Chris McGreal's report The 'apartheid wall'
Guardian February 6th, 2006
There are few places in the world where governments construct a web of nationality and residency laws designed for use by one section of the population against another. Apartheid South Africa was one. So is Israel.
Comparisons between white rule in South Africa and Israel's system of control over the Arab peoples it governs are increasingly heard. Opponents of the vast steel and concrete barrier under construction through the West Bank and Jerusalem dubbed it the "apartheid wall" because it forces communities apart and grabs land. Critics of Ariel Sharon's plan to carve up the West Bank, apportioning blobs of territory to the Palestinians, draw comparisons with South Africa's "bantustans" – the nominally independent homelands into which millions of black men and women were herded.