Mustafa Barghouti arrested by Israeli police for supporting the Bab Al Shams peace camp, 2013. Photo by Al Jazeera.
Jerusalem protests "a turning point for non-violence"
Palestine Monitor interviews Dr.Omar Barghouti on the recent protests outside Al-Aqsa, Jerusalem
August 06, 2017
Palestinian national pride seems at its peak after the events of Jerusalem in July, largely considered by Palestinians as a victory achieved for the sake of the al Aqsa Mosque, and against the ongoing Israeli military occupation.
Thousands of people took to the streets of Jerusalem in what turned out to be the largest spontaneous protest by Palestinians in years. Jerusalemites symbolically refused to enter the Al Aqsa compound until the removal of all security measures, and instead held mass prayers outside.
The mobilisation of Jerusalemites against new Israeli security measures at the doorsteps of the mosque, alongside diplomatic statements by countries such as Turkey or Jordan, put pressure on the Israeli government and ultimately forced the Israeli police to remove the metal detectors and smart cameras they had installed after an attack on July 14, when two police officers were killed at the site – as well as the three attackers, who were Palestinian citizens of Israel.
While Palestinians are now back at the compound to pray without new security measures, the situation may not be settled. In Jerusalem on Wednesday night, 15 youths were arrested, bringing the number of Jerusalemites arrested since the beginning of the week to 50. Israeli forces raided the neighbourhoods of Wadi Joz, Beit Hanina, Ras Al Amoud and Tour, rounding up youths they accused of participating in the recent clashes in the city.
We asked Mustafa Barghouti, a prominent Palestinian activist, former presidential candidate and head of the Palestinian National Initiative, what he makes of the recent events.
PM: What did Palestinians get from the events in Jerusalem in July?
Barghouti: Two powerful conclusions were reached for East Jerusalem. First, Palestinians realised the power of nonviolence. If practised well, including a lot of people and discipline, it's a very powerful tool. It also gave Palestinians the feeling that they are able to achieve something. The fact it happened when there's unbalanced power such as nonviolent Palestinians facing the Israeli army matters a lot in that sense.
PM: What is the general feeling among people you met during the street prayers in Jerusalem?
OB: There is now a feeling of hope and the two feelings we encounter a lot in East Jerusalem such as hopelessness and depression are defeated… for now. People are also realistic, they also know it's still a long struggle to achieve the end of the occupation.
PM: Some analysts have qualified this spontaneous movement as mostly religion-based because in the end, neither Fatah nor Hamas has been of much relevance to the mass protests – what do you think of this perception of things?
To me it's more about national unity than anything religious. Christians actually took part in the prayers, and not to be seen nor to perform, but rather from a genuine sense of solidarity. Some Christians joined the same street protests I was attending myself, and I only noticed them later; that's to tell you that they were not there just to be noticed.
PM: So why do people highlight the religious side of this movement to access the holy site?
There was maybe a mistake by foreign media about this religious element prevailing… Because of course there's a religious element but it's not the only thing. I was hand in hand with the Supreme Islamic Council and I can tell you that no decision was made only by religious leaders: both politicians and grassroots organisations were active in the decision-making process.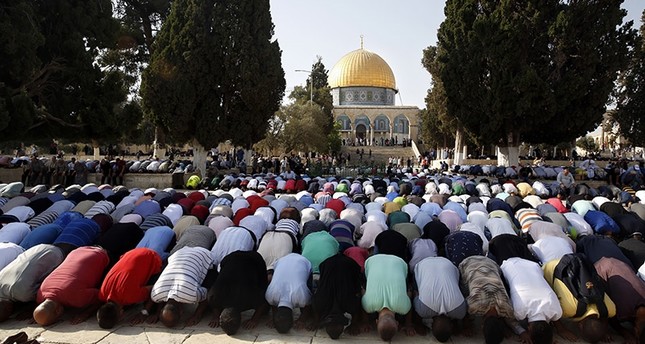 Mass male prayer inside the Al-Aqsa compound, July 27, 2017, Photo AP
PM: The street prayers and many other elements of the campaign are labelled as "unprecedented." What is still new in a struggle that has been going on for decades?
The fact that it's a mass movement, popular and nonviolent is quite new, even though we witnessed similar things during the first intifada. The beauty of it is a certain discipline. When you see nonviolent people facing an army, it is a very strong image.
After the resolution of the crisis, when all "security measures" were removed, people wanted to go back inside the compound to pray. But on Friday access was denied to men below the age of 50. Well, all the men prayed outside the compound. And when in the end of the prayer, they just stood up and left quietly, it shocked the Israeli police. Mainly it was quiet, even if there was very few cases of small confrontations.
So it's all very powerful, clearly, but I would not call it 'unprecedented' because a lot of activists have been advocating nonviolence for more than 15 years (with resistance villages, boycott, peaceful protests…). I feel we went from lab to larger scale though.


Women praying at the Lion's Gate (the nearest entry for the Al Aqsa mosque in Haram al-Sharif/Temple Mount
Could this victory help in any other fields, including the peace process that has been frozen since 2014, or international support against the occupation?
It will all depend on whether or not other political movements align with practising nonviolence. It makes me optimistic that people in Jerusalem told me that they now understand why we advocate for nonviolence. They were telling me "before we never understood what it meant", or "we used to disagree" but now they get it and they feel it works!
I believe we're on a road very similar to what happened in South Africa, and it's leading to the end of apartheid. We are also building international support and even if now we feel disappointed about international community reactions regarding this crisis, it's still building support. It's a turning point for nonviolence and hopefully it will spread to a lot of other activists. It was a clean struggle, without politics, and no security coordination for instance; from the people themselves. This is hopeful.
What do you think of the situation in East Jerusalem now?
It is very serious. The fight in Jerusalem more than in other places is a clear symbol of our fight against apartheid. In Jerusalem or in places located in Area C, there is no buffer between Palestinians under occupation and the Israeli occupier.
from wikipedia Mustafa Barghouti, born January 1, 1954) is a Palestinian physician, activist, and  politician who serves as General Secretary of the Palestinian National Initiative (PNI), also known as al Mubadara. He has been a member of the Palestinian Legislative Council since 2006 and is also a member of the Palestine Liberation Organization (PLO) Central Council. In 2007, Barghouti was Minister of Information in the Palestinian unity government.