In this posting, Amena Saleem details the the BBC's inability to get the news from Palestine/Israel; 2) Al Akhbar counts the Palestinians killed, wounded, arrested by Israeli security forces during November; 3) Ynet reports on rockets from Gaza

December 19th: Well-armed border police fire at Palestinians who had gathered to pray for Palestinian Cabinet minister Ziad Abu Ain, who collapsed shortly after a protest on Dec. 10 in the West Bank village of Turmus Aya. Photo by Majdi Mohammed / AP


KHAN YOUNIS, 23 December 2014, Israeli occupation forces (IOF) opened fire at Palestinian farmers south of the Gaza Strip on Tuesday morning for the third day running.

Eyewitnesses said that IOF soldiers in military positions and army vehicles opened fire at farmers and houses in Abbasan in eastern Khan Younis.

The shooting for the third day running on that same area did not inflict any casualties, the sources said, adding that reconnaissance planes were flying over the area at the time of the incident.Caption and photo, Palestine Information Centre.
BBC's Kafkaesque response to complaint over Gaza coverage
By Amena Saleem, Electronic Intifada
December 23, 2014
Last month, the BBC sent an email to the UK-based campaigning organization Palestine Solidarity Campaign (PSC), which was almost comical in its arrogance.
It was a response to a complaint made by PSC in October that BBC online reports were referring to the Gaza ceasefire as holding, despite the fact that by the end of October, Israel had breached the ceasefire numerous times since it was signed on 26 August.
In fact, Israel has fired on Palestinians in Gaza almost on a daily basis.
In its initial complaint, PSC referred to the website of the Palestinian Centre for Human Rights (PCHR), which documents incidents of ceasefire breaches. These breaches had been collated in an article published by Middle East Monitor (MEMO), which reported that there was more than one Israeli attack on Gaza every day in September. The MEMO article was also included in PSC's submission.
At the beginning of November, the BBC emailed to say: "You direct us to a non-BBC online report as evidence that the ceasefire has been violated by Israel. While we will not comment on the content or accuracy of what is published elsewhere, we would assure you that we are committed to due impartiality in respect of all our news reports and we are careful that this is maintained."
There is more than a touch of Kafka about the first sentence of the BBC's response, which seems to be suggesting that if anyone wants to prove that the ceasefire has been broken, and the BBC is wrong to say it is holding, then the proof that it has been broken must come from a BBC report — a report which doesn't exist — as the BBC will not accept "a non-BBC online report as evidence."
Laughable arrogance

And why won't the BBC accept non-BBC reports as evidence that Israel has been continually violating the August truce? Because, as the email's second sentence indicates, the BBC feels it can't trust the veracity of any news or factual sources other than its own, not even the reports of PCHR.
And there's the laughable arrogance of a news organization which apparently sees only itself as a trustworthy source of news and yet, as The Electronic Intifada exposed in October, produces maps so wildly inaccurate that they place Jerusalem entirely within Israel, even though under international law the eastern part of the city, occupied by Israel in 1967, is part of the West Bank.
A news organization which places such little value on accurate reporting that its governing body, the BBC Trust, has ruled that BBC journalists can refer to Jerusalem as a wholly Israeli city because Israel has "de facto control over the entire city in a political, administrative and military sense."
It's a news organization, which while seemingly saying it can't trust MEMO or the fact-collecting of PCHR, can't get its own news reports right.
It defends its senior presenters such as Martha Kearney, of Radio Four's World at One, when they falsely report that Israeli soldiers were killed on the same day that Rachel Corrie was crushed by an Israeli bulldozer in Gaza, and only admits to false reporting after seven months of twisting and turning in an attempt to justify Kearney's erroneous remarks.

The heavily fenced, surveilled and patrolled border with Gaza. Photo by AP.
This is a news organisation which bends so far away from accurate reporting on Palestine and bows towards an Israeli viewpoint instead, that it even tries to blur the line on the occupation of Gaza and additionally tells its journalists to downplay the siege.
As The Electronic Intifada revealed last year, the BBC's Online Middle East editor Raffi Berg sent an internal email to BBC journalists asking them to minimize Israel's siege on Gaza in their reporting. The leaked emails were quickly posted, with approving comments, on a pro-Israel website.
Gaza occupation "debatable"
And, in correspondence seen by PSC, senior BBC executive Richard Hutt questions whether Gaza is occupied, citing the argument that Israel disputes the fact of its occupation.
In an email to a viewer, sent in July 2013, Hutt writes: "It is fair to say that the question of whether Gaza is currently occupied is the matter of some debate."
He adds that the Israeli government believes "the unilateral withdrawal and the absence of a military presence or Israeli settlers in the area means that it cannot be considered occupied," and therefore the BBC cannot state categorically that Gaza is occupied territory.
This is despite the UN's clearly stated position, accepted by the UK government that Israel is the "occupying power" in Gaza. Likewise, The International Committee of the Red Cross still calls Gaza part of the "occupied territories" because it defines "occupation" as "effective control" over a territory.
Late last Friday night, Israel carried out air strikes in Gaza – the first aerial bombing of since the truce. Previous ceasefire breaches – those carried out while the BBC was claiming the ceasefire was holding — had involved Israeli gunboats firing at fishermen and ground attacks against civilians.
BBC Online reported Friday's air strikes and quoted a statement from the Israeli army which, predictably, claimed they were "in response" to a rocket fired from Gaza.
And yet the reality is that the air strikes were actually a massive escalation of Israel's continuous attacks on Gaza since the truce was signed, rather than a simple "response" to a rocket.
But when the BBC, through September, October and most of November, reports that the ceasefire is holding, how can its audiences have any idea of that reality? When it fails to report that on Friday afternoon, hours before Israel dropped its missiles on Gaza, Israeli soldiers had shot and wounded six Palestinians in the north of the Strip, why should its audiences not believe that the air strikes were, as the BBC reports, a "response" to seemingly unprovoked Palestinian aggression?
Through misreporting and non-reporting, the BBC presents a thoroughly inaccurate picture of Israel's occupation of Palestinian land. And yet it remains smug enough to cast doubt on "the accuracy of what is published elsewhere." The arrogance is comical, yes, but also deeply disturbing.
---

The IDF fire tear gas at Palestinians near Ramallah, December 19th.

Israel killed 9 Palestinians, arrested 650 in November: report
By Al Akhbar
December 02, 2014
Israeli Occupation Forces killed nine Palestinians and arrested 650 others in November, Ahrar Center for Detainees' Studies and Human Rights, a Palestinian rights organization said in a report on Monday.
A child, Mohammed Amin al-Syam, who died in Turkey after sustaining severe wounds in the latest Gaza war, is among the nine Palestinian victims. Eleven of Syam's family members were killed in the summer war.
For 51 days this summer, Israel pounded the Gaza Strip by air, land and sea. More than 2,160 Gazans, mostly civilians, were killed and 11,000 injured during seven weeks of unrelenting Israeli attacks in July and August.
Moreover, Israeli forces detained 650 Palestinians in annexed East Jerusalem, the occupied West Bank, and Occupied Palestine in November. According to the report, the highest number of arrests documented were in East Jerusalem and Hebron.
The detainees included 17 women and 42 minors, 30 of which were arrested in annexed East Jerusalem.
According to a 2013 report by the UN's Children's Fund, Israel is the only country in the world where children are systematically tried in military courts and subjected to "cruel, inhuman and degrading treatment or punishment."
Over the past decade, Israeli forces have arrested, interrogated, and prosecuted around 7,000 children between 12 and 17, some as young as nine, at a rate of "an average of two children each day," UNICEF said.
A report by Defense for Children International (DCI) published in May 2014 said Israel jails 20 percent of Palestinian children it detains in solitary confinement.
DCI said that minors held in solitary confinement spent an average of 10 days in isolation. The longest period of confinement documented in a single case was 29 days in 2012, and 28 days in 2013.
Israeli forces routinely conduct detention campaigns against Palestinians in the occupied West Bank on claims that they are "wanted" by Israeli authorities.
According to Fouad Khafsh, director of Ahrar, Israeli forces storm West Bank cities "every night to arrest innocent Palestinians."
He added that the numbers reported are cases of Israeli human rights violations that the center was able to verify and document, but there are many more cases that remain unreported.
Over 7,000 Palestinians are currently languishing in 17 Israeli prisons and detention camps, according to the Palestinian Ministry of Prisoners' Affairs.
Among Palestinian prisoners behind Israeli bars, there are 18 women, 250 children, 1,500 sick detainees, who are mostly in a critical condition, and 540 Palestinians held under administrative detention without any trial.
---
IAF strikes Gaza in response to rocket fire
Air force jets attack Hamas training facility in Khan Yunis in retaliation for rocket fired at Israel earlier Friday; attack marks first IAF strike in Gaza since military op.
By Zitun, Elior Levy, Ynet news
December 20, 2014
The Israeli Air Force struck a Hamas training facility in the area of Khan Yunis in the southern Gaza Strip on Friday night in retaliation for a rocket fired at southern Israel earlier in the day. The attack marks the first time Israel carried out an air strike in the Gaza Strip since Operation Protective Edge ended in August. No injuries were reported.
The IDF spokesperson issued a statement confirming that the IAF hit "terrorist infrastructure" belonging to Hamas's military wing in the southern Gaza Strip.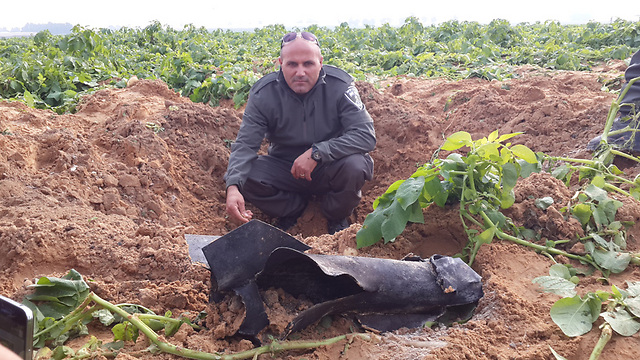 The rocket that was launched into Israel on Friday. Photo by Roee Idan
A direct hit was detected, the statement said, adding that the "attack constituted a response to the steep trajectory rocket fire towards Israeli territory at the noon time hours."
Earlier Friday, a Code Red siren was heard shortly before noon in the Eshkol Regional Council, an Israeli community close to the Israel Gaza border, and was soon followed by blasts, residents reported – indicating that a rocket fired from the Gaza Strip landed in Israel.
IDF forces canvassing the area found the rocket in an open area, and no injuries or damage were reported. This is the third time a Gaza rocket has landed on the Israeli side of the border since the end of Israel and Hamas' 50-day summer war.
The head of the Eshkol Regional Council Haim Yellin warned residents that a diplomatic approach must be taken to restore quiet in southern Israel in a remark after the code red alert this morning, "Whoever thinks that a strong IDF response is the solution for quiet in the Gaza border communities does not understand that wars are decided by politicians, who with courage can bring peace and security. After Operation Protective Edge, the country had an opportunity to establish a long-term arrangement. Instead of this, we found ourselves with a ticking clock until the next escalation and war."
Ilan Yosef, from the Nir Yitzhak kibbutz located in the Eshkol Regional Council, said the alarm was sounded on the first day of a visit by Jewish-American parents visiting their children who had volunteered to serve in the IDF and were residing in the kibbutz.
"It caused us to jump on our feet, we ran to the shelter. We have American guests who came to visit their children who live with us as part of the Garin Tzabar program. They just arrived today to spend time with their children and we already found ourselves running to the shelter. It was very frightening and not pleasant but we did not hear an explosion and we did not receive any updates regarding a landing," said Yosef.
Other residents of the Gaza border communities described the ongoing tension that has persisted after the deadly summer war with Hamas: "We knew it and we were waiting for this," said Roni. "We are returning to the path. We knew it was only temporarily quiet."
Anat Hefetz, a resident of Eshkol and member of the Future of the Western Negev organization, said, "Ever since the war ended, we have been waiting for the next war. It was known ahead of time. For four months already nothing has been done to prevent this."
According to Hefetz, "The war ended – as if – but nothing was done to change the reality. No initiative was taken. We left the area on the other side to be controlled by Hamas. We also feel this as residents. There are always infiltrations, attempts to shoot rockets and false alarms. It does not surprise us."
In early November another Code Red siren, indicating an incomng rocket from Gaza, was sounded duing morning hours in Israel's Gaza-border communities. The rocket fell a few meters into Israeli territory inside the Eshkol Regional Council. A few days later, shots were fired towards the Erez border crossing, according to an initial report.
Earlier Friday, Ynet learned that Hamas has begun to renew tunnel construction within Gaza and shifted its military strategy.
According to Palestinian sources in the Strip who spoke to Ynet, after Israel allowed the flow of limited goods and materials into Gaza, a black market for mortar emerged – allowing Hamas to renew construction of concrete slabs used to line the inside of the tunnels.