The report from Reuters is followed by commentary from the Economist and Web Arab News Digest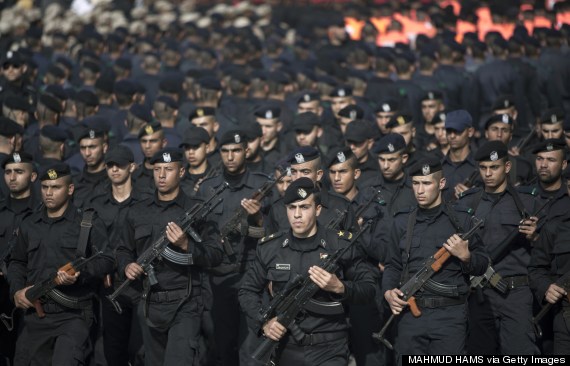 Hamas security forces in a military parade in Gaza city on January 13, 2014, marking the fifth anniversary of Operation Cast Lead.
Doubts surface on Gaza destination of rockets seized by Israel
* Rockets probably meant for Sinai insurgents – sources
* Israel says munitions were loaded on ship in Iran
* Iran and Palestinians in Gaza deny Israeli allegations By Dan Williams, Reuters March 25, 2014
JERUSALEM – Some U.S. intelligence analysts and Middle East security officials believe that a rocket shipment seized by the Israeli navy in the Red Sea this month was destined for the Egyptian Sinai and not for the Gaza Strip, as Israel says.
A U.S. official and two non-Israeli regional sources said Israel appeared to be insisting on the Gaza destination in order to spare the military-backed interim Egyptian administration embarrassment as it struggles to impose order in the Sinai. Israel has little compunction about drawing scrutiny to the rocket arsenals of Gaza's governing Hamas Islamists and other armed Palestinian factions, with whom it has regularly clashed. "Were the Israelis to say the rockets were going to Sinai, then they would also have had to say who in Sinai was going to receive the rockets," one source told Reuters, adding that such a statement would draw attention to the insurgents resisting Egypt's security sweeps in northern Sinai.
Israel says the Syrian-made M302 rockets and other munitions were hidden aboard the Panamanian-flagged Klos C while it docked in Iran. The ship was intercepted on March 5, en route to Sudan – where, Israel says, the arms would have been offloaded and trucked to Gaza through Egypt, a standard trafficking route. Israel's allegation, echoed by its Western allies, was dismissed by Iran and Hamas as a fabrication. Officials in Egypt declined comment, saying they knew nothing about the rockets.
Israel has been hazy in public about how the 5.5 metre-long (18-foot) M302s might have entered Gaza. The coastal enclave is under heavy Israeli surveillance, and Cairo has clamped down on the Egypt-Gaza frontier and the smuggling tunnels there. Asked on the day of the ship seizure which Palestinian militants were to have received the arms cache and how, Defence Minister Moshe Yaalon said: "I don't know, but it is clear this was meant to reach terrorist groups in the Gaza Strip … The route is well known and it seems that they tried to revive it."
ROCKETS HARD TO SMUGGLE


Photo, taken and released by the IDF, of a missile in the ship they intercepted claiming it was carrying Iranian weapons for  Gaza.
An Israeli military officer who took part in planning the naval interdiction told Reuters that, in the month before it happened, "not once did I hear anyone mention anything other than Gaza as the end-point for these weapons". A U.S. official said Washington had confirmed the Syrian and Iranian provenance of the rockets and believed they were to have been used against Israel. But half of U.S. intelligence analysts thought Sinai, not Gaza, was the destination, the official said. "You look at those things and it's obvious they couldn't have been slipped into Gaza," the official said, adding that the M302s were not designed to be disassembled for easier smuggling.
Israel said it had also found 181 122mm mortar shells aboard the Klos C, and some 400,000 7.62-calibre bullets. The U.S. official agreed that the mortar shells were meant to go to Gaza, saying: "You can fit each of those in a backpack." But the bullets, the U.S. official said, may have been meant for another client elsewhere in Africa. With their 160 km (100 mile) range, the M302s could have been launched from areas of Sinai well away from Israeli spotters along the Egyptian border, and struck Tel Aviv or Jerusalem.
A regional security source said Israel would have kept Egypt informed about the seizure but that both countries would have kept the contacts discreet. Many Egyptians dislike their 1979 peace accord with Israel and would resent being reminded of Israeli cooperation in efforts to rein in militancy in the Sinai. Egyptian military officers, visiting Israel two weeks ago as part of routine security meetings, were taken to Eilat to view the Klos C in dock, a source briefed on the visit said.
---

Mural in northern Gaza Strip celebrating the use of rockets against Israel. Although Hamas has observed the 2012 truce, Palestinian Islamic Jihad (PIJ) said it resumed rocket fire in response to what it says are Israeli "provocations" and violations of the cease-fire, including an airstrike that killed three PIJ militants earlier in March. Photo taken March 13th, 2014 by Adel Hana /AP.
The decline of Hamas may result in a new wave of chaos
The Economist
March 29, 2014
ARE the tables turning in Gaza? Whenever Egypt wanted to stop Israel and the Palestinian enclave fighting in the past, they would call the Islamist movement, Hamas, which has ruled Gaza since 2007.
In the last round of mutual shelling that began on March 12th, the most serious bout of violence for more than a year, it got in touch with another even more extreme Islamist group, Islamic Jihad. Within minutes, calm was restored. Islamic Jihad thus claimed credit for the fighting—and for the subsequent truce. Within 20 minutes, says an Islamic Jihad veteran, his group fired 130 rockets from underground launch-pads at a stretch of Israeli land eight kilometres (five miles) inside Israel. "We are sending a message," he said. "Next time the Israelis assassinate a Gazan, [Binyamin] Netanyahu knows we will hit Tel Aviv," he added, referring to Israel's prime minister.
Hamas has lost several regional patrons, notably Syria and Egypt, while Islamic Jihad seems to be gaining appeal. Some Arabs prefer its dogged determination to fight Israel from Palestinian soil to Hamas's pan-Islamic vision and its support for the various arms of its parent organisation, the Muslim Brotherhood, in Egypt and Syria.
Iran now seems to be providing Islamic Jihad with dollops of aid, plus weaponry that is more advanced than anything Hamas can field. Flush with Iranian cash, Islamic Jihad has been trying to take the lead in dispensing charity during Gaza's Muslim festivals. A Salafist preacher was recently so incensed by the group's ties to Iran that he called its adherents rafida, or rejectionists, a favourite Sunni term for insulting Iran, because Shias are said to have rejected Islam's founding caliphs. For his pains, the preacher was roughed up.
As Islamic Jihad waxes, Hamas may be waning. While Gaza's biggest employers—the Palestinian Authority, Hamas and the UN—are so cash-strapped that they are all cutting pay to their staff, Islamic Jihad, which claims to have some 5,000 fighters, has publicly increased it.
But with at least 20,000 fighters under its command, Hamas is still by far the largest force in the enclave. As it proved with a rally on March 23rd to commemorate Israel's assassination a decade ago of its then guiding light, Ahmed Yassin, it can still muster a massive show of support. But it is being severely weakened by Egypt, which is stifling all movement across Gaza's southern border. The terminal at Rafah, the sole border crossing between Egypt and Gaza, has been closed for at least six weeks, though the authorities in Cairo say they will temporarily open it for a few days on March 29th.
Nearly all the tunnels, through which supplies into Gaza have come, have been closed by Egypt, too. So Hamas is bleeding. It has lost the revenue provided by tariffs on incoming Egyptian petrol and raw material. Israel now supplies fuel at three times the old Egyptian price and refuses to let in much else; 90% of the enclave's building projects have stopped. Unable to pay Gaza's civil service, Hamas is looking stingy. To save money on petrol, Gaza's police have taken to asking Gazans who ask them to investigate a crime for the taxi fare. The police, once ubiquitous, are now rarely seen parked at junctions.
So who is in charge? The answer is still Hamas. No single group has the muscle to replace it, yet. But rumours abound that it has resorted to borrowing cash from Islamic Jihad. Israel and its allies may come to worry that, by continuing to squeeze Hamas, they are throwing the strip into the clutches of Iran's proxies, or worse still, that Gaza may find it has no government at all—and that a wave of mayhem may result.
Below, Islamic Jihad members firing rockets into Israel from the Gaza Strip. Photo by Amir Farshad Ebrahimi / Flickr.
---
Gaza: bad to worse?
Commentary from WAND
March 31, 2014
The refusal of Western powers to talk to Hamas and the omission of Gaza from the peace agenda has long seemed likely to undermine any agreement which might be achieved between Israel and Palestine, for example as a result of the Kerry talks – just as the refusal of the Western powers to talk to the PLO in the 1980s destroyed any prospect of Arab/Israel agreement then. The humanitarian situation in Gaza remains dire, and the political situation toxic. The practical situation has changed substantially with the fall of the Muslim Brotherhood, sympathetic to Hamas, in Egypt followed by the destruction by Egypt of more than a thousand tunnels (probably some remain open) which provided a semi-legal hole in the blockade in which official Egypt under Mubarak collaborated with Israel.
There has been sporadic relaxation of the blockade. The crossing into Egypt has been opened for three days. The Israelis say they will permit materials for a Turkish-sponsored hospital to be imported, apparently as part of a deal attempting reconciliation after the Mavi Marmara affair in 2010; construction of the hospital using "smuggled" material started in 2011.
On 24 March the UN Human Rights Council passed five resolutions condemning various aspects of the Israeli occupation. The US was isolated in opposing three of them, but the vote on the fifth on Gaza was 29 in favour, 6 against and 11 abstentions; the EU was divided, with Hungary, Italy and the Netherlands along with the US opposing, and Belgium, France and the UK abstaining. The resolution concerned follow up to the controversial Goldstone report which accused both Israel and the Palestinians of war crimes and crimes against humanity during the 2009 Gaza war. Benjamin Netanyahu denounced the resolutions as absurd and hypocritical.
See also: Just what the spin doctor ordered: an arms shipment from Iran's government