In this posting, report on the UK denial of visas, 1], letters of protest about the refusal 2], article about the severe trauma being suffered by children in Gaza, Telegraph, January 2015, 3]; the Kingston university programme in Notes and Links at foot. See also letter of protest from JfJfP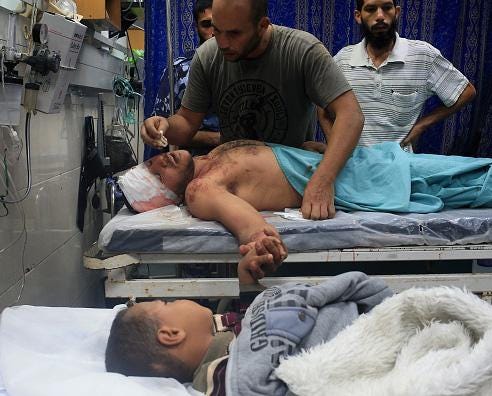 Man and child hold hands as they are treated by Gaza's experts after their house has been bombed. Photo by Mohammed Abed / AFP
UK decision to refuse Gaza medical experts from joining Kingston University conference condemned by campaigners
'This refusal is completely unjustified and a direct abuse of basic human rights'

By Jonathan Owen, The Independent
November 09, 2015
A decision by Britain to refuse a group of Palestinian medical experts from Gaza permission to participate in an international conference at Kingston University on trauma in war zones has been condemned by campaigners.
Three doctors and a nurse who work for the Ministry of Health in Gaza, and were due to give presentations at the conference taking place this weekend, have had their visa requests refused by British authorities.
In addition to the four mental health specialists refused entry, Dr Nahida Al-Arja, a psychologist from Bethlehem University, has had her visa application rejected.
A letter by the UK Palestine Mental Health Network, co-organisers of the conference, published in the Independent, says: "It is beyond our comprehension how such an interference with intellectual and clinical discussion on such an important topic could be justified. This is a measure that further isolates clinicians from Gaza, already struggling under the impact of military assaults and siege,"

12-year-old Sayed Bakr who witnessed the killing of his family. From Hundreds of thousands of children shell-shocked after the war in Gaza, Telegraph, January 2015, see item 3, below
It adds: "We urge the UK authorities to reverse this decision immediately, and to resolve to nurture, rather than undermine, urgently needed psycho-social support services for the people of Gaza."
And Dr Mohamed Altawil, director, Palestine Trauma Centre (PTC), and one of the conference's co-organisers, said: "This refusal is completely unjustified and a direct abuse of basic human rights. Neither will it help peace and conflict resolution in the area."
He added: "The people from Gaza were being sponsored by the World Health Organization to come to the UK. The British consulate in Amman refused them because they thought if they arrived in London, they might not go back to Gaza. Another reason, they said that they do not have sufficient finances. They mentioned in the refusal that they do not have right to appeal."
In the case of Dr Al-Arja, it is understood that the forms were incomplete.
David Harrold, chair of the PTC's board of trustees, commented: "This is an international conference that has speakers from the UK, the US, Italy, Finland – and from Israel. The British authorities, by making this decision to exclude Palestinian psychologists from attending, are showing a prejudice and discrimination that the conference organisers have clearly avoided. They should reverse this shameful refusal of visas immediately."
The concerns were echoed by Tony Laurance, chief executive of Medical Aid for Palestinians, who said: "It is vital that Britain supports Palestinian clinicians in accessing this kind of training in view of their isolation and lack of training opportunities."
Reasons why visas may be refused range from cases where individuals have a criminal record to instances where people are suspected of wanting to stay illegally, but they also include cases where allowing entry to Britain could have a negative effect on foreign policy.
Richard Burden MP, chair of the Britain-Palestine All-Party Parliamentary Group, demanded answers last night. "Palestinians' freedom of movement is regularly disrupted for no good reason by Israel's walls and checkpoints in the West Bank and its blockade on Gaza…I am making urgent enquiries of the government to find out why they are trying to stop the Palestinian doctors going to the Conference."
---
British ban on Gaza clinicians
Letters, The Independent
November 10, 2015
Next weekend (14 and 15 November) an academic and clinical conference is to be held at Kingston University, entitled "Trauma and Resilience in the context of Political Violence". We have just been informed that the British consular authorities have refused permission for four Palestinian clinicians from Gaza to attend: Dr Hasnaa Al Sourani; Dr Amal Shaat; Dr Rula Al Helo and Mr Yousif Abu Rahma. Also refused entry was Dr Nahida Al-Arja from Bethlehem University.
It is beyond our comprehension how such an interference with intellectual and clinical discussion on such an important topic could be justified.
This is a measure that further isolates clinicians from Gaza, already struggling under the impact of military assaults and siege, who need the opportunity to breathe in order to sustain their work. It has detrimental implications for the treatment of children and families whose suffering under these unconscionable circumstances it is difficult for us to appreciate.
We urge the UK authorities to reverse this decision immediately, and to resolve to nurture, rather than undermine, urgently needed psycho-social support services for the people of Gaza.
Teresa Bailey
Christiane van Duuren
Martin Kemp
Mohammed Mukhaimar
Eliana Pinto
Cathy Troupp
Adrian Worrall
UK-Palestine Mental Health Network
London SE23
---
Hundreds of thousands of children shell-shocked after the war in Gaza

More than 370,000 children have been left shell-shocked by last year's Israeli attack on Gaza

By Robert Tait, Telegraph
January 28, 2015
Sayed Bakr lived through a deadly missile bombardment in the darkest days of the war in Gaza.
But posing underneath a portrait of his closest brother, Mohammed, who he lost in that attack, proved too much. After volunteering to stand with the picture, the 12-year-old broke down and called for his mother.
Sayed and his friends were the target of one of the most harrowing episodes of last summer's war between Israel and Hamas in Gaza. While playing football on the beach, they came under fire from an Israeli pilot who apparently mistook them for militants.
Four boys from the Bakr family died in the missile strike and four were injured. In the immediate aftermath, Sayed was left paralysed with terror, unable to speak, writhing hysterically against a wall.
Today, more than six months later, he is one of hundreds of thousands of children in Gaza who need treatment for shell-shock.
After his crying fits, nightmares and frequent violent outbursts he was given a course of powerful anti-psychotic drugs for post-traumatic stress disorder (PTSD). He no longer goes to school, and is frequently visited by visions of the blast.
"I used to dream that I was dead," said Sayed, speaking hesitantly in the living room of his family's spartan home, a few hundred yards from where the strikes happened. "I always saw my brothers and cousins running after me in the dream. When the missiles struck and we were running away, I was certain we were all going to die. "Even today I am in continuous fear. Whenever I hear a loud noise or a bang, I feel terror."
He is not alone. There is no shortage in Gaza of stories of severely traumatised children still gripped by the after-effects of the war. The 50-day conflict left 539 Palestinian children dead and close to 3,000 injured, but according to United Nations, the mental scars have been just as devastating, if harder to quantify.
Children who saw their siblings or parents killed, often gruesomely, have been left stricken and around 35 per cent to 40 per cent of Gaza's million children are suffering from shell-shock according to Hasan Zeyada, a psychologist with the Gaza Community Mental Health Programme.
On Wednesday, an Israeli human rights group said Israeli politicians and military leaders broke international law by persisting in bombing civilian homes, even after it became obvious that it would kill thousands of innocent people.
Unicef admits it lacks the resources to cope. "We estimate that 373,000 children in Gaza needed psycho-social support after the war," said Pernille Ironside, head of the agency's Gaza field office. "We have been meeting on an on-going basis about one-third of those. The other two-thirds still require support – and they are not getting it."
The outlook is grim even for those receiving help.
Muntaser Bakr, 11, Sayed's cousin, who suffered head, arm and back wounds in the beach attack, which killed his 10-year-old brother, Zakaria, has likewise been diagnosed with PTSD yet is arguably in an even worse plight.
Drugs costing £66 per prescription – a huge burden for his impoverished family are needed to control periodic fits and nervous convulsions.
Weeks after the incident, Muntaser tried to jump from a balcony in the first-floor family home in an apparent suicide attempt following a row with his father, Ahad, who caught him in the nick of time.

Muntaser Bakr, injured in the Gaza beach bombing, who is now on powerful drugs to control nervous convulsions. Photo by Robert Tait.
He had to be withdrawn from school after he "almost killed a boy" in his class, according to Mr Bakr, 55, a fishermen, like most of the men in his family. The violent tendencies have continued at home, culminating in him trying to hang the four-year-old daughter of one of his older brothers.
"I die 100 times a day just seeing him like this," said Mr Bakr, as Muntaser fidgeted beside him with two teddy bears. "He is not the same child. He won't obey anything we say. If he wants something, he demands it no matter how it affects others. For a while, he used to say he wanted to become a fighter so he could avenge the deaths of his brother and his cousins. He has stopped saying it now and I don't want to remind him."
While many boys affected by last summer's carnage resort to violence, among girls the traumas often manifest themselves in withdrawn and depressed behaviour.
Ten-year-old Sara Kudaih is still haunted by the death of her younger brother, Anas, who died from blood loss after being wounded during shelling in the town of Khurza'a, near Gaza's border with Israel.
The family were forced to flee under a hail of missiles, leaving seven-year-old Anas on the ground with a horrific stomach wound, a ghoulish scene witnessed by Sara and filmed by a Red Crescent paramedic who arrived hours later to find the dying boy.
Today she is a frightened, introverted child who often refuses to eat or do homework, having previously been an excellent pupil, according to her parents.
Asked how she is feeling, she replies: "Sad. I lost my brother. He was killed."
Specialists have recommended 12 intensive therapy sessions to treat Sara's PTSD. Even then, she is only likely to reach 70 per cent recovery, according to Mahmoud Abdul Aziz Abu-Toaima, a psychologist with the Palestinian Centre for Democracy and Conflict Resolution.
She is one of the lucky ones. Diana and Mohammed Ayad, were orphaned after their widowed mother was killed during shelling of Gaza City's Shejaiya neighbourhood as the family tried to evacuate their home.
Neither child has received psychological testing or support, despite experiencing enduring mental health problems, according to relatives, in addition to physical injuries that left Diana, 15, needing extensive skin graft surgery, and Mohammed, 10, having a toe amputated.
Diana, who once wanted to be a doctor, no longer attends school and is confined to the family's shell-ravaged home by her injuries.
"I feel very bad psychologically because of the incident and suffer badly from my leg injuries," she said. "I'm not glad I survived. I wish I had died."
All this takes place against a backdrop of a dystopian landscape of ruined buildings and physical infrastructure – with the £3.3 billion reconstruction effort promised after the conflict having so far failed to get off the ground. Shejaiya, scene of some of the worst violence, looks little different from its shattered appearance last summer immediately after Israel's ground offensive.
It makes for a grim vista that has mental health professionals fearing a "lost generation" of Gazan children.
"The recent war surpassed the combined number of deaths and injuries from all the previous conflicts and the impact that is having on the children of Gaza and their future looks absolutely bleak," said Unicef's Ms Ironside."The adolescents here are at huge risk of losing hope and we face the danger of losing a whole generation of kids who decide they have nothing to lose and potentially get involved in militant activities."
Notes and links

THE CONFERENCE

Rethinking trauma and resilience in the context of political violence: new directions in research and practice

Saturday 14 November – Sunday 15 November 2015

Venue: John Galsworthy Building, Penrhyn Road campus, Penrhyn Road, Kingston upon Thames, Surrey KT1 2EE

This conference brings together diverse groups of mental health workers, social workers and academics to evaluate mental health practices in a war zone and question the traditional concept of trauma. It will examine the effectiveness of Western-derived interventions for ongoing trauma and discuss the viability of a PTSD diagnosis (including DSM & ICD) for civil conflict situations.

The victims of war are not 'ill'. They react normally to abnormal conditions. Understanding those conditions and the ways in which they can be resisted offers new insights into therapeutic processes. This conference will explore community-based interventions, physical approaches to mental health, and trauma relief that focuses on children and adults.

This conference should create a stimulating and enjoyable scientific forum for the international community of senior and young researchers and practitioners in the field of trauma and related topics. The conference program will feature four integrated thematic areas:

Developmental aspect (children v adults)
Physical v mental health
Individuals v community
Research v practice

The four integrated areas will include keynote speakers, symposia, thematic sessions, workshops, roundtable discussions, thematic poster sessions and exhibitions. You can view the full schedule here.

Thus we call for abstract submissions (PDF) that can be submitted to the conference.

For further information about this event:
Contact: Dr Muthanna Samara
Email: rethinkingtrauma@gmail.com