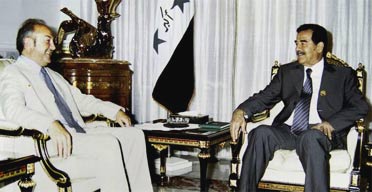 George Galloway with Saddam Hussein, 2002. According to his article in the Mail on Sunday, for which Galloway was then a columnist, the two men admired each other's fitness, discussed weight loss and Quality Street sweets, and the method of eating fish chosen by great men. Hussein's persecution of Shi-ite Iraqis was already well-known (though not, obviously, the reason why President George Bush, ably assisted by Tony Blair, launched the 2003 invasion of Iraq which ended Saddam Hussein's regime). Galloway's politics do not appear to be based on a principle of human rights in general or for Arabs or Muslims in particular. Rather, as Rachel Shabi argues, they rest on prejudice – a prejudice which he hopes will appeal to his Bradford Muslim constituents, says Joan Smith, though he has alienated many of them already with his views on women and rape. It is a prejudice condemned by the Palestinian BDS committee.

This posting has 3 items:
1) Rachel Shabi: George Galloway's refusal to debate with Israelis is bad politics;
2) Joan Smith: George Galloway's Israel denial may repel the mainstream, but it further cements his reputation within his religious constituency;
3) Palestinian BDS National Committee: BDS Movement Position on Boycott of Individuals;

George Galloway's refusal to debate with Israelis is bad politics
Galloway is entitled not to recognise the state of Israel – or even speak to Israelis – but it doesn't help the anti-occupation cause
By Rachel Shabi, Comment is Free, Guardian
February 22, 2013
On Wednesday, George Galloway walked out of a meeting because it turned out he was going to be debating an Israeli. "I was misinformed" he said. "I don't debate with Israelis. I don't recognise Israel." Later, he clarified the tactic on Twitter: "Israel: simple, No recognition No normalisation. Just Boycott, divestment, sanctions."
Galloway is not alone in holding such sentiments – but as a tactic in support of Palestinians, it's a dead end. Primarily, that's because the Boycott, Divestment and Sanctions (BDS) movement doesn't call for the avoidance of people purely on the basis of nationality. Thanks to Galloway, its national committee has just issued a statement, to clear up this particular fallacy.
Whatever your views on BDS – and there are many – Galloway's move is plainly an own goal (assuming his goal is to support Palestinians, rather than generate publicity for himself). One reason that many left-leaning Jews don't join the BDS movement is precisely because the boycott is perceived to be about rage against people, rather than an effective political tool. What's the best way to cement that belief? Announce you're avoiding Israelis as part of your commitment to BDS. Cue a flood of "told you sos" from those who say its all about punishing Israelis just for being who they are.
Galloway says he is adhering to principles of anti-normalisation – and his actions show why this is one of the foot-shooting elements of BDS. Anti-normalisers hold that contact with Israelis entrenches the occupation, by making an abnormal situation appear natural. Its renaissance within Palestine is mostly down to the BDS movement but has adherents in other parts of the Arab world, too. Partly, it's a reaction to the failures and conceits of the "peace industry" – those endless projects that bring Israelis and Palestinians together for "co-operation" and "dialogue". Blind to the inequalities between occupied and occupier, these projects can be pointless, delivering only a feelgood factor and usually just for participating Israelis.
But there is much debate about anti-normalisation as a tactic. Palestinian blogger and al-Quds columnist, Aziz Abu Sarah, says one problem is that joint political action against the occupation could be viewed as "normalisation" and therefore targeted by campaigners. He cites organisations such as Combatants for Peace – Israeli and Palestinian ex-fighters dedicated to ending the occupation. Similarly, the BDS movement boycotts the West-Eastern Diwan Orchestra, founded by the Palestinian intellectual Edward Said and Argentinean-Israeli conductor Daniel Barenboim. Some also hold that the late Juliano Mer Khamis, a Palestinian-Israeli actor who founded the Jenin cinema, was a promoter of normalisation (he was shot dead in 2011).
When westerners use the anti-normalisation card, it just seems like bad politics by proxy. How could the occupation be entrenched by a British person meeting with an individual Israeli? Is it that this meeting, by taking place at all, will cause the Israeli to think that the occupation is OK? What if you meet the Israeli and tell them that the occupation is in fact illegal and must end? And if Galloway's guiding principle is that he doesn't recognise Israel, this makes him more inflexible than Hamas, which has implicitly recognised Israel. Again, not helpful.
But there is another issue here, alluded to by Galloway and by comments on social media. Because the people who shout "antisemitism" over criticism of Israeli policy are often also advocates of a rightwing agenda on Israel, there is within anti-occupation circles growing anger over the term's use – even dismissal of it. What gets missed, often, is how off-putting all the Israel hate in such circles can be; how focused on the people – Jewish people, Israeli people, sometimes interchangeably – not the state. Those who raise doubts or ask questions about the level of animosity tend to be shut down with the rebuttal that the occupation is far worse – the atrocity ace card. This is no way to build a movement that includes Jewish and Israeli advocates of equal rights for all.
To state the obvious: any just, blood-free solution on the ground will be between Palestinians and Israelis. Even if, as part of this solution, Palestinians and Israelis decide to construct a sound-proof wall precluding conversation between them, that decision will have to be agreed by talking to each other. Anyone else who doesn't want to speak to Israelis is free to take that decision, of course. But for the good of the movement as a whole, it's probably best to make this a personal act, rather than to invoke the cause to defend your own prejudice.
---

George Galloway's Israel denial may repel the mainstream, but it further cements his reputation within his religious constituency
By Joan Smith, The Independent
February 2, 2013
Galloway has ended up representing the nearest thing Britain has to a religious party
Good news for investors in George Galloway plc: after an anxious few months, the CEO has moved to protect the embattled brand. Attempting to draw a line under last summer's unwise foray into gender politics – clearly, one has to say, not the company's area of expertise – the brand is returning to familiar territory with an all-out attack on Israel.
The CEO may not know much about rape but he's learned, it seems, a trick or two from Iran's crowd-pleasing president, Mahmoud Ahmadinejad. The lesson couldn't be simpler: when things are going badly, deny Israel's right to exist. The opportunity presented itself at an Oxford University debate this week when the Respect MP was scheduled to speak in favour of a motion calling on Israel to withdraw from the West Bank. His opponent, a third-year student called Eylon Aslan-Levy, had just begun to speak when Galloway interrupted him.
"Are you an Israeli?" he demanded. When the student confirmed that he was, Galloway responded that he didn't debate with Israelis. "I've been misled, sorry," he declared and walked out. It was a typical Galloway performance, characterising himself as the victim of what was actually very bad manners on his part. Didn't he ask in advance who else was taking part? Galloway's behaviour has caused outrage in some quarters and I have no quarrel with that, even though I'm not a fan of the current Israeli government or its policies. But the important thing to understand about Galloway is that it's years since he spoke for a broad range of people on the left.
Journalists tend to have a soft spot for him – he provides good copy, if nothing else – but he was thrown out of the Labour Party a long time ago, and he's alienated those of us who opposed the Iraq war but still believe the last Labour government did some good things.
Even so, Galloway's brand of populism found admirers who managed to stomach his long-ago interview with Saddam Hussein and his more recent defence of the Holocaust- denying Ahmadinejad: "The truth is Ahmadinejad is not an extremist. There are people in Iran who think he is far too moderate, far too centrist." Galloway has denied that Iran executes gay men just for being gay, causing fury among gay activists, but until recently his rows tended to be one-offs and with specific interest groups.
The difference in the past few months is that Galloway has now taken on half the human race. It may be that his stunning by-election victory in March last year blunted his political antennae, but it wasn't the smartest move, in the midst of a lively revival of feminism, to express downright idiotic and offensive views on rape. The MP's recent pronouncements have led significant numbers of people to regard him as a preening buffoon with rebarbative attitudes towards gender. Much-married George has a problem with women, in other words, and that's where we need to look when thinking about the origins of this latest brouhaha.
Connoisseurs of bad theatre might wish to re-run the video podcast from last August in which the MP, shirtsleeves rolled up and thumping the table like a revivalist preacher, denounces the women who've accused Julian Assange of sexual assault and rape. With a curious oval disc moving behind his head (it looks like a poorly attached halo but is more likely part of a chair), Galloway lays down the law: "Even taken at its worst, if the allegations made by these two women were true, 100 per cent true, and even if a camera in the room captured them, they don't constitute rape, at least not rape as anyone with any sense can possibly recognise it. And somebody has to say this."
It's vintage Galloway, positioning himself as the iconoclast who's prepared to say aloud what everyone else is only thinking. But on this occasion, many of us were actually thinking that the MP had himself failed to understand the law – or, to put it succinctly, "what a prat".
His claim in the same podcast that "not everybody needs to be asked prior to each insertion" was guaranteed to offend half the population, many of whom said so on Twitter, and it didn't endear him to female members of his own party. Respect's leader, Salma Yaqoob, condemned his views on rape and resigned her post a month later. Bradford's first Muslim lord mayor, the Labour councillor Naveeda Ikram, said that women were "outraged" and pointed out that "Muslim women, in particular, played a large role in electing Mr Galloway for Bradford West".
It was a pretty spectacular miscalculation, but not one that came as a surprise to those of us who have followed his career. Galloway has pretty standard Catholic views on abortion, talking about women who "kill their children unborn", even if they sit rather oddly with his boast about having "carnal knowledge" with more than one woman on a trip to Greece in the 1980s. Nor is it surprising that he's ended up representing the nearest thing Britain has to a religious party, asking voters during the by-election campaign to think about how they would justify their choice of candidate on Judgement Day.
Such tactics don't play well in largely secular Britain, but Galloway has an even bigger problem. When she resigned as the party's leader, Yaqoob said she had always admired Galloway's "anti-imperialist stances". But she also said that having to choose between that and standing up for the rights of women was "a false choice". Many Muslim women don't like patriarchy, any more than women on the secular left. Rewind to this week: ditch patriarchal attitudes or stage a diversion over Israel? No contest, son, as Galloway himself might say.
---

BDS Movement Position on Boycott of Individuals
By  Palestinian BDS National Committee
February 21, 2013 
The Palestinian BDS National Committee (BNC), the largest coalition of Palestinian unions, mass organisations, refugee networks and NGOs that leads and and sets the guidelines for the boycott, divestment and sanctions movement, supports all principled action in solidarity with the Palestinian struggle for freedom, justice and equality that is in line with universal human rights and international law.
In its 2005 BDS Call, Palestinian civil society has called for a boycott of Israel, its complicit institutions, international corporations that sustain its occupation, colonization and apartheid, and official representatives of the state of Israel and its complicit institutions. BDS does not call for a boycott of individuals because she or he happens to be Israeli or because they express certain views. Of course, any individual is free to decide who they do and do not engage with.
The global BDS movement has consistently adopted a rights-based approach and an anti-racist platform that rejects all forms of racism, including Islamophobia and anti-Semitism.
These guidelines and the fact that BDS has been initiated and is led by Palestinian civil society are major reasons behind the rapid growth and success that the BDS movement has enjoyed around the world.