Turkish anti-Israel protests grow violent
Police fire tear gas to disperse demonstration against Gaza operation near Israeli consulate in Istanbul; demonstrators chant 'Murderer Israel, get out of Palestine,' as they pelt diplomatic mission with stones.
By Roi Kais, Ynet news
July i8, 2014
Turkish riot police fired tear gas and water cannon on Friday to disperse protesters who pelted the Israeli consulate in Istanbul with stones in protest at Israel's ground offensive on Gaza, local media reported.
Protesters also threw rocks and raised Palestinian flags outside the Israeli embassy in the capital Ankara, where police did not intervene. Windows of the building were broken, local media said.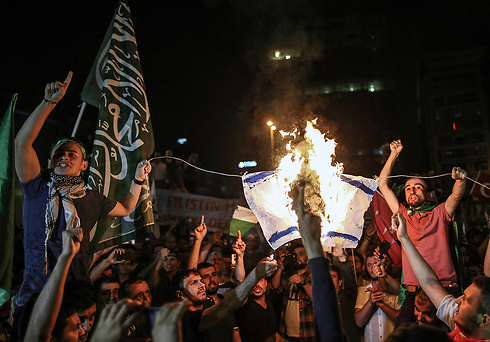 Protesters burn Israeli flag outside consulate (Photo: AP)
 In Istanbul, demonstrators chanted "Murderer Israel, get out of Palestine," and smashed consulate windows with sticks and rocks. Graffiti reading "Die out murderer Jew" was scrawled on the wall across from the consulate.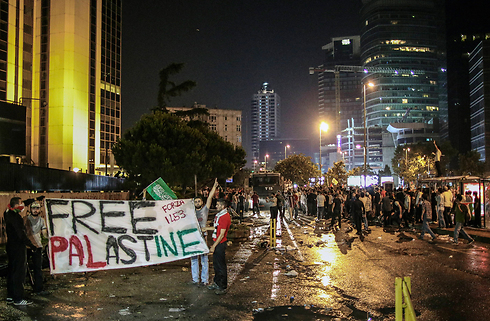 Photo: AP
The protests in Istanbul started at around 1:30 am near the Israeli Consulate. Some began of climb the consulate's wall at around 02:30 am and then started to throw stones and sticks at its windows. Police intervened and used tear gas.
 In Ankara, protestors threw stones at the Israeli ambassador's residence. They then broke the windows of his house and hung a Palestinian flag in place of the Israeli one. (UPDATE: Israel has since recalled some of its diplomatic mission).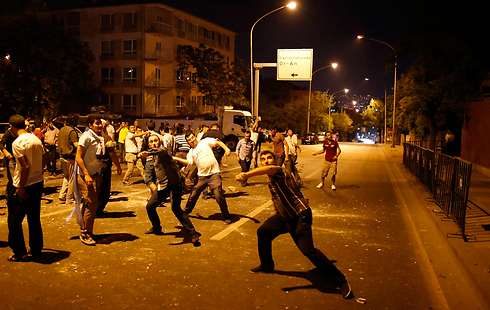 Rocks on consulate. Photo by Reuters
 Turkey's foreign minister has "vehemently" condemned Israel's ground invasion of Gaza. Using his Twitter account, Ahmet Davutoglu said the ground operation is testing "the conscience of humanity."
 Davutoglu called for emergency meetings of the UN Security Council, the UN Human Rights Council and the Organization of Islamic Cooperation.
 Turkish Prime Minister Recep Tayyip Erdogan has strongly spoken out against Israel's bombardment of Gaza and said the operations are derailing Turkish and Israeli efforts to mend ties.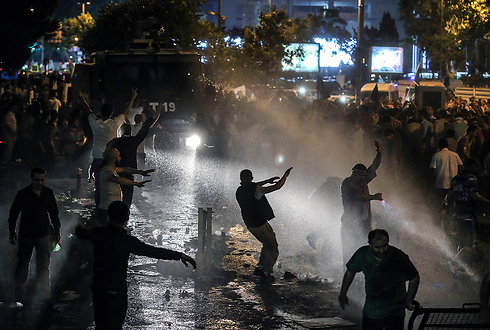 Police fire water cannons. Photo by AP.
 According to Algemeiner, the head of the IHH, an NGO behind the infamous Mavi Marmara flotilla, Bulent Yildirim, told local media station Haber Turk that "Turkish Jews will pay dearly" for Israel's actions.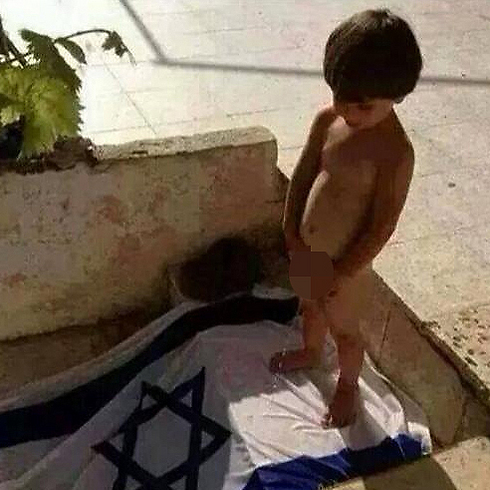 Facebook photo of child urinating on Israeli flag (Turkish social media)
 "Israel is acting like a spoiled child," Yildirim said. "Jewish tourists, don't dare come to Turkey. Tonight and tomorrow we are going to hold a different kind of protest, we do not have patience anymore.
"The Zionists are putting the future of the Jews in danger, we can not hold back our youngsters anymore," he said.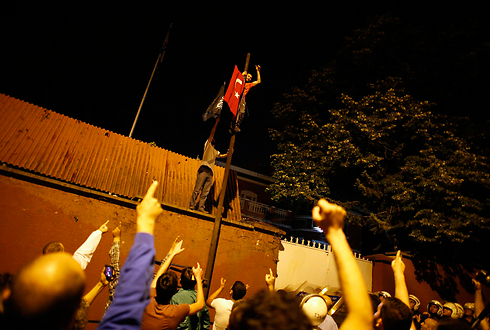 Protestors replace Israel flag with Turkish one. Photo by  Reuters.
 On Wednesday, a Turkish daily affiliated with Prime Minister Erdogan called on the country's Jewish community to apologize for the Palestinian casualties of the Israeli operation in Gaza.
 "You came here after being banished from Spain," Yeni Akit correspondent Faruk Köse wrote Wednesday in an open letter to Hakham Bashi, the chief rabbi of Turkey's Jewish community. "You have lived comfortably among us for 500 years and gotten rich at our expense. Is this your gratitude – killing Muslims? Erdogan, demand that the community leader apologize!"
 In the right-wing newspaper's editorial, Ali Karahasanoğlu wrote: "After the barrage of missiles which hit the capital city of Tel Aviv, Israel has been pushed into a corner and is crying out for a ceasefire, which at the moment only serves Israel and the United States.
 "The IDF is using forbidden weapons, intentionally killing children and murdering Muslims for the sake of murdering Muslims. Hamas is unprepared to accept dictations from Israel and the US, and will only lay down its weapon after its understandings are accepted. While all this is happening, the journal of the Jewish community in Turkey, 'Shalom,' is referring to the murder of children in Gaza as 'taking care of terrorists.'"
 Reuters, the Associated Press and Roy Yerushalmi and Omer Benjakob contributed to this report
---
Ankara rebukes Israel as a threat to international peace
Turkey excoriates Israel over its continued attacks on Gaza, declaring the country to be a grave threat to peace in the world
By Hurriyet Daily News
July 18, 2014
ISTANBUL–Turkish leaders have strongly condemned an Israeli ground operation into Gaza that has killed scores of civilians, declaring the Israeli administration a "threat to international peace."
While President Abdullah Gül warned Israel that its military actions could have dangerous repercussions in the region, Prime Minister Recep Tayyip Erdoğan accused Israel of committing "genocide" against the Palestinians. Gül and Erdoğan met with visiting Palestinian President Mahmoud Abbas to discuss the developments in the wake of Israeli aggression.
"Israeli attacks have come to a very dangerous phase. I want to warn Israel once more. If they do not stop, the outcome will be massive," Gül told reporters on July 18. Gül has urged Israel to end its military operations in the Gaza Strip, warning against "massive consequences," and called on the U.N. Security Council to make a "cogent decision to end the Israeli offensive."
Erdoğan's reaction against Israel was much blunter. Talking to reporters following Friday prayers in Istanbul, Erdoğan accused Israel of committing genocide against the Palestinian people and terrorizing the region.
"Israel is a country threatening the world's peace. It's a country that threatens the Middle East peace. [Israel] has never pretended to be pro-peace. It has always tormented [the Palestinian people], and today it is continuing to do so," Erdoğan said, stressing that good relations with Israel were impossible under the current circumstances.
"The government and I will never look positively [at Israel] as long as we are in power … [Israel] may seem like the winner for now. But it will eventually be defeated," Erdoğan added.
He also blamed the United States, Russia and other world powers for being passive in condemning Israel's actions.
"They want to progress [but they only] express their concerns [over the situation]. It's impossible to get somewhere by only expressing concerns," the prime minister said, adding the United Nations was undergoing a test over its role as the world's "peacekeeper."
'Israel knows best how to kill children'
Erdoğan also underlined that the attacks by Israel were not related to the death of the three Israeli children whose bodies were found in June. "These are all lies. Israel is the country that best knows how to kill children. I said it before at the Davos Summit. They shot children on the beach at that time. Now they are killing children on the beaches with bombs.",
Both Gül and Erdoğan refuted claims made by Israel and Egypt that Turkey prevented a truce between Hamas and Israel with Gül calling these assertions "ridiculous and remorseless." Erdoğan also criticized the Egyptian leadership, saying, "[President Abdel Fattah] el-Sisi is himself cruel."
Abbas in Istanbul
Both Gül and Erdoğan held talks with Abbas, who paid a short visit to Turkey on July 18. Abbas informed the Turkish leaders about the developments in Gaza and exchanged views about how a cease-fire could be reached. Abbas said Israel's objective was to try to nix the efforts of Hamas and Fatah to form unity in Palestine. "We count Turkey as our fundamental partner in our Palestine cause," he said.
Meanwhile, Ankara called on the U.N. Security Council, Organization of the Islamic Conference (OIC) and U.N. Commission on Human Rights to stage an emergency meeting over Israel's ground offensive on Gaza, Turkish Foreign Minister Ahmet Davutoğlu said.
"We vehemently condemn the ground operation launched by Israel on Gaza last night following its inhuman murders by air strikes," Davutoğlu announced on his Twitter account early July 18.
"Humanity's conscience is being tested once again with the Palestinian issue," he added.
During a phone conversation with U.S. Secretary of State John Kerry late July 17, Davutoğlu said he explained to Kerry the "indignation in Turkey and the Islamic world over Gaza."
"We exchanged views with the aim to immediately reach a lasting cease-fire that can be accepted by Palestinians," he said.
"I expressed our demand for the immediate halt of Israeli attacks," the minister said. Davutoğlu also talked with U.N. Secretary-General Ban Ki-moon, Qatari Foreign Minister Khalid al-Attiyah and OIC Secretary General Iyad Madani late July 17. Turkey's discussions with Hamas and Fatah officials are also continuing, Davutoğlu said.
In a separate statement, the minister said Turkey conveyed an official proposal to open U.N. Security Council extraordinary meeting.
A joint communiqué issued by the Human Rights Investigation Panel of the Parliament also condemned Israel, claiming that Israel's main target was to eradicate all of Palestine. "We have lost our hopes with governments and international organizations. We call all people of conscience of the world to show their democratic and humane reactions," the communiqué read.
Links
See also Turkey presses for international arrest warrants on Mavi Marmara
Turkey caught in conflicting alliances
After the Israeli flotilla incident, Turkey is the new Palestinian champion