The article from Mother Jones is followed by one from Jewish Forward, plus notes and links on Jews for Jesus.

Asked about Bush's upcoming appearance at the Messianic Jewish Bible Institute (MJBI) event, Rabbi David Saperstein, the director of the Religious Action Center of Reform Judaism, said, "It's disappointing that he would give his stamp of approval to a group whose program is an express effort to convert Jews and not to accept the validity of the Jewish covenant." Foxman was traveling overseas and unavailable to comment.
(After this story was published, Rabbi David Wolpe of Los Angeles' Sinai Temple, whom Newsweek has called the most influential rabbi in the country, tweeted, "This is infuriating." On Monday, he published a story in  Forward on the subject, writing, "the sudden rise of 'Messianic Jews' owes more to a clever way of misleading untutored Jews than to making theological sense. It should not receive the imprimatur of a former President of the United States.")
At the November 14 event, which will be held at the Irving Convention Center, Bush will discuss his White House experiences, according to promotional materials. Bush, the group says, will "share his passion for setting people free." Last year, Glenn Beck was the star of the group's fundraiser, which was held at Cowboys Stadium in Arlington, Texas.
This year's event is designed to bring in funds for the group's proselytizing operations. And the former president is helping out with more than just speech-making. The most expensive of the ticket packages, which range from $100 to $100,000, includes 20 invitations to a VIP reception and photo opportunity with Bush, 10 signed copies of Bush's book Decision Points, and passes to tour the George W. Bush Presidential Library and Museum.
Alisa Stephenson, MJBI director of events and partner relations, would not say whether Bush is receiving a speaking fee for his appearance. "We cannot have any outside advertising or any media whatsoever involved in this, so I most likely cannot answer any of your questions," she tells Mother Jones.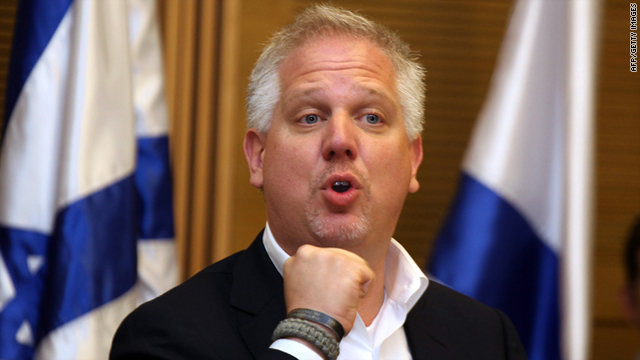 Conservative American pundit Glenn Beck speaks to Israeli MKs in Jerusalem on Monday. Beck was dropped by Fox news as being too off-message for them. ('He struggles with substance abuse. He was a recovering alcoholic and drug addict, was diagnosed with Attention Deficit Hyperactivity Disorder, and has described himself as a "borderline schizophrenic. ' Wikipedia) He believes that a secret conspiracy of progressives is trying to take over America and has vowed he will hunt them down. A great admirer of Israel (he was brought up Roman Catholic) the Zionist Organization of America awarded him their 2011 Defender of Israel Award. He continually borrows terms from the Holocaust's judeocide to exalt his witchhunt of American progressives.
At last year's MJBI fundraiser, Beck received a "Defender of Israel" award. During Beck's time as host of his Fox News program (which ended in 2011), hundreds of Jewish leaders denounced his on-air rhetoric as anti-Semitic—particularly his repeated invocation of Nazis and the Holocaust to demonize political adversaries and his accusation that George Soros is a "puppet master" who collaborated with the Nazis. "One of the reasons why I love Israel so much is I'm a guy who's for the underdog," Beck told the audience. "I'm a Mormon, which is kind of the Jew of the Christian world."
Robert Morris, pastor of Gateway Church in Dallas, which Beck attends, introduced Beck as a "prophet" at the event. Morris told the crowd that his church has supported MJBI because "when we do this, the Bible tells us, it's going to change the whole world. That it's going to hasten the coming of the Lord Jesus Christ, and it's going to bring about worldwide revival."
When asked how the MJBI managed to secure Bush to keynote its fundraiser, Stephenson cited its track record of drawing influential speakers, pointing to the appearance by Beck.
At last year's event, members of the MJBI's board of directors explained the organization's mission of converting Jews to an audience of hundreds who were seated on a professional football field, wearing formal clothes, and eating pork barbecue. Rabbi Jonathan Bernis, a leading Messianic Jew and televangelist who chairs MJBI's board of directors, maintained that "our numbers are growing and growing," because "the Bible predicted that the day would come when the blindness would come off the eyes of the people it all began with." He was referring to Jews. The Bible, Bernis continued, "tells us that the day will come when all of Israel will be saved." The MJBI, Bernis said, "is one of the ministries that God has raised up to bring that to pass." Other featured speakers last year included David Barton, the religious right's discredited "historian," who this week used Beck's radio show to announce that he won't challenge Sen. John Cornyn (R-Texas) in next year's Republican Senate primary.

Marty Waldman, centre in Argentina, conducting a service for Uniting Jews and Gentiles for Yeshua's return organised by TJCll (Towards Jerusalem Council ll).
Another MJBI board member, Rabbi Marty Waldman of Baruch HaShem, a Messianic congregation in Dallas, described his own conversion experience before making a pitch to the audience to donate money to MJBI. Money, he explained, is needed to hasten the return of Jesus. With the funds it collects, Waldman said, MJBI trains "people to preach the good news of the Messiah to the Jewish people." That's important, Waldman noted, because when there are "enough" Jewish people who call Jesus their savior, "some sort of a trigger will go off in heaven, and our father in heaven will say, 'Okay, son, it's time to get your bride.'"
At last year's MJBI event, a group called the Christian Heritage Foundation displayed a collection of Torah scrolls outside the Miller Lite Club at Cowboys Stadium. On the field, a shofar was blown, to applause.
Research for this article was supported by a 2012 Knight Luce Fellowship for Reporting on Global Religion. The fellowship is a program of the University of Southern California's Knight Chair in Media and Religion
---
George W. Bush Embraces Jews for Jesus
No Surprise at Evangelical Gala — Just Enduring Outrage

By Jay Michaelson, Jewish Forward
November 08, 2013
Who's surprised that former President George W. Bush is speaking at the Messianic Jewish Bible Institute benefit? Not anyone who understands Christian Zionism, 'Jews for Jesus,' and the many links between them.
Christian Zionists are now the leading supporters of Israel's settler fringe. They are showering the Israeli Right with money, tourists, and political lobbying. Why? Because they believe that the end is nigh, and in order for the apocalypse to unfold on schedule, the Jews need to be in the Land of Israel. All of it.
And, of course, if Jews living in Biblical Israel provoke war with Palestinians, Arabs, and much of the Western world – so be it. After all, this is the apocalypse we're talking about. To make a rapture omelet, you've got to break some human eggs.
Well, many on the Jewish Right have asked, who cares? We don't think the rapture is imminent, so it doesn't matter what Christians United For Israel (CUFI), and a host of similar organizations, believe. We need the money, and as far as the prophecy of our imminent conversion and/or destruction… well, we'll just wait and see about that.
Unfortunately, Christian Zionism is not the only method for bringing Christ back by way of the Jews. In fact, Christian Zionists overlap substantially with the heavily-funded efforts to convert Jews to Christianity – or, at least, to Messianic Judaism, which is basically Christianity with a Jewish shmeer.
To be clear, Messianic Judaism is a sham. Yes, there are some people who believe themselves to be Jewish believers in Jesus – sorry, Yeshua – and who wear kippas around the Christmas Tree. But this small group of eccentric believers is propped up by millions of religious-philanthropic dollars. They are a front. Uncle Baums.
Most of the people supporting the Messianic Jewish Bible Institute, for example, are evangelical Christians who have a religious obligation to evangelize to the Jews. Indeed, MJBI is the Hogwarts of this form of Christianity, an academy that trains thousands of people to go out and convert Jews.

George W. Bush on his first visit to Israel in 1998, pays obeisance at the wailing wall. When young he doubted whether non-Christians could get into heaven. As President, he had to overcome a reputation of the Bush family as being pro-Nazi. From The Bushes and the Jews, Slate, April 17, 2002
And as we have seen many times over the last several years, the Venn diagram containing the Christian Right, Conservative Republicans, Christian Zionists, and Convert-the-Jews Evangelists is filled with overlaps. Glenn Beck leads a CUFI mission to Israel, then comes back and gets an award from MJBI. Rick Santorum runs a Christian Right campaign for president, then gets an award from MJBI.
And now Bush 43. Surely there was never any doubt that the born-again Bush was, himself, a member of the so-called Christian Right. His policies, his belief that he was Divinely ordained to be President (God apparently works through the Supreme Court, too), his emphasis on "faith-based" organizations domestically and internationally – all of these, save perhaps his highly un-Christian espousal of supply side economics, are part and parcel of his sincere, deeply-held evangelical Christian beliefs.
In the pages of Commentary and The Weekly Standard, the significance of Bush's faith was consistently downplayed. Never mind the billions of dollars that Bush's administration diverted to Christian organizations – ironically, some of the largest beneficiaries of foreign aid, so loathed by some Republicans, are Christian missionary organizations working in Africa. Never mind the nightmarish consequences of relying on personal faith (in Jesus or Vladimir Putin) rather than reasoned analysis. Don't worry, Jewish Republicans said, Bush is good for the Jews.
Well, now the ex-emperor has no clothes. Unless you think that helping Jews find Jesus is "good for the Jews," this latest act of Bush's evangelical faith – entirely consistent with previous ones – should set that myth to rest. Evangelicals like Bush sincerely love the Jews, but they love us in a very particular way: because, by ceasing to become Jews, we play an instrumental role in the Christian apocalyptic narrative.
Appearances like Bush's should also make clear that the Christian supporters of the Israeli Far Right, the people writing checks to build more settlements in contested territory, do not really have Jewish, or Israeli, interests at heart. These are people with their own agenda, and it involves either the Jews' conversion, or our destruction.
Indeed, given the demographic catastrophe the settlements are rapidly bringing about in Greater Israel, that may just come about.
"The Bible predicted that the day would come when the blindness would come off the eyes of the people it all began with," said 'Rabbi' Jonathan Berris, a Messianic Jew, at last year's MJBI conference. Berris's prophecy refers to all Jews, of course. But I wonder if it might now apply to some Jewish Republicans.
---
Notes and links
Jews for Jesus

By Stephanie Persin, Jewish Virtual Library

History

Jews for Jesus was founded by Martin "Moishe" Rosen in 1973. Rosen's mission, having converted to Christianity himself, was to help bring other Jews to the Christian faith. Rosen became a Baptist minister and a member of the American Board of Missions to the Jews. The ABMJ's goal was clear: To convert Jews into Christians. Rosen found that most Jews were unwilling to leave their Jewish traditions behind.

Taking on a new tactic, Rosen left the ABMJ and started an organization that would convert Jews while allowing them to keep their religious title. Jews for Jesus claims that Jesus is the "Jewish Messiah." Other evangelist groups reference the New Testament as evidence that Jesus is the son of God. Jews for Jesus, on the other hand, cites the Torah and Hebrew psalms as proof that Jesus truly is the messiah for the Jews as well as Christians. Rosen and his followers claim that Jesus' coming was predicted in ancient Hebrew Scriptures, and therefore, if Jews follow the Torah, then they must believe in Jesus as messiah.

Martin Rosen has used these tactics to convert thousands of Jews (as well as many non-Jews) to Christianity. Jews for Jesus have a budget of up to $24 million per year. This money has been used to fund their large evangelizing campaigns. The most recent worldwide campaign started in 2001 and is called "Operation Behold Your God." Thousands of evangelists were sent to London, Australia, Moscow, and throughout America to distribute pamphlets and to preach the ways of the "Jewish Messiah."

Beliefs of Jews for Jesus

Jews for Jesus has many "core beliefs" that are written as an attempt to combine Judaism and Christianity. Traditional Christian beliefs are clear throughout each of the organization's statements of faith. Jews for Jesus believe "in one sovereign God, existing in three persons: Father, Son, and Holy Spirit." Other statements include the belief that all persons are born with original sin, that Jesus was born of a virgin birth, and that a person's salvation is contingent on his belief in the greatness of Jesus.

Traditional Jewish beliefs seem to be absent from their decrees. In fact, there is only one mention of the Old Testament in the Jews for Jesus' "Statement of Faith." Jewish literature is mentioned in the statement, but only to be rejected as not "binding" by the Jews for Jesus. Traditional Jewish literature can be identified as anything from Maimonides' and Rashi's interpretations, to the Talmud itself. If these Jewish texts were taken to be God's word, the Jews for Jesus could not fully support messianic Judaism. Jewish interpretative texts give no proof that Jesus is the messiah.

The mission statement of Jews for Jesus is: "We exist to make the messiahship of Jesus an unavoidable issue to our Jewish people worldwide." While they are strongly devoted to Jesus, the most important belief of Jews for Jesus is the evangelizing of the Jewish people and the conversion of Jews to Christianity.

Methods of Evangelizing

Jews for Jesus uses colorful pamphlets and bright T-shirts to get across their message: "Be more Jewish: Believe in Jesus." Large mailings and a bombardment of pamphleteering are the main methods used by Jews for Jesus. The organization is also known for targeting vulnerable populations of Jews. New Jewish immigrants and college freshman as well as senior citizens and interfaith couples are easy targets for the organization.

The organization also holds services, addresses its ministers as "rabbi," and hosts Seders in cities with large Jewish populations. Evangelists in the organization have been trained to recite phrases from the Old Testament and to use Yiddish words so as to convince potential converts that Jews for Jesus maintain Jewish traditions.

While Jews for Jesus might confuse Jews about its motives, Martin Rosen makes his own goal clear: "Our duty is to aid the church at large and we work as an arm of that body to gather in the Lost Sheep of the House of Israel." When Jews for Jesus gains a follower, the new member is usually baptized and converted to Christianity. These new Christians refer to themselves as "Hebrew Christians" or "Messianic Jews."

Arguments Against Jews for Jesus

Jews for Jesus maintains that a Jew can keep their religious identity, even after converting to Christianity. Jews for Jesus is appealing because it claims that its converts can believe in Jesus, partake in baptism, celebrate Christmas, and remain Jewish, all at the same time. Jews for Jesus preach a combination of Judaism and Christianity.

The Torah itself argues against this idea of Judeo-Christian combination. While all Jews are considered members for life, a person who worships another god or idol is no longer considered Jewish (I Kings 18:21). Worship of Jesus as the son of God is considered belief in a foreign god, and the convert would not be considered Jewish. Judaism does, however, always allow a converted Jew to return to the faith when they again accept the oneness of God.

Jews for Jesus claims that Jews must put faith in Jesus as their savior from sin. Original sin is an inherently Christian belief and, according to Judaism, "sin is an act, not a state of being" (Jews for Judaism). The Torah does not teach that humans are born with sin, but that individual repentance is necessary when a person strays from the commandments of God. In other words, Jews do not believe that one person (namely, Jesus) is capable of repenting for all of humanity's sins through his death.

Likewise, Jews do not believe that one must pray to Jesus for God to hear. God, according to the Tanakh, can hear every individual's prayer. As it is written in Psalms 145:18, "God is near to all who call unto Him." Christians feel that they must pray to Jesus in order for God to hear their words.

The most important argument against Jews for Jesus is the fact that Jews do not believe that the messiah has arrived. According to the Torah, the messiah must be a descendent of King David. Jews do not consider Jesus to be a direct descendent. More importantly, the messiah is supposed to bring peace to all humanity. As is stated in Isaiah 2:4, "And nation shall not lift up sword against nation, neither shall they learn war anymore." Jesus' coming did not bring about peace and, therefore, Jews cannot accept him as the messiah.

In response, Jews for Jesus might refer to the Second Coming of Jesus. The gospels predict that Jesus will ascend Earth again to fulfill his messianic prophecies. Of course, there is no mention of a Second Coming in the Torah. Therefore, Jews for Jesus is unable to use Jewish textual evidence to prove that Jesus is the messiah and will come again.

Jewish Responses

Many Jews are infuriated by Rosen's evangelizing methods. In response, Jews have created several organizations to combat Jews for Jesus and other messianic organizations.

"Jews for Judaism" and ""Outreach Judaism" are non-denominational organizations that fight against missionaries and cults who are seeking to convert Jews. These Jewish outreach organizations do not try to convert Christians to Judaism, but rather, they focus on educating Jews about their own heritage. The organizations offer classes, counseling, and another perspective for Jews who have been persuaded by Christian missionary organizations. "Jews for Judaism" uses some of its rival's tactics, and disproves the idea of Jesus as the Jewish Messiah by using excerpts from the New Testament.

The Israeli Supreme Court also made clear its feelings on Jews for Jesus as it applies to eligibility for aliyah. While all Jews are eligible to receive Israeli citizenship, the Supreme Court determined that Jews for Jesus are not actually Jews, as belief in Jesus as the Messiah is not a Jewish value. Rather, they said, Jews for Jesus "marks the clear separation between Judaism and Christianity" (1993).

Christian Responses

Christians have voiced mixed responses to the Jews for Jesus' campaign. Some Christians, such as Reverend Clark Lobenstine, maintain that Jews for Jesus goes "beyond the bounds of appropriate and ethically based religious outreach" (Washington Post).

One organization, the Interfaith Conference of Metropolitan Washington, has gone so far as to condemn Jews for Jesus for being "harmful to the spirit of interreligious respect and tolerance" (ADL). According to the Interfaith Conference, an organization representing many different churches, Jews for Jesus is a coercive force that preys on susceptible Jews.

Other churches, however, have a different opinion. Some Christians believe that it is their duty to convert Jews to Christianity, but that many churches are afraid to offend Jewish leaders. Some of these churches support Martin Rosen and the goals of Jews for Jesus.

UK Jews for Jesus
Includes a slideshow of Jews evangelising for Jesus in what looks like Golders Green and Oxford Street.
There is of course a Jews for Jesus in Israel where the Second Coming/End of the World will kick off.