The article by Richard Silverstein is followed by reports by the Daily Telegraph and Guardian.

Ben Zygier in IDF uniform; arrested and imprisoned without charge, held in solitary confinement, his existence as a prisoner denied by Iraeli auathorities, he finally committed suicide.
The Lonesome Death of Mossad Agent, Ben Zygier
By Richard Silverstein, Tikun Olam
February 12, 2013
Today, three brave Israeli MKs dared ask the Israeli attorney general, Yaakov Neeman, what he knew about the fate of Ben Zygier, the Australian-Jewish Mossad agent disappeared by Israel's intelligence apparatus in 2010. Neiman answered that if the story was true, that he knew nothing about it since the prisoner would not have fallen under his jurisdiction. Translation: it's not my job. But it would be the job of the Internal Security minister Aharanovich. He's not talking. At least not right now. But in 12 hours he will address the Knesset and make some sort of mealy-mouthed statement that will raise a thousand questions and answer few.
What's extraordinary about this is that the MK who questioned Neiman used Zygier's name in the Knesset and so broke an ironclad taboo not to publicly expose the identity of Israeli agents, even after they die.
My guess is that Zygier was not just disappeared, but that once he entered the Israeli prison he didn't exist. Neiman admitted that Zygier had never been tried for his alleged crime. That means that unlike Marcus Klingberg, the KGB spy who was also disappeared for many years, Zygier wasn't even given the semblance of due process.
Let's ask ourselves why a state would do such a thing. My impression is that if the Australian Jew had sold his country down the river–say, selling state secrets to the highest bidder, that Israel wouldn't hesitate to put such a person on trial. A public trial would, at the least, deter anyone else from taking that road. But what if Zygier did this out of an act of conscience? What if he was so troubled by something he did or saw that he sought to expose it?
I'm just using this as a hypothetical and haven't checked whether the dates correspond chronologically, but say he was one of the Australian-Israelis heard speaking English with an Aussie accent on the Mavi Marmara during the attack. Let's say he saw point-blank executions. Let's say he could attest that cold-blooded murder was planned beforehand, and not just done in an act of spontaneous rage. Such exposure would cause irreparable harm to Israel's relations with Turkey and Australia. That might be worth disappearing someone. Further, the notion that a Mossad agent would betray his agency and country for the sake of conscience is something quite unprecedented in Israel. Such instances are rare to the point of obscurity. For Zygier to have done something like would strike a blow to a patriotic national consensus supporting the intelligence services no matter what they do. It would mark a fundamental break with patriotic tradition. Something an Israeli government might decide it could not afford.
Another astonishing aspect of this case is that Bibi Netanyahu summoned the editor's committee of managers of all the Israeli news outlets and asked them to respect a gag not for the sake of national security, but in order to protect a national agency "from embarrassment." Can anyone imagine the media of any other democracy in the world accepting such a burden? Yet Israel's have. They have reported the Knesset debate, but nothing further. I know this annoys the hell out of Haaretz because they mockingly published a story about this along with a map that blacked out all of Israel. (By the way, this marks my "undisappearance" from the pages of Haaretz, in whose pages I have not been mentioned for years). This is similar to the mocking story Yediot published during the Anat Kamm affair in which 2/3 of the words were blacked out. Within a few days the gag was lifted more out of shame than anything else.
UPDATE: Another aspect of Bibi's pitch to the editors for omerta was that this affair would embarrass "a foreign government." This presumably would be Australia. But how would it embarrass Australia beyond the matter of Zygier abusing his Australian passport for espionage? Unless of course, Zygier was doing such things with the knowledge of Australian officials who either turned a blind eye or accepted it.
Australian FM Bob Carr just released a statement amending a previous one in which he said the Australian government knew nothing of Zygier's case until the family asked for his body to be repatriated to Australia. In fact, an Australian diplomat in the Tel Aviv embassy knew the Mossad agent had been arrested. That raises the question what the foreign ministry did or tried to do on his behalf. The foreign minister at the time of his arrest was Kevin Rudd, which might implicate him in some way if his ministry did not do everything it could have on Zygier's behalf (see more on Rudd below).
Another Australian report goes a bit farther and implies that an Australian intelligence agency was informed of Zygier's detention (presumably by the Mossad), which in turn notified the foreign ministry. The question is what happened after that and why more wasn't done to help Zygier. At the least, it seems the government has a lot of accounting to do. It seems they essentially abandoned one of their own citizens to his fate.
One facet of this story is deeply troubling: the response of the family. If your son had the same fate Zygier did, even if you were a patriotic Zionist, wouldn't you exert all the pressure in your power to find out what happened? The Australian foreign minister said his government was hampered by the family's unwillingness to lodge any formal request for assistance. Since the victim was incommunicado, a family request was necessary but not forthcoming. I would understand (at least in principle if not in practice) if you remained silent out of loyalty to Israel and a wish not to embarrass it. But it's my understanding the family's motives were not these. This will hopefully be explained further in the by and by.
As to who might've leaked this story to the ABC network which aired the documentary yesterday. There is one Australian who might benefit from exposing this story: Kevin Rudd. The Labor Party is deep in the pits in terms of the next election and revealing this story would further harm the chances that Julia Gillard can lead the party. It would naturally turn to him for leadership and offer him another opportunity to be prime minister. The danger, however, is that this scandal might so damage not just Gillard, but the entire party, that it sends the Liberal Party to victory in the election.
UPDATE I: Sol Salbe tells me that the deputy leader of the Opposition Liberal Party, one of the most kosher of pro-Israel politicians on the national scene had a meeting today with the Israeli ambassador. She said she would tell him that while she could accept secrecy in guaranteeing national security she could not accept a gag order simply to save embarrassment. As Sol said, when one of its most prominent right-wing supporters tells Israel to end the gag, you know it's in a losing battle.
A few hours ago (around 7pm on February 13th) Israel partially removed the press gag. What does that mean? Not very much. Now Israeli journalists can tell you Zygier was wearing white socks when he hung himself. But seriously, they can now report on the ABC documentary. Before they couldn't even mention it. But they can only tell what was reported in the TV program. They can't do any original reporting on the story. Imagine you're a beat reporter for the local newspaper in Oshkosh or Paducah and the police chief tells you you can only report on a city council corruption scandal according to what's published in a newspaper in Toronto or Melbourne. Make sense?
Jodi Rudoren's front page NY Times article has been published. She mentions Tikun Olam accurately, as far as it goes, noting the error in my reporting Prisoner X. She does neglect that I was the first foreign journalist who reported Zygier's existence as Prisoner X, which I would think is a fact worth noting.
Thanks again to Sol Salbe for offering me the benefit of his thoughts, wisdom and conjecture on this story.
---
Prisoner X: Israel admits secret jailing of Ben Zygier, named as Australian-born Mossad spy
Israel was tonight forced to make a public admission of the secret jailing and mysterious death of "Prisoner X", believed to be an Australian-born Mossad agent, as the strict censorship around the case began to crack.
By Jonathan Pearlman in Sydney, Phoebe Greenwood in Jerusalem, and Richard Spencer, Daily Telegraphh
February 14, 2013

A statement from the Justice Ministry said the man, identified by Australian television as Ben Zygier, 34, had been "imprisoned according to a court order" and that his full rights were "retained".
It said an investigation concluded six weeks ago that he committed suicide, but that an unnamed judge had asked the state to check for "possible aspects of negligence".
Earlier Wednesday, the Australian foreign minister, Bob Carr, was forced to order an inquiry into circumstances surrounding Mr Zygier's death, after correcting an earlier statement that his officials had been unaware of the case until arranging the repatriation of his body in late 2010.
A spokesman said: "The department of foreign affairs and trade has now advised that some officers were made aware of Mr Allen's detention at the time in 2010 by another Australian agency. Minister Carr has asked department secretary, Mr Peter Varghese, to review the handling of this consular case."
The revelation added to speculation that the comprehensive black-out ordered by Israel into what happened to Mr Zygier was in part to spare Australia's blushes. The Israeli prime minister, Benjamin Netanyahu, asked editors to exercise restraint not on security grounds but to prevent embarrassment to a state agency and a "foreign government".
Mr Zygier, dubbed Prisoner X by the Israeli media, was found hanging in Wing 15 of Israel's Ayalon prison after several months of solitary confinement. His four-metre by four-metre room, monitored with 24-hour CCTV surveillance and multiple prison wardens who were not told his name, was thought to be "suicide proof".
Also known as Ben Alon, he was born in Melbourne but emigrated to Israel in 2000, marrying an Israeli woman and having two children. He also had an Australian passport under the name Ben Allen. His close family in Melbourne have refused to comment.
After two years of rumour, under strictly enforced Israeli censorship, Prisoner X's identity was revealed by Australia's public broadcaster this week, setting off frantic efforts by the Israeli authorities to stop media publishing details.Mr Zygier had reportedly been under investigation by Australia's domestic intelligence agency, ASIO, over suspected attempts to gain Australian passports for Mossad's use.
When confronted by a journalist in 2010, he flatly denied he was a Mossad spy. "What is this total bullsh** you are telling me?" he said. "I am not involved in any kind of spying. That is ridiculous."
Australia complained to Israel in 2010 and expelled an Israeli diplomat over the use of fake Australian passports in the assassination of a Hamas gun-runner, Mahmoud al-Mabhouh, in a Dubai hotel.
Four of the 27 people identified by Dubai police as involved travelled on Australian passports in the names of dual Australian-Israeli citizens. Mr Zygier was imprisoned shortly after.
A former Israeli intelligence officer told The Daily Telegraph he could not explain what offence could have been so grave to justify Mr Zygier's treatment.
"One of the things that makes this case so hard to understand is that Mossad takes protecting Jewish people very seriously," he said.
One leading investigative reporter said the truth might never be revealed.
"To people who know the real details of the case, it is absolutely reasonable for Israel not to want them to be published," he said, speaking anonymously.
"I cannot go into details but they are so sensitive, related entirely to intelligence, that the majority of the Israeli media has accepted the government's request not to write about it. This is very, very rare. I have never known a story like it."
---
Israel admits it was holding Prisoner X after court eases gagging order
Prisoner who died in Israeli prison in 2010 held Australian and Israeli citizenship and is said to have been agent of the Mossad
Peter Beaumont, Guardian
February 14, 2013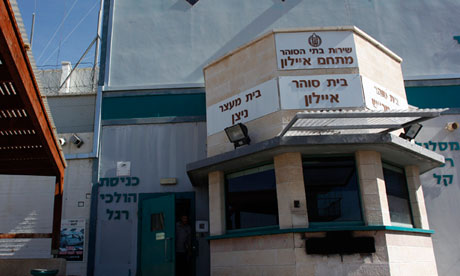 Ayalon prison in Ramle near Tel Aviv, where 'Prisoner X' killed himself in 2010. Photo by Nir Elias/Reuters
In the midst of an escalating international row with Australia, the Israeli government has been forced to admit that it secretly imprisoned a "dual-nationality" citizen – known as "Prisoner X" – who subsequently killed himself while being detained in Ayalon prison.
Prisoner X has widely been reported as being 34-year-old Ben Zygier, who had both Australian and Israeli citizenship and has been described as an agent of Israel's external intelligence agency, the Mossad, who was arrested in Israel in 2010 on serious but unspecified charges.
The information was released after a draconian gag order preventing reporting of the case in Israel was partially lifted by a court on Wednesday evening after media and political pressure.
According to reports earlier in the week, Zygier had been held in circumstances of such secrecy and isolation that even his prison guards did not know his identity or alleged offence.
The document released admitted that an inmate was registered under a false identity "for security reasons", but added that his family in Australia – who have refused to comment on the case – were notified immediately upon his arrest.
It added that the secret detention of Prisoner X was authorised by the most senior officials in Israel's justice ministry; and that the prisoner – referred to as "John Doe" – had been represented by three Israeli lawyers. The document did not make clear either the charge he faced or whether the lawyers were appointed by the state in secret.
Israel's belated admission of the existence of Prisoner X follows a two-year effort to gag any media reporting about the controversial case which saw the office of Israel's prime minister, Binyamin Netanyahu, threaten editors with fines or jail if they disclosed details about the case earlier this week.
That effort backfired as Israel faced a deluge of embarrassing revelations about the case which appeared to expose the detailed workings of its overseas intelligence agency in the most graphic detail, as well as the growing irritation of Israel's allies over the Mossad's behaviour.
The disclosure came at the end of a day of extraordinary new details about the alleged double life of Zygier. It emerged that Zygier had been confronted shortly before his arrest by Australian journalist Jason Koutsoukis of Fairfax newspapers, who accused him of being a spy.
Koutsoukis told the Guardian Zygier had been identified to him as one of three Australian-Israeli citizens working for the Mossad under the cover of a European front company that sold electronic equipment to Iran.
He also said Zygier was under investigation by the Australian intelligence services and was close to being arrested for using his Australian passport for espionage.
As the scandal over Zygier's treatment and suicide in Israel's Ayalon prison continued to grow, the Australian government was forced to admit that Israeli officials had briefed Australian diplomats over the case. Previously it had been claimed they knew nothing of Zygier's detention and death until his family asked for help to repatriate his body.
In an embarrassing about-face on Thursday, Australia's foreign minister, Bob Carr, said his country had been made aware of Zygier's detention in February 2010. He said Australia had been given assurances by Israeli intelligence sources about Zygier's safety.
"The Israeli government further advised the Australian government the individual would be treated in accordance with his lawful rights as an Israeli citizen," Carr said.
"The Australian government relied on these assurances. At no stage during his detention did the Australian government receive any request from the individual or his family to extended consular support.
"The Australian government was advised through intelligence on 16 December 2010 of this individual's death on the previous day and the deceased family had been notified by Israeli authorities."
According to the secretary of Australia's department of foreign affairs, Peter Varghese, who is carrying out a review of how the Zygier case was handled, the Australian embassy in Tel Aviv had not been involved in the Zygier case but instead communications were carried out through intelligence channels.
"The decision to continue communications through intelligence channels rather than to deal with this as a more normal consular case, can only I assume reflect a judgment that, given the nature of this case and that the charges pertained to national security issues, the more effective means of continuing to communicate would be through intelligence channels," Varghese told a Senate committee.
Carr said a review would be conducted of his department's handling of the prisoner, who was found hanged in an Israeli prison cell in 2010.
In Israel, meanwhile, the media was on Wednesday able to report parts of the story for the first time after the government partially lifted its ban on reporting any details of Zygier's imprisonment, imposed by an Israeli court after his arrest.
The case has triggered demands by Israeli opposition politicians, human rights groups and sections of the media for Netanyahu's government to supply more information about his imprisonment and death, and to reform its antiquated and authoritarian military censorship rules.
Zygier, who was married to an Israeli and had two young children, was found hanged in his cell in late 2010. His body was flown to Melbourne for burial the following week.
While the case remains murky, the new revelations will be deeply embarrassing to the Mossad, not least because they shed new light on how the Israeli spy agency acquires cover identities for agents.
In the last three years the Mossad department charged with providing cover identities has been caught out in a series of high-profile bungles as it has been found to have been improperly using foreign passports for its operations.
According to Australian media reports, Zygier had applied for Australian passports using three identities over the years – those of Ben Alon, Ben Allen and Benjamin Burrows.
It is still not clear whether he was actively working for the Mossad, or whether he simply acquired passports for the spy agency to use in its overseas operations.
There has also been no official explanation from Israel for why Zygier was secretly imprisoned without trial, and information on his case ruthlessly suppressed. But speculation is growing that he may have offered to provide information to a foreign power.
Zygier, known as Benji, was approached by Koutsoukis shortly before his arrest in 2010 and asked whether he was an Israeli spy after being accused of travelling back to Australia to change his name and obtain a new Australian passport.
At the time Zygier said: "I have never been to any of those countries that you say I have been to, I am not involved in any kind of spying. That is ridiculous."
In recent years the issue of the Mossad operations involving citizens of friendly nations and use of passports of allies has become a source of serious friction with governments usually friendly with Israel.
"There are informal rules," said one person familiar with intelligence co-operation arrangements. "You inform your allies if you want to speak to someone or do something. There is a feeling the Israelis don't play by the rules."
The Mossad's use of foreign passports led to an international storm not long before Zygier's secret arrest and detention when it was revealed that the spy agency had used almost a dozen such passports in its assassination of Hamas's Mahmoud al-Mabhouh, in a Dubai hotel, in January 2010.
In seven cases it turned out that the passports used were in the name of Jews who had moved to Israel from Britain and Germany and had no knowledge someone using their identity had visited Dubai.
In a further deeply embarrassing development for the Canberra government, Carr was forced to revise his claims that the Australian embassy in Tel Aviv knew nothing of the case until after Zygier died when his family, a prominent Jewish family in Melbourne, asked for his body to be repatriated.
Carr's office now admits an Australian diplomat (not the ambassador) was aware Zygier was being held.
The case has provoked a host of unanswered questions, as Zygier's family and friends in Australia remained tight-lipped about the circumstances of his death, refusing to discuss the case with the media.