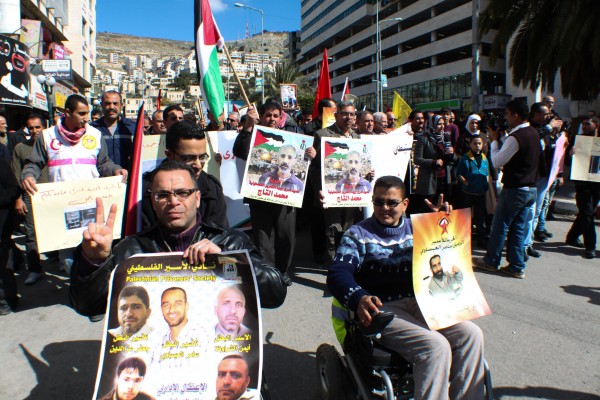 This and the photo below come from a Photo essay by International Solidarity Movement  on the Nablus demonstration against the Israeli use of administrative detention and for the release of Samer Issawi.
18 February 2013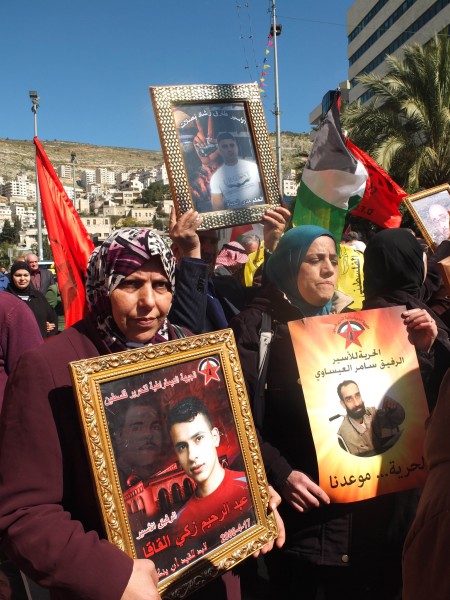 ---
Protesters rally in solidarity with hunger strikers
By Ma'an news
February 19, 2013
Protesters rallied in Bethlehem, Hebron and Ramallah on Monday in support of hunger striking prisoners in Israeli jails, as the PA minister of prisoner affairs warned of a popular uprising in the West Bank.
In Al-Khader near Bethlehem, dozens of people, including the families of prisoners and representatives from human right groups, rallied by route 60.
Israeli soldiers arrived in the area and dispersed protestors using tear gas canisters and stun grenades, witnesses said, injuring several people.
Protesters waved Palestinian flags and held photos of hunger strikers.
In Hebron, protestors gathered in the city's Ibn Rushd Square, Hahul town and al-Arrub refugee camp. Israeli forces arrived in the area and clashes broke out with protestors.
Palestinian Authority Minister of Prisoner Affairs Issa Qaraqe said that Palestinians would start a "freedom uprising" if Israel continued to overlook the rights of hunger-striking prisoners.
"Palestinian prisoners in Israel will start protests in solidarity with hunger striking prisoners starting Tuesday, and there is a possibility that prisoners will launch a general hunger strike," he told crowds at a prisoners rally in Qalandia refugee camp.
Popular anger at prisoner conditions
Protesters in Ramallah demonstrated outside UNRWA offices on Monday, accusing the UN agency of ignoring the plight of hunger striking prisoners in Israeli jails.
Protesters had tried to enter the UN offices but were prevented from doing so by PA police forces.
Informed sources told Ma'an that UNRWA decided to evacuate employees fearing assaults by protestors.
On Friday, hundreds of Palestinians protested across the West Bank in solidarity with prisoners on hunger strike, sparking clashes with Israeli forces.
Outside Israel's Ofer jail, near Ramallah, hundreds gathered in solidarity with Samer Issawi, who has been on hunger strike for 201 days, and Tareq Qaadan and Jaafar Azzidine who have refused food for 83 days.
On Feb. 20, Israel's High Court will hear a petition by several lawyers, including from Addameer, against article 186 of Israeli military order 1651, which gives an Israeli military committee the power to cancel amnesty for a prisoner based on confidential information not available to the detainee, or the detainee's lawyer.
---
Demand the release of Samer Issawi
By US Palestinian Community Network (USPCN)
February 20, 2013
After 211 days on hunger strike, the Israeli "kangaroo" military court rejected the release of Palestinian hunger striker Samer Issawi today during his "emergency" hearing. Issawi will remain behind bars until his next scheduled hearing on March 14, 2013. Issawi's mother Um Ra'fat collapsed after the court decision. The Israelis are clearly waiting for him to die. After the court hearing, 800 Palestinian inmates also went on hunger strike to show solidarity with those already striking. It's time for all people of conscience to step up our actions.
We call for everyone, especially those in the U.S., to call President Obama and the State Department on Wednesday 2/20/13 to take action.
"My name is _____ from __________ and I demand that the US administration intervene for the immediate release of Samer Issawi, who is close to death, the other hungers strikers, and all the administrative detainees and Palestinian political prisoners."
1) Call President Obama at 1-202-456-1111
2) Call US Secretary of State John Kerry at 1-202-647-4000 or the Office of Near East Affairs at 1-202-647-7209
There will also be a campaign on Twitter, as there has been for multiple days, at 1PM CST to demand the release of Samer Issawi. Check @samerissawi1 for the hashtag to use.
For updates on the worldwide campaign, follow "The Free Samer Issawi Campaign" page on FaceBook
Issawi has been detained by Israeli authorities without any charge. He had been released from prison in October 2011 as a part of the Shalit prisoner swap, but was detained again without charge on July 7, 2012, and has been refusing food since August 2012 to protest his detention. He is in critical condition. He is losing his vision, vomiting blood and lapsing in and out of consciousness.
Sponsored by (list in formation):
Palestine Solidarity Group (PSG) – Chicago
U.S. Palestinian Community Network (USPCN)-National
USPCN – Chicago
Coalition to Protect People's Rights (CPPR)
Committee to Stop FBI Repression (CSFR)
Committee Against Political Repression (CAPR) – Chicago
Chicago Movement for Palestinian Rights (CMPR)
Jewish Voice for Peace – Chicago
American Muslims for Palestine – Chicago
To endorse, please email uspcn@uspcn.org.
---
Protesters trying to close the UN building in Ramallah
By Palestinian Information Centre
February 18, 2013
RAMALLAH– Young activists and students at Birzeit University tried on Monday morning to close the United Nations headquarters in the city of Ramallah, in protest at the "international silence regarding the hunger striking prisoners' issue."
Dozens of young men gathered this morning outside the building, located in the area of Ain Munjid in Ramallah, and tried to close it. They were carrying banners condemning the international silence regarding the issue of hunger striking prisoners, especially that some of them have been suffering very critical health condition.
Palestinian policemen intervened and prevented the demonstrators from closing the UN building.
"This event aims to put more pressure on the international community, which stands silent in the face of the Israeli practices against the prisoners, especially the hunger strikers," one of the activists said.
He added that the goal of such activities, including the closure of the European police building, is to pressure these organizations working in Palestine to act and intervene in order to lift the Israeli injustice imposed on the Palestinian captives.
---
Israelis reject release of hunger striker Samer Issawi
By Al Akhbar
February 19, 2013
Updated 4:27pm: An Israeli court on Tuesday rejected a bail request for jailed Palestinian hunger striker Samer Issawi as hundreds protested for his release across the West Bank and Gaza.
Samer Issawi, now on day 211 without food, is to remain in prison until at least March 14 when the final verdict is to be announced.
Issawi's mother collapsed as he was escorted out of the court room, witnesses said.
Issawi's health has rapidly deteriorated since he stopped drinking water on February 5, stoking fears that his death could be imminent.
The court on Monday had called for an emergency session to hear his case, presumably over concerns that his martyrdom could trigger a new Palestinian uprising.
Dozens had gathered outside the Jerusalem court holding up pictures of the prisoner awaiting the verdict in a case that has drawn international attention to Israel's abhorrent prison policies.
Soldiers meanwhile fired tear gas and rubber bullets at hundreds of Palestinians rallying outside Israel's Ofer Prison to demand Issawi's release, activists reported on Twitter. At least 18 protesters were injured.
The hearing comes as hundreds of other Palestinians jailed in Israel began a one-day hunger strike Tuesday in solidarity with Issawi and three other long-term hunger strikers, the Palestinian Prisoners Society said.
The group announced on its website Tuesday that about 800 prisoners from three Israeli jails, and who represent four political factions, agreed to refuse food for a 24-hour period.
Issawi on Saturday released a letter condemning Israel's "racist occupation," and vowing to continue his hunger striker "until the end."
The three other Palestinians on long-term hunger strikes include Ayman Sharawneh, Jaafar Ezzedine, and Tarek Qa'adan.
Thousands of their supporters have taken to the streets across the West Bank and Gaza in recent weeks to demand the release of thousands of prisoners being held without charge.
Over 2,000 Palestinian prisoners ended a mass hunger strike in May 2012 to protest their administrative detentions after reaching a deal with Israel.
Amnesty International and Human Rights Watch have slammed the policy as a violation of international humanitarian law.