Reports from Ma'an, the PSCC, Ian Black, Guardian and the New Internationalist. Most of these are photo-stories.


Decorations adorn an old home in Ein Hijleh as part of the work to clean and revive the area, which consists of several deserted houses and a collection of palm trees. Much of the surrounding land has been seized by the Israeli forces for 'closed military zones' and Israeli settlement expansion.

New protest village erected after Ein Hajla destroyed overnight
By Ma'an news
February 10, 2014
BETHLEHEM  — A group of Palestinian and international activists on Friday established a new protest village in the Jordan Valley, only hours after Israeli forces raided and destroyed the encampment of Ein Hajla in the region.
The new protest village was set up in al-Joula in the Jiftlik area of the northern Jordan valley on Friday.
A central committee member of the Democratic Front for the Liberation of Palestine told Ma'an that dozens of activists had established the protest village in al-Jiftlik in order to reiterate that the region is a Palestinian area, referring to Israeli plans to annex the Jordan Valley as part of peace negotiations.

New protest village in al-Joula in the northern Jordan valley, set up on February 7th. Photo by Ma'an images
Bassa Maslamani said that the camp was set up near the site of an Israeli "numbered graveyard," where Israeli authorities keep the remains of a number of Palestinians who were killed by Israeli forces, many during the Second Intifada.
The move came after Israeli troops invaded a protest village overnight that had been set up a week before in Ein Hajla in the southern Jordan Valley.
Israeli forces attacked and destroyed the protest village before dawn, injuring at least 35 protesters during the assault.
Ein Hajla was set up last Friday [January 31] to protest against Israeli confiscation policies in the area, continued Jewish settlement construction on occupied land, and recent proposals to annex the Jordan Valley.
Israeli forces had surrounded the encampment and prevented supplies, as well as other activists, from entering the village for the last week.
Lawmaker Mustafa Barghouthi said hundreds of Israeli soldiers raided the village on Friday morning, firing stun grenades and beating people there, including children. Several suffered fractures after they were struck with batons and rifle butts, he said.
Barghouthi, who was present at Ein Hajla during the raid, said dozens of military vehicles and prisoner transport vehicles arrived at the village, and soldiers and detained a large number of people.
Diana Alzeer from the Ein Hajla media committee told Ma'an that a total of 35 protesters were injured, of which many were taken to hospital as a result.
She added that several protesters were detained but were released on the spot.


Police arrest the activists at Ein Hijleh / Ein Hajla camp before razing the site with a bulldozer. Photo from Samer Nazzal /Popular Struggle Coordination Committee.
Barghouthi added that a Israeli soldiers threw a journalist from the top of one of the houses, and prevented Palestinian TV cameras from videotaping the incident.
He added that the activists would return to Ein Hajla and Bab Shams, and that their "will will not be broken" despite the attack.
The official praised protesters who remained at the village and were not intimidated by the brutality of occupation, saying Ein Hajla was victorious.
An Israeli army statement said that forces had "called on the provocateurs to independently evacuate the area," but after they did not heed warnings, an "initiated evacuation took place."
The statement added that "agitators were evacuated due to rock hurling earlier this week at the main Jordan Valley route, and other legal considerations."
The protest encampments at Ein Hajla and al-Joula follow similar efforts by Palestinian protesters in the encampments of Bab al-Shams and Ahfad Younis in early 2013, both of which were dispersed by Israeli forces.
Jewish settlers frequently raid Palestinian lands and set up illegal outposts across the West Bank, usually uninhibited by Israeli authorities and often supported by Israeli military forces.
These outposts are often chosen for their strategic locations between Palestinian villages and atop hills or major roads.
Many of these outposts are eventually developed into permanent settlements, and today nearly 500,000 Israeli Jews live in illegal settlements built across the occupied West Bank and East Jerusalem.
The internationally recognized Palestinian territories of which the West Bank and East Jerusalem form a part have been occupied by the Israeli military since 1967.
Below, Palestinian activist seen through a wall in Ein Hijleh. The graffiti reads 'There is something worth living on this land for'. Guardian Photo: Mahmoud Illean/ /Demotix/Corbis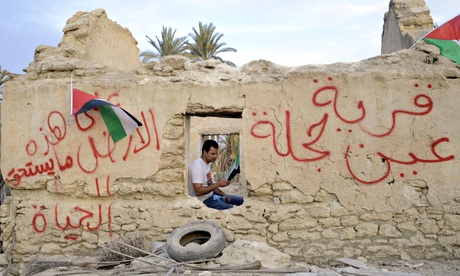 ---
Palestinians evicted from Ein Hijleh again and the village is declared closed military zone for a month

Press Release, Popular Struggle Co-ordinating Committee
February 12, 2014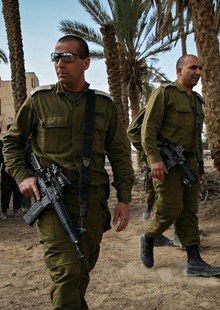 L, Israeli soldiers checking Ein Hijleh is clear of Palestinians. Photo by Hamde Abu Rahma/NurPhoto/Corbis. R. the monastery document granting permission to the Palestinians to use the land.
About nine activists from Ein Hijleh in the Jordan Valley have been evicted again after their return to the village today. The popular resistance activists have returned to check up on their village and stay, when Israeli forces raided the village and showed a military order declaring the village a closed military zone for 1 month.
Two Palestinian activists, Mahmoud Zawahre and Monther Amira have been arrested while the rest have been held. Both Zawahre and Amira were taken to a detention center before they were released with a bail of 1500 NIS each. Israeli forces informed both arrestees that they are not allowed to return to the area or visit it for two months.
Those who returned and were evicted today have visited the village aiming to stay in it and call upon the rest of Palestinians to return tomorrow.
Israeli forces threatened the activists who had a document signed by Deir Hijleh monastery (shown below) allowing them to use the land.
Nevertheless, Israeli forces ignored the document and forced the Palestinians out of the village declaring it a closed military zone for a month and threatened to arrest any Palestinian that comes into the land of the village.
Ein Hijleh was revived by Palestinians on January 31 who maintained an existence on the land for a week before they were brutally evicted at 1:30 am on Friday January 7th, 2014. The action aimed at refusing the continuous Judaization of Palestinian lands and Israeli policies to annex the Jordan Valley.
Arrest of Mahmoud Zawahre and Monther Amira 
---
Defiance and sadness as Palestinians forced off West Bank protest site
Ian Black reports from Ein Hijleh, where bulldozers have erased all trace of a camp after a week of peaceful direct action
Guardian, February 07, 2014

Dusk was gathering around the date palms of Ein Hijleh when the Israeli police 4×4 roared past the protest village, sending up clouds of white dust that obscured the view of the golden cupola of the nearby monastery of Saint Gerassimos.
"Look at that," a Palestinian activist shouted. "They're just doing it to remind us that they're here and to say, 'Fuck you.'"
Only hours later, hundreds of police and troops returned on Friday morning to force some 250 Palestinians off the site, close to Jericho and the Dead Sea, after a week of peaceful direct action designed to dramatise their claim to the land and to protest against peace talks they fear will consolidate rather than end the 46-year occupation by Israel.
"No unusual events" took place, a laconic (IDF) Israel Defence Forces statement reported later, but the Palestinians said the Israelis had fired flares and sound grenades, and had beaten and arrested several protesters. Mustafa Barghouti, head of the Palestinian National Initiative, described the evacuation as "brutal" and protested that Palestine TV had been prevented from broadcasting during the raid.
Still, it can hardly have been a surprise: similar media-friendly Palestinian events, including the camp set up at Bab al-Shams near Jerusalem, were tolerated by the Israelis for just a few days before being broken up last year.
Ein Hijleh was chosen both for its location and symbolism by the Palestinian Popular Committees (PPC), which have little patience with slow-moving negotiations they do not believe will give them independence or freedom. Depopulated in the 1967 war, when Israel conquered the West Bank from Jordan, the village's abandoned stone houses and graceful palms were a picturesque backdrop for a display of participatory political theatre.
"Obviously the leadership have achieved nothing in terms of restoring Palestinian rights," said Diana Alzeer, a PPC spokeswoman. "We have decided to reclaim this village and live here to reject the current negotiations and the [John] Kerry plan and Israel's policy of annexing the Jordan valley. What is happening here is ethnic cleansing. Houses are being demolished and natural resources are being used by Israeli settlers. Our message is that we are defending our rights and existence on this land."
On the final day of its short revived existence, Ein Hijleh was a hive of purposeful activity with a pioneering feel – residents planted citrus saplings, repaired thatched roofs and cleared the ground. Coffee was brewed on an open fire and served to visitors, including bigwigs from Palestinian government ministries in Ramallah, journalists, a couple of Catalans and two Danes taking a break from teaching in Bethlehem. In the afternoon, it was bathed in winter sunshine, with stunning views of the mountains rising beyond the Jordan river. At night it is freezing.
Strung across the village's largest structure, an Arabic banner proclaimed: "State of Palestine, Ein Hijleh welcomes you". A youthful Yasser Arafat looked down from posters adorned with his famous slogan: "Do not let the olive branch fall from my hands" – a reminder that these days, Palestinian attacks on Israel are largely the preserve of Hamas in the Gaza Strip.
The Israeli military presence was low key – just a couple of jeeps on the main road, preventing direct access. But the water pipes were cut, reinforcing a sense of siege. On Friday morning an Israeli army bulldozer was removing all traces of the week's activities.
Like most of the Jordan valley, Ein Hijleh is in Area C, the 60% of the West Bank under full Israeli control according to the Oslo accords.
"If you ask a standard Israeli about it they would think it is part of Israel," said Irene Nasser, another activist. "This is Palestinian land and our presence here is to reclaim it and hold on to it. This is about the people taking things into their own hands." Hamza Jawabari, a student from a refugee camp near Nablus, said: "We are here to return the village to life and make sure it is not confiscated. It is difficult, but, al-hamdulillah [God willing]we are steadfast."
The Ein Hijleh protest is part of a larger campaign the popular committees have named Milh al-Ard (the Arabic for "salt of the earth") – with a biblical resonance meant to highlight Muslim-Christian solidarity. In the end, there was both defiance and sadness.
"We felt we had liberated a small piece of land," Alzeer said on Friday. "We were singing and happy. We didn't expect the Israelis would come. But maybe they thought it was better to end it before it got too big."
---
Resistance in the Jordan Valley
Reports on a recent Palestinian protest village that sparked off a campaign to contest Israeli policies of annexation.
Words and photos by Kelly Lynn 
New Internationalist, February 12, 2014
Hundreds of Palestinian activists took part in a protest camp in early February in Ein Hijleh, an abandoned village in the West Bank's Jordan Valley. The camp launched the Melh Al-Ard (Salt of the Earth) campaign, an initiative that focuses on contesting Israeli policies aimed at Judaizing and annexing the Jordan Valley.

On 31 January, over 300 Palestinian activists launched the first day of the campaign in Ein Hijleh.
Residents of the village were forced to leave back in 1967, when Israel began its illegal military occupation of the West Bank. In a statement written by the Popular Struggle Co-ordination Committee, organizers declared: 'We, the participants, announce that we hold tight to our right to all occupied Palestinian lands. We refuse [US Secretary of State John] Kerry's Plan that will establish a disfigured Palestinian state and recognizes the Israeli entity as a Jewish State. Such a state will turn Palestinians living inside lands occupied in 1948 into residents and visitors that can be deported at any time. We affirm the unity of our people and their struggle, wherever they are, for our inalienable rights.'

An activist from the South Hebron Hills village of Al Mufaqara, situated in the south of the West Bank, lays palm branches over the exposed roof of a home.
Like Ein Hijleh, the tiny village of Al Mufaqara is located in Area C, one of three administrative divisions created by the Oslo Accords. Area C covers over 60 per cent of the West Bank and is under full Israeli military and civil control.

Palestinian youth use palm tree logs to cover the exposed roof of an abandoned building. All week men, women and children worked to revive the village. They also planted trees, held cultural events and discussions and baked bread.



Palestinians gather in front of members of the Israeli military who had entered the village on the first night of the camp.
As soon as they arrived, the Israeli forces erected checkpoints in the surrounding areas to keep journalists and activists from reaching Ein Hijleh. Most people attempting to enter the village after the first day were forced to walk two kilometres from a nearby church to avoid the Israeli soldiers and border police.

The Israeli military and border police patrolled the outskirts of Ein Hijleh every evening for the duration of the camp, occasionally firing flares and fireworks late at night. Palestinian activists prepared fires such as this one to provide light in case of a military raid.



Young Palestinians confront Israeli soldiers and border police as they confiscate food and water.
Supplies were taken from activists and journalists attempting to enter Ein Hijleh on Sunday 2 February. Although Israeli forces detained activists and stopped transport that was being used to deliver food and water and confiscated the supplies, items were smuggled in on horseback from nearby Jericho.

Youth from Aida Refugee camp march together with activists toward Route 90 for a morning action on the 5th day of the campaign.
Palestinians who do not live in the Jordan Valley must obtain a permit from the Israeli authorities in order to travel on this main highway, which runs north through the Jordan Valley, even though it is situated within the 1967 Green Line.

Participants representing West Bank towns and villages chant following the action in which they confronted Israeli forces along Route 90.
Ein Hijleh was eventually raided by Israeli military and border police around 2am on 7 February. Some 41 people were injured in the process of being arrested and had to be hospitalized. The rest were bussed to the nearby city of Jericho where they were later released. Parts of the protest village were then bulldozed by Israeli authorities.
Ein Hijleh is the second protest village to be erected by Palestinian activists and subsequently evicted. Bab Al-Shams faced the same fate in January 2013. The activists say there will be more camps to come.