Reports on the legal threats against, and loud criticism of the Netanyahus from The Independent and Times of Israel.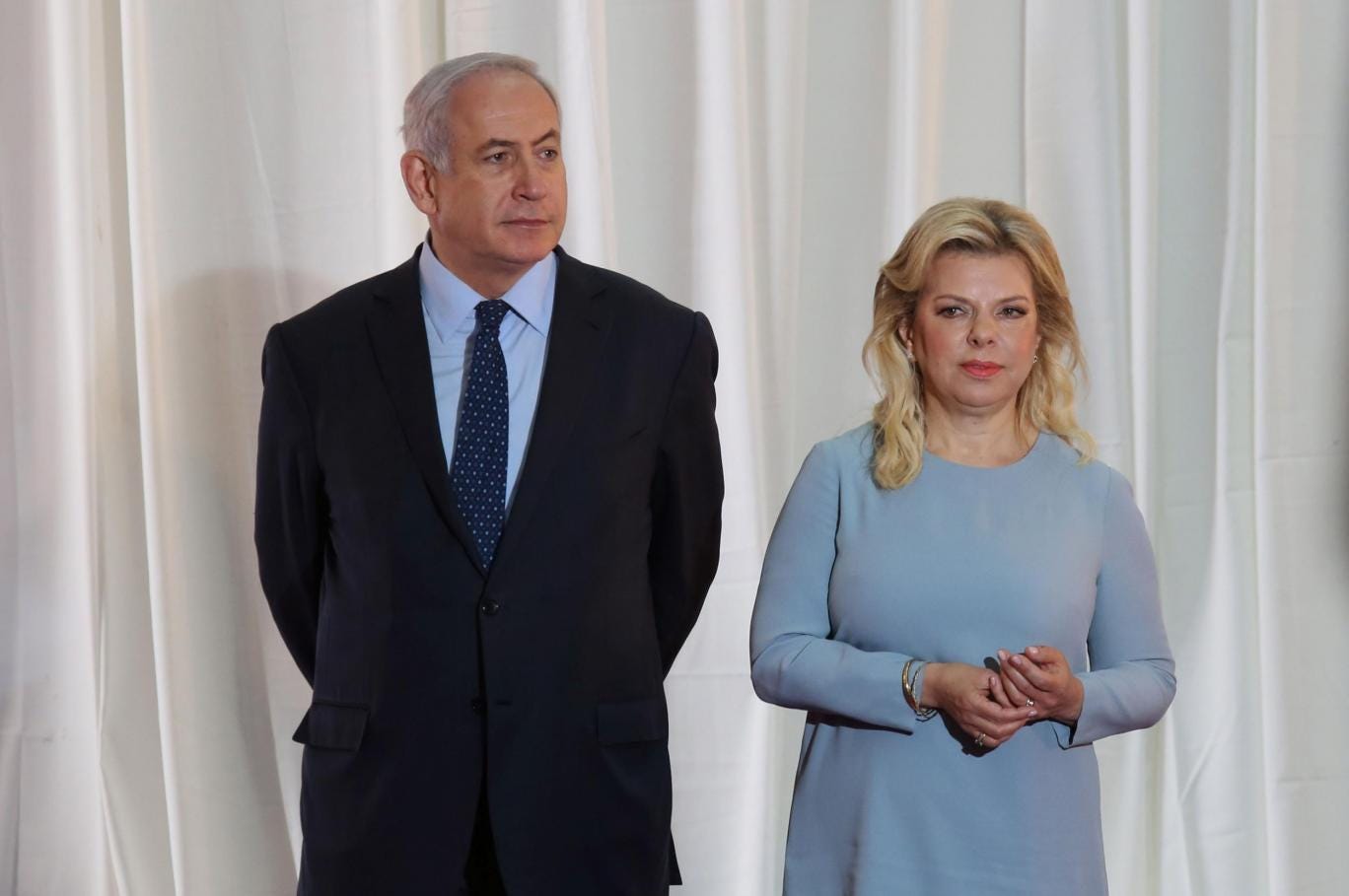 Israeli Prime Minister Benjamin Netanyahu and his wife Sara wait for the arrival of Ethiopian Prime Minister Hailemariam Desalegn and his wife ahead of a welcoming ceremony at the PM's office in Jerusalem/al-Quds. The Israeli PM is currently trying to re-establish a role for Israel as the bringer-of-good-things in Africa – though he's not keen on Ethiopian 'infiltrators'. Photo June 06, 2017 by AFP
Benjamin Netanyahu's wife Sara to stand trial over corruption charges, Israeli attorney general says
Widely-expected indictment on charges related to misuse of public funds is first formal filing in several investigations into the prime minister and members of his inner circle
By Bethan McKernan, Beirut, The Independent
September 08, 2017
Sara Netanyahu, wife of Israeli Prime Minister Benjamin Netanyahu, is to face trial over alleged misuse of public funds, Attorney General Avichai Mandelbilt has said.
Mr Mandelbilt will accept the police's recommendation Ms Netenyahu be indicted and file an indictment subject to hearing against her, according to a statement from the Justice Ministry released on Friday.
Ms Netanyahu has been variously accused of using money set aside for the prime minister's official residence for furniture and improvements to the pair's private home, hiring Likud Party central committee member Avi Fahima as an electrician against official advice, paying for her elderly father's care, inflating dinner party numbers to hire private chefs, and pocketing 23,000 shekels (£4,800) in recycling refunds.
She denies any wrongdoing.
Earlier this week Ms Netanyahu took a polygraph test ahead of the expected indictment on her "own initiative" in order to "prove her version of events" before the attorney general made his decision, which was widely expected on Friday.
The lie detector found she answered truthfully questions related to the alleged misuse of funds – including replying "no" to the question "Were you aware in real time of the breaking of rules regarding the ordering of food and other items for the prime minister's residence?"
Polygraph test results are not admissible as evidence under Israeli law, but can be submitted as an "indication of events".
Mr Mandelbilt's office accepted the police's recommendation that Ms Netanyahu be indicted after two years of investigations triggered by a state comptroller report into excessive spending at the residence – and a lengthy final interrogation by Israel's national fraud squad last month.
In a post on his Facebook page on Friday Benjamin Netanyahu came to his wife's defence, calling the claims "absurd and baseless".

They speak the same leg language – men's spread wide, women's neatly crossed displaying an elegant limb. Oval Office, Feb. 15, 2017 Photo by Andrew Harrer-Pool/Getty Images
"Sara Netanyahu is a brave and honest woman and has never done anything wrong… The sharp increase in spending at the prime minister's residence was caused by offences committed by the problematic chief caretaker, Meni Naftali, a criminal state's witness and a serial liar. The average monthly spending on ordered meals while [he worked there] was five times the monthly average during the four years that followed, when Naftali did not work there. That says it all.
"Naftali is making false accusations against the prime minister's wife to extricate himself from accountability for the offences he committed.
"Not only did the prime minister's wife not commit any offence," Mr Netanyahu added, "the very focus on the meals of Prime Minister Netanyahu, who works around the clock for the country and its security, as well as the focus on his family's meals, is pathetic and obsessive."
Mr Naftali has denied the Netanyahus' claims.
The charges against Sara Netanyahu are the first to be formally brought in several investigations into the prime minister and his inner circle.
It is alleged that he received lavish and "inappropriate" gifts from wealthy supporters, such as cigars and champagne, and offered commercial favours to Yedioth Ahronoth newspaper owner Arnon Mozes in return for positive coverage.
He has also been asked to testify in the corruption case against his personal lawyer, David Shimron, over defence contract deals with German shipmaker ThyssenKrupp to buy submarines for the Israeli navy, and has been accused of failing to disclose his ties to key actors in a merger deal involving state telecommunications company Bezeq.
Mr Netanyahu's former chief of staff, Ari Harow, agreed to testify against his former employer last month, despite the fact he is a long time friend and loyal supporter of both Mr Netanyahu and his Likud party.
The move has widely been seen as a turning point in the investigations against the prime minister.
Like his wife, Mr Netanyahu denies all allegations of wrongdoing.
---
Moshe Ya'alon resigned from government after Bibi replaced him as defence minister with Avigdor Lieberman. Here in Ra'anana July 15, 2017. (Flash90)
Ex-defence minister calls for Netanyahu to resign 'immediately'
Moshe Ya'alon says the submarine scandal involving alleged corruption by PM's close associates is damaging Israel
By Alexander Fulbright, Times of Israel
September 09, 2017
Former defense minister Moshe Ya'alon on Saturday called on Prime Minister Benjamin Netanyahu to resign immediately over a corruption case into a multi-billion-shekel purchase of naval vessels from Germany that has ensnared a number of close associates of the premier.
While Netanyahu is not a suspect in the investigation, which is known as Case 3000, Ya'alon said the corruption alleged in the probe is harming the country and undermining the public's confidence in Israel's leadership.
"People don't understand how much the corruption harms all of us. Think about what you could with two billion euros instead of going with a deal for naval vessels that there is no need for," said Ya'alon at a cultural event in Netanya.
"There is a lack of confidence in the leadership. If the considerations from above are not clean, I am not positive that there is not also an effect on IDF enlistment," he added.
"The prime minister must resign today — immediately."

The top men – IDF Chief of Staff Gadi Eisenkott, then-defence minister Moshe Ya'alon, President Reuven Rivlin and Prime Minister Benjamin Netanyahu – turn out in force to welcome their new submarine 'Rahav' at the navy base in Haifa. Rahav means sea monster or, more recently, Neptune. Photo January 12, 2016 by Kobi Gideon/GPO.
Since he was fired in May 2016, Ya'alon has become a vocal critic of Netanyahu and has been on a campaign to implicate the prime minister in the investigation in the scandal-plagued multi-billion-shekel naval deals with the German firm ThyssenKrupp.
While the prime minister has denied wrongdoing in connection to the investigation, a number of former aides and associates have been caught up in the unfolding case.
In addition to David Shimron, the prime minister's lawyer and cousin, and Avriel Bar-Yoself, a former National Security Council deputy head under Netanyahu, the prime minister's former bureau chief David Sharan was also named as a suspect in the investigation earlier this month.
On Wednesday a court ruled that Sharan, a former top aide to Energy Minister Yuval Steinitz before joining the Prime Minister's Office as chief of staff in 2014, be held in jail for a further six days, saying that the suspicious against him have been "bolstered" in the case.
A number of other figures have recently been arrested in connection to the case in addition to Sharan, including senior aide to Steinitz Rami Taib, former minister Eliezer Sandberg and former head of the Israel Navy's commando unit Shay Brosh.
Miki Ganor attends a hearing at the Rishon Lezion Magistrate's Court on July 21, 2017. (Flash90)
The ever-expanding list of high-level officials to be arrested or questioned in the probe comes following information given by Miki Ganor, who had been the local representative of German shipbuilder ThyssenKrupp. After being identified as a key suspect in the case, Ganor turned state's witness in July.
The recent wave of arrests in the investigation comes amid developments in two separate corruption investigations involving Netanyahu, known as Cases 1000 and 2000.
In Case 1000, Netanyahu and his wife Sara are suspected of receiving illicit gifts from billionaire benefactors, most notably hundreds of thousands of shekels' worth of cigars and champagne from the Israeli-born Hollywood producer Arnon Milchan.
Case 2000 involves a suspected illicit quid pro quo deal between Netanyahu and Yedioth Ahronoth newspaper publisher Arnon "Noni" Mozes that would have seen the prime minister hobble a rival daily, the Sheldon Adelson-backed Israel Hayom, in return for more favorable coverage from Yedioth.
Netanyahu has denied wrongdoing.
In addition to the corruption investigations involving Netanyahu himself, Attorney General Avichai Mandelblit announced Friday that he will charge the prime minister's wife Sara Netanyahu with fraud for allegedly diverting some NIS 360,000 ($102,000) of shekels in public funds for her own use, with the specific intention of avoiding payment of personal expenses.
"The Netanyahus view themselves as a royal family and the people of Israel as their subjects". MK Stav Shaffir, Zionist Union, photo by Hadas Parush/Flash 90
Addressing the Netanyahus' legal woes, Zionist Union MK Stav Shaffir accused the couple of using public funds as their own private expense account.
"The Netanyahus view themselves as a royal family and the people of Israel as their subjects," Shaffir said on Saturday at a cultural event in Beersheba.
"It is inconceivable that as the disabled are calling for a meagre addition of NIS 2,000 [each month] in order to live, the Netanyahu family prefers to indulge itself with public money for their own personal benefit," she added, referring to ongoing protests by the disabled calling for an increase in their monthly disability benefits.
Shaffir also questioned whether Netanyahu could be trusted with Israel's security in light of the corruption allegations against a number of his associates.
"It is dangerous to continue to place Israel's hands in the security of a person whom most of his associates spend more time in interrogation rooms than conference rooms, whether or not he knew about the corruption," she said.
Times of Israel staff contributed to this report.
See also: Sara Netanyahu, Israel's Marie Antoinette

Just when we thought Israel's first lady's image problem couldn't get any worse – a newly filed lawsuit describes racist remarks, spendthrift ways, and serious anger management issues.

Haaretz, March 2014