One of the rare Rosh Hashana cards today wishing a new year of peace. Most, even those in English, limit their wishes to  happiness, prosperity, good health.
Netanyahu's five sins
With the Jewish year coming to an end, it is clear that Prime Minister Benjamin Netanyahu is guilty of five sins: ignoring hope for peace, whitewashing injustices, inciting hatred, discriminating against the poor and indifference to the weak.
By Akiva Eldar, Al Monitor, Israel pulse
September 21, 2017
1. Assault on hopes of peace
The Jewish year 5777, which ended Sept. 20, will go down in the annals of Israeli history as the year of the sins. The biggest and first sin was the indecent assault on the hope of peace. Not so long ago, we Israelis used to send greeting cards ahead of the holiday, wishing our loved ones a "good new year" and adding "a year of peace." In recent years, and more so over the past year, those wishing others a "year of peace" are considered weird at best and radical leftists at worst.
The strategic discourse about the Israeli-Arab conflict, the occupation of Palestinian territory and the Israeli settlements on those lands has made way for strident arguments for or against Prime Minister Benjamin Netanyahu and his wife, Sara. Common refrains include such questions as, "Does one unseat a prime minister over a few takeaway food trays?" alluding to a pending indictment against Mrs. Netanyahu over allegedly abusing state funds for catered food. "Do you have anyone better than Netanyahu [to serve as prime minister]?'' is another often-heard question.
Most Israelis, those who identify themselves as espousing views ranging from the moderate right to the centre-left, say that regretfully there is no Palestinian partner for peace. Right-wing radicals say gleefully that there is no Palestinian partner with whom to make peace. The Zionist left says that sadly it appears there is no Israeli partner with whom a two-state solution can be reached. The anti-Zionist left says, with satisfaction, that there does not appear to be an Israeli partner with whom to forge a two-state solution to the Israeli-Palestinian conflict.
2. Deceiving the public
The second sin in terms of its severity is politicians' deceit of the public. The most blatant recent example is Justice Minister Ayelet Shaked's portrayal of human rights values as contradictory to Zionist values. Shaked stated on Aug. 29 that Zionism should not bow down to a system of individual rights interpreted in a universal way, yet not even one of her government colleagues bridled when she voiced this racist interpretation of the Zionist dream. After all, they had all joined over this past year in promulgating legislation and spouting incitement against human rights organizations. They co-operated in pushing through a bill that legalizes the theft of land from non-Jews in order to hand it over to Jewish ownership (by legalizing settlements constructed on private Palestinian lands). The euphemisms described to whitewash the occupation deceitfully dubbed this racist legislation the Regularization Law.


Miss Shaked just after her appointment as Justice Minister. Photo on May 18, 2015 by Yossi Zamir/Flash 90
The Knesset went a step further this year, excluding 20% of its citizens (Israeli-Arabs, essentially) when it promoted a bill euphemistically named the Nationality Law, which legislates Israel's status as the national home of the Jewish people, in the guise of the right to self-determination. The deceit did not spare state schools and kindergartens, where impressionable souls were taught that praying to God for rain was part of the toolbox of every Jewish farmer as he goes about his labour of tilling the land, sowing and harvesting.

The moment when IDF medic Elor Azaria raises his rifle to shoot dead the wounded Abdul Fatah al-Sharif, who had stabbed, but not killed, an Israeli soldier. Azaria was sentenced to 18 months imprisonment for manslaughter. Screenshot from B'Tselem.
3. Incitement
The third sin is incitement. It peaked in the affair of Elor Azaria, convicted for manslaughter for shooting to death a wounded Palestinian assailant on the ground. Elected officials who have lost all sense of shame and responsibility embraced the soldier and comforted Azaria's family. Ministers and Knesset members took part in incitement against the legal system that sentenced Azaria to 18 months in jail for manslaughter. The left and the media, which refused to grant a cold-blooded killer recognition as a hero, or at least as an unfortunate victim of the occupation, were also targeted for incitement.
The incitement continued in rallies of support, organized by Netanyahu's associates, for the prime minister, suspected of corruption, and for his wife, suspected of fraud. The incitement did not spare African asylum seekers whom the government itself dumped in disadvantaged neighborhoods, nor did it stop at the gates to the Supreme Court when it displayed a modicum of compassion for them (ruling that they cannot be incarcerated for deportation more than two months).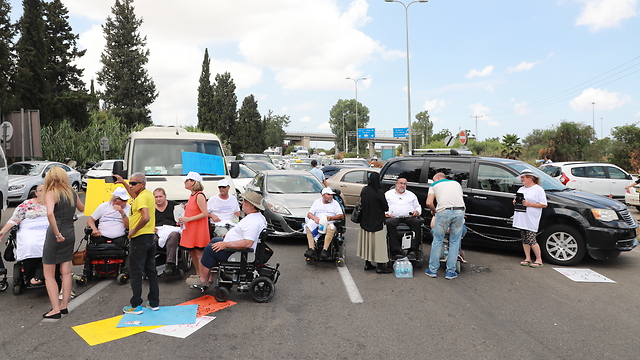 Disabled people blocking the main Route 4 in protest at the smallness of their state stipend. Photo July 9th, 2017 by Dana Kopel
4. Depriving the disabled
The fourth sin committed this past year by Israeli politicians is depriving the downtrodden of their basic rights. While the government was willing to spend billions of dollars on unnecessary submarines and naval destroyers, it has stingily ignored citizens who have plunged below the poverty line. Shamefully, some 60,000 Holocaust survivors live below that poverty line, needing state subsidy support to keep going. According to the last report by the State Comptroller, 16,000 Holocaust survivors who are entitled to public housing (subsidized by the state) are still on the waiting list. They make more than 90% of the people listed by the Welfare Ministry as eligible for such assistance.
Disabled Israelis in wheelchairs took to the streets this year, demanding that their meagre monthly subsistence benefits be doubled to the level of the official minimum wage of 5,000 Israeli shekels ($1,410). Netanyahu promised to adopt a blueprint raising their stipend from 2,342 Israeli shekels ($660) to 4,000 Israeli shekels ($1,128) for the most severely disabled, but implementation of his pledge has been delayed repeatedly.
5. Indifference
The fifth sin is indifference. In the summer of 2011, some 400,000 Israelis proved that when they hurt, they know how to protest (against social injustice). These days mark the first anniversary of the protests against Attorney General Avichai Mandelblit, designed to pressure him into accelerating the handling of the various suspicions against Netanyahu. At its height, the protest brought out 3,000 men and women to protest near Mandelblit's home, and another several thousand to various intersections throughout the country.
This is little consolation given that most Israelis would rather sit home and carp about the loss of Israel's essence as a democratic state, about rampant high-level corruption, about the incitement, about the abuse of the defenceless in society. It would seem they are not hurting sufficiently.
Will the year 5778 bring with it punishment and correction? Will the coming year witness a political-social upset — or a diplomatic tsunami, to quote former Prime Minister Ehud Barak? The next new Jewish year (of September 2018) will mark 25 years of the signing of the Oslo Accord (Sept. 13, 1993). I had the privilege to attend the White House signing ceremony and I had to pinch myself to make sure that I was really seeing Prime Minister Yitzhak Rabin and Foreign Minister Shimon Peres shaking hands with Palestinian leader Yasser Arafat.
With the noose of police investigations tightening around Netanyahu's neck, it seems that his departure from politics — the sweet dream of peace-seeking, honest Israelis fearful for the fate of Israeli democracy — could come true this coming year.

The Israeli settlement of Givat Zeev near the West Bank city of Ramallah is one example of the more than 200 new settler homes Israel built in 2016 in the Palestinian West Bank. Meanwhile, welfare services are seriously run down.
Make the punishment fit the crime
The punishment for this long list of sins must pave the way for a major correction. The collective despair must make way for consistent, energetic activity by civil society. Such activity must lead to the unity of the camps favouring peace arrangements that ensure Israel's security over continued occupation and perpetuation of a violent conflict. It must result in respect for the principles of democracy and human rights rather than those of nationalism and religious coercion, and in aiding the weak rather than supporting the strong.
It should lead to investment in education and research rather than funnelling more and more money to settlements in occupied territories and to ultra-Orthodox colleges. This is the only way we may get to receive a greeting card for the following 2018 Jewish year inscribed with wishes for a "year of peace."
Akiva Eldar is a columnist for Al-Monitor's Israel Pulse. He was formerly a senior columnist and editorial writer for Haaretz and also served as the Hebrew daily's US bureau chief and diplomatic correspondent. His most recent book (with Idith Zertal), "Lords of the Land", on the Jewish settlements, was on the best-seller list in Israel and has been translated into English, French, German and Arabic.