The commanding triumvirate, from L. Prime Minister, Defence Minister Ya'alon, Chief of Staff Gantz, August 27, 2014. Photo by Yonatan Sindel/Flash90
Bereaved parents scold MKs in Knesset Protective Edge talks
As committee convenes to discuss State Comptroller's critical Operation Protective Edge report with PM Netanyahu, anger and emotions erupt into confrontations with Lt. Hadar Goldin's mother spurning one Likud MK: 'Shame on you all…You insolent man'; One father of fallen soldier vents at his son's death: tells Likud members to 'sit quietly,' yells at Joint List MK to 'go join Barghouti on his hunger strike. Why are you even here?'
By Roi Yanovsky, trans. Alexander J. Apfel, Ynet news
April 19, 2017

Leah Goldin, the mother of fallen soldier Lt. Hadar Goldin, laid into the government on Wednesday afternoon during a Knesset meeting on State Comptroller Yosef Shapira's Operation Protective Edge report.
Holding back the tears, Leah told those present, including Prime Minister Benjamin Netanyahu, that "My son has gone from being a heroic fighter to a debt of a body (that the state needs to pay). Shame on you all."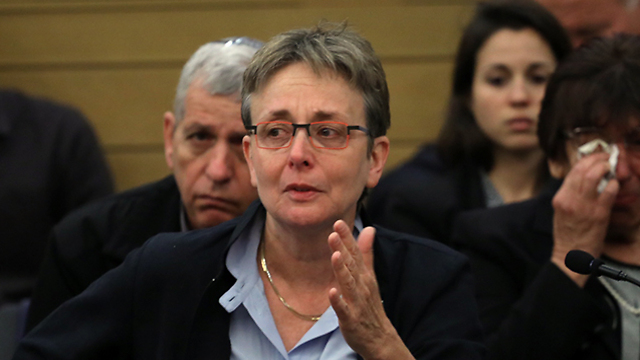 Leah Goldin, Photo by Ohad Zwigenberg

Illan's son, Staff Sergeant Erez Sagi, was killed in a battle in Nahal Oz after Hamas terrorists penetrated an IDF outpost via its tunnel network.
But tensions quickly mounted as Illan Sagi's appeals to restore some semblance of order to the discussions escalated into a bitter diatribe as he vented his frustration at his son's death.

A Hamas tunnel into Israel. The State Comptroller sharply criticised the Prime Minister, the then-Defence Minister and the former IDF Chief of Staff for not passing on their knowledge of the tunnels to the Security Cabinet. Photo by Jim Hollander/European Pressphoto Agency
"I paid the price of my son. Where were you all during the war when my son was killed in a tunnel?" he yelled.
Turning to MK Jamal Zakhalka (Joint List), an astonished Sagi said: "What are you doing here anyway? How did they let you in here? Go on the hunger strike with Barghouti!," he screamed in reference to a current hunger strike being led by Marwan Barghouti, a convicted Palestinian murderer and terrorist.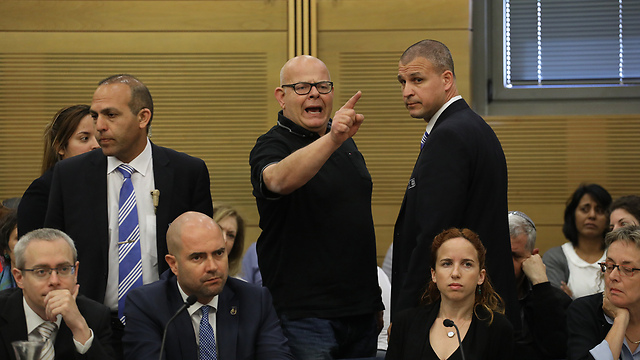 Illan Sagi: 'I paid with my son's life.' Photo by Ohad Zwigenberg
Shortly after, Sagi recalled an incident in which he said he stood outside the prime minister's office holding a sign when Coalition Chairman David Bitan approached him and said "It won't help you," a charge which gave rise to a heated exchange between the two.
"You liar. I never spoke to you," Bitan retorted.

Yosef Shapira, State Comptroller. Photo by Gil Yochanan
One of the fundamental conclusions drawn in the comptroller's report was that Netanyahu, former Defence Minister Moshe Ya'alon and former IDF Chief of Staff Benny Gantz failed to update Security Cabinet ministers about the threat posed by Hamas's border-crossing tunnels, leaving Israel inadequately prepared to deal with this threat.
Below, what they left behind:  rubble of a school in Gaza destroyed by the IDF. Photo by Ashraf Amra APA images
LINK

For the State Comptroller's report on OPE, see The know-nothing war