This article has been cut from 4313 words to 2450, not including the captions and Notes and Links added at foot.

Members of the General Union of Palestinian Students at San Francisco State University celebrate after the unveiling of a mural in honour of Edward Said in 2007. Photo from General Union of Palestinian Students via www.indybay.org
Struggling for justice at San Francisco State University
By Saliem Shehadeh, Mondoweiss
July 13, 2017
Students, staff, and faculty at San Francisco State University are under investigation by the university on charges of antisemitism made by the San Francisco Hillel. This is the latest in a long history of accusations made against Palestinians and Palestinian advocates at San Francisco State University (SFSU) by the pro-Israel organization.
One of the more famous cases was that of the Irvine 11 in which the Orange County District Attorney's Office charged students with two misdemeanours for protesting at a speech by Israeli Ambassador Michael Oren on UC Irvine campus. And most recently, the Lawfare Project has brought a lawsuit, alleging the institutionalization of antisemitism on SFSU campus, against a slew of defendants including top-level SFSU administrators, staff, and Dr. Rabab Abdulhadi the founding director of the Arab and Muslim Ethnicities and Diasporas Studies programme and the longtime advisor to the General Union of Palestine Students (GUPS)on campus.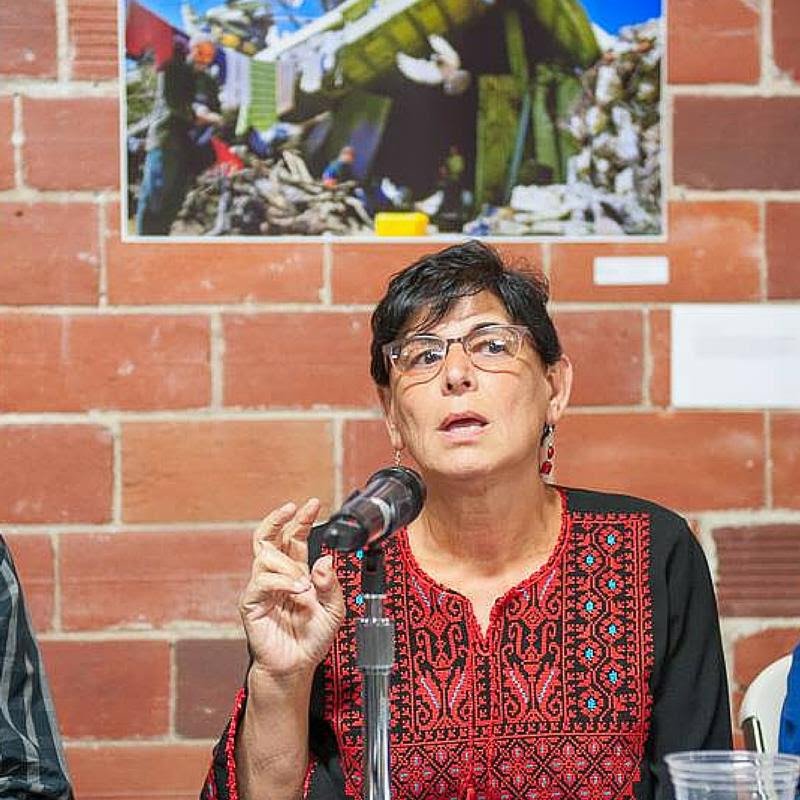 Dr. Rabab Abdulhadi [above], a senior scholar and associate professor of ethnic studies and race and resistance studies, has been the target of a months-long campaign led by the Santa Cruz-based Amcha Initiative, a Zionist watchdog group that harasses student Palestine solidarity activists and faculty members critical of Israel's policies. Electronic Intifada 
and as represented by David Horowitz's stop the jew hatred on campus.org
 "Professor Abdulhadi has been cleared of accusations made by Israel-aligned groups of "misusing funds" by traveling to Palestine and Jordan earlier this year and meeting with Palestinian leaders and political figures.

"Just days ago, San Francisco State University forcefully concluded that such accusations have "no merit" and that the university "will not censor our scholars nor condone censorship by others." In addition, the dean of the college of Ethnic Studies has admonished the accusers for their "propaganda-style tactics."

Dr. Rabab Abdulhadi, a senior scholar and associate professor of ethnic studies and race and resistance studies at San Francisco State University , has been the target of a months-long campaign led by the Santa Cruz-based Amcha Initiative, a Zionist watchdog group that harasses student Palestine solidarity activists and faculty members critical of Israel's policies. Electronic Intifada, 26 June 2014"
This lawsuit is similar to one in 2011 alleging an "anti-Semitic climate at UC Berkeley." US District Judge Richard Seeborg dismissed the lawsuit as the accusers had failed to support their claim with any evidence.[Judge dismisses claims of "anti-Semitic climate" at UC Berkeley
SF Hillel made this  latest allegation of antisemitism because they did not get a table at a "Know Your Rights" (KYR) Fair held in February 2017 at SFSU. The purpose of the Fair was, from its inception, to reach out to vulnerable groups, with a focus on Arab and Muslim, LGTBQ, and Undocumented communities. Palestine Legal, La Raza Centro Legal and ACLU, self-defence training  by the Girl Army, and legal advice panels, and Jewish Voice for Peace were among more than  20 participating organizations.
I, being one of the organizers of the Fair, have stated at every occasion that no such discrimination took place. There is no evidence to support the claim. Rather, SF Hillel  fabricated a story in which the Fair organizers changed the description of the Fair to exclude pro-Israel and Zionist organizations. Anti-Zionism is not Anti-Semitism. I reject Hillel's or any other definition of antisemitism which equates criticism of Israel with anti-Jewish hatred.
The university has based its investigation on the accusations made  by a Hillel staff member who had attempted to negotiate his way into the Fair with one of the Fair organizers, who anyway could not make a unilateral decision. Jason Steckler, SF Hillel's Israel Engagement Associate, who wanted to engage with people at the Fair, told university investigators that he had no intention of discussing Israel at the Fair. This is improbable given his job title.
The SF branch of GUPS, the General Union of Palestinian Students, and other Arab groups, then said that they would pull out of the Fair if Hillel were given a table. The absence of  Arab organizations would have destroyed the very event that was intended to make them a focal point.  They feel vulnerable because  every single public GUPS event is monitored by university administrators in the Office of Student Services. These administrators have a  publicly friendly relationship with the Hillel director Ollie Benn.
From the beginning, the university has not followed due process. The allegations against the KYR committee were not made formally in writing, rather, officers from  SF Hillel met with Vice President Luoluo Hong with whom they also have a very public friendly relationship.
VP Hong issued formal allegations against the Fair organizers on March 10, 2017, two weeks after the Fair took place. The investigation made no progress until students in the Jewish Studies programme  and in  SF Hillel made claims of institutional antisemitism at SFSU and cited the KYR Fair as a point of evidence.
In response, SFSU President Leslie Wong redirected the investigation onto Palestinians and the KYR Fair organizers, promising it would be a forceful investigation. He asserted that Palestinian advocates were responsible for antisemitic activity on campus. He made this new claim despite multiple university investigations showing them to be false. Within the week, the university added a second investigator, another oddity, probably made because of pressure from pro-Israel communities.
On June 20, 2017 The Lawfare Project made formal allegations of institutional antisemitism, drawing the same comment from Prof. Wong.
We only learned the of the specific allegations against us and what evidence they were presenting on Monday, June 26, 2017, more than four months after we received notice from VP Hong to appear for interrogation. An executive order from the Chancellor's office demanded our response by July 13, 2017. We were not allowed more time to respond to the allegation, which was unusual.
In 2014, the university investigated Dr. Rabab Abdulhadi's financial records of five years of her international travel in three redundant investigations after pro-Israel groups led by The AMCHA Initiative* accused her of misusing university funds to support antisemitism and terrorism.
In 2013, information about the former GUPS president, Mohammad Hammad, was released by the university to the FBI, the Joint Terrorist Task Force, and the Israeli Consulate, after officers of the AMCHA Initiative, SFSU Jewish Studies and SF Hillel accused him of threatening the lives of Jewish students. [The post reproduced above. Hammad says it was a sardonic but immature joke]
And in 2002, the San Francisco District Attorney's Office investigated two Palestinian students at the request of SFSU after they were accused of antisemitism during a pro-Israel rally on campus put together by SF Hillel during the Al-Aqsa [second] Intifada.
Every single one of these investigations found no merit to the allegations of terrorism or antisemitism alleged by SF Hillel and cleared the names of the Palestinians accused. The smear campaigns based on false allegations leave a stain on their character. Further, SFSU has been a willing participant and has enabled such harassment and bullying tactics to be practised with impunity against Palestinians. This is a nation-wide trend as Palestinian faculty, students, and their allies across college campus have been targeted in a similar manner, many times by the same organizations.
Evidence of Hillel's Conduct threatening students' and faculty rights
The objections to Hillel have always been about the organization's conduct threatening students' rights. Refusing them a table was in no way an issue of religious discrimination or retaliation. Hillel broadcast false allegations that protesters at a visit by Nir Barkat, the expansionist mayor of Jerusalem were violent and antisemitic.
Hillel's accusations were not only factually incorrect, but they are allegations rooted in anti-Islamic fear-mongering and racist Orientalist tropes of Palestinians as savages. Hillel's allegations against the protesters were proven false by testimonies from the University Police Department, by an in-house university investigation, and by the external investigation of a law firm contracted by the university. These false claims were circulated by pro-Israel and Islamophobic organizations including Canary Mission and David Horowitz. ** On October 14th and May 3rd Horowitz plastered posters around campus that targeted Dr. Abdulhadi, GUPS, Palestinian student advocates, Muslim students, Palestinian community leaders, and the organizations Students for Justice in Palestine and Jewish Voice for Peace.
While Hillel condemned the posters, it never retracted its false accusations against students. As a result, students associated with the KYR Fairwere publicly smeared, cyber-bullied, threatened with violence and rape, and stalked on campus and off-campus. The university has refused to press charges or even to conduct an investigation into how and why these posters were allowed to be put up and stay up on our campus.
Dr. Abdulhadi was also smeared by such lies due to her many campus roles including faculty adviser to GUPS and director of AMED, the only academic programme on SFSU campus whose mission is to combat Islamophobia and anti-Arab discrimination. Framing her scholarship and activism under the principles of an "indivisibility of justice" in all her classes, Dr. Abdulhadi teaches how to defy antisemitism. She presents diverse Jewish experiences that challenge the monolithic construction of Jews across time, place and contemporary times, and that differentiate between Judaism, Jewishness, Israel, and Zionism. At the AMED Studies table (which I staffed), I included a list of all the classes that AMED offers as well as T-shirts depicting the Palestinian Cultural Mural (also known as the Edward Said Mural) on SFSU campus, our pride and joy. I intentionally requested that JVP sit at the table between the General Union of Palestine Students and that of the Arab and Muslim Ethnicities and Diasporas Studies to both enjoy the presence of the community organization with whom we closely work, and to symbolically show Palestinian-Jewish solidarity.
Anti-Arab racism and Islamophobia have resulted in the mass incarceration and deportation of, and, most recently, the third reiteration of a Travel Ban against Arabs and Muslims exacerbated by the fear-mongering generated after 9/11, 2001, and Palestinian struggles for liberation during the Intifadas (1987-81, 2000-05).
The university misinterprets our (Palestinian and other Arab students) genuine concern that all interactions with Hillel result in a public smearing of us which threatens our safety. Hillel's racist impression of Palestinians and their deliberate conflation of anti-Zionism and anti-Semitism has resulted in attempts to criminalize anti-Zionist political ideologies.
The umbrella organization of which SF Hillel is a chapter of, Hillel International, has 'International Guidelines' which codify their policies. The Hillel Standards of Partnership state:
Hillel will not partner with, house, or host organizations, groups, or speakers that as a matter of policy or practice:
Deny the right of Israel to exist as a Jewish and democratic state with secure and recognized borders;
Delegitimize, demonize, or apply a double standard to Israel;
Support boycott of, divestment from, or sanctions against the State of Israel;
Exhibit a pattern of disruptive behavior towards campus events or guest speakers or foster an atmosphere of incivility.
These policies constitute a denial of free speech an alignment with pro-Israel lobby organizations. Hillel International enforces this policy by threatening litigation and expulsion of chapters which do not strictly comply. This policy has led to students being excluded and kicked out of Hillel chapters. Hillel has expelled those who support Boycott, Divestment and Sanction (BDS) of Israel, protect justice for/in Palestine political expression or criticize Zionism as a settler-colonial project.
As such, Jewish organizations such as Jewish Voice for Peace and International Jewish Anti-Zionist Network have been cast as fringe organizations and expelled by Hillel. Hillel is not the only Jewish organization in the Bay Area, on college campuses or in the world. And it must be remembered that there has never been a consensus among Jewish communities on Israel or on Zionism. Jewish communities are not a monolithic unit.
Yet Hillel continues to seek partnership with those communities of colour and LGBT organizations which are politically aligned with Israeli political supremacy. Such groups include the Hindu right, Christian Zionists, Greek (Sororities and Fraternities) student organizations and Queer organizations that partner with Israel and its "Pink Washing" propaganda. Despite this history, Hillel misrepresented itself as pro-LGBTQ and as an immigrant rights organization when requesting a table at the Fair. As James Baldwin said, "I can't believe what you say because I see what you do."
Tabling space at the Fair was reserved for organizations whose intersectional social organizing aligned with its social-justice focus. The KYR Committee was clear in noting that Hillel's conduct emboldens injustice and should not be given a platform in a Know Your Rights Fair for Arabs and Muslims, Latinx *** communities, undocumented peoples, and LGBTQ communities.
Pro-Israel Campus Groups' Smear Tactics
Working closely with on-campus Hillels nationwide is The David Project****. It trains pro-Israel students on college campuses to be instigators and has used smear tactics  to suppress dissent on Israel from US campuses. The Hillel staff member who brought the false allegations forward and attempted to strong-arm his way onto the Fair underwent extensive training from the David Project while working with them for over a year.  The David Project's executive director, David Bernstein, wrote a report on his smear tactics – "How to 'name-and-shame' without looking like a jerk." In addition, as quoted from their white paper on "Israel Advocacy at America's Universities and Colleges," the David Project promotes targeting Palestinian advocates on campus:
"Accusing faculty members who propagandize against Israel of 'academic malpractice' is likely to be a much more effective strategy than challenging specific allegations of invoking anti-Jewish bigotry."
The David Project reveals that the tactics they use for smearing are neither antisemitic nor an infringement of rights despite their accusations to the contrary:
Pro-Israel organizations have often cast the challenge on campus as an assault on Jewish students rather than as a spreading pervasive negativity toward Israel. Casting the issue in these terms does not jive with the lived experiences of many Jewish students, who know they can identify as Jews and largely not suffer repercussions (emphasis theirs).
This was a recurring theme in much of the research we undertook for this report. There are also numerous public instances of pro-Israel Jewish students, even at schools with a harsh anti-Israel climate, arguing that while anti-Jewish outbursts occur and should be taken seriously, they don't significantly erode their freedom, even to advocate on behalf of Israel.
All the while the David Project has named San Francisco State University one of its priority targets in the USA; it is yet another indicator of the harassment we face today through both public smearing and legal bullying; the two build off one another.
Conclusion
The evidence points to the conclusion that baseless complaints,  such as Hillel's , are intended to wash out the grievances that the Arab, Muslim and Palestinian community have made to SFSU. And the university's misconduct of this investigation affirms that the university is not able to make an objective decision based on the facts. The last university official who conducted an investigation against Palestinian students, Mr. Osvaldo Del Valle, was promptly "let go" after his investigation cleared members of GUPS of charges of antisemitism when they protested at the  Nir Barkat visit. Who now trusts any employee at SFSU can  fairly investigate grievances or charges against or by Palestinians.
Already, the university appears to be investigating allegations of which we had not been notified until the last week of the four-month long investigation. Apparently, because there is no evidence of antisemitism on the part of the Fair organizing committee in words or deeds, the university has expanded the scope of the investigation to include additional allegations of retaliation. All of this underscores our experience of a systemic and consistent disparate treatment. Instead of protecting Palestinians on campus SFSU seeks to penalize us on trumped up and false charges, this cannot be allowed to continue.
Saliem Shehadeh is a Palestinian-American. For his MA degree in anthropology he compiled oral histories of the General Union of Palestine Students (GUPS) at San Francisco State and the experience of Palestinian activism and resistance politics on campus.  He interned at Bizreit University in Palestine and while he attended SF State he worked as a teaching assistant for Associate Professor of Ethnic Studies Rabab Ibrahim Abdulhadi. He received the University's Edward Said Scholarship Award in 2016.
---
NOTES AND LINKS

1 * The AMCHA Initiative (founded 2011) is a nonprofit organization based in California which seeks to investigate, document, educate about, and combat antisemitism at institutions of higher education in the United States. The Initiative was founded by University of California Santa Cruz lecturer Tammi Rossman-Benjamin and University of California Los Angeles Professor Emeritus Leila Beckwith.

2  ** Horowitz, the man who famously leapt from his parents' Stalinist communism to a conservative who abominated the Left, 'political correctness' and Islam.

3 *** Latinx, pronounced La-teen-ex is gender-neutral alternative to Latino, Latina

4 **** David Project: from their website

Steckler was Campus Engagement Fellow for the David Project, March 2015 – May 2016
"The David Project's mission is to empower student leaders to build mutually beneficial and enduring partnerships with diverse student organizations so that the pro-Israel community is integrated and valued on campus.

"We believe that the most effective way to dispel misconceptions, enhance students' understanding, and raise support for Israel is by building genuine and lasting relationships across campus. This methodology is called Relational Advocacy.

"On each campus where we work, The David Project's primary partner is the local Hillel Foundation. The David Project works through a trilateral partnership with both Hillel professionals and the students on campus."

5. SAN FRANCISCO, CA, JUNE 19, 2017 — A group of San Francisco State University students and members of the local Jewish community today filed a lawsuit alleging that SFSU has a long and extensive history of cultivating anti-Semitism and overt discrimination against Jewish students. According to the suit, "SFSU and its administrators have knowingly fostered this discrimination and hostile environment, which has been marked by violent threats to the safety of Jewish students on campus." The plaintiffs are represented by a team of attorneys from The Lawfare Project.