A woman makes her way with her donkey in sewage water in Mighraqa neighbourhood on the outskirts of Gaza City. April 13, 2016 photo. Since then, as predicted: Shati refugee campGaza Strip (AP) — Each day, millions of gallons of raw sewage pour into the Gaza Strip's Mediterranean beachfront, spewing out of a metal pipe and turning miles of once-scenic coastline into a stagnant dead zone.
The sewage has damaged Gaza's limited fresh water supplies, decimated fishing zones, and after years of neglect, is now floating northward and affecting Israel as well, where a nearby desalination plant was forced to shut down, apparently due to pollution.
"It's certain that Gaza Strip's beaches are completely polluted and unsuitable for swimming and entertainment, especially in the summer," said Ahmed Yaqoubi of the Palestinian Water Authority.
Environmentalists and international aid organizations say that if the problem isn't quickly addressed, it could spell even more trouble on both sides of the border.


April 12, 2016 — sewage flows from an outlet into the sea in front of Shati refugee camp in Gaza City. Photo by Khalil Hamra/AP
Israel may build a pipeline to Sderot to treat waste.
By Sharon Udasin and Tovah Lazaroff, JPost
July 06, 2017
Gaza's sewage situation is so dire that the Health Ministry was forced to shut down Zikim Beach in Ashkelon on Wednesday due to fecal contamination from the Strip.
With dwindling electricity supplies unable to power the Strip's already meager wastewater treatment infrastructure, raw sewage is flowing not only through the channels in Gaza, but also to the Israeli beaches of Ashkelon and the Nahal Hanun riverbed.
To address the problem, Water Authority representative Baruch Nagar said there are plans to build a NIS 3 million pipeline to pump the Gazan sewage to Sderot for treatment.
He spoke at an emergency session of the Knesset's Internal Affairs and Environment Committee on Wednesday, which had been called by MK Sharren Haskel (Likud) and MK Ksenia Svetlova (Zionist Union).
Raw sewage discharged from Gaza flows on a daily basis into Israel, through both the Mediterranean Sea and Nahal Hanun, which crosses the border on land.
The wastewater flow pollutes Israel's groundwater, harms the function of the Ashkelon desalination plant and endangers the health of residents of the southern Coastal Plain, the Knesset members warned.
But the Gaza electricity crisis, which has reduced the Strip's 2 million residents to four hours of electricity a day, has also left the Northern Gaza Emergency Sewage Treatment Project without enough power to treat the sewage.
Even before the latest electricity crisis, the World Bank-financed Northern Gaza Emergency Sewage Treatment facility was never completed due to a lack of a consistent electricity supply.
Svetlova, along with other Knesset members, advocated reaching out to international donors to pay for the electricity and associated infrastructure necessary to revive the treatment plant.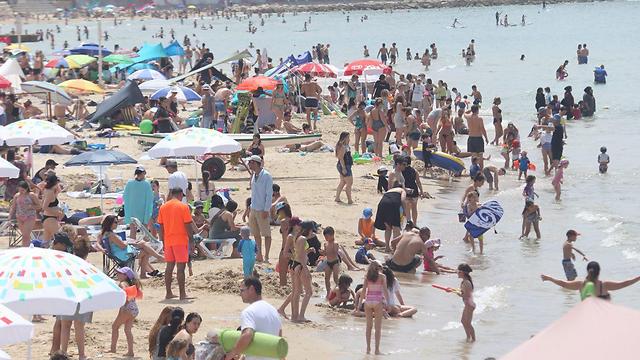 One of Tel Aviv's most popular beaches drawing many tourists and tourist services. Those will disappear if Israel's beaches are are feared to be contaminated by faecal matter. Photo by Moti Kimchi.
"There is an agreement with the IDF to build a dedicated power line for the sewage facility in northern Gaza," she said. "There are international bodies that can be pressured on a diplomatic level, and thus prevent the pollution of the sea in Ashkelon.
"The responsibility lies with us. We have to think pragmatically how to protect the residents of the South," Svetlova said.
Nagar told the Knesset panel that Israeli workers have finished building a mechanism to obstruct the sewage flow. Nonetheless, they are still dealing with the sewage that crossed the border a week ago.
"We blocked the sewage in pools, and three vacuum trucks empty them every day," Nagar said. "The [groundwater] reservoir is on our side. There is no leakage."
To be safe, however, Nagar said that the Water Authority has plans to build a pipeline to bring the sewage to Sderot for treatment.
Asked by committee chairman David Amsalem why the Water Authority had not already built such a pipeline, Nagar explained that Gazan sewage had for years been reaching Israel through the Mediterranean Sea, but only recently began to arrive through Nahal Hanun [on Gaza's northern border]. The pipeline, he said, would take about a year to build and would function as a backup to the World Bank's sewage facility.
Dafna Zeira, a Health Ministry representative, warned that Sderot's sewage facilities might not be able to handle the additional flow from Gaza.
"Overloading the system will harm the ability to reclaim water, and upgrading the sewage treatment plants in Sderot so that they could absorb sewage from Gaza would take years," Zeira said.
While facilities in Sderot can handle 9,000 cubic meters of wastewater daily, they are already treating 7,600 cubic meters today, and several new neighborhoods in the city are slated to be connected, according to Zeira.
"A steady flow of sewage from Gaza will cause the plant to shut down," she said.
Gidon Bromberg, Israel director of EcoPeace Middle East, said building such a pipeline would only be "a band-aid" for a much larger problem. The only way to solve northern Gaza's wastewater crisis is to bring electricity directly to the World Bank facility, he said.
"The only way that will happen in the near time frame is if a dedicated electricity line is built from Israel straight to the plant, which is right next to the fence with Israel," he told The Jerusalem Post on Wednesday afternoon. "Israel needs to move forward on the planning of that dedicated electricity line tomorrow morning, so that by the end of this year, when the sewage treatment plant is completed, it can start operations."
Residents need to be alarmed by the fact that millions of cubic metres of potable water in Israel are now at risk
If Israel does not advance such a plan, its citizens risk continued harm from the Gaza sewage, Bromberg warned.
"First and foremost, local residents need to be alarmed by the fact that Zikim Beach is now closed, one of the wells closest to Gaza is now closed, millions of cubic metres of potable water in Israel are now at risk," he said.
"This is not crying wolf. We see here the situation getting more and more serious. We can prevent pandemic outbreaks of disease. It's a responsibility that must be met."
The Gaza electricity crisis, however, is one of the many casualties of a strong push by Palestinian Authority President Mahmoud Abbas to regain control of Gaza, a decade after Hamas ousted his Fatah party there in a bloody coup.
The PA has told the IDF that it plans to only pay 60% of the electricity bill for the power the Israel Electric Corporation has until now supplied to Gaza. It has also imposed an onerous tax on the diesel fuel needed to run the Strip's sole power plant.
Egypt in the last week has sent fuel into Gaza for the plant, a move which has helped make up for some of the reduction of power from Israel.
Analyzing the situation in Gaza, IDF Chief of Staff Lt.-Gen. Gadi Eisenkot said Hamas is caught between governing and being a terrorist organization, and between wanting money from Iran and good ties with Egypt.
"Israel has an interest in positive dynamics in Gaza, but one cannot demand from the State of Israel to use its state budget for infrastructure that is harmed because of an internal Palestinian conflict, while Hamas invests money in terrorism," he told the MKs.
Eisenkot said that Hamas has agreed to take responsibility and pay for fuel imported from Egypt, because "the electricity crisis is an internal Palestinian matter."
Lahav Harkov contributed to this report.
---
Israel shuts down beaches polluted by sewage from besieged Gaza Strip
By Ma'an news
July 08, 2017
BETHLEHEM — Israeli authorities were reportedly forced to close beaches in southern Israel on Wednesday after untreated sewage from the besieged Gaza Strip polluted the surrounding Mediterranean waters, as Gaza's sewage treatment facility was forced to close due to the electricity crisis ongoing in the coastal enclave.
Israeli daily Haaretz reported that the Israeli Health Ministry banned swimming on beaches at Zikim and Ashkelon National Park after sewage was detected in the water.
Haaretz added that Israeli officials have suspected that the sewage most likely originated from Gaza after the territory's sewage treatment facility was forced to close owing to a crippling power crisis, causing sewage to drift onto the Israeli side of the border and pollute the beaches.
It was unclear when Israeli authorities planned to reopen the beaches.
At the start of the month, reports emerged that Israeli authorities had decided to construct a sewage pipeline for neighbourhoods in the besieged coastal enclave to prevent sewage from polluting areas on the Israeli side of the border.
In May, the PA decided to slash funding for Israeli fuel to the coastal enclave, and requested that Israeli authorities dramatically reduce its supply of electricity to Gaza, which was already reeling from lack of adequate access to electricity and fuel.
As a result of agreements between Hamas, the de facto leaders in Gaza, and Egyptian authorities, Egypt imported millions of litres of fuel into the territory, averting a full humanitarian collapse in the coastal enclave as Israel began to gradually reduce its supply of electricity.
However, residents in Gaza still only have electricity for a few hours each day, even after the Egyptian fuel shipments.
The PA has been the centre of widespread condemnation in recent weeks for its policies in Gaza aimed at putting pressure on Hamas to relinquish control of the besieged coastal enclave and hand over the territory to the PA.
Such policies implemented by the PA in recent weeks, including allegedly halting medical referrals to patients in Gaza to receive medical treatment outside of the territory — which led to the deaths of 3 newborns and 11 others over the previous three months — has been condemned by Hamas, the international community, and many Palestinians.
At the same time, patients in Gaza have been forced to apply for permits to exit the territory for treatment owing to the lack of medicine and equipment after the PA cut its funding to the medical sector in the besieged enclave, which has seen the typical $4 million monthly budget of Gaza's health ministry plummet to just $500,000.
Gaza, which marked its 10th year under an Israeli-enforced blockade last month, has struggled for years with power shortages due to limited fuel access and degraded infrastructure.
Egypt, which borders Gaza in the south, has also upheld the blockade following President Abdel-Fattah al-Sisi's overthrow of the Muslim Brotherhood-led government in 2013, subsequently closing the Rafah crossing to Palestinians.
The UN has warned that the Gaza Strip would become uninhabitable for residents by 2020, pointing to the devastation of war and a decade of Israel's blockade.