Two articles from Al Monitor, on 1) Trump's envoy pushing for a deal, 2) the failure of the Arab League.

front R-L) Yemen's President Abed Rabbo Mansour Hadi, Palestinian President Mahmoud Abbas, Djibouti's President Ismail Omar Guelleh, Qatari Emir Sheikh Tamim bin Hamad Al Thani, Emir of Kuwait Sabah Al-Ahmad Al-Jaber Al-Sabah, Jordan's King Abdullah II, Saudi Arabia's King Salman bin Abdul-Aziz Al Saud, Bahrain's King Hamad bin Isa Al Khalifa, Sudan's President Omar al-Bashir, Egypt's President Abdel Fattah al-Sisi, and Mauritania's President Mohamed Ould Abdel Aziz pose for a group photograph during the 28th Ordinary Summit of the Arab League, Dead Sea, Jordan, March 29, 2017. Photo by Mohammad Hamed/Reuters
Trump's envoy pushing two-state solution as Abbas' US visit nears
US President Donald Trump's stance on the Israeli-Palestinian conflict has been vague so far, but initial signs indicate that an attempt at an Israeli-Palestinian deal is not out of the question.
By Uri Savir, Al Monitor, Israel Pulse
April 09, 2017
"Jason Greenblatt surprised us at the Arab League summit meetings in Amman," a senior PLO official told Al-Monitor this week.
According to the official, Greenblatt, who is President Donald Trump's representative for international negotiations, expressed in his meeting with President Mahmoud Abbas and in other meetings at the March 30 summit that Trump is committed to reaching a deal on Israeli-Palestinian peace, and that the time has come to make such a deal. Still, the Palestinian leadership remains sceptical about the outcome of these efforts, mainly due to Prime Minister Benjamin Netanyahu's annexationist positions. Greenblatt argued that if a balanced initiative is presented at the opening of negotiations within a regional framework, Netanyahu might be convinced. The official said the envoy explained that in such a setup, Netanyahu would have a parliamentary majority, thus it could push such an initiative forward.
Indeed, Greenblatt met in recent weeks with both leaders of the Zionist Camp — Isaac Herzog and Tzipi Livni. In these meetings, he laid out Trump's view on the possible dealmaking, but doesn't this sound like deja vu? The notion of dealmaking was present also last year, when former Secretary of State John Kerry coordinated a similar regional opening of Israeli-Palestinian negotiations on a two-state solution with Egyptian President Abdel Fattah al-Sisi and King Abdullah II of Jordan. At the end, Netanyahu opted for peace with HaBayit HaYehudi leader Naftali Bennett and Yisrael Beitenu leader Avigdor Liberman instead.
The PLO official told Al-Monitor that Greenblatt explicitly spoke about the possibility of a two-state solution. What encouraged the Palestinians most was the time element that was emphasized by the envoy when he told his interlocutors that Trump believes the time is ripe for a "dealmaking" process.
Apart from meeting Abbas, Greenblatt met in Amman with Abdullah, his foreign minister and the foreign ministers of Saudi Arabia, Tunisia, Egypt and the United Arab Emirates — a crash course in inter-Arab diplomacy. Apparently, the US envoy was so inspired by these meetings that on his way back to Washington he stopped in Tel Aviv to receive a blessing from Rabbi Gershon Edelstein of Ponevezh for his important task.
In parallel, an informal deal is being worked out between the White House and Netanyahu's envoys on curbing settlement construction. According to a senior Ministry of Foreign Affairs official who has the prime minister's ear and spoke to Al-Monitor on condition of anonymity, Israel will constrain its construction to the built-up areas of the settlements, or when not possible to adjacent areas, in order not to hamper Trump's regional peace efforts.
The official told Al-Monitor that the prime minister's office and the Foreign Ministry are supportive of Trump's efforts, but do not believe that Greenblatt will succeed in his efforts in the reasonable future, due to the weak political position of Abbas within the Palestinian Authority. He said, "Israel will agree to a regional umbrella for Israeli-Palestinian negotiations, only if these negotiations will be bilateral and unconditional. Furthermore, the United States is aware of Netanyahu's demand that the Palestinians recognize Israel as the Jewish state and that — in any solution — Israel will maintain security control of the West Bank."
The senior PLO official had a different view of the American effort. "The Palestinian leadership was asked to be constructive when Abbas meets later this month with US President Trump in the White House. The main emphasis of the US move is to create a regional framework for dealmaking," he said. He believes that such a framework would be conducive to strengthening the anti-Islamic State coalition as the war against it in Syria and Iraq advances.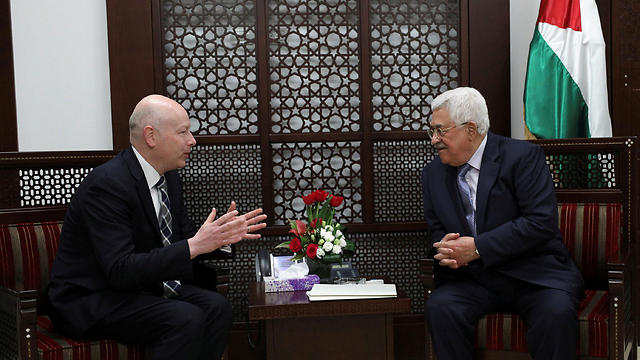 Jason Greenblatt meets Pres. Abbas on the eve of the Arab summit. Photo by Reuters
Based on his information concerning Greenblatt's discussions with Abbas and the other Arab leaders, the PLO official outlined what sort of an initiative the Palestinians, together with Egypt, Jordan and the Arab League, could live with. He argued that reopening negotiations requires recognition by Israel of the two-state solution principle. Also, the basis of negotiations must be the Arab Peace Initiative, i.e., the borders must be based on the 1967 lines with East Jerusalem as the Palestinian capital with mutually agreed upon and parallel land swaps. Finally, Israel would join a negotiation track on normalization of relations with the Arab countries.
This is a paradoxical development. After the US elections, the Trump administration was viewed by the Israeli right as a redemption of all anti-settlement and pro-two-state positions of the Obama era. The Palestinians, for their part, saw Trump's victory as "the end of the world." Today, positions have changed. The main sense one gets from talking with senior Israeli and Palestinian officials is one of confusion. Despite some similar positions, Trump is not Barack Obama, and he is therefore totally unpredictable. Initial signs indicate that a dealmaking attempt is not out of the question.
---
Ineptitude meets low altitude at Arab League summit

Few major breakthroughs were reached at this year's Arab League Summit held in Jordan.

By Osama Al Sharif, Al Monitor,
April 03, 
Leave it to the Jordanians to put up a good show. Jordan is second to none when it comes to pomp and ceremony, adhering to protocol, exhibiting discipline and providing the perfect stage for the annual ritual. The 28th Arab League Summit on March 29 in the Dead Sea region, attended by heads of state, in addition to prime ministers and special representatives, was almost flawless. But it was also overwhelmingly ceremonial and banal. Seventeen resolutions, none of which was controversial, had already been approved by Arab foreign ministers two days before.
It was no surprise that Arab leaders, representing the 22-strong Arab League, delivered speeches — often punctuated by platitudes and worn-out cliches — and approved the resolutions before they were scurried off to their planes perched on the tarmac of Amman's international airport. And then they were gone.
Amman hailed the summit as a historic success. King Abdullah II appeared elated by the top-notch organization and the high-level attendance. Jordan had succeeded in imposing the agenda that it wanted: mainly reinstating the Palestinian issue as top and urgent priority, second only to the fight against extremism and terrorism. The final communique urged countries not to move their embassies to Jerusalem and condemned Israel's unilateral measures in the Holy City and its expropriation of Palestinian lands. Amman was also successful in underlining the need to provide assistance to countries hosting Syrian refugees, Jordan being one of the biggest.
Aside from this, Abdullah was able to facilitate a side meeting between Saudi monarch King Salman bin Abdul-Aziz Al Saud and Egyptian President Abdel Fattah al-Sisi, ushering in a thaw in relations between the two countries. A trilateral meeting bringing Abdullah, Sisi and Palestinian President Mahmoud Abbas prepared the ground for the visits by the three leaders to Washington this month. Sisi met President Donald Trump on April 3 and Abdullah will meet him on April 5. With the Arab Summit reiterating its commitment to the 2002 Arab Peace Initiative and to a comprehensive settlement as a strategic choice, it is hoped that the three leaders will convey a united message to Trump on the need to resolve the Israeli-Palestinian conflict in accordance with the two-state solution.
Israel did not comment on the summit's denunciations of its actions and the peace offerings, but its reply came in the form of an announcement on March 30, one day after the Dead Sea meeting, to build a new settlement in the West Bank.
As expected, there were no momentous resolutions by Arab leaders at the summit. Jordan was hoping to provide a platform that would offer the minimum common denominator for an accord on divisive issues such as Syria, Libya, Iraq and Iran. In that regard, it had succeeded to a certain extent as was reflected by the final communique. Bitter foes, like the leaders of Egypt and Qatar, attended the meeting, although Sisi walked out when Qatari Emir Sheikh Tamim bin Hamad Al Thani delivered his speech.
There were awkward moments, like when Lebanese President Michel Aoun stumbled and fell face down on the stage as leaders huddled together for the ceremonial photo, or when cameras caught a few leaders napping during speeches.
The final communique stressed the need for a political solution in Syria, based on UN resolutions and Geneva I principles, but avoided any mention of the future of Syrian President Bashar al-Assad. Jordan had rebuffed requests from Egypt, Algeria and Iraq to allow the Damascus government to be at the summit, but it also did not invite representatives of the Syrian opposition.
The summit sent a positive message to Iraq and its government in the hope of swaying Prime Minister Haider al-Abadi away from Iranian influence. It called on the Iraqi government to initiate a political process that achieves national reconciliation and safeguards citizens' rights without exclusion or discrimination.
And on Libya, Jordan resisted pressures from various parties and allowed the head of the Government of National Accord, Fayez al-Sarraj, to fill Libya's seat at the summit. The final communique urged Libyan parties to solve their differences and achieve national reconciliation based on the Sukhairat agreement of December 2015. This was an important victory for the beleaguered Sarraj government, which is fending off physical and political attacks by local rivals and regional countries.
Without naming Iran, Arab leaders condemned foreign interference in their internal affairs and attempts to stir up sectarian tensions. Such an ambiguous phrase was meant to satisfy both Saudi Arabia, which sees Tehran as a major regional threat, and members maintaining good ties with Iran such as Oman.
There were calls for steps to be taken to implement previous resolutions on building economic integration, increasing inter-Arab trade and investments, and creating job opportunities for Arab youth. The leaders also reiterated their support for the Arab League and its institutions, but such calls are repeated at every summit meeting and little work is ever done to achieve any of these goals.
Jordanians, along with other Arab citizens, now numbering over 300 million, have little faith in the 72-year-old Arab League and its crippled institutions. The majority believes the organization has become a reflection of Arab countries' differences rather than their unity and commitment to common action. Attempts to restructure the Arab League, as a symbol of the Arab political order, have been met with failure. And when it comes to dealing with regional challenges, such as Arab-Israeli wars, the Palestinian issue, Iraq's invasion of Kuwait and the reverberations of the Arab Spring, the Arab League has repeatedly exhibited ineptitude.
So it was no surprise that on social media Arabs mocked the fact that the Arab "summit" was being held in the lowest point on earth, and that efforts to "resuscitate" common Arab action are being done in the Dead Sea.