Commentary by Elior Levy and Roy Kais, Ynet news, Ma'an news and B'Tselem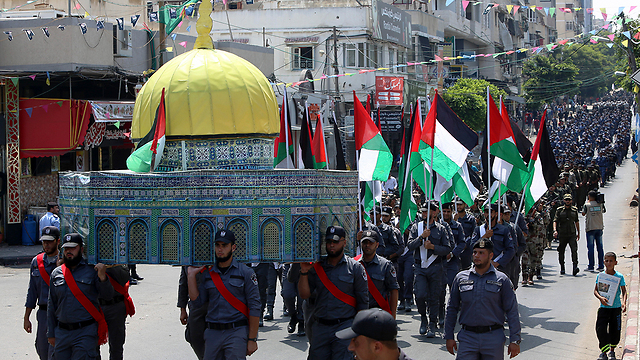 Hamas's Gaza demonstration, July 26, 2017. Photo by AP
Following Hamas demonstration, Abbas's party also calls for confrontations
Senior Fatah officials meet in Ramallah and call on supporters to create conflict with Israel; Hezbollah Leader Nasrallah congratulates demonstrators for 'forcing a victory' in Temple Mount crisis.
By Elior Levy and Roy Kais, Ynet news
July 26, 2017
The Palestinian coalition behind the demonstrations and processions in the West Bank against the added ssecurity measures set up at the Temple Mount following a deadly terrorist attack at the site on earlier in the month, in addition to leaders of the Fatah party's military wing the Tanzim, gathered on Wednesday [July 26] in the offices of the Fatah leadership in Ramallah and decided to dedicate Friday to promoting confrontations between their supporters and Israeli security forces.
The decision constitutes a more extreme call to arms: last week, Fatah channelled its rallies to demonstrations held within Palestinian cities, while Wednesday's call is for out-and-out confrontations with security forces.
The meeting was also attended by members of the Fatah leadership, including Palestinian President Mahmoud Abbas' deputy Mahmoud al-Aloul, and Fatah Central Committee member Tawfik Tirawi.
Fatah Spokesman Osama Qawasmeh stated that the steps taken by the Palestinian leadership, such as ending security co-ordination and calling for demonstrations under the name were responsible calls to action.
"The matter has to do with sovereignty over Jerusalem, and is in Israel'a court, and it will be the one deciding whether the region is moving toward a calm or an escalation"
Qawasmeh said, adding that Fatah opposes security searching the worshippers' persons and stressing that if necessary, the demonstrations will continue.
Fatah member Nasser Al Qudwa held a press conference earlier Wednesday and called on Israel to remove all security measure added to the Temple Mount after July 14. Al Qudwa, who is the nephew of deceased Palestinian Liberation Organization (PLO) leader Yasser Arafat, also gave a statement. "The removal of metal detectors is not enough. Israel must cancel all of its moves. Most of the gates to the Temple Mount are (currently—ed) closed, and more precisely, seven out of nine."
Jordan's King Abdullah called Abbas on Wednesday evening, and the two discussed the recent developments in Jerusalem and the al-Aqsa Mosque. They agreed to combine efforts and continue with joint consultations.
Meanwhile, Hezbollah Secretary General Hassan Nasrallah congratulate the residents of east Jerusalem and the Palestinians in the West Bank who rallied against Israel's added security measures outside the al-Aqsa Mosque: "They imposed a victory. What we have seen in recent days is a victory. This is a new model of resistance," said Nasrallah.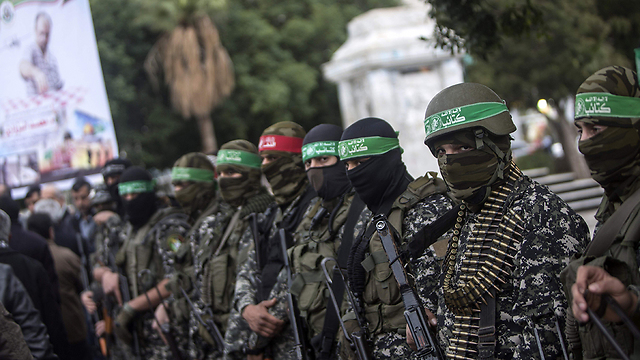 Hamas's military wing protests against added Israeli security measures, July 2017. Photo by AFP
Also earlier in the day, Hamas security services held a military parade in the Gaza Strip "in solidarity with the al-Aqsa mosque and in protest of the Israeli harm to it."
The armed display, which included representatives from all different security services, made its way through the streets of Gaza City towards the Palestinian Legislative Council building. Hamas also called on its members to rally on Friday after noon prayers and make their way to the border fence, where there are often clashes with Israeli security forces.
Ahmad Bahar, the deputy speaker of the Palestinian Legislative Council and senior Hamas member, also participated in the parade. He claimed that "Israel is trying to deceive the Palestinian people by removing the metal detectors and installing cameras. The Palestinian resistance will continue to be at the forefront of the defence on the Palestinian issue and in al-Aqsa."
---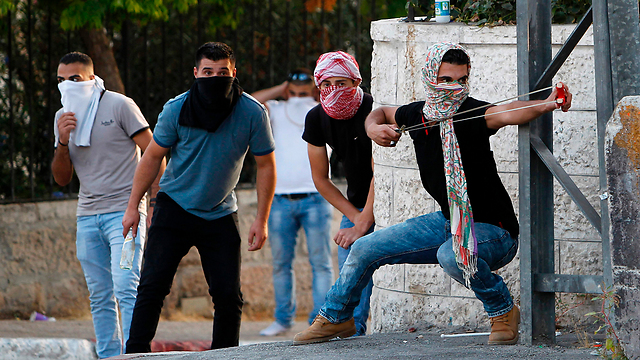 Demonstrators in Bethlehem rioting against added security measures at Temple Mount. Photo by AFP
Palestinian factions call for demonstrations in solidarity with Al-Aqsa on Friday
Ma'an news
July 26, 2017
RAMALLAH– National and Islamic factions called for Palestinians to perform prayers in public squares across the occupied Palestinian territory on Friday and to escalate protests against the Israeli occupation in solidarity with the Al-Aqsa Mosque compound.
Following a deadly shooting at Al-Aqsa in the Old City of occupied East Jerusalem on July 14, Israeli authorities installed heightened security measures at Al-Aqsa,sparking a widespread civil disobedience campaign among local Palestinians, who have been met with violent repression at the hands of Israeli forces.
Palestinian worshippers have refused to submit themselves to the new security measures, choosing instead to pray in the streets outside of Al-Aqsa.
Palestinians have said the new Israeli move was the latest example of Israeli authorities using Israeli-Palestinian violence as a means of furthering control over important sites in the occupied Palestinian territory and normalizing repressive measures against Palestinians.
The Israeli security cabinet decided on Monday night to remove the recently installed metal detectors at Al-Aqsa, only to replace them with more advanced surveillance technology in the Old City of occupied East Jerusalem — a move which has been denounced by Knesset member and Palestinian citizen of Israel Jamal Zahalqa as "a new provocation."
In the span of ten days, four Palestinian demonstrators have been killed by Israelis and more than 1,000 others have been injured, as Israeli NGO B'Tselem accused Israel of displaying "sweeping disregard" for Palestinian lives in East Jerusalem.
According to Ma'an documentation, seven Palestinians and three Israelis have been killed since the July 14 attack in total.
Israeli forces have raided Palestinian hospitals, closed off parts of East Jerusalem's Old City, carried out massive detention campaigns, and violently clashed with Palestinians across East Jerusalem and the occupied West Bank, leaving Palestinian journalists, medics, and children injured in the process.
---
Playing with fire: Israel's sweeping disregard for the wellbeing and security of East Jerusalem residents has led to four fatalities and dozens of injuries, and disrupted the lives of tens of thousands of residents
B'Tselem briefing
July 24, 2017
Following the killing of two Border Police officers by three Israeli citizens in the Temple Mount compound (the al-Aqsa Mosque) on Friday, 14 July 2017, Israel blocked all the roads leading into Jerusalem's Old City and closed the al-Aqsa Mosque to worshippers. On Sunday, access to the compound was restored only to worshippers who are Jerusalem residents, and only via two gates – al-Asbat and al-Majles – after metal detectors were installed there.
On Friday, 21 July 2017, the police installed checkpoints at the gates to the Old City, granting entry only to Old City residents, and – among non-residents – to men over the age of 50 and to women.
The police also stationed thousands of armed officers in East Jerusalem neighbourhoods, chiefly in the Old City. Requiring worshippers to undergo an Israeli security inspection with metal detectors before entering the compound constitutes a violation of the traditional status quo there. The vast majority of worshippers refused to enter under these conditions, and protested by conducting prayers out on the street.

Teargas fired at worshippers immediately following prayers at Wadi al-Joz, East Jerusalem, last Friday. Photo by Faiz Abu Rmeleh, Activestills
The harsh measures instituted by the authorities led to harsh consequences: four Palestinians were killed and over one hundred demonstrators were injured by police. A few hours after the incidents of 21 July in Jerusalem, a Palestinian perpetrated a stabbing attack in the settlement of Halamish, killing three Israeli civilians and injuring another.
Testimonies gathered by B'Tselem as well as video footage published in the media indicate that the police used excessive and unjustified force against the worshippers. B'Tselem's investigation shows that in at least one instance during Friday noon prayers in the Ras al-'Amud area of East Jerusalem police began firing crowd control means as soon as the prayers ended.
According to the Red Cross, between Friday, 14 July 2017 and Sunday, 23 July 2017, approximately 120 persons were taken to Jerusalem hospitals to be treated for various injuries: tear-gas inhalation, gunshot wounds from rubber-coated metal bullets, other physical trauma. At least two people were injured by direct hits from stun grenades and teargas canisters, one was hit in the eye by a rubber-coated metal bullet, and one was injured by shrapnel from a stun grenade.
In addition, on Friday police raided al- Makassed Hospital in East Jerusalem, fired stun grenades and teargas in the yard outside the hospital and used violence against the medical staff, hospital employees, and visitors. In at least one case, the officers disrupted the medical treatment of a seriously injured person. Such actions are entirely unjustified.
During these recent events, Israel has repeatedly demonstrated sweeping disregard for the lives and security of Palestinian residents of East Jerusalem, and for their right to maintain a normal routine. The Israel Police treated Palestinian residents as if they were enemy soldiers, rather than as a civilian population for whose wellbeing and security it is responsible.
This conduct is part of the way Israel controls East Jerusalem: Israeli authorities view the Palestinian residents as an undesirable presence, people who are worth less, with all this implies, including the use of lethal force. Nothing but comprehensive and substantive change to this regime of control, and to the reality in Jerusalem, will ensure the human rights of all the people living in the city.