'The Boris Declaration"
Taken from Robert A.H. Cohen's
Balfour remains present and un-corrected, November 1st, 2017
"Her Majesty's Government view with favour the establishment in Palestine/Israel of a safe and secure home for all who live there. The nations of the world should use their best endeavours to facilitate the achievement of this objective, it being clearly understood that nothing shall be done which may prejudice the civil, political and religious rights of Palestinians or Jews living in Palestine/Israel or any other country."
---
British activists walk to Palestine in protest at Balfour Declaration
By Noor Nanji, The National, October 29, 2017
A group of British activists spent six months walking from the UK to Palestine to apologise for the Balfour Declaration, which helped pave the way for a Jewish nation state.
The journey, which took 174 days in total, was timed to coincide with the centenary of the statement written by Britain's then foreign secretary Arthur Balfour on November 2, 1917.
A series of events are being held across the UK to mark the 100-year anniversary of the statement, in which the British government stated its support for the establishment of a national home for Jewish people in Palestine.
According to Al Arabiya, the activists walked across 11 countries, covering thousands of kilometres, on their journey to Jerusalem.
---
The Editor's Letter [EXTRACT]
Jewish Chronicle, November 2nd, 2017, by email
There was only ever going to be one lead story this week: the centenary of the Balfour Declaration, a truly momentous anniversary. We have produced a special collection of essays, free with this week's paper. If I say so myself, you'll find nothing better commemorating – and, yes, celebrating #Balfour100.
In the paper itself, I am thrilled that we have an exclusive piece by Henry Kissinger, which is as brilliant and insightful as you'd expect.
Our leader looks at the context of the celebrations.
In other news, we cover Jeremy Corbyn's address to the appalling Mend organisation – an event which would be shocking if it wasn't so worryingly predictable.
In the paper itself, I am thrilled that we have an exclusive piece by Henry Kissinger, which is as brilliant and insightful as you'd expect.
Our leader looks at the context of the celebrations.
In other news, we cover Jeremy Corbyn's address to the appalling Mend organisation – an event which would be shocking if it wasn't so worryingly predictable.
---
MEND is the Muslim Engagement and Development association. Its aims include
"to encourage voter registration and political engagement by British Muslims so that through civic involvement Muslims can responsibly exercise their duty in working for the common good.
"to enable active citizenship and participation by British Muslims in furtherance of its aims to create a more inclusive and tolerant Britain.
"to work with Muslim and non Muslim organisations to ensure that anti-Muslim prejudice is regarded just as socially unacceptable as anti-Semitism and other forms of racism and xenophobia."
Our heart goes out to poor Mr.Pollard. Unless he's hiding in a cupboard he will surely, if accidentally, come across one of the 99% of law-abiding Muslims in the UK.
---
MAP delivers 13,000-signature petition demanding health and dignity for Palestinians
By email, November 2nd 2017
On Wednesday 1 November Medical Aid for Palestinians (MAP) delivered our petition to No.10 Downing Street, calling on the UK Government to do more to support the rights to health and dignity of Palestinians.
This demand was endorsed by 13,018 people across the UK who signed our petition this year, urging the UK to take action to bring an end to the occupation and the blockade, and to support a brighter future for Palestinians based on humanitarian principles and international law.
MAP were joined at the petition delivery by Richard Burden MP (Chair, Britain-Palestine All-Party Parliamentary Group), Nadia Hijab (Executive Director, Al-Shabaka: the Palestinian Policy Network), and Atallah Said OBE (Chairman, British Palestinian Policy Council).
MAP CEO Aimee Shalan said: "We are grateful to everyone who supported MAP's campaign. As the humanitarian situation in the occupied Palestinian territory continues to deteriorate, it is more important than ever that the UK Government find ways to bring half a century of occupation – and a decade of closure in Gaza – to an end."
---
UK opposition leader Corbyn snubs Balfour
The National, October 29, 2017
The UK's leader of the opposition has refused to attend an official dinner to mark the centenary of the Balfour Declaration, which helped to pave the way for a Jewish nation state.
Benjamin Netanyahu, the Israeli premier, has been invited to London by UK prime minister Theresa May to mark the Balfour centenary on Thursday.
Labour leader Jeremy Corbyn is a strong supporter of the Palestinian cause and has refused the invitation to the event. The shadow foreign secretary will attend in his place.
---
Balfour Declaration: UK celebrations 'a slap to the Palestinian people'
The National, October 25, 2017
'Marking the centenary is intended to be a slap to the Palestinian people,' Manuel Hassassian, the Palestinian Authority's ambassador to London, told The National. 'Instead it's become significant that as we have intensified our campaign against the antagonistic position of the British government of celebrating the centenary, the younger generation [in Britain] is becoming aware that their government did such a thing.'
---
IfNotNow Retweeted
Rabbis urge Israel to stop arming Burmese
Amir Tibon,  Haaretz, Oct 26, 2017
Over 300 U.S. rabbis urge Israeli government to stop selling arms to Burma regime amid ethnic cleansing campaign. Haaretz reported earlier this week that Israel continued to sell weapons to Myanmar even after evidence emerged of the atrocities taking place against the Rohingya Muslim minority group.
---
Israeli Ministers Set to Vote on Annexing West Bank Settlements to Jerusalem
Ha'aretz/FMEP, October 27, 2017
Ministers will vote on Sunday on annexing Israeli local authorities beyond the Green Line to Jerusalem following several long delays. The bill is expected to win the support of the panel and be sent to the Knesset floor for approval.
---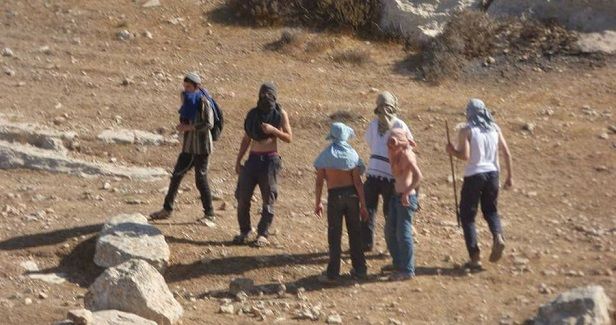 Masked settlers assault Palestinian farmers east of Yatta
A horde of Jewish settlers wearing masks on Saturday morning attacked Palestinian farmers working on their land and injured two of them in an area east of Yatta city in the West Bank province of al-Khalil.
Group 194, October 28, 2017
---
Israeli settlers attack Palestinians picking olives near Hebron
Group194, October 28, 2017
Israeli settlers reportedly attacked a group of Palestinian olive pickers on Friday in the southern occupied West Bank district of Hebron, according to official Palestinian Authority (PA)-owned Wafa news agency.
News agency reported that settlers from the settlement of Maon, built illegally on land belonging to the nearby Yatta town, physically attacked farmers — including a woman — harvesting their olives in the Masafer Yatta area, "causing them cuts and bruises throughout their bodies."
---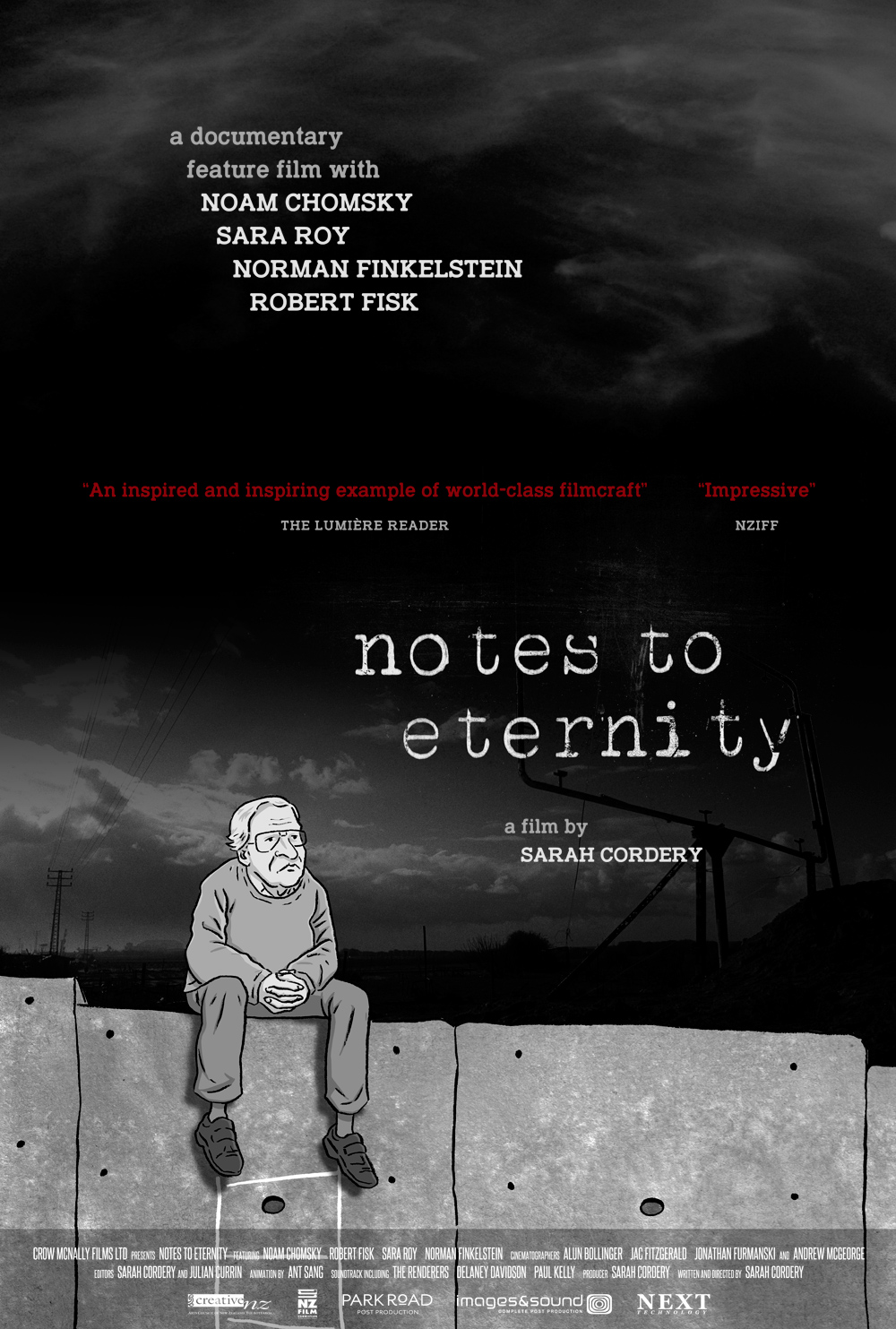 NIBS October 23, 2017
A documentary film – notes to eternity – on the Israel-Palestine conflict followed by Q&A w/ film-makers Sarah Cordery and Sara Roy.
At the Genesis cinema, an arthouse cinema showing blockbuster and independent films in a renovated 19th-century building.
Address: 93-95 Mile End Rd, London E1 4UJ
Phone: 020 7780 2000
@20.15, Thursday 26 Oct
190 minutes
Director: Sarah Cordery
Cast: Noam Chomsky, Sara Roy, Norman Finkelstein, Robert Fisk
New Zealand (2016)
SYNOPSIS
We proudly present notes to eternity in its British Premiere as part of our #DirectedByWomen2017 season. Director Sarah Cordery, as well as Sara Roy (Senior Research Scholar at the Centre for Middle Eastern Studies at Harvard University) will be present for a post-screening Q&A.
notes to eternity is an impressionistic meditation on the Israel-Palestine conflict centring on the lives and ideas of four renowned critics of Israel: Noam Chomsky, Sara Roy, Norman Finkelstein and Robert Fisk. All four have strong personal connections to the issue that traverses and transcends historical and cultural lines.
Chomsky, Roy and Finkelstein are Jewish, while Roy and Finkelstein are also the children of Holocaust survivors. Robert Fisk is a foreign correspondent based in Lebanon who has spent over thirty-five years covering conflicts in the region.
World-renowned scholar and activist Noam Chomsky is central in the film. From a profoundly Jewish background, he is remarkable for his long-standing support for Palestinian justice. This is the first feature-length documentary to focus more fully on his life-long involvement with the Israel-Palestine issue.
---
Hillel International Threatened to Cut Ties With Israeli Government Over Database of U.S. Jewish Students
Judy Maltz, October 17, 2017, Haaretz premium
Hillel International, the largest Jewish student organization in the world, threatened to end its partnership with the Israeli government if it didn't immediately drop its plan to create a database of all Jewish students in the United States. This ultimatum forced the Diaspora Affairs Ministry to suspend the project late Sunday night, just hours after the database was first revealed by Haaretz.
For the past year, Hillel International has been a key partner in a $66-million, Israeli government-sponsored initiative to strengthen the religious identity of Jewish students on U.S. college and university campuses.
For every dollar Hillel raises for the project, the Israeli government contributes matching funding. Hillel, which prides itself on being a pluralistic Jewish organization, has branches on 550 colleges and universities around the world, primarily in the United States.
The Diaspora Affairs Ministry has described this campus initiative as its "flagship project." The other two partners are Chabad and Olami, organizations that are active in Orthodox outreach work…….
---
NIBS-October 20, 2017

Meeting here at SOAS, November 14.
PUBLIC MEETING
Sponsored by Haymarket Books and Free Speech on Israel
7.00-10.00 Tuesday 14 November 2017
Room B102, Brunei Gallery, School of Oriental and African Studies,  Thornhaugh Street, Russell Square, London WC1H 0XG
---
"Good morning" – the Facebook post written in Arabic by a Palestinian worker last week, for which he was arrested by Israel Police because they relied on automatic translation software, which erroneously translated the post. Facebook translated "good morning" as "attack them" in Hebrew and "hurt them" in English.
from News Nosh, APN.
NIBS-October 13, 2017
---
Top Japanese department store stops sales of Israeli settlement wine after civil society concerns


Photo of Israeli vineyard from Forbidden Fruit: The Israeli wine industry and the Occupation (whoprofits, 2011). See also Forbidden Fruit
October 1st 2017, Business and Human Rights Resource Centre
Mitsukoshi Ginza, one of the leading high-end department stores in Japan, removed wines produced in Israeli settlements from an event promoting Israeli wines, pursuant to concerns raised by the Palestine Forum Japan and other civil society organisations. The event was also shortened and considerably scaled back. All Israeli settlements in Palestine are in violation of international law, and Israeli settlement activity has been condemned by numerous UN resolutions and bodies. In April 2016, the Human Rights Council demanded that businesses "avoid contributing to the establishment or maintenance of Israeli settlements or the exploitation of natural resources of the Occupied Palestinian Territory" and instructed the High Commissioner of Human Rights to create a database of all businesses profiting from Israeli settlement activity.
---
Hebrew U professor: Israel today similar to Nazi Germany
[Although this comment was made last June it is worth noting it given the response of Dame Rothwell, Manchester U, to what was to have been a public meeting addressed by Hungarian historian Marika Sherwood who chose the title "You're doing to the Palestinians what the Nazis did to me".]
By Yocheved Laufer, JPost, June 23, 2017
Hebrew University Professor, Dr. Ofer Cassif, compared recent Israeli legislation, both proposed and passed, to those of the Third Reich in Nazi Germany, reported Channel 2 on Thursday as a recording of his class became public.
The statement occurred in a Politics and Government course as part of a preparatory college program at Hebrew University in Jerusalem.
One of Cassif's students objected to the comparison, but the political science professor continued with his analogy stating that it is comfortable to deny the situation in order not to come to terms with reality, but that it would very dangerous to do so.
He also explained to his students that the comparison is a matter of fact rather than opinion. His personal thoughts on the matter are even far more reaching.
Cassif further criticized the current state of of affairs in Israel saying, "those who refuse to see the similarities between what is happening in Israel, specifically in the past two years, and Germany in the 1930s, has a problem and will be responsible for the potential situation of the state."
Cassif drew specific parallels from recent Israeli legislature regarding Arabs and Jews, to policies of Nazi Germany.
The Hebrew University professor stated that the proposed Israeli nation-state law is similar to 1930s Germany's methods of creating a hierarchy of citizens according to classes.
---

Some 30,000 people took part in the Women Wage Peace rally in Jerusalem on Sunday night in Independence Park.
The rally was the high point of a "peace walk" that began two weeks ago in Sderot in the Negev and passed through the territories and Israel, with the participation of thousands of Israeli and Palestinian women, calling for a peace agreement. Adina Bar-Shalom, founder of an ultra-Orthodox women's college and the daughter of former Sephardi Chief Rabbi Ovadia Yosef also participated.
By Nir Hasson, Haaretz,  October 08, 2017
---
News in Brief Snippets
October 09, 2017
The Israeli soldier, Elor Azaria, was convicted of manslaughter, and jailed for 18 months, for the March 2016 killing of Abdel al-Fattah al-Sharif in the occupied West Bank
September 28, 2017
Israel's military chief of staff has cut the jail term being served by a soldier who shot a wounded Palestinian in the head in Hebron. On Wednesday, however, the army announced that it was reducing his sentence by four months, "out of consideration of the fact that he is a combat soldier and a warrior" who had "endured a lot", a spokesperson explained.
According to reports, if "Azaria gets one-third of his sentence off for good behaviour, he could be released as early as March 30, 2018".
Mustafa Barghouti, senior member of the Palestinian Liberation Organization (PLO) central council, told Al Jazeera that "the reduction of the sentence is an encouragement for Israeli soldiers to commit violations" against Palestinians.
---
Petition on Child Prisoners, organised by Palestine Solidarity Campaign
End the mistreatment of Palestinian children in Israeli military detention
Click headline above to go to petition
We, the undersigned, support an end to the mistreatment of Palestinian children under Israeli military detention and for the rights of Palestinian children to be upheld in accordance with international law.
We call upon the British government to make a public statement that it will take immediate, effective and meaningful action-including through international bodies-to ensure all the following requirements are implemented by the Israeli government without delay:
1.       Children must not be prosecuted in military courts that lack basic and fundamental due process guarantees;
2.       Detention must only be used as a measure of last resort;
3.       Children must not be arrested at night;
4.       Children must not be subjected to any form of physical violence;
5.       Children must have access to legal representation and parents prior to and during interrogations;
6.       All interrogations of children must be audio-visually recorded;
7.       Any statement made as a result of torture or ill-treatment must be excluded as evidence in any proceeding; and
8.       All credible allegations of torture and ill-treatment must be thoroughly and impartially investigated in accordance with international standards, and perpetrators brought promptly to justice.
[Note these requirements are those set out by Defense for Children International Palestine -a national section of Defense for Children International (DCI) – and can be found at http://www.dci-palestine.org/issues_military_detention ]

See the PSC factsheet on Palestinian Child Prisoners for more information.
---
Jewish Voice for Labour is not an anti-Zionist group
Guardian letters, September 28, 2017
John Crace, whose contributions are always good value, has got it wrong (Sketch, 27 September). I chaired the meeting of Jewish Voice for Labour he mentions in passing. What he discusses in his sketch is in dispute but, in any event, it happened at an entirely separate meeting – not ours. JVL is not, as he claims, an anti-Zionist group, nor was the Holocaust mentioned, let alone questioned at our hugely popular launch on Monday evening at the Labour party conference, attended by close on 300 people.
Our mission is to contribute to making the Labour party an open, democratic and inclusive party, encouraging all ethnic groups and cultures to join and participate freely. The sole ideological commitments members make is to broadly support what is contained in our statement of principles. These include a commitment "to strengthen the party in its opposition to all forms of racism, including antisemitism".
Describing JVL as "anti-Zionist" fundamentally misrepresents us. Our statement of principles makes no mention at all of Zionism. Rather our objective is simply to uphold the right of supporters of justice for Palestinians to engage in solidarity activities. I gave an assurance from the chair that, in accordance with our statement of principles, you need hold no position on Zionism – for, against or anything else – to join and work with us.
Jenny Manson
Chair, Jewish Voice for Labour
---
National March and Rally – Justice Now: Make it right for Palestine
Organised by Palestine Solidarity Campaign
Start: Speakers' Corner, Hyde Park
Marble Arch – London
November 4th, 2017
12:00 pm – 4:00 pm
---
 and another video clip of JfJfP signatory
Leah Levane
 on whether the Labour conference should be discussing antisemitism
---
TED talk by Tony Klug, Sep 22, 2017 
Asking who's 'right', Israelis or Palestinians gets us nowhere. 'We' must learn to listen, empathetically, to the other's subjective story. A deft naming of the emotions and projections involved. Self-determination and statehood for both people still seems the only answer. For that development, Occupation must be ended. All anti-Occupation activists must come together.
---
Inside the alt-right: 'Genocidal behind closed doors'

An anti-fascist activist who infiltrated the alt-right describes its growing influence and international connections.
The report that followed – The International Alt-Right: From Charlottesville to the White House – exposes the movement's connections to the administration of US President Donald Trump and the impact of alt-right ideas on far-right European political currents.
Hermansson's findings detail a movement rife with racism, anti-Semitism, Holocaust denial, neo-Nazism and conspiracy theories.
By Patrick Strickland, 25.09.17, Al Jazeera
---
By Institute for Palestine Studies,  (no date)
The news of Hamas' decision to dissolve its administrative committee in the Gaza Strip, which it established in March, 2017, has once again reignited Palestinian hopes about the prospect of reconciliation between the Islamic movement and the Palestinian Authority in the West Bank. According to Hamas, the seven-member committee was established to fulfill needs in the Gaza Strip that were not met by the Palestinian Authority's unity government as led by Prime Minister Rami Hamdallah. However, the Palestinian Authority long maintained that Hamas' committee constitutes a parallel government that has entrenched the rift between the Gaza Strip and the West Bank. A result of talks mediated by Egypt between the rival political factions, the decision to disband the committee comes only four months after Hamas released a new set of principles guiding the movement, which some observers described as a turning point in the movement's political identity.