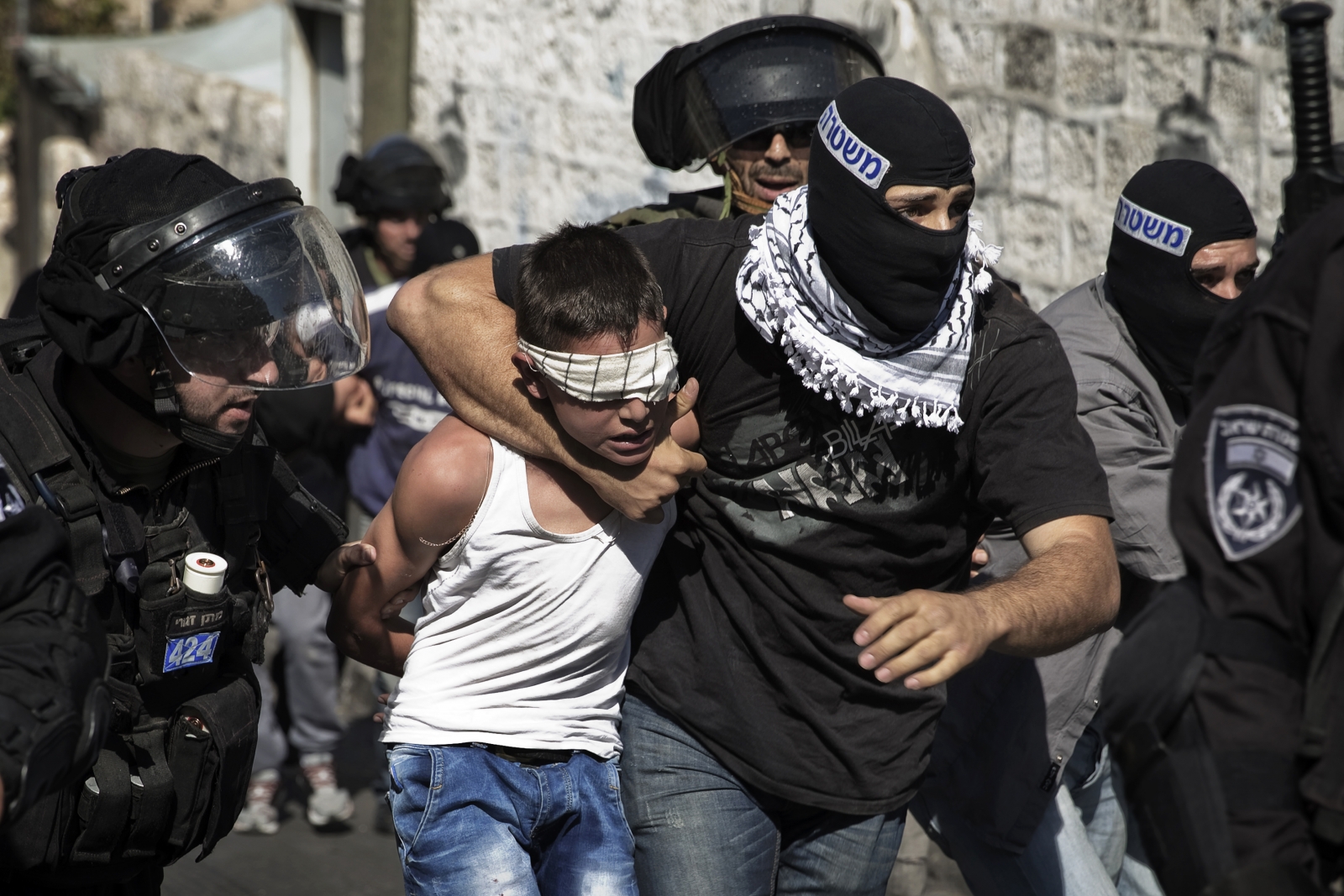 Israeli police detain a Palestinian child in Jerusalem following clashes in the holy city in late October 2014. Photo by Reuters)
Palestinian girl, 14, jailed for throwing stones

Malak al-Khatib sentenced in Israeli military court to two months' jail for throwing stones and possessing a knife, making her one of youngest Palestinians held by Israel.
By Riya al-Sanah
January 22, 2015
A 14-year-old Palestinian girl has been jailed by an Israeli court for two months after being found guilty of throwing stones at soldiers and possessing a knife.
Malak al-Khatib, from Betin, near Ramallah, is among the youngest Palestinians jailed by Israel after she was sentenced on 19 January. She was also ordered to pay a $1,500 fine.
Malak's case began 19 days earlier, when she was arrested, blindfolded and handcuffed near her school on 31 December and interrogated without adult representation.
She was brought before an Israeli court five times before being sentenced. Malak's father told the Palestinian Information Centre that his daughter's health was worsening due to the extreme cold in Hasharon prison.
Malak is one of about 180 Palestinian minors currently held in Israeli jails. Nineteen of between 14-16, according to Addamer, a prisoner support and human rights group.
Issa Qaraqe, the head of the Palestine Liberation Organisation's committee on prisoners, said 10,000 Palestinian minors from the occupied West Bank and East Jerusalem have been arrested by the Israeli army and police since the year 2000.
DCI-Palestine statistics show that in 2014 the average number of children held in Israeli military custory stood at 197 per month, and in 2013, 199 children were held each month. The mass majority of those arrested were charged with stone throwing.
Under Israeli law, child stone-throwers can be sentenced to 20 years in jail, which is also the longest possible sentence for manslaughter.
A report by the human rights group, the Defence for Children International-Palestine, says 96 percent of Palestinian children arrested by Israel are interrogated without adult representation.
The report also criticised Israeli authorities for failing to inform Palestinian children of their rights, or about self-incrimination.
According to DCI-Palestine, 75 percent of Palestinian children arrested in 2014 were subjected to physical assaults during interrogation and detention.
This was reinforced by a 2014 report by Unicef, where serious violations of the UN's Convention of the Rights of a Child were documented.
According to the report, abuses appear to be "widespread, systematic and institutionalised throughout the process" from "the moment of the arrest until the child's prosecution and eventual conviction and sentencing".
The assaults listed included solitary confinement, strangulation, threats of physical assault and, in rare occasions, sexual violence.
---
Girl becomes youngest Palestinian in Israeli jails
By World Bulletin newsdesk
January 25, 2015
A 14-year-old Palestinian girl has become the youngest prisoner in Israeli jails after an Israeli court sentenced her to two months in jail and a fine of 6,000 Israeli shekels (roughly $1,500), a Palestinian NGO said Sunday.
The Ramallah-based Ahrar Centre for Prisoners' Studies and Human Rights said Malak al-Khatib, who was sentenced to prison by the court this week, was the youngest of around 280 Palestinian children in Israeli jails.
"Israel has been targeting Palestinian children for years," center director, Fouad Khuffash, told The Anadolu Agency.
"Israeli violations against Palestinians, in general, and children, in particular, should not go unaccounted for," he added.
He said his center had started a new campaign to lobby for al-Khatib's release.
The 14-year-old girl was detained by Israeli forces on December 31 of 2014 on her way back home from school in the West Bank city of Ramallah.
On Wednesday, an Israeli court convicted her of throwing stones at Israeli forces, blocking a main road in the West Bank and possessing a knife, according to her father.
Ali al-Khatib said his daughter was brought to the court with her hands and feet in handcuffs.
"When the judge read out the verdict, I looked at Malak and she was wiping off her tears as she shivered from cold," the father told AA.
"How could a 14-year-old have committed these acts?" the girl's mother, Khawla al-Khatib, asked.
"All these charges are fabricated," she told AA.
Israeli forces routinely launch arrest campaigns against Palestinians in the occupied West Bank on the pretext that they are wanted by Israeli authorities.
Over 7,000 Palestinians are currently languishing in prisons throughout Israel, according to the Palestinian Ministry of Prisoners' Affairs.