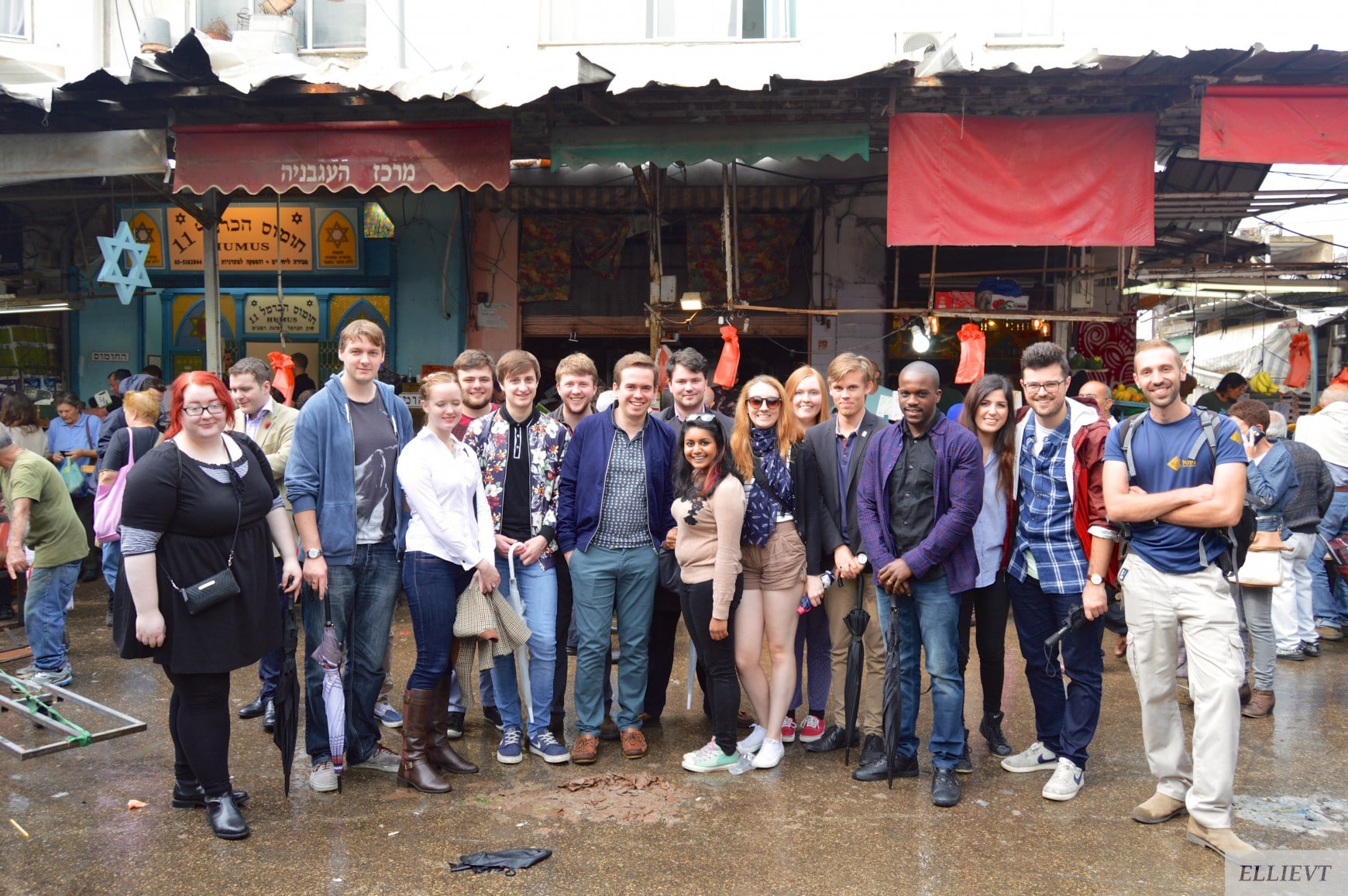 The second delegation to Israel from then-Conservative Future organised by CfI November 2015. Given Shai Masot's claim to have set up a new, junior CfI the Notes and Links section contains more information about this.
Israeli embassy scandal: Jeremy Corbyn demands official inquiry
In letter to the PM, opposition leader says plots by Israeli official to 'take down' senior ministers are a 'national security issue'
By MEE staff
January 13, 2017
Labour leader Jeremy Corbyn has written to UK prime minister Theresa May demanding an inquiry into a scandal over undue influence exerted by the Israeli embassy over Westminster.
In a letter shared with the press on Friday night and seen by MEE, Corbyn says the alleged plots by an Israeli embassy official to "take down" a senior government minister represent an attempt to "undermine the integrity of our democracy."
Shai Masot, who worked for the Israeli embassy in London as well as Israel's Ministry of Strategic Affairs before resigning on Thursday, was caught on tape by an undercover Al Jazeera reporter discussing how to "take down" Alan Duncan, a senior member of the British government who is also an outspoken critic of Israeli settlement building.
In his letter, Corbyn writes that "such improper interference in this country's democratic process is unacceptable, whichever country is involved.
"Members of Parliament must have the freedom to hold and express a view, without fear that they could be subject to attempts to discredit them by diplomatic or other representatives of another state."
A copy of the letter, which was shared with the press on Friday night
Despite a wide-ranging scandal after the scandal broke last weekend, UK foreign secretary Boris Johnson – who Masot was heard on tape describing as "an idiot" – said he considers the matter "closed" after the Israeli ambassador to the UK, Mark Regev, publicly apologised.
The Speaker of the House of Commons, John Bercow, also said on Tuesday that he will not investigate the scandal, despite the fact that Maria Strizzolo – a former aide to an MP in the House of Commons – was also implicated in the scandal, and was heard to boast of her success at convincing MPs to ask questions about Israel in the House.
In the letter of complaint – which, unusually, was released to the press due to the "public interest in this important matter" – the leader of the opposition states his "concern" at indications that the Foreign Office considers the matter closed.
"This is clearly a national security issue. I would therefore ask that you treat the matter as such and launch an inquiry into the extent of this improper interference.
"It is only on that basis that Parliament and the public will be reassured that such activities will not be tolerated by your government."
The scandal over the influence the Israeli embassy exerts over domestic UK politics has extended beyond the House of Commons, with officials also caught on tape discussing lobbying efforts aimed at ousting the leader of the National Union of Students – the first Muslim woman of colour to hold that role – and to set up lobbying groups to discredit Corbyn.
In one of the tapes, recorded by an Al Jazeera journalist posing as a young Labour activist, Masot is heard to describe Corbyn as "crazy".
Masot told the undercover reporter he had set up a youth wing of the Conservative Friends of Israel in 2015 and wanted to do the same inside the Labour Party, but had been unsuccessful because of the "crisis" surrounding Corbyn's election as leader.
Masot also described Corbyn's supporters as "weirdos" and "extremists".
Corbyn is considered supportive of the Boycott, Divestment and Sanctions (BDS) movement, which Masot elsewhere in the recordings said he had been tasked with discrediting and undermining.
Theresa May's office has as yet made no comment on the demand, but has been approached by MEE for comment.
---
NOTES AND LINKS
Young Conservatives for Israel
Israel is making an unprecedented push into the youth wing of Britain's Conservative Party
By MEMO
October 21, 2015
The Israeli government, not Britain's pro-Israel lobby, is engaged in an unprecedented push to capture the hearts and minds of the Conservative Party's younger members. The evidence I present below is not a "Jewish conspiracy theory", which David Cameron has in recent speeches rightly denigrated as dangerous and factually incorrect speculation. This story is collated mainly from public sources, including direct quotes from those involved with the project.
It should also be said that these arrangements are in many respects akin to the covert influence on British politics exerted by City financiers, soft drinks manufacturers, trade union officials or tobacco lobbyists. Like the corrupting influence of Saudi Arabia, China or Russia on British politics, and given the scale of what is described below, it is high time for the influence of Israel on Westminster politics to be discussed seriously.
Conservative Future is the youth wing of the ruling Conservative Party, and the largest youth political organisation in Britain. It boasts 15,000 members, all aged under thirty and many at university.
Following the visit of 15 Conservative Future members to Israel in June this year, organised by the lobbying group Conservative Friends of Israel, a second, much larger group trip has now been announced. Up to 300 young activists and parliamentary hopefuls are expected to be flown to Israel and courted by the state.
While not all members of Conservative Future will go on to become MPs, it is worth nothing that the number of delegates is almost equal to the number of seats that the Conservative Party currently holds in parliament. It is by far the biggest trip of its kind yet to be organised. The expansion has been agreed on because the June trip was reportedly oversubscribed; around 450 young Conservatives applied for just 15 places.
According to the Jewish Chronicle, the British embassy in Tel Aviv provided logistical support for the June trip. I have placed a request with the Foreign Office for more information on the nature of this and future support provided at British taxpayers' expense.
The Director of Conservative Friends of Israel, Stuart Polak, said later, "We have a lot of work to do with the government and new MPs, but for the future, doing these trips with Conservative Future is an investment."
A Conservative Future newsletter distributed to the group's members in January describes how the organisation has now also opened a formal relationship with the Israeli embassy in London. In December, the embassy hosted a Christmas and Chanukah celebration for the group at which Ambassador Daniel Taub "and other senior members of the embassy" were in attendance.
To coincide with the launch of this new partnership, Conservative Future National Chairman Alexandra Paterson commented on the resignation of Baroness Warsi, who had at the time recently stood down from her cabinet post over British support for Israel's offensive against Gaza in Summer 2014. Dramatically, Warsi was labelled as an "apologist for terrorists" (referring to Hamas) by Paterson, who added, "I bow to no one in my support for Israel, and hopefully tonight is the start of an ongoing relationship between Conservative Future and the [Israeli] Embassy."
The Israeli government has been proactive north of the border too. In August, Conservative Future Scotland members attended a talk at which Deputy Israeli Ambassador to Britain Eitan Na'eh delivered the keynote speech. The talk was followed by a question and answer session and networking.
Among the 15 delegates on the June 2015 trip to Israel was young Harrow Councillor Ameet Jogia. He declared £2,000 of expenses covered by Conservative Friends of Israel to pay for the trip, the only donation he has received as a public official.
Though the full list of other attendees has not been confirmed, we know that Jogia was joined by another young Tory, Pranav Bahnot; the pair were photographed posing on either side of an Israeli soldier surveying the border with Syria, and are understood to have visited the West Bank. They did not visit Gaza. Jogia gave a brief interview to Asian Voice magazine afterwards, saying that the trip had given them "the opportunity to make up our own mind about various issues including BDS, media coverage and future solutions for the region."
Michael Kusznir, National Chairman of Conservative Future Scotland, was also on the fifteen-strong trip. Afterwards, he penned a letter to the National Union of Students "raising concerns" regarding the vote to boycott Israeli goods in solidarity with the BDS movement. Conservative Future member Raza Anjum, who previously advised "a Shadow Home Secretary on issues relating to crime, policing, immigration, human rights and counter-terrorism" also went along. In an effusive article for Conservative Home, he too wrote about deterring the Boycott, Divestment and Sanctions movement on his return to Britain.
Anjum argued that British-Israeli trade links are "important" and the BDS movement is "antisemitic." He noted that he supported Cameron's view that Israel must withdraw to its 1967 borders with "mutually agreed land swaps" and suggested that there was "a difference of opinion… between friends" on this issue. As the current chair of the Conservative Muslim Forum, in 2011 Anjum said that he had received death threats from extremists for campaigning on behalf of minority Christian communities in the Middle East and South Asia.
The focus of Anjum and Kusznir on delegitimising the BDS movement chimes exactly with new strategies to promote pro-Israel policies higher up in the party. Shortly after the June 2015 trip, in which senior Conservative MPs also participated, the British government announced plans to prevent local councils from divesting pension funds from Israeli businesses.
In a speech to the Holocaust Education Trust, Justice Secretary and Tory strategist Michael Gove deployed his own brand of pro-Israel hyperbole: "We need to remind people that what began with a campaign against Jewish goods in the past ended with a campaign against Jewish lives."
Having shored-up support for its anti-BDS campaign, influenced a number of rising stars in the Conservative Party, and cemented links between the Israeli embassy and Conservative Future — the largest youth political organisation in Britain, remember — the Israeli government has made an unprecedented push into the future of British politics. The strategy clearly dovetails with an overall push to call on international allies of Israel to disrupt the very effective, and entirely peaceful, BDS movement.
One can only imagine the public outrage if such an effort was planned and implemented not by Israel, but by Saudi Arabia, China or Russia. It is time that this relationship, which is perfectly legitimate, I must stress, was at least laid open to public scrutiny and accountability. The country has a right to know who is trying to influence our government. [JfJfP emphasis]
* * * * *
Masot has an open field if he's setting up a youth wing of Conservatives for Israel. The youth wing of the Tories has been disarray since the disbandment of Conservative Future in 2015. The CfI did manage to get a delegation of youth Tories (Conservative Future) in November 2015 [see above]. But since then the Tories have had no youth wing.
The former Young Conservatives withered on the vine. According to Wikipedia, a new youth organisation, Conservative Future was set up by William Hague. By 2006 it had become the largest political organisation on British campuses. It was disbanded in 2015 following a Newsnight exposure of the many complaints of sexual harassment and endemic bullying and the suicide of Elliott Johnson
* * * *
Conservative activist Elliott Johnson killed himself, coroner rules
Johnson left behind three letters, one saying a former parliamentary candidate, Mark Clarke, had bullied him
The political activist Elliott Johnson killed himself, a coroner has ruled, as an inquest was told he was subjected to a "potentially criminal" victimisation campaign by a Conservative election aide.
Johnson, 21, was found dead on the railway tracks at Sandy station in Bedfordshire on 15 September. He left three letters, one of which said Mark Clarke, a former Tory parliamentary candidate, had bullied him and that a political journalist, Andre Walker, had betrayed him. Both Clarke and Walker strongly deny the allegations.
At the end of a dramatic hearing on Tuesday, the senior coroner for Bedfordshire, Tom Osborne, recorded a verdict of suicide and formally acknowledged that Johnson believed he was being bullied in the weeks before his death.
At the end of a dramatic hearing on Tuesday, the senior coroner for Bedfordshire, Tom Osborne, recorded a verdict of suicide and formally acknowledged that Johnson believed he was being bullied in the weeks before his death. Guardian, May 31, 2016
* * * * *
McLoughlin must restore the Conservative youth wing
By Henry Hill, Conservative Home
September 26, 2016
Earlier this week, the Daily Mail ran a new piece on the Elliott Johnson story to coincide with the release of a new, updated edition of Call Me Dave, Michael Ashcoft and Isabel Oakeshott's biography of the Prime Minister.
Part of that story is about how CCHQ responded to the tragedy. A big decision, and one that is still in force, was the suspension of Conservative Future, the Party's youth wing.
Now the Party has a new Chairman, and Patrick McLoughlin should make the re-activation or renewal of the young Conservatives a priority.
It's very important that CCHQ learns the right lessons from the Mark Clarke fiasco: the problem wasn't that the Tories had a youth wing, but that they outsourced responsibility for it.
Technically 'Road Trip' and Conservative Future were different things, but overall the Party provided too little proper oversight and support to either, allowing Clarke not only to run Road Trip but to get heavily involved in elections to the CF committee.
Yes, CF members would eat, drink, be merry, and "pair off", as the Mail puts it, after campaign days. But a movement that appeals to young people is never going to resemble a church choir. The problem was that those in charge not so much blurred as erased the proper lines that marked them from their charges, and nobody stopped them.
But given the embarrassing headlines that can arise from an official youth wing, why should McLoughlin make it a high priority to make sure the Party has one? There are two arguments, one positive and one negative.
The positive case is that young people can be a huge asset, especially to a Party often viewed as being too much on the side of the older and better off.
Despite its scandalous mismanagement, in strictly campaigning terms Road Trip was a success. Rallying a flying column of energetic and committed young activists and deploying them to blitz marginal seats helped to compensate for weaknesses in our local activist base.
A properly-run youth wing is also a great way both to scout and develop future Conservative talent, helping people make a connection with the Tories at a young age which may persist into adulthood, and giving the Party an opportunity to invest in training cadres of higher-quality activists than would otherwise be available.
The negative case is simple but very important: that if CCHQ don't invest in an official Tory youth wing, they make a gift of these activists to whoever is willing to step in and set up an unofficial one. [JfJfP emphasis]
Whether the Party likes it or not, there will always be pro-Conservative young people who want an organisation to join. To the politically-minded the attractions of a group that offers development, companionship, and an opportunity to campaign with peers are obvious.
It was the Party's [lack of] interest in this sort of thing that allowed outsiders to move in. Donal Blaney's Young Britons Foundation and Clarke's Road Trip were both different models of how ambitious and well-organised men spotted a gap in the market for young Tories and moved in.
As CF remains officially suspended, we can see the same thing happening again.
Blaney, for example, is listed on the Board of Advisors of a group called Young Britons for Liberty (YBL) – the name's similarity with the seemingly-defunct YBF may not be significant, but until relatively recently they were called simply 'Young Liberty'.
Meanwhile we also have a website/organisation called 'Generation Conservative' (GC), which seems to have been established earlier this month as a youth wing for the Bow Group.
The Bow Group is led by Ben Harris-Quinney, whom some of you might remember from a memorable episode of the Daily Politics programme. He was suspended by the Party in May of last year.
Not that his involvement is obvious from the Generation Conservative site: no mention is made of any connexion to the Bow Group, with two young women listed as the only co-founders.
Meanwhile YBL has as its front man a chap called Luke Nash-Jones, who can be seen here setting out his philosophy in a series of YouTube videos.
Of course, neither of these groups formally describes itself simply as the new Tory youth movement. Each has an ideological flavour and claims to stand, technically at least, outside the Party: "broadchurch" libertarianism for YBL, and "Deference, Tradition, [and] Pragmatism" for GC.
But if these are all that's on offer, and they have the wit to offer a programme of socials that don't have some ideological commitment test to get through the door, then these groups are what people will join.
If CCHQ really want to ensure that some lasting good comes out of what happened to Road Trip, it should make sure that it rewards and, even more importantly, respects people like Elliott and the energy, enthusiasm, and loyalty they offer by building a youth movement where they are valued, nurtured, and protected.