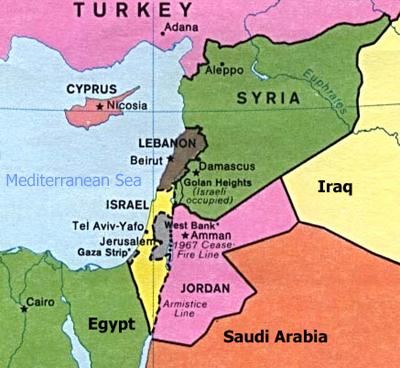 This posting has these items (several updates since Saturday):
1) Washington Post: Israeli warplanes renew strikes on Syria , Sunday;
2) al-Akhbar: Israeli air strike targets Damascus military facility more critical report, Sunday;
3) Carlos Latuff: Cartoon: Israel pours fuel on the fire;
4) Reuters: Israel confirms Syria strike, says hit Hezbollah-bound missiles, news Saturday;
5) BBC: Damascus military facilities 'hit by Israel rockets', news Sunday;
6) Ha'aretz: Lebanon's president condemns reported Israel Air Force flyovers, urges world to intervene, Saturday, Lebanese view;

Israeli warplanes renew strikes on Syria; official says target is Hezbollah-bound missiles
By AP/Washington Post
May 05, 2013
BEIRUT — Israeli warplanes struck areas in and around the Syrian capital Sunday, setting off a series of explosions as they targeted a shipment of highly accurate, Iranian-made guided missiles believed to be on their way to Lebanon's Hezbollah militant group, officials and activists said.
The attack, the second in three days, signaled a sharp escalation of Israel's involvement in Syria's bloody civil war. Syrian state media reported that Israeli missiles struck a military and scientific research center near Damascus and caused casualties.
An intelligence official in the Middle East, who spoke on condition of anonymity in order to disclose information about a secret military operation to the media, confirmed that Israel launched an airstrike in the Syrian capital early Sunday but did not give more precise details about the location. The target was Fateh-110 missiles, which have precision guidance systems with better aim than anything Hezbollah is known to have in its arsenal, the official told The Associated Press.
The airstrikes come as Washington considers how to respond to indications that the Syrian regime may have used chemical weapons in its civil war. President Barack Obama has described the use of such weapons as a "red line," and the administration is weighing its options — including possible military action.
Iran, a close ally of the Assad regime, condemned the airstrikes but gave no other hints of a possible stronger response from Tehran.
Israel has said it wants to stay out of the Syrian war, but Prime Minister Benjamin Netanyahu has repeatedly stated the Jewish state would be prepared to take military action to prevent sophisticated weapons from flowing from Syria to Hezbollah or other extremist groups.
Israel and Hezbollah fought a monthlong war in mid-2006 that ended in a stalemate.
Syria's state news agency SANA reported that explosions went off at the Jamraya military and scientific research center near Damascus and said "initial reports point to these explosions being a result of Israeli missiles." SANA said there were casualties but did not give a number.
Damascus-based activist Maath al-Shami said the strikes occurred around 3 a.m. "Damascus shook. The explosion was very, very strong," said al-Shami adding that one of the attacks occurred near the capital's Qasioun mountain that overlooks Damascus.
The sky is lit up after an explosion at what Syrian state television reported was a military research centre in Damascus, in this still image taken from video obtained from a social media website by Reuters on May 5, 2013.
He said the raid near Qasioun targeted a military position for the elite Republican Guards that is in charge of protecting Damascus, President Bashar Assad's seat of power.
Mohammed Saeed, another activist who lives in the Damascus suburb of Douma, said "the explosions were so strong that earth shook under us." He said the smell of the fire caused by the air raid near Qasioun could be felt miles away.
There has been no official statement from the Syrian military.
The strikes put the Assad regime in a tricky position. If it fails to respond, it looks weak and leaves itself open to such airstrikes becoming a common occurrence. But if it retaliates militarily against Israel, it risks dragging the Jewish state and its powerful military into a broader conflict.
After the airstrikes overnight, Israel's military on Saturday deployed two batteries of its Iron Dome rocket defense system to the country's north. It described the move as part of "ongoing situational assessments."
The Iron Dome protects against short-range rockets. Hezbollah fired thousands of rockets at Israel during the 2006 war, while Israeli warplanes destroyed large areas of south Lebanon.
Amos Yadlin, a former head of Israel's military intelligence, said the strike is a signal to Syria's ally, Tehran, that Israel is serious about the red lines it has set.
"Syria is a very important part in the front that Iran has built. Iran is testing Israel and the U.S. determination in the facing of red lines and what it sees is in clarifies to it that at least some of the players, when they define red lines and they are crossed, take it seriously," he told Army Radio.
In Tehran, Iran's Foreign Ministry spokesman Ramin Mehmanparast condemned an Israeli airstrike against Syria and urged countries in the region to remain united against Israel, according to the semiofficial Fars news agency. The brief statement gave no details.
The Fateh-110, or Conqueror, is a short-range ballistic missile developed by Iran and first put into service in 2002. The Islamic Republic unveiled an upgraded version in 2012 that improved the weapon's accuracy and increased its range to 300 kilometers (185 miles).
Iranian Defense Minister Gen. Ahmad Vahidi said at the time that the solid-fueled missile could strike with pin-point precision, making it the most accurate weapon of its kind in Iran's arsenal.
An airstrike in January also targeted weapons apparently bound for Hezbollah, Israeli and U.S. officials have said. The White House had no immediate comment on Sunday's reported missile strikes.
The Britain-based Syrian Observatory for Human Rights, an activist group, also reported large explosions in the area of Jamraya, a military and scientific research facility northwest of Damascus, about 15 kilometers (10 miles) from the Lebanese border.
Hezbollah's al-Manar TV said the research center in Jamraya was not hit. It added that an army supply center was targeted by the strike. It quoted unnamed Syrian security officials as saying that three sites including military barracks, arms depots and air defense center were targeted by the strike.
The station aired footage of what it said was a facility in Jamraya that was hit in the airstrike. It showed a heavily damaged building as well as what appeared to be a chicken farm with some chickens pecking around in debris scattered with dead birds.
The raid appeared to have taken place next to a major road that was filled with debris, and shell casings were strewn on the ground. A blue street sign on the side of the road referred to the direction of the Lebanon border and the Syrian town of Zabadani near the frontier.
Lebanon's Al-Mayadeen TV, that has several reporters around Syria, said one of the strikes targeted a military position in the village of Saboura, west of Damascus and about 10 kilometers (six miles) from the Lebanon border.
Uzi Rubin, a missile expert and former Defense Ministry official, told the AP that if the target were Fateh-110 missiles as reported then it is a game changer as they put almost all Israel in range and can accurately hit targets.
Rubin emphasized that he was speaking as a rocket expert and had no details on reported strikes.
"If fired from southern Lebanon they can reach Tel Aviv and even (the southern city of) Beersheba." He said the rockets are much five times more accurate than the scud missiles that Hezbollah has fired in the past. "It is a game changer because they are a threat to Israel's infrastructure and military installations," he said.
Israel's first airstrike in Syria, in January, also struck Jamraya.
At the time, a U.S. official said Israel targeted trucks next to the research center that carried SA-17 anti-aircraft missiles. The strikes hit both the trucks and the research facility, the official said. The Syrian military didn't confirm a hit on a weapons shipment at the time, saying only that Israeli warplanes bombed the research center.
Israeli lawmaker Shaul Mofaz, a former defense minister and a former chief of staff, declined to confirm the airstrike but said Israel is concerned about weapons falling into the hands of the Islamic militant group amid the chaos of Syria's civil war.
"We must remember that the Syrian system is falling apart and Iran and Hezbollah are involved up to their necks in Syria helping Bashar Assad," he told Israel Radio. "There are dangers of weapons trickling to the Hezbollah and chemical weapons trickling to irresponsible groups like al-Qaida."
---

Israeli air strike targets Damascus military facility
By Al-Akhbar/ AFP/ Reuters
May 05, 2013
Israeli rockets struck a military facility outside Damascus overnight, Syrian state media said Sunday, marking Israel's second reported attack on Syria in three days.
The official SANA news agency said Israel was responsible for the attack on the Jamraya military research centre in the Eastern Ghouta region. It did not say if there were any dead or wounded.
"This new Israeli aggression is a clear attempt to alleviate the pressure on the armed terrorist groups after our army beat them back in several regions and after the army's victories on the road to recovering security and stability in Syria," said SANA.
An al-Manar reporter in Damascus said that explosions were still being heard at the site of the bombing on Sunday morning, indicating that the site might have been a weapons depot.
Video footage uploaded onto the Internet showed a series of explosions at Jamraya, 15 kilometers away from the Lebanese border. One lit up the skyline over the city, while another sent up a tower of flames and secondary blasts.
There was no immediate comment from Israel or the United States.
However, Syria's state television said the strikes were a response to recent military gains by government troops against rebels. "The new Israeli attack is an attempt to raise the morale of the terrorist groups which have been reeling from strikes by our noble army," it said.
In an interview on CNN Sunday, Syria's Deputy Foreign Minister Faysal al-Mekdad called the attack a "declaration of war."
If confirmed, the attack would be Israel's second this week against targets inside Syria and also its second this year on the Jamraya facility, following a January 30 raid.
The previous attack took place on Friday, as an air strike targeted what they claimed were missiles supposed to be shipped to Hezbollah, an Israeli official said.
The raid in January, which was implicitly confirmed by Israel, allegedly targeted surface-to-air missiles and an adjacent military complex believed to house chemical agents, a US official said at the time.
According to TV station al-Mayadeen, Syria's military leadership is meeting to discuss how to respond to the recent raids, and all options are on the table.
The attack comes as Israeli fighter jets have flown over the Lebanese capital Beirut repeatedly over the past week.
According to Lebanese news agency NNA, the Israeli army raised the number of troops at the border with Lebanon, Israeli newspaper Haaretz also reported that two Iron Dome have been deployed in Haifa and Safed, in anticipation of possible retaliation.
Lebanese Minister of Foreign Affairs Adnan Mansour denounced "Arab-international silence vis-a-vis recurrent Israeli aggression," and called for the Arab League to take a stand to prevent an escalation of violence, the NNA reported.
---
---
Israel confirms Syria strike, says hit Hezbollah-bound missiles
By Reuters
May 4, 2013
WASHINGTON – Israel has carried out an air strike into Syria, targeting a shipment of missiles bound for Hezbollah guerrillas in neighbouring Lebanon, an Israeli official said on Saturday.
The Jewish state has made clear it is prepared to resort to force to prevent advanced Syrian weapons, including President Bashar al-Assad's reputed chemical arsenal, reaching his Hezbollah allies or Islamist rebels taking part in a more than two-year-old uprising against his government.
The target of Friday's raid was not a Syrian chemical weapons facility, a regional security source earlier told Reuters on condition of anonymity.
A U.S. official, who also declined to be identified, had told Reuters on Friday the target was apparently a building.
The attack took place after Prime Minister Benjamin Netanyahu's security cabinet approved it in a secret meeting on Thursday night, the security source said.
CNN quoted unnamed U.S. officials as saying Israel most likely conducted the strike "in the Thursday-Friday time frame" and its jets did not enter Syrian air space.
The Israeli air force has so-called "standoff" bombs that coast dozens of kilometres (miles) across ground to their targets once fired. That could, in theory, allow Israel to attack Syria from its own turf or from adjacent Lebanon. Lebanese authorities reported unusual intensive Israeli air force activity over their territory on Thursday and Friday.
 Israeli long-range surveillance devices concealed in fake rocks in mountains overlooking Beirut.
A Lebanese security source said his initial impression was that Israeli overflights were monitoring potential arms shipments between Syria and Lebanon, potentially to Hezbollah, a militant Shi'ite Muslim ally of Iran and Assad.
Hezbollah waged war with Israel in 2006
"We believe that it is linked to Israel's concerns over the transfer of weapons, particularly chemical weapons, from Syria to its allies Lebanon," said the official, who asked not to be named.
Hezbollah fought a 34-day war with Israel in 2006.
Syrian government sources denied having information of a strike. Bashar Ja'afari, the Syrian ambassador to the United Nations, told Reuters: "I'm not aware of any attack right now."
But Qassim Saadedine, a commander and spokesman for the rebel Free Syrian Army, said: "Our information indicates there was an Israeli strike on a convoy that was transferring missiles to Hezbollah. We have still not confirmed the location."
In January this year, Israel bombed a convoy in Syria, apparently hitting weapons destined for Hezbollah, according to diplomats, Syrian rebels and security sources in the region.
Israel has not formally confirmed carrying out that strike.
Israel remains technically at war with neighbouring Syria. It captured Syria's Golan Heights in the 1967 Middle East war, built settlements and annexed the land. Yet belligerence was rare and the borderland has remained largely quiet for decades.
But Israeli concerns have risen since Islamist fighters linked to al-Qaeda assumed a prominent role in the armed insurrection against Assad. Israelis believe one in 10 of the rebels is a jihadi who might turn his gun on them once Assad is gone. They also worry that Hezbollah guerrillas allied to Assad could obtain his chemical arsenal and other advanced weaponry.
Giora Eiland, a former Israeli army general and national security adviser, said the apparent deadlock in Syria's civil war, now in its third year, meant the Netanyahu government had to be prudent in any military intervention.
"I don't anticipate far-reaching consequences in Lebanon or Syria (from Israel's actions)," Eiland told Israel Radio. "Israel appears to be conducting itself judiciously."
Additional reporting by Erika Solomon in Beirut
---

Damascus military facilities 'hit by Israel rockets'
By BBC news
May 05 2013
Syria has accused Israel of launching rocket attacks on Damascus, after a night of huge explosions near the city.
Syrian state media said the rockets hit the Jamraya research centre, which Western officials have suggested is involved in chemical weapons research.
Israeli radio quoted a senior security official confirming an attack, and sources said it targeted weapons bound for Hezbollah militants in Lebanon.
It is the second suspected Israeli strike in Syria in two days.
On Friday Israeli aircraft hit a shipment of missiles near the Lebanon border, according to unnamed US and Israeli officials.
The BBC's Yolande Knell in Jerusalem says the latest developments are a significant escalation in Israel's involvement in the conflict.
She says Israel has already responded to fears of retaliation by locating two batteries of its Iron Dome missile defence system near Haifa, close to the Lebanese border.
'Mild earthquake'
Damascus was shaken by repeated explosions coming from the north-western suburbs.
Amateur video footage and eye witness testimony suggested rocket attacks had hit weapons dumps, triggering dramatic orange-flamed blasts.
The area houses numerous military facilities, including the Jamraya research centre, designated by Syria as a scientific research centre "in charge of raising our level of resistance and self-defence".
A state TV bulletin said: "The new Israeli attack is an attempt to raise the morale of the terrorist groups, which have been reeling from strikes by our noble army."
Damascus-based journalist Alaa Ebrahim told the BBC it was "the biggest explosion" the city had seen since the conflict began two years ago.
He said residents living near Jamraya reported feeling a "mild earthquake" just before the blast, indicating that the rockets may have hit an underground facility.
Media Reaction
According to Syria's Sana state news agency: "The new Israeli aggression shows the direct involvement of the Zionist entity in the conspiracy against Syria and the relationship that links the armed terrorist groups with the Israeli hostile schemes backed by the Western, regional and some Gulf states."
Iran's Defence Minister Ahmad Vahidi is quoted by Fars news agency reacting to Friday's attack: "The inhuman acts and adventurism of the Zionist regime will strengthen the waves of anti-Zionism in the region and will shorten the life of this fake regime."

A writer with Israel's Walla website notes that "common sense would seem to mandate" the attack on Syrian targets. However, he notes that admission of the attack from Syrian state media and the Lebanese militant group must raise fear about retaliation.
He added that the Syrian army was likely to have suffered major casualties in the attack.
The UK-based Syrian Observatory for Human Rights quoted eyewitnesses in the area as saying they saw jets in the sky at the time of the explosions.
The Jamraya facility was also apparently hit in an Israeli air strike in January.
Israeli officials confirmed the January strike, but insisted it had targeted trucks carrying missiles to Hezbollah.
After the latest attack, unnamed Western intelligence sources have again said the target was a weapons cache heading for Lebanon.
Israel has repeatedly said it would act if it felt advanced weapons were being transferred to militant groups in the region, especially Hezbollah.
The latest reports from coastal regions around the town of Baniyas suggest dozens of Sunnis have been massacred in a campaign of sectarian cleansing.
The government said it had pushed back "terrorist groups" and restored security to the area.
The US said it was "appalled by the horrific reports" but that it did not foresee sending US troops to Syria.
However, the US is no longer ruling out supplying weapons to the rebels.
More than 70,000 people are estimated to have been killed since the conflict erupted in March 2011.
Analysis
Jim Muir BBC News, Beirut
Two air strikes in 48 hours does indeed start to look perilously like the involvement in Syria's internal crisis the Israelis have always said they want to avoid, especially when they are visibly taking out military targets on the very edge of Damascus.

Politically such attacks strengthen the Syrian regime in regional and domestic terms, and embarrass the rebels, who are cast as actors in a Western-directed plot to undermine resistance to Israel.

Israel has said that its only concern is to prevent advanced weapons being handed over to Hezbollah. Objectively it would be hard to see Israel's interest in helping trigger an uncontrolled collapse of the regime, leaving the field open to rebel groups among which Islamist radicals currently make the running.

But if the Friday and Sunday attacks herald a pattern of mounting Israeli involvement, it may be increasingly hard to keep the two strands separate.
---

Lebanon's President Michel Suleiman. Photo by Reuters

Lebanon's president condemns reported Israel Air Force flyovers, urges world to intervene
Michel Suleiman brands alleged Israeli sorties into Lebanon's air space as a continuation of Israel's 'policies of aggression.'
By Jack Khoury, Ha'aretz
May 04, 2013
Lebanese President Michel Suleiman has condemned a series of sorties by Israel Air Force jets, which, according to reports in Lebanon, violated the country's air space on Friday morning.
Suleiman called on the United Nations and the international community on Friday to press Israel to stop breaching Lebanon's sovereignty, saying that such flyovers are a blatant violation of UN Resolution 1701. He further branded them as "a continuation of Israel's policy of aggression" as he urged world powers to intervene on his country's behalf.
The remarks, released in a statement on Friday, followed reports of IAF planes coasting over the southern Lebanese sector of Marjayoun and Al Khayyam up to the Beqaa valley in the east. According to these reports, some of the planes simulated low altitude attacks, as part of activity which started on Thursday.
The president's comments were reiterated by Lebanese Foreign Minister Adnan Mansouron Saturday morning, following reports of continued sorties by IAF planes over the Beqaa Valley and Baalbek.
UNIFIL forces in southern Lebanon reported that two brigades conducted exercises in the area, including searches for unexploded bombs and weapons.
Israeli sorties over Lebanon have been reported for several months now. These reports have appeared on Lebanese websites ever since reports surfaced regarding an Israeli attack in Syria which targeted chemical weapons stockpiles, as well as following two recent incidents involving unmanned drones which originated in Lebanon.
Note

It is assumed that the Israeli attack was launched from Lebanese airspace probably using the Israeli Air Force's "stand-off" bombs which are able to cover significant distances and enable Israel to strike a Syrian facility without entering Syrian territory.

Stand-off, time allowed for those launching missile to leave the area and avoid retaliation.  Stand-off weapons, guided by GPS,  have been developed by the US Department of Defense and by Israel. They were part of the recent major arms package for Israel, Saudi Arabia and the UAE.
Qualitative Military Edge
Maintaining Israel's QME in the region has long been the USA's unofficial doctrine for its military aid to Israel. It was made official in the 2012 United States-Israel Enhanced Security Cooperation Act. See New US law will extend Israel's air-strike range and
This is the law: that the US help Israel preserve its qualitative military edge