This posting centres on the sporadic exchange of fire between Israel and Gaza and the anxiety that Israel will escalate its attacks and the conviction that Israel is looking for way to destroy Hamas and the unity government. News and analysis.
1) BBC: Hamas 'ready for Gaza ceasefire' if Israeli raids stop;
2) Al Monitor: Hamas committed to unity deal despite Israeli pressure, Hazem Balousha says Hamas believes Israel is trying to exploit the murders of three settlers in the West Bank to destroy the Palestinian reconciliation deal.
3) Stratfor: Israel names Hamas as being behind the `killings – despite anomalies, why Israel blames Hamas although the charge does not add up;
4) NY Times: Israel Mobilizing Forces Around Gaza;
5) Ma'an news: 11 injured in multiple Israeli airstrikes on Gaza, July 3rd.;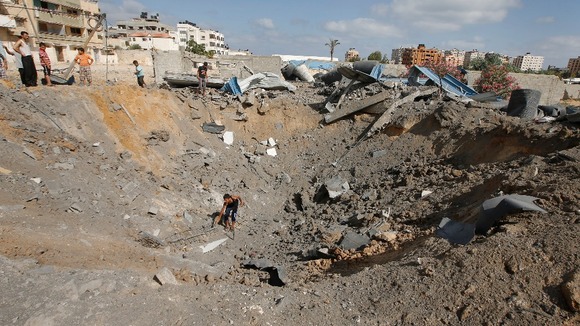 Crater and rubble left by Israeli airstrike on Gaza city, July 3rd, 2014. Photo by Reuters

Hamas 'ready for Gaza ceasefire' if Israeli raids stop
By BBC News Middle East
July 04, 2014

Hamas has offered to halt its rocket attacks if Israel stops its air raids on the Gaza Strip, the BBC understands.
A source with the Palestinian militant group said Egyptian intelligence officials had brokered a potential ceasefire, after escalating clashes.
Israel says sporadic shelling from Gaza has continued. Several rockets and mortars landed without causing harm.
There is high tension in East Jerusalem ahead of the planned funeral of a murdered Palestinian teenager.
There have already been two days of clashes there between masked Palestinians and Israeli police over the kidnap and murder of 17-year-old Mohammed Abu Khdair.
The motive for his killing has not been confirmed but there are claims it was an act of revenge for the recent murders of three Israeli teenagers in the occupied West Bank. Israeli police are investigating.
The teenager's funeral has already been delayed, adding to the tension.
Police say they will hand the body to the family after Friday prayers, which are likely to end at about 12:30 local time (09:30 GMT).

Soldiers restrict access to Al Aqsa mosque.
In the past few weeks dozens of rockets have been fired at Israel from Gaza and Israel has carried out multiple air strikes on what it says are rocket-launching squads and militant facilities.
On Friday four rockets were fired from Gaza, the Israeli army said. One was intercepted by the Iron Dome air defence system and at least two hit open ground. Later two mortar shells also landed in open fields.
Israel then fired artillery shells into southern Gaza. There were no reports of injuries on either side.


House in Sderot hit by a rocket fired from Gaza on July 3rd, 2014. Photo by AFP

A Hamas source told the BBC that "intensive contacts" between the group and Egyptian officials "succeeded in reaching a new truce between Hamas and Israel, and that the ceasefire agreement was to be announced within hours".
The source said Hamas was ready to halt rocket fire in return for an assurance that Israeli would stop air raids.
A senior Israeli security official told the BBC that "the ball is in Hamas' court.
"We informed Hamas that calm will be answered with calm, and if it is not calm, they will be hit hard. The message is very clear and was delivered in a very clear manner. If they took upon themselves a unilateral ceasefire and it is calm, so be it," the official said.
The BBC's Rushdi Abualouf in Gaza City says contacts between Hamas and Egypt appeared to have calmed the situation on the ground.
Earlier, Israel deployed extra forces along the border with the Gaza Strip after several barrages of rockets struck targets in southern Israel. A military spokesman said they were taking up "defensive positions" in Israeli villages that had been hit by rockets.
Prime Minister Benjamin Netanyahu said Israel would only act against further rocket attacks.
On Thursday, 10 Palestinians were injured in an Israeli air strike on Gaza. Air raid sirens sounded in communities across the south of Israel and a soldier was reported to have been slightly injured by a rocket strike in Eshkol.
The teenager was seen being forced into a car in Shufat, East Jerusalem, early on Wednesday and his body was later found in West Jerusalem.
It comes after the bodies of the three Israeli seminary students were found near the city of Hebron on Monday, two-and-a-half weeks after they were abducted. Their funerals took place on Tuesday.
Mr Netanyahu blamed their deaths on Hamas and called on Palestinian President Mahmoud Abbas to abandon a partnership his Fatah movement had struck with the group. Hamas has denied any involvement in the murders.
Egypt tried to broker truce

Kevin Connolly, BBC Middle East Correspondent, Jerusalem

Egyptian military intelligence often provides a channel of communication between Israel and Hamas at moments of crisis.

Hamas officials now say those contacts have paved the way for a truce which has the potential to lower the political temperature after a week of sharply escalating tensions.

Hamas, as an offshoot of the Muslim Brotherhood movement, has been badly weakened by the Egyptian military government's moves to crush the brotherhood at home and can't afford a sustained escalation.

Israel argues it only launches air raids against Gaza in response to rocket fire.

The announcement may help to calm the mood ahead of the funeral in Arab East Jerusalem of Mohammed Abu Khdair, the Palestinian teenager who was abducted and murdered earlier in the week.

That service though remains a potential flashpoint and as the hour of Friday prayers approaches Israeli police will be out in force near the entrance to the Al Aqsa Mosque in Jerusalem's Old City, limiting access to women and to men over 50, to limit the potential for disorder.Egypt tries to broker truce
---

Hamas committed to unity deal despite Israeli pressure

Hamas believes Israel is trying to exploit the murders of three settlers in the West Bank to destroy the Palestinian reconciliation deal.

By Hazem Balousha, trans.Kamal Fayad
July 03, 2014
GAZA CITY, Gaza Strip — Hamas remains committed to Palestinian reconciliation, contrary to reports suggesting the deal might fall apart because of Israeli pressure in the wake of the kidnapping and murder of Israeli and Palestinian teenagers. Strong Israeli opposition has largely rendered the Palestinian unity government unable to bring about desired changes on the ground, despite its receiving endorsements from the European Union and the United States.
After the announcement of the government, bringing an end to seven years of division between the West Bank and Gaza Strip, Israel tried but failed to stymie international backing and recognition of it. It has, however, succeeded in exploiting the kidnapping and killing of the three settlers to incite against Palestinian President Mahmoud Abbas.
In light of recent crises, Gaza residents seem skeptical of the possibility that Prime Minister Rami Hamdallah's government will succeed in achieving true reconciliation and restore unity between the two territories. Prominent among the crises are the government's inability to pay the wages of former Hamas government employees and the emergence of public disputes between the factions over the issue.
Hamas official Bassem Naim expressed his displeasure over the unity government's handling of the salaries issue. He thought the matter would be easily overcome, but instead, he believes, its resolution was intentionally delayed out of fear of Israeli pressure. Naim told Al-Monitor, "Israel was incapable of preventing reconciliation between Palestinians, in light of the clear European support afforded to the new government. Still, President Abbas seemed uninterested in moving forward with achieving unity for irrational reasons."
The Palestinian government has blamed the nonpayment on international pressure threatening to impose financial sanctions on it if it paid the salaries of employees previously appointed by Hamas. Naim rejected this contention, stating, "We have met with many European diplomats who never raised this matter. The issue is solely related to Israeli pressure."
Meanwhile, following the abduction of the three Hebron settlers, Israeli Prime Minister Benjamin Netanyahu never missed an opportunity to attack the unity government, blaming security tensions in the West Bank and Gaza on Abbas' alliance with Hamas.
Netanyahu's Arabic-language Facebook page published a photograph showing an Israeli Civil Defense member fighting a fire at a Sderot factory after it was hit by a rocket launched from Gaza. The captioned reads, "Since the formation of the Fatah-Hamas alliance government, 70 rockets and mortar rounds have been fired from the Gaza Strip on Israel. President Abbas must end his alliance with the terrorist Hamas organization."
The crisis between Fatah and Hamas escalated when Mousa Abu Marzouk, deputy chairman of Hamas' political bureau, wrote on his Facebook page, "I fear that Hamas will be forced to backtrack for the sake of security and the safety of its people. For Gaza is living in limbo, it is neither under the purview of the old government, nor is it the responsibility of the national unity government."
A knowledgeable Hamas source who talked to Al-Monitor on the condition of anonymity said that Hamas' political bureau had recently met in the presence of the movement's political and military leadership and decided to irrevocably move forward with the reconciliation. According to the source, "The political bureau, in all its components, affirmed that the reconciliation option was a conscious and strategic one taken by Hamas. It will not be reversed irrespective of all the present crises, with Hamas exercising political and field pressure to make it a success. Halting the effort fulfills Israel's goal of sabotaging and ending the alliance. The ongoing threats to launch a military attack on Gaza and the incitement against Hamas aims to push Abu Mazen [Abbas] into forsaking Hamas, a scenario that we will tirelessly work to prevent."
Abbas' popularity has suffered in the West Bank and Gaza Strip as a result of his statements on security cooperation following the kidnapping of the settlers, while Israeli accusations blaming Hamas for the kidnapping have bolstered the movement's popular standing. Many Palestinians believe that Israel's aim — in its raids on West Bank cities, arrest campaigns and almost daily bombing of Gaza — is to exploit the killings by convincing the Palestinians that reconciliation between Hamas and Fatah will serve no good purpose.
The columnist Alaa Abu Amer, who resides in Ramallah, ruled out Israel's ability to thwart the Palestinian reconciliation, given the support afforded the new government by the United States as well as European and Arab countries. In a phone interview with Al-Monitor, he said, "In the end, Israel will be compelled to deal with the new government. But the issue still requires a lot of coordinated effort between all parties, with the fait accompli finally prevailing, if Fatah and Hamas actually intend to make it succeed."
According to the Hamas source, movement members are angered by the Palestinian Authority's (PA) silence on the Israeli accusations leveled against it for the kidnappings and Israel's effort to spare the authority in its smear campaign. Israel no longer holds the PA responsible for the kidnappings, instead concentrating its attacks on Hamas.
Israel appears to be trying to foil the implementation of the reconciliation agreement and render the Palestinian unity government ineffectual by refusing to deal with or even recognize it, and by preventing Gaza and West Bank ministers from traveling between the two territories. After the discovery of the bodies of the settlers, the Israeli government's purpose became clearer in its targeting of Hamas on the West Bank and its threats to attack Gaza without threatening the same against PA institutions. The Palestinian people's ability to withstand the Israeli onslaught might thwart Tel Aviv's intentions.
Hazem Balousha is a Palestinian journalist based in Gaza City. He has worked as a news producer for BBC World Service, contributed to Deutsche Welle and has written for The Guardian, Al-Raya (Qatar) and other publications. He is the founder of the Palestinian Institute for Communication and Development (PICD). On Twitter: @iHaZeMi
---
Israel names Hamas as being behind the `killings – despite anomalies
By Stratfor via Web Arab News Digest
July 01, 2014

"Hamas is responsible, and Hamas will pay," Israeli Prime Minister Benjamin Netanyahu vowed on Monday the 30th June upon the discovery of the bodies of the three teenagers kidnapped more than two weeks ago in the West Bank. A military escalation in the Israeli-Palestinian theatre can therefore be expected as Israel makes a retaliatory show of force, using the crisis to keep Hamas and Fatah split between the two Palestinian territories.
Despite Israel's claims, the highly unusual circumstances surrounding the kidnappings do not clearly point to Hamas, and the low likelihood that Hamas wants to provoke a wider confrontation with Israel, combined with the constraints on the Hamas rocket supply, suggest that this latest flare-up is less likely to widen into a sustained military confrontation.
A number of strange details surround the kidnapping and killing of the three Israeli teenagers. According to the official story, three teenage male religious students were trying to hitchhike around 10 p.m. on the 12th June from the settlement block of Gush Etzion, just outside of Bethlehem, to Hebron in the West Bank when they disappeared. Hitchhiking is not particularly uncommon in the area, where buses are known to run infrequently, but nonetheless, this is a heavily patrolled area owing to the array of security threats which Jewish settlers face in the West Bank. The three teenagers were shot and buried under stones in a field near the village of Halhul, just north of Hebron, only around 150 metres (about 500 feet) from a heavily guarded settlement compound.
Now any Arab militant group would find it extremely difficult to pull off such an operation in this area undetected. Had this been a Hamas or Hamas-affiliated operation, we would expect the hostages to have been used as political capital for prisoner releases, as we saw with the kidnapping of Gilad Shalit, and although there is no direct evidence of this, the killings could have been accidental given that they occurred at night in a high-threat environment. If the killings were intentional, then the operation at the very least appears to have been amateurish and the apparently hasty nature of the burials suggests an attempt to cover up the incident.
Israel seems to be using the incident to further its political objective of undermining the Hamas-Fatah political reconciliation by holding Hamas responsible, and thus raising the political cost to Fatah of remaining aligned with the militant organisation in a national unity government. Why Hamas would have carried out such an operation, which it knew would lead to another conflagration in Gaza, and to renewed struggle with Fatah, when the Hamas leadership has been trying to use a deal with Fatah to normalise its political relations outside of Gaza remains unclear. Hamas certainly does not appear to be getting much out of this operation.
In fact, Hamas distanced itself from the actual kidnapping; because although it praised the act at the same time, it denied having anything to do with it. A collection of little-known groups, including Dawlat al-Islam, Hezbollah Battalions in Palestine, and Battalions of the Freeman of Hebron, all claimed the kidnapping, although there has been little to corroborate any of the claims so far. Hamas is known to use front groups to give it cover for more controversial operations. Alternatively, a Hamas splinter faction could have carried out the attack to undermine the main group's dealings with Fatah, but that still does not explain how it was able to operate in such a heavily patrolled area of the West Bank, and much less why the operatives chose to kill and bury the hostages.
In any case, Israel's unequivocal holding of Hamas responsible for the act means retaliatory action on both sides can be expected in the coming days. Israel will be likely to rely on airstrikes, raids and arrests against Hamas, while Hamas and its militant affiliates will respond with rocket attacks. There are probably limits, however, to how far this latest confrontation will go.
If our doubts regarding Hamas' involvement prove to be correct, then Hamas is probably unprepared for a major confrontation with Israel. The Hamas rocket arsenal has been under strain since the 2012 Pillar of Defence Campaign, and Egypt's crackdown on the Rafah border crossing, but of critical interest to Israel is the status of the supply of the long-range, Iranian-made Fajr-5 rockets in Gaza. After all, the accumulation and launching of these rockets, which could reach deep into Israeli territory near Jerusalem and Tel Aviv, is what triggered Israel's intensive military campaign two years ago. STRATFOR has seen indications since then that Iran has continued its efforts to smuggle weapons through Sudan and the Sinai Peninsula into Gaza, but it is safe to assume that it has become more difficult to ship arms along these supply lines in the past few years.
Either way, Israel can be expected to seize the opportunity to deepen Palestinian fissures while Israeli emotions run high over the killings. There is also always the possibility of militant actors, and even militant sponsors such as Iran exploiting the current tensions to escalate the conflict. From what we can ascertain so far, however, a sustained military confrontation on par with the 2012 conflict seems unlikely.
---

Result of airstrike in Gaza.


Israel Mobilizing Forces Around Gaza
By Jodi Rudoren and Isabel Kershner, NY Times
July 03, 2014
JERUSALEM — The Israeli military mobilized troops around the Gaza Strip on Thursday after Palestinian militants there fired some 30 rockets at southern Israel over 24 hours, three of which hit homes in the border town of Sderot, causing property damage but no injuries.
Lt. Col. Peter Lerner, a military spokesman, said that despite the mobilization, Israel was not interested in further escalating the violent exchanges with Gaza that have been building for more than two weeks. Overnight, 15 Israeli airstrikes hit sites the military said were associated with Hamas, the Islamic militant group that dominates Gaza; Palestinian health officials said 10 people were wounded, including a pregnant woman and a 65-year-old man.
"We are moving, and we have moved, forces to serve defensive activities and forward preparations," Colonel Lerner told reporters on a conference call.
"The main issue is how Hamas is reading the situation," he added. "We don't want to take it further, but we will be prepared for the developments."
The deteriorating situation in the south comes against the backdrop of heightened tensions in Jerusalem, where the burned body of a 16-year-old Palestinian, Muhammad Hussein Abu Khdeir, was found in a Jerusalem forest on Wednesday. Muhammad had been forced into a vehicle near his East Jerusalem home about an hour before his body was discovered, and the police are investigating whether he was killed in retaliation for the death of three Israeli teenagers who were buried on Tuesday after being kidnapped in the occupied West Bank last month.
Khaled Meshal, the political leader of Hamas, said in an interview from Qatar, published Wednesday, that the organization was also not interested in an escalation. But a Gaza-based Hamas leader said on Thursday that the group was having trouble convincing other militants to hold their fire.
"In general, there was an agreement to calm the situation," said the official, speaking on the condition of anonymity because of internal politics. "We are communicating with the factions to stop them from firing rockets, but the justification is always, 'Look at what the Israelis are doing in the West Bank and East Jerusalem.'"
The authorities were also scrambling to investigate a possible third kidnapping Thursday afternoon, after a girl called a police hotline from near Maalot, a city in northern Israel, a police spokesman said. "She said that she was abducted and then the line went dead," Micky Rosenfeld, the spokesman, said. "We're searching the area. Helicopters are trying to track. We'll see what's going on there."
Muhammad's abduction and killing set off violent protests in parts of East Jerusalem that stretched into Wednesday night, and there were fears that his funeral could stir broader unrest.
Saeb Erekat, the chief Palestinian negotiator, said President Mahmoud Abbas of the Palestinian Authority had "been making extensive international contacts" since Muhammad's death and would convene a meeting of the Palestinian leadership on Thursday to consider, among other things, joining more United Nations institutions, including the International Criminal Court.
"Violence will only lead to more violence in the region; it has killed all chances for peace," Mr. Erekat, a member of the Palestine Liberation Organization's executive committee, said on Voice of Palestine radio. "The entire world has condemned the killing of Abu Khdeir, but the world should also follow up. Why was Muhammad kidnapped, killed? Why are the settlers allowed to run wild in Jerusalem? Why can they take the law in their own hands? There is only one answer: because of the continuing Israeli occupation."
In Shuafat, the relatively well-to-do neighborhood where Muhammad lived, Palestinians from across Jerusalem huddled Thursday on plastic chairs under a canopy outside his home, waiting for the Israeli authorities to release his body after an autopsy. As the crowd of mourners swelled into the hundreds, members of the victim's family announced they would not accept the body until it had received a clear declaration that the killing was an act of revenge by Jews and not the result of a family dispute. Later, though, they related and said the funeral would likely be Friday afternoon.
"We want a written paper from the Israeli government saying the crime was committed on a national background," Muhammad's unclear, Ishak Abu Khdeir, told reporters.
Israeli officials have said they are considering all possible motives for the attack.
"We are in a state of waiting and expectation," said Muhammad's cousin, Said Abu Khdeir, 45, who owns a restaurant in the neighborhood. "It will not be a normal funeral. It will be a wedding for a martyr," he added. Another relative, Muhammad Abu Khdeir, a 46-year-old English teacher, said, "the hatred has increased" instantly. "I've never seen such racism, even in the first and second intifada," he added. "We are entering a very dark time."
After a quiet day, clashes began again around 5 p.m., with some 300 Palestinians, some masked, hurling stones at Israeli soldiers, who used stun grenades to contain the crowd.
The streets were already littered with remnants of the previous day's confrontations.
Traffic lights were smashed and large metal trash containers overturned. Stones were still strewn across the asphalt. The first floor of an unfinished building where soldiers had huddled was blackened from Molotov cocktails.
The shops — Joulani Furniture, Abu Irmeileh Pharmacy, a local post office and a place to get aluminium window frames — were all shuttered.
There was fresh graffiti: "Resistance lives on," read one splash of red paint, in Arabic. "The martyr of the predawn," read another. On one of several smashed shelters for the light-rail line that normally runs along the main road, the words "Death to Jews" were written in Hebrew, near Muhammad's name and "Palestine is free and Arab," in Arabic.
In Sderot, the Israeli town about a mile from Gaza's edge, one rocket penetrated the wall of a house that soon will house a small summer camp for babies. The rocket landed on the upper floor of the house but failed to explode; two mothers and their children had taken shelter in a fortified safe room and escaped injury.
Tami Jorno, who plans to open the camp, said she heard the crash of a rocket.
"I went out to look in the garden," she told Ynet, a Hebrew news site. "I didn't imagine it would be in the bedroom."
A total of 21 rockets were launched from Gaza after midnight, according to the Israeli military. Two were intercepted by Israel's Iron Dome missile defense system, 16 reached Israeli territory and three fell short and apparently landed in Gaza.
Tensions along the Israel-Gaza border have been simmering since the kidnapping of the three Israeli teenagers on June 12. Israel has blamed Hamas for their abduction and murder, conducting a campaign against the group's infrastructure in the West Bank that has included raids on scores of institutions and the arrest of more than 400 Palestinians.
The growing intensity of the clashes in the south and the erosion of an Egyptian-brokered cease-fire, which ended eight days of fierce fighting across the Israel-Gaza border in November 2012, have raised the prospect of another full-blown confrontation there.
Colonel Lerner, the military spokesman, said repeatedly during the conference call with reporters that, "We have no interest in escalation." He said the mobilization Thursday included a limited call-up of "tens of reserve officers" who would be assigned to headquarters, not to posts in the field.
He added that other troops — he would not even hint how many — "are taking up positions in the surrounding communities of Gaza."
"We have no interest in deepening the conflict with Gaza — the absolute opposite is our interest," Colonel Lerner said. "We do need to have the forces that give the substantial preparation in case Hamas decides to continue and escalate it. Our activities on the ground are in direct relation to what Hamas has been dealing out."
Said Ghazali contributed reporting from Jerusalem, and Fares Akram from Gaza.
---

Palestinians stand next to a crater which police said was caused by an Israeli air strike in Gaza City July 3, 2014. Reuters

11 injured in multiple Israeli airstrikes on Gaza
By Ma'an news
July 03, 2014

GAZA CITY — Eleven Palestinians were injured overnight Wednesday as Israel attacked 15 targets in the Gaza Strip, medics said.
Gaza health ministry spokesman Ashraf al-Qidra said 11 Palestinians were hospitalized following multiple airstrikes, including a 17-year-old boy who sustained shrapnel wounds near Gaza City.
Another airstrike targeted a Hamas training base west of Gaza City, with an elderly woman and teenage girl sustaining injuries in the northern Gaza Strip.
Three airstrikes targeted Hamas training bases in the al-Shujaiyya neighborhood of Gaza City and the city of Beit Hanoun, while a further three airstrikes targeted an area near the former PA intelligence headquarters in northern Gaza.
In southern Gaza, an airstrike targeted a military base belonging to Hamas near Rafah.
Israel's army said it carried out strikes against 15 Hamas targets in Gaza "including concealed rocket launchers, weapon storage facilities and terror activity sites."
Twenty rockets were fired at Israel since Wednesday, Israel's army said, with one hitting a home in the city of Sderot, with no injuries reported.