Here are three reports on the growing irritation with Israel expressed by foreign ministers William Hague, UK and John Kerry, USA, chosen from not the usual suspects. Plus the interpretation by a right-wing Israeli blog which 5 days before the 2012 election of Obama triumphantly announced: Breaking: US citizens in Israel vote 85% Romney, 14% Obama
This posting has 4 items:
1) Sky news: William Hague: Israel Losing Support In UK;
2) Daily Telegraph: William Hague says Israel has 'lost international support' over its policies;
3) Reuters: Kerry says Israelis, Palestinians must make tough decisions;
4) Israel Matzav: Hague's obsession,a policy continuation of 'the country that did more than any other to prevent the State of Israel from being established at all';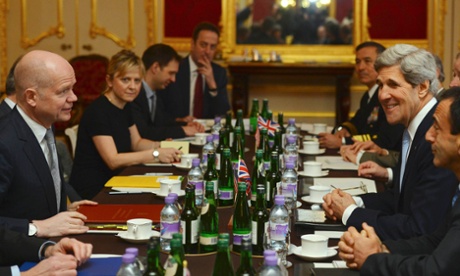 William Hague and John Kerry at a Lancaster House dinner. The two men have enjoyed a close working relationship since their first discussions about Syria last February. Photo by Reuters

William Hague: Israel Losing Support In UK
On a visit to Israel, the Foreign Secretary urges Israelis and Palestinians to "really commit" to the peace process.
By Sam Kiley, Middle East Correspondent, Sky news
May 24, 2013
Britain's Foreign Secretary has brushed aside an Israeli minister's allegation that anti-Israeli sentiment was growing in the United Kingdom – by agreeing with him.
William Hague's comments come after Yuval Steinitz, a close confidant of Israeli Prime Minister Benjamin Netanyahu, said perceptions of Israel were more negative in Britain than in other countries.
"Traditionally we had good relations with Britain and currently we have good intelligence cooperation with Britain and it's very successful," he told the Daily Telegraph.
"(But) we are concerned about the relations, about what we see as some animosities and some incitement in Britain, in the media, made by NGOs (non-governmental organisations) against Israel.
"I hope we will be able to use (Mr Hague's) visit to improve relations."
Mr Hague, though, was unrepentant.
He said: "Israel has lost some of its support in Britain and in other European countries over time – this is something I've often pointed out to Israeli leaders – because of settlement activity, which we condemn.
"We strongly disagree with settlements on occupied land. Israel is a country we work with in many ways but we do disapprove of settlements.
"We want to see both Israelis and Palestinians really commit themselves to the peace process while there is still a chance of a two-state solution."
In an interview with Sky News, Mr Hague warned the window of opportunity for Israel and the Palestinians to agree to form a two-state solution was closing fast.
Failure to do so, he said, would mean Israel struggles to maintain the two characteristics it holds dearest – that it remains both a Jewish state and a democracy.
John Kerry, the US Secretary of State, was also in Israel as part of his country's drive to get the Israelis and Palestinians back to the negotiating table.
The Israeli Prime Minister and his supporters on the right have insisted they do not believe the Palestinians are sincere about peace.
They point to the continuing Palestinian insistence on the implementation of the "Right of Return", in which refugees from the 1948 and 1967 conflicts with Israel and their descendants are granted the 'right' to return to the homes they fled, as a signal that the Jewish state remains anathema to the Palestinians.
Ethnic Arabs would outnumber Jews in Israel if the 'right' enshrined by UN resolution 194 was implemented.
Israelis who are sceptical of a lasting peace with their Palestinian neighbours also note with horror the events unfolding in Syria – and that while Palestinian politicians often tell the West of their willingness to accept Israel, they frequently condemn the right of the Jewish State to exist when addressing Arab audiences.
Mr Hague said this was an issue that could only be resolved at negotiations, which the Palestinians have refused to attend until the Netanyahu government freezes the construction of settlements.
Mr Netanyahu insisted that "above all, what we want to do is restart the peace talks with the Palestinians".
He told Mr Kerry: "You've been working on it a great deal, we've been working on it together.
"It's something I want, it's something you want, it's something I hope the Palestinians want."
Mr Netanyahu insisted: "Where there's a will, we'll find a way."
As the leader of a right wing coalition government packed with ministers who either believe there is no chance of a two-state solution or that Israel should not give up the West Bank, there was little sign of any will to find a way.
Mr Hague also visited a Bedouin community, Khan al Ahmar, on the West Bank, which is under threat of forced removal and demolition to make way for expanding Jewish settlements on land occupied by Israel in 1967.
"We (in Britain) strongly condemn the building of settlements and recognise they are a severe threat to a two-state solution," he told village elders.
---

William Hague says Israel has 'lost international support' over its policies
William Hague, the Foreign Secretary, said that Israel has lost international support in recent years over its building of settlements.

By Robert Tait, Daily Telegraph
May 24, 2013
Jerusalem–Speaking on the final day of a two-day visit to the Holy Land, Mr Hague said Israel had lost international support across the Western world in recent years – largely because of Jewish settlement building in the West Bank and east Jerusalem, where the Palestinians hope to have a future state.
But he said this should not be used to justify boycotting Israel.
"The way to deal with that is to promote the peace process, to resolve these problems," he told a news conference at the British consulate in east Jerusalem.
"We should not be a country that goes in for boycotts and de-legitimisation."
The Foreign Secretary was responding to fears voiced about Anglo-Israeli relations by Yuval Steinitz, Israel's intelligence and strategic affairs minister.
Mr Steinitz told The Daily Telegraph in an interview that he was worried about "animosities and incitement" in Britain towards Israel. He also said attitudes in the UK were markedly cooler towards the Jewish state than in other English-speaking countries like the US, Canada and Australia.
"We heard many times about [attempts] to boycott Israeli products, Israeli universities in Britain by this or that organisation and of course we are concerned," Mr Steinitz said during a 90-minute conversation in the Israeli prime minister's bureau. He said some of the boycott campaigns could amount to "disguised anti-Semitism".
Mr Hague pointed to an agreement signed with Ya'acov Perry, Israel's science minister, on Thursday as evidence that Britain still valued close ties.
"I signed yesterday the agreement with the science minister of Israel about academic cooperation on medical research and our work together in the scientific field in particular is a good example of what we are doing bilaterally together," he said.
"I think our bilateral relationship with both Israelis and Palestinians is in good shape and our diplomats do great work on both those relationships."
Mr Hague – whose visit coincided with that of the US secretary of state, John Kerry – repeated previous warnings that chances for a two-state solution between the Israelis and Palestinians were in danger of fading away.
He said Britain supported Mr Kerry's diplomatic efforts to revive peace talks between the two sides, which have been stalled for nearly three years and said the time for framing an agreement could be measured in weeks rather than months.
Referring to his meetings on Thursday with Benjamin Netanyahu, Israel's prime minister, and Mahmoud Abbas, the Palestinian leader, he said: "These are leaders whom we respect. They understand the urgency and immense importance that the rest of the world attaches to these efforts.
"I have made the case to the Israeli and Palestinian leaders that there isn't going to be [another] moment….it's very important in weeks, not months, to make the most of this opportunity."
---

Kerry says Israelis, Palestinians must make tough decisions
By Arshad Mohammed, Reuters
May 24, 2013
TEL AVIV – Israeli and Palestinian leaders must decide soon on whether to revive long-dormant peace negotiations to end their decades-old conflict, U.S. Secretary of State John Kerry said on Friday.
Ending two days of meetings in the region, Kerry said he had had "very productive" talks. But there were no obvious signs of any breakthrough, with neither side offering the sort of compromises needed to end a three-year stalemate.
"We are reaching the time where leaders need to make hard decisions," Kerry said at the end of his fourth visit to the region in barely two months as he struggles to overcome deeply entrenched positions that have snarled the peace process.
British Foreign Secretary William Hague, who has held separate talks in Israel and the Palestinian territories to voice support for Kerry, told reporters in Jerusalem he had not yet seen any significant progress.
"I don't think we are in a position to say that the necessary compromises have been made," he said.
"Unless bold leadership is there to make the most of this opportunity, then we face a bleak situation in the Middle East," he added, warning that time was running out to secure an independent nation for the Palestinians.
The Palestinians have repeatedly said they will only resume negotiations if Israel halts settlement building on land seized in the 1967 Middle East War, where it wants to establish its future state.
OUTPOST ANGER
The Israeli government has said there should be no preconditions and drew anger earlier this month when it turned to the courts to try to legalize four unauthorized West Bank settler outposts.
Kerry said he had raised the issue with Israeli Prime Minister Benjamin Netanyahu, whose center-right government includes many fervently pro-settler politicians.
"It is also clear that when actions are taken, whether by court or otherwise, it is our view that those actions can be deemed by some to be provocative…So it is our hope that there will be a minimal effort there," Kerry said.
On taking office in 2009, U.S. President Barack Obama called on Israel to halt its settlement program. Netanyahu agreed to a partial freeze, but did not extend it beyond an initial 10-month period and Washington quietly dropped the demand.
Obama made his first official visit to Jerusalem this March to re-launch U.S. peace efforts, with Palestinian officials talking about a June 7 cut-off point for the U.S.-led diplomacy.
The Palestinians say it is pointless to hold negotiations while the Israeli building continues in the West Bank and east Jerusalem – home to some 500,000 settlers.
In the absence of formal peacemaking, the Palestinians last year gained de-facto statehood recognition at the United Nations. Israel is worried that they will use their new-found status to join the International Criminal Court and pursue war crimes charges against the Jewish state.
EU and U.S. diplomats have warned that the spread of the settlements could prove irreversible and Kerry has said the window of opportunity for securing an historic peace deal might close within two years.
"I made clear in my discussions that the parties should be focused on making progress toward…direct negotiations," he said on Friday, adding that each side needed to "refrain from provocative rhetoric or actions … that take us backwards."
Writing and additional reporting by Crispian Balmer
---
By israel matzav
May 24, 2013
The Foreign Secretary of the country that did more than any other to prevent the State of Israel from being established at all is now claiming that the reason that Brits don't much care for Israelis is because of those darned 'settlements.' As if the average bloke in Birmingham or Liverpool can even find Beit El, Ariel or Haifa on a map. They're all 'settlements' as far as he's concerned.

Israel Matzav's oddly-chosen graphic appears to have been taken from Squidoo's Separated at Birth page, in which famous people are paired with look-alikes, in this case the character Elmer Fudd (egg head) from Looney Tunes.
Steinitz questioned why support of Israel among the British public is "much less" than in the other Anglo Saxon democracies the US, Canada and Australia. "When you think that all four are Anglo-Saxon democracies, why should people in America, Australia or Canada have different relations to or appreciations of the minuscule Jewish state than the people of Britain," the minister queried, adding that this difference may be reflected in the British Foreign Office and British government policy.
In response, Hague told Sky News that "Israel has lost some of its support in Britain and in other European countries over time – this is something I've often pointed out to Israeli leaders – because of settlement activity, which we condemn."
The British foreign secretary added, "We strongly disagree with settlements on occupied land. Israel is a country we work with in many ways but we do disapprove of settlements."
Here's an indication of just how obsessed with Israel Mr. Hague is: He's currently in Israel and Reuters' Dan Williams reports that Hague claims he spends 70% of his time on the Middle East. I wonder how much attention he pays to Europe. Maybe if Hague and his ilk weren't so obsessed with Israel and paid more attention to what goes on in their own backyard, Israel wouldn't be such an object of hate for Britons.
---
Links
I've never heard such claptrap: Hague loses his legendary cool as MPs say he is 'under the thumb' of anti-Israel Foreign Office diplomats, Mail on Sunday, March 2012
Clinton and Hague attack Israel decision to build new settlements, December 2012, Guardian;
Hague says 2-state solution should be single highest priority for new US government
MPs from all parties urge Hague to act on Israeli law-breaking
Don't blame Hamas for starting it: JfJfP to William Hague