Articles from 1) Palestine Monitor and, from last February, The Independent

Palestinian Bedouin children playing at the Tyre School, Khan al-Ahmar, the only robust structure in the village (it is made of rubber tyres).The school has 170 students, of which 85 are girls, and is run by 15 teachers. The students come from five different Bedouin communities in the surrounding area. It is partially funded by EU governments. It has many classrooms, a small football field made with turf, and a playground. Photo uncredited.
Israel asks court to approve forcible transfer of entire Bedouin community
By The Palestine Monitor
September 26, 2017
The Israeli government has asked the Supreme Court to approve plans to demolish an entire Palestinian Bedouin community. The government said the demolition should take place by mid-2018.
This would be the first time an entire Palestinian community has been demolished since 1967. Khan al-Ahmar, home to 173 people, is located in Area C – the 60 percent of the West Bank under full Israeli control. The Israeli government considers the community's presence there illegal, and has issued demolition orders for all of its structures earlier this year.
The village is home to one of 20 Jahalin Bedouin communities at risk of expulsion due to Israeli settlement expansion in this area, strategically located between East Jerusalem and Ma'aleh Adumim, the West Bank's largest settlement. Known as E1, an Israeli construction plan for this area has been frozen since 2009, following international outrage. The communities are made up of 2,300 Palestine refugees who were originally displaced by Israel in the 1950s.
Plans for this area, critics have argued, are aimed at linking Ma'ale Adumim to Jerusalem, therefore breaking the territorial contiguity of a prospective Palestinian state – and jeopardising the feasibility of a two-state solution.

A Palestinian woman inspects the debris after Israeli authorities ordered the demolition of her home in the Bedouin village of Khan Al-Ahmar, February 2017. Photo by Hamza Shalash/Apaimages
Abu Khamis, the mukhtar of Khan al-Ahmar, knows that his community has become a symbol of the Palestinian struggle to remain in their lands.
"There's proof this community has been here since 1967. We are only the first piece of the puzzle in the bigger picture," Abu Khamis told Palestine Monitor. "If they relocate this community, they will relocate all other communities in the area," he said, adding that he believes international pressure can help postpone the transfer – a strategy that has worked over the years, while leaving the community in a constant state of insecurity.
Residents of the nearby settlement of Kfar Adumim, together with the pro-settler organisation Regavim, have been filing petitions to evict the residents of Khan al-Ahmar and demolish its primary school – which serves 174 pupils from the village and five neighbouring communities – since 2009. Regavim, which is involved in other high-profile demolition cases in the West Bank, such as the village of Susyia in the South Hebron Hills, declares its mission to be "ensur[ing] responsible, legal, accountable & environmentally friendly use of Israel's national lands and the return of the rule of law to all areas", as stated on its website. The fourth and last petition was filed in 2016.
Unlike on previous occasions, the community's lawyer, Shlomo Lecker, is concerned that this time the court will accept the State's answer when asked to provide an alternative for residents. Israel plans to relocate them to lands near the Palestinian town of Abu Dis, in an area known as Jabal West.
"It's a symbolic act to please the right-wing," Lecker said, speaking at a meeting with representatives of NGOs and diplomatic missions last week.
The appearance of Bedouin villages, now often built from scrap materials, is, like Khan al-Ahmar L, often of a makeshift and ramshackle camp. Like other Palestinians, Bedouin cannot get permits to build more substantial homes.
Rights groups have opposed these plans.
"While the government argues that the residents of Khan al-Ahmar will receive alternative housing, they will in fact be evacuated against their will for the benefit of settlers, and placed above the garbage dump in Abu Dis," said a statement from Israeli anti-settlement NGO Peace Now after the government submitted its answer to the Supreme Court on the settlers' petition on Monday. "This type of forceful evacuation of protected persons constitutes a severe violation of international humanitarian law."
"It appears that the forceful displacement of the residents of Khan al-Ahmar is a form of "compensation" for his right wing supporters for the upcoming evacuation of the Illegal outpost of Derech Ha'Avot, following a High Court ruling," the statement added.
B'Tselem said Israel was asking the High Court for "permission to commit a war crime." Hagai El-Ad, B'Tselem's executive director, said:
"No sanctimonious language about a 'planning, proprietary and realistic' alternate, or 'time to prepare' can erase the disgrace or hide the facts: the destruction of Khan al-Ahmar means the forcible transfer of protected persons, and forcible transfer is a war crime."
Abu Khamis told Palestine Monitor that voluntarily moving to the proposed location is not an option, and that the community will continue to fight to stay.

Learning to read and write, to paint and to play: what will happen to these children's education if yet another Bedouin village is demolished?
Meanwhile, children at the "tyre school" nearby are taking a break and playing outside the class-rooms. The school, which stands out as the only real building in the village with its painted mud walls – the rest are makeshift structures made of wood and corrugated iron – provides a safe space for children to play as well as study in this isolated desert community. Despite its location just off a highway a few kilometres from Jerusalem, the only road that leads to the village is an unpaved, winding track.
"Students here, some of them from nearby villages, know the school is at risk," said Halimeh Zahalka, the school's headteacher. "They keep asking their teachers whether they will continue coming to the area if the school is demolished."
---
Israel orders demolition of Palestinian village in West Bank
Notices served in Khan al-Ahmar after legal battle over village's future
By Lizzie Dearden, The Independent Online
February 23, 2017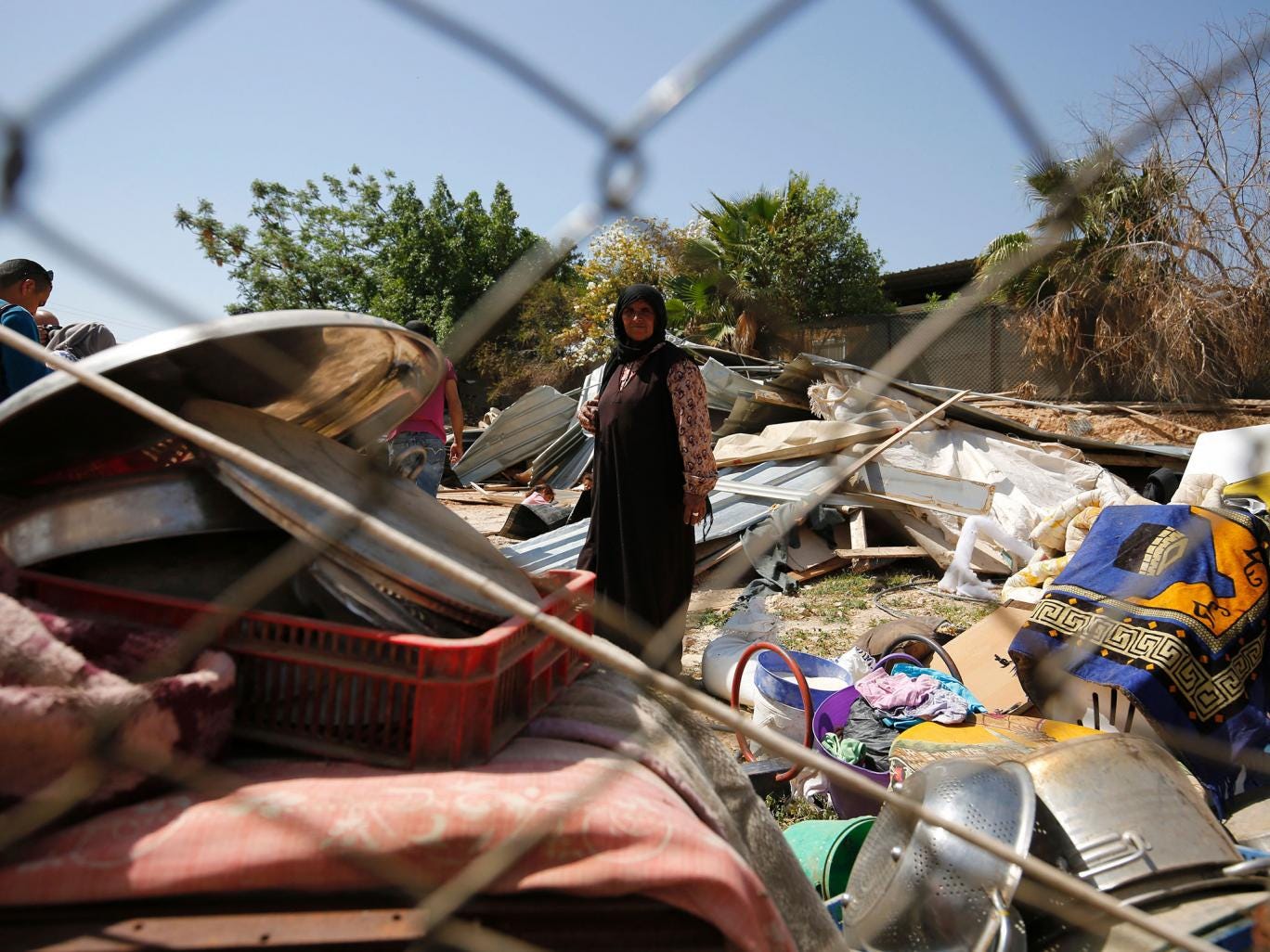 A woman from the Arab Jahalin Bedouin community stands amidst the debris of homes in the West Bank Bedouin camp of al-Khan al-Ahmar on April 7, 2016. Photo by AFP
The United Nations has condemned Israel's impending demolition of a school and homes in a West Bank village.
Officers distributed dozens of military "stop work" orders in the Bedouin community of Khan al-Ahmar, which lies between two Israeli settlements in the Occupied Palestinian Territories.
The UN Relief and Works Agency for Palestine Refugees (UNRWA) said "almost every structure" is under threat, affecting the homes and livelihoods of almost 140 people, of whom almost half are children.
Khan al-Ahmar's primary school, which was built in 2009 with international support and has around 140 pupils from surrounding Bedouin communities, is among the buildings that could be destroyed.
Robert Piper, the UN's aid and development co-ordinator for the Occupied Palestinian territories, said the pressure on residents to move to a planned relocation site is "unacceptable and must stop".
"The entire existence of this community…is under threat," he added.
"I am gravely concerned about Israel's continued pressures to force these Bedouin from their homes, destroying their livelihoods and their distinct culture.
"Many of these Palestinian refugee families have already had their homes demolished several times within the last couple of years.
"I urge the Israeli authorities to halt all plans and practices that will directly or indirectly lead refugees to be displaced once again."
The Co-ordinator of Government Activities in the Territories (Cogat) told The Times of Israel that orders were given to "cease construction" but said residents were invited to a hearing about the buildings on Thursday where they would be able to present their case.
The process frequently signals the start of demolitions but no date has been given.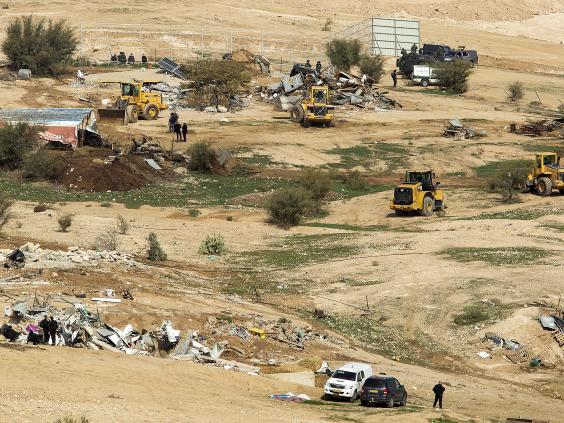 Bulldozers demolish Bedouin homes and structures in the illegal village of Umm al-Hiran in the Negev Desert, southern Israel. Photo by EPA
Destruction operations frequently draw protests and security crackdowns, including in the Bedouin village of Umm al-Hiran, where police shot dead an Arab driver whose car ran over and killed an Israeli officer.
Police and Israeli politicians initially claimed the incident was a terrorist car-ramming attack but are reportedly set to reverse the judgement amid evidence police opened fire unnecessarily and caused the driver to lose control of his car.
"Thousands of families live in fear of demolitions at any moment, and entire communities exist in chronic instability. When schools are demolished, the right to education of Palestinian children is also threatened. This creates a coercive environment that forces certain Palestinian communities to move elsewhere."
"The international community must work together to provide assistance and protection to vulnerable communities and insist that international law is respected."
It comes at the end of a long legal battle between the Israeli government and settlers to enforce a previous demolition order for the village, which reached Israel's High Court last year.
Three new conservative members – including a settler – were elected to join the court on Thursday, as part of a push by Israel's ultranationalist justice minister for it to represent right-wing Israelis.
The 15-member court, widely seen as a liberal bastion, has drawn criticism from Ayelet Shaked, and other pro-settlement politicians over rulings supporting Palestinian property rights in the West Bank and its occasional reversal of Israeli laws it deemed illegal.
Britain is among the countries to voice alarm over the demolitions, amid a surge in plans for new settlement construction by Israel, which is regarded as illegal under international law.