In this posting: after the article there are Notes and Links about Campaign4Truth, CAMERA, UK Media Watch and Student Rights.

A video still shows pro-Israel organizer Elliott Miller, right, shoving two people during the Thursday night incident at University College London.
By Hilary Aked, Electronic Intifada
October 28, 2016
Video has emerged showing supporters of Israel being violent, aggressive and abusive during student protests against a speech by a former Israeli army officer at University College London (UCL) on Thursday evening.
At the start of one video, filmed by student journalists and published on The Independent newspaper's website, pro-Israel organizer Elliot Miller can clearly be seen shoving another man into a peaceful pro-Palestinian demonstrator, whose arm is then grabbed by a security guard.
Miller works as a national organizer for Student Rights, a project of the neoconservative Henry Jackson Society think tank.* [see Notes, below]
Student Rights published its own report on the event claiming that supporters of Israel had been "surrounded by assaults and racist chants" and had to be "escorted by the Metropolitan Police for our very physical safety."
Miller himself claims protesters were "aggressive and violent." A number of media outlets, including The Daily Telegraph and Jewish News, echoed this characterization and reported that police have received at least one allegation of assault.
Aggressive
But Miller's portrayal of events may not be accurate. (It would not be the first time: the BBC previously upheld a complaint of inaccuracy about a story fed to it by Student Rights, which has a record of smearing Palestine solidarity activism).
There is no evidence of violence from pro-Palestinian demonstrators. In contrast, another video also documents aggression against Palestine solidarity activists:
see original, former IDF officer Elliott Mitter shouts anti-Muslim insults.
In the footage, two young men can be seen lying down in protest inside the room where former Israeli army officer Hen Mazzig was due to speak.
Until September, Mazzig worked for the Israeli-government funded anti-Palestinian group StandWithUs.
A woman orders the pair to "stand up," calling them "cowards." She can then be seen stamping near one of the men's heads before making a grab for his neck.
The woman appears to be Sharon Klaff, a founder of the Israel advocacy group Campaign4Truth.
A UCL student involved in the protest told The Electronic Intifada: "The pro-Israel protesters were throwing all kinds of racial slurs at us, telling us to 'go back to Syria' and 'go back to Gaza.'"
"Although the media are slating us as 'violent,' our protest was peaceful," the student said. "If you look at the footage you can see who actually instigated violence."
He categorically denied media claims that anyone was "trapped" and stated that "UCL students overwhelmingly protested the event while most of those supporting Israel were not students."
In a third video posted on Facebook by Sussex Friends of Israel, Zionist activist Simon Cobb can be heard being abusive to students, calling one a "fascist" and telling another, "you heard your führer."
In other videos Palestinian solidarity protesters are called "scum" and "vermin."
Anti-Muslim outburst
Miller formerly studied at UCL and, according to his LinkedIn page, previously worked for the Israeli foreign ministry.
He has also done stints with the UK Conservative Party and the Republican Jewish Coalition in the United States.
Another video appears to show him shouting at a person of color wearing a Palestine T-shirt and peacefully protesting: "the Home Office should lock you up! You're are at risk of radicalization!"
On Saturday, Middle East Monitor published this video showing Miller in an anti-Muslim outburst:
https://youtu.be/dgT8IfA9Lzk
Miller can be seen shouting in the faces of protestors, "You treat them like shit. You don't respect women. You don't respect gays … It's a violent religion. It's a violent religion."
The event was organized by the Friends of Israel society at UCL which is "supported" by CAMERA on Campus, a branch of the Israel advocacy group CAMERA.
After the event, the Board of Deputies of British Jews issued a call for UCL to express "abhorrence" at the demonstration and for protesters to face "disciplinary action."
The Board of Deputies alleged that there had been "aggressive and intimidating" protests, by "a hate-filled mob supporting the worst kind of extremism," but unlike Miller's group Student Rights, it did not use the word "violence."
The Board of Deputies vowed to raise the issue with the UK government.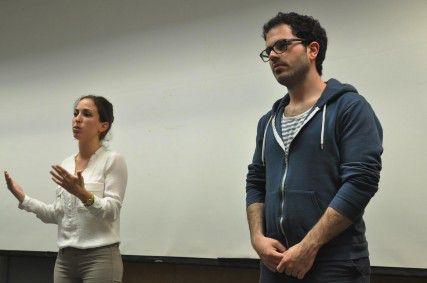 Hen Mazzig, 24, seems to work for Israel full-time amongst student Israeli soldiers. Here with ex-IDF 26-year-old Sharon Aviram at a talk hosted by Boston University Students for Israel, Monday evening in the College of Arts and Sciences. Photo by Nicole Boardman/Daialy Free Press staff
A statement issued by some of the protesters said:
Yesterday evening, 70 students gathered on UCL campus in nonviolent protest of an event organized by the UCLU Friends of Israel society to host former Israeli soldier Hen Mazzig. This was a peaceful protest. Everything was documented and there is no evidence of any violence.
Although UCL Friends of Palestine society did not organize the protest, it separately issued a statement pointing out that Mazzig worked for COGAT, the Israeli army body that controls the lives of millions of Palestinians under military occupation in the West Bank and Gaza Strip.
COGAT is responsible for "grave violations of international law" including coordinating "demolition of Palestinian homes, forced displacement [and] restrictions of movement," Friends of Palestine said, adding that
it is reasonable for students to protest an event at which these crimes are whitewashed and defended.

We support the protest which took place for these reasons. We also believe that all groups reserve the right to free expression as long as they abide by the UCL code of practice on freedom of speech and remain within the law. UCL security and police, confirmed that the protest ended safely, and there are hours of footage live from the protest suggesting that it was peaceful.
This article has been updated with new information since initial publication.
---
NOTES AND LINKS
CAMERA (Committee for Accuracy in Middle East Reporting)

This American organisation, apparently funded by members and supporters, now has a network of branches all of which scan the media for any criticism of Israel and then press for retraction, apologies, right of reply if they find any.
UK MEDIA WATCH (formerly CiF Watch).

About Us

Welcome to UK Media Watch (formerly CiF Watch), dedicated to combatting antisemitism and promoting accurate reporting about Israel in the UK media.

While The Guardian has long been identified as one of the main purveyors of anti-Israel bias in the UK and abroad, our work has convinced us that other British news sites demonstrate similar patterns of misleading reporting about the region, and require consistent monitoring.

Combatting bias in the UK Media

Popular UK news sites like The Guardian are viewed by millions of people both in the UK and other English-speaking countries as well. So, their biased, misleading, and inaccurate reporting has the capacity to shape the views of news consumers across the globe, and distort their understanding of Israel and the region.

By consistently monitoring media outlets and communicating with editors about claims which violate the accuracy clause of the Editor's Code of Practice, we prompt dozens of substantive corrections annually at The Guardian, The Independent, The Daily Telegraph, The Economist, Times of London, and The Financial Times.

How do you determine if something is antisemitic?

We use the EUMC Working Definition of Antisemitism [the EUMC became the Fundamental Rights Agency which doesn't use this definition] to determine whether an article or editorial is antisemitic.

By labelling something antisemitic are you not shutting down debate on what is perhaps a legitimate subject of debate?

Absolutely not. We support vigorous and open debate about Jewish related issues, including issues of controversy. However we object to speech which is in accord with the EUMC Working Definition of Antisemitism.

Who is UK Media Watch?

Founded in 2009 (under our former name CiF Watch), we are an independently supported project of CAMERA – the Committee for Accuracy in Middle East Reporting in America –  run by our Managing Editor, Adam Levick, and Assistant Managing Editor Hadar Sela and a dedicated group of volunteers including Richard Millett who contributes on the ground reports from London.

How can we get in contact with you?

If you wish to contact us "offline", please email us at contactus@ukmediawatch.com. We welcome your comments and suggestions.

Are you on Facebook and Twitter?

Yes. We are active Twitter and Facebook users. Please follow us on Twitter and 'Like' our Facebook Page.
Student Rights full name Student Rights – Tackling Extremism on Campuses

This group has been at the forefront of making accusations of antisemitism amongst student bodies.

Its website says: A project of The Henry Jackson Society, Student Rights is a non-partisan group dedicated to supporting equality, democracy and freedom from extremism on university campuses.  We were set up in June 2009 as a reaction to increasing political extremism and the marginalisation of vulnerable students on campus.

Led by director Rupert Sutton, the organisation consists of staff, interns, student activists and supporters, as well as an Advisory Board.

Why We Exist

Dedicated to exposing and tackling all forms of extremism on UK university campuses, Student Rights focuses on ensuring open debate on this issue prevails in higher education.

It aims to protect the rights and freedoms of all students, believes in free and fair debate, and is passionate that students should not be marginalised for their views.

Staff monitor extremism and radicalisation occurring on UK university campuses – focusing on a range of different groups including, but not limited to, fascist or racist organisations, Islamist groups, and extreme political parties.

Student Rights has also been effective at exposing foreign funding streams into UK universities and has examined the issues raised by the acceptance of donations from totalitarian regimes.

It is committed to raising awareness, challenging extremist activity, and establishing open and fair debate on university campuses among the student body, university authorities, government, the media and wider public.

Who We Are

Rupert Sutton is the director of Student Rights and a fellow at the Henry Jackson Society, and joined the organisation in 2011. He is originally from Maidstone and holds a BA in War Studies from the University of Kent and an MA in Terrorism and Security from King's College London.

He previously worked at the International Centre for the Study of Radicalisation (ICSR) and has written for publications including Left Foot Forward, New Humanist and World Affairs, as well as presenting Student Rights' research at the British and European Parliaments.

He can be reached by email at rupert.sutton [at] studentrights.org.uk

Elliot Miller is the National Organiser for Student Rights. He studied a BA in History at University College London (UCL). While at UCL, he was the President of the Jewish Society and attended a number of interfaith events with students and local schools. He was a deputy for the Union of Jewish Students at the Board of Deputies for British Jews.

Prior to joining HJS, Elliot worked in the Conservative Party, standing for Council in 2014 in the Camden Local elections and campaigning for his local MP during the 2015 election in the marginal constituency of Hendon, North London.

He can be reached at elliot.miller [at] studentrights.org.uk

Advisory Board

Jim Fitzpatrick, Labour Member of Parliament for Poplar and Limehouse

Robert Halfon, Conservative Member of Parliament for Harlow

Rt. Hon Kim Howells, Labour Former Member of Parliament for Pontypridd, former Chairman of Intelligence and Security Committee

Lord Palmer of Childs Hill, Liberal Democrat Councillor

Dr. Alan Mendoza, Executive Director of the Henry Jackson Society

Alex Radzyner, Businessman and former visiting lecturer at the London School of Economics
The website of this group consists of rebuttals of every critical thing said about Israel, presumably to help pro-Israeli speakers on campus.