This posting has 4 items:
1) Joseph Dana: Israel and Turkey restore ties with energy as a motivator ;
2) Arabic News Digest: Israel needed to ease relations with Turkey ;
3) Ha'aretz: Israeli, Turkish officials to meet April 12 for talks over compensation to flotilla victims' families;
4) The Apology Erdogan Owes Israel, this article from David Horowitz's stable is typical of the angry attacks on Netanyahu for his apology to Erdogan;

A billboard with photos of Netanyahu and his Turkish counterpart Erdogan, celebrating Israel's apology, in Ankara, March 25, 2013. Photo by AP
Israel and Turkey restore ties with energy as a motivator
By Joseph Dana, The National
April 01, 2013
During President Barack Obama's final hour in Israel on March 22, he was able to broker an unlikely apology from Israeli Prime Minister Benjamin Netanyahu to his counterpart in Turkey, Recep Tayyip Erdogan.
Over the past several years, diplomatic relations soured between the two traditional allies over Israel's stubborn refusal to apologise for the deaths of eight Turkish activists and one Turkish-American aboard an aid convoy en route to the Gaza strip in 2010.
Analysts quickly pegged the apology to instability in Syria and even the Iranian nuclear crisis. But there is another possibility that could be fuelling this rapprochement: a potential stake in the lucrative export of Israeli natural gas.
After years of fruitless exploration in the eastern Mediterranean, in 2009 Israel discovered some of the largest offshore reserves of natural gas in the last decade. The exact size of the gasfields are unknown but they are rumoured to contain upwards of 150 years' worth of production.
According to Eytan Sheshinski, an economist at the Hebrew University and the head of an Israeli parliamentary fact-finding commission on the gas, Israel will have a sovereign wealth fund worth roughly $80 billion (Dh293.6 billion) by the year 2030. That amount corresponds only to the revenue from a super-profits tax levied on the sought-after resource.
Israel's Central Bank forecasts the natural gas will account for nearly a third of Israel's economic growth this year. That could soften the impact of Israel's growing international isolation.
Natural gas from one deepwater field started flowing on Saturday for internal consumption, prompting Israeli Energy Minister Sivan Shalom to declare Israel's economic independence for the first time in history.
But the real issue is how to export the gas to international markets, especially in Europe. Israel doesn't have many options: it could work out a deal with Cyprus and Greece for a pipeline; invest in expensive liquefaction units; or build a pipeline to Turkey, which, given its ideal location between Europe, the Middle East and Central Asia, increasingly views itself as an energy hub.
Due to the financial instability in Greece and its recent spread to Cyprus, the logical option for Israel is to cut a deal with Turkey.
Turkey also stands to benefit enormously from such a partnership. Amid an infrastructure boom, Turkish projects – including plans for a new $8 billion airport in Istanbul and a possible third bridge across the Bosporus – will demand a steady flow of cash.
With few European countries ready or able to invest, Turkey had looked towards the Gulf states for capital. But such investment would require share holding schemes that Turkish businesses aren't excited about. A pipeline supplying Europe with Israeli natural gas would make a natural solution for Turkey's unique interests.
Alon Liel, a former senior official at the Israeli embassy in Turkey, recently told me that the structures for an extensive gas pipeline deal between Turkey and Israel have been in place for some time. The only sticking point was the toxic political squabble seeping into the business climate between the two nations. His recommendation was simple: build a wall between politics and economics to facilitate the export of natural gas quickly.
Mr Netanyahu's surprise apology to Turkey appears to be guided by this recommendation more than a political calculation. The apology, for instance, came by private phone call. Furthermore, Turkey's demand for Israel to lift its blockade of Gaza doesn't appear remotely possible. Yet, the Israeli natural gas could yet change political realities.
This new factor in regional politics couldn't have come at a better time for Israel. Increasingly harsh rhetoric from the European Union concerning Israeli intransigence on the Palestinian issue and continued Israeli settlement construction could become meaningless given the likely deepening economic alliances.
It's no wonder that Israelis just elected one of the most right-wing governments in their history. The new government will have more Israeli settlers in positions of real power than any other before it. Israel is poised to speed up settlement activity backed by a flood of natural gas profits. Increasingly loud calls for a civil society boycott of Israel will come up against the energy interests of two of its main targets – Europe and especially Turkey.
In recent protests Israelis have demonstrated their agitation with the concentration of wealth in the hands of elites. Gas profits will certainly exacerbate these rifts.
With Mr Netanyahu's American-style neoliberal economic policies, the question remains: Will Israel seize on its natural gas profits and use the Norwegian model to expand a social safety net for its citizens? Or more troubling for Palestinians and the region, will Israel become drunk on its new-found regional economic power?
Mr Obama told an audience of Israeli youth in Jerusalem during his visit that "no wall is high enough" to guarantee Israel's long term security. When natural gas begins flowing, Israel could be in a financial position to test the president's thesis.
Joseph Dana is a journalist based in Ramallah. On Twitter: @ibnezra
---

Israel needed to ease relations with Turkey
Arabic News Digest/The National
March 31, 2013
An Israeli delegation will be in Ankara this week to discuss compensation for the Turkish victims and families of victims of the 2010 Israeli assault on the Mavi Marmara, a vessel loaded with food supplies and other commodities that was on its way to the Gaza Strip as part of a humanitarian flotilla aiming to break the Israeli blockade on more than one million Gazans.
The visit comes after the Israeli prime minister, Benjamin Netanyahu, apologised to his Turkish counterpart, Recep Tayyip Erdogan, on the telephone, prompting a thaw in bilateral relations after a three-year freeze.
Nine Turks were killed and many others were injured in the raid, in territorial waters.

A statue of Kemal Ataturk, 'father' of post-Ottoman Turkey, erected in Beersheba, Israel, 2008
Commenting on this development yesterday, the pan-Arab newspaper Al Quds Al Arabi argued that regional turmoil, compounded by Israel's isolation in the Middle East, has forced Israel to reach out to its former ally by making such an "uncharacteristic" admission of guilt.
"Israelis want to normalise relations with Turkey as soon as possible and make sure that previous communications channels are fully reopened, which is the real reason why they are sending a this delegation to Ankara," the newspaper said. "Discussing compensation packages is, in a way, just the pretext."
Mr Erdogan accepted Israel's "unprecedented" apology in the name of the Turkish people, but he maintained a previous demand that Israel lift the blockade on the Gaza Strip, the paper noted. "It is still unknown whether Israel's right-wing government will accept this condition."
Despite repeated denials from the Turkish government, this rapprochement has evidently been "dictated by the serious developments on the Syrian front" and by "the Israeli leadership's enormous anxiety" as jihadist groups consolidate their control in Syrian territories now beyond the reach of the government.
The United States has also played a key role in making this detente possible, Al Quds Al Arabi said.
"The US administration has effectively brokered this rapprochement, through intensive talks with the two parties led by John Kerry, the US secretary of state. The mission was then completed by President Barack Obama, who – [on his visit to Israel this month] – put pressure on Mr Netanyahu to make the call.
"The US administration wants to see Turkey and Israel coordinate on the security, and possibly military, issues resulting from the Syrian crisis and Iran's nuclear programme", the paper said.
It is still unclear whether Turkey is interested in playing this game, the newspaper noted. "What is certain, though, is that the Turkish government is treading carefully … with its officials now reiterating that 'reconciliation' with Israel has nothing to do with the Syrian and Iranian issues," the paper said in conclusion.
---

Israeli, Turkish officials to meet April 12 for talks over compensation to flotilla victims' families
Turkish prosecutors tell AFP that dropping charges against Israeli military officials for alleged role in deadly raid on Gaza-bound vessel is 'out of the question.'
By Ha'aretz
March.30, 2013 
Israeli and Turkish officials are set to meet on April 12 to negotiate compensation for the deadly 2010 flotilla raid, for which Israel apologized last week, AFP reported Friday, citing Turkish Prime Minister Recep Tayyip Erdogan.
"After the apology, we have the compensation [issue] ahead of us. A delegation [from Israel] will travel to Turkey on April 12 for talks on this," Erdogan said in an interview with the CNN-Turk television.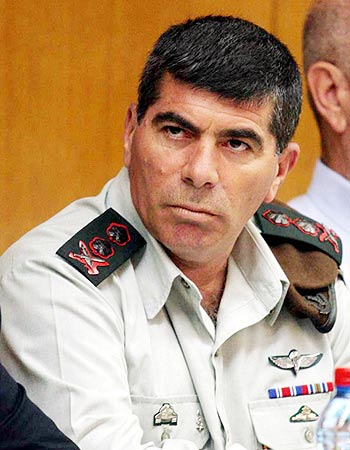 Clockwise from top: Gabi Ashkenazi , former military chief of staff, (photo by Gil Yohanan), military intelligence chief Amos Yadlin and Vice-Admiral Eliezer Marom, commander of the navy during the attack on the Mavi Marmara. They, plus former air force intelligence chief Avishai Levy, have been on trial in absentia in Istanbul for the lethal attack on the Mavi Marmara.
Deputy Prime Minister Bulent Arinc had initially said the talks over payment to the victims' families would start next week, in remarks carried by the private NTV broadcaster.
Arinc declined to say how much compensation would be paid out by Israel, adding the exact amount would be discussed with the lawyers of victims' families.
Last Friday, Prime Minister Benjamin Netanyahu apologized to Turkey, ending a near three-year diplomatic rift. The breakthrough was brokered by U.S. President Barack Obama during his visit to Israel.
Erdogan accepted the apology "in the name of the Turkish people" but said the country's future relationship with Israel would depend on Israel.
Israel now expects Turkey to drop the legal proceedings it has been pursuing in the case, the centerpiece of which is the high-profile trial in absentia of four Israeli ex-military chiefs by an Istanbul court that opened in November.
Turkish prosecutors are seeking life sentences for the four over the raid, in which nine Turkish activists were killed aboard the Mavi Marmara vessel. The ship was part of a flotilla making its way from Turkey to the Gaza Strip with the purpose of breaking the maritime blockade Israel had placed on the coastal territory.
"It's out of the question for the government to cancel the trial at the Istanbul court," said Ramazan Ariturk, one of the lawyers representing the victims, told AFP.
"There is no return from the case which has to be concluded under the existing Turkish laws," he said.
---

The Apology Erdogan Owes Israel
By Joseph Puder, FrontPageMag
April 1, 2013
An unscientific survey of opinion among friends in Israel by this writer, on the subject of Israel's Prime Minister Benjamin Netanyahu's apology to Turkey, reveals almost unanimity in rejecting the apology. Netanyahu's call to the Islamist Prime Minister of Turkey, Recep Tayyip Erdogan, was engineered by President Obama just before leaving Israel last Friday. The people surveyed expressed the notion that Erdogan should apologize to Israel.
Netanyahu's apology was related to the events of May 30, 2010, when a Turkish flotilla breached Israel's naval blockade of Hamas' ruled Gaza Strip. Passengers of one of the ships, the Mavi Marmara, violently attacked Israeli commandos with axes, knife, and guns. Acting in self-defense, the IDF commandos shot and killed nine Turkish nationals.
The Meir Amit, Intelligence, Terrorism Information Center (ITIC) asserted that Turkish PM Erdogan actively supported the flotilla's sail to Gaza. According to the ITIC, Erdogan agreed to its departure while knowing that Israel would prevent it from reaching the Hamas controlled Gaza. The ITIC, according to the Jerusalem Post, was about to publish "an extensive report that is being written on the Turkish government's ties with the IHH." (IHH-İnsan Hak ve Hürriyetleri ve İnsani Yardım Vakfı). Translated into English it reads The Foundation for Human Rights, Freedoms, and Humanitarian Relief. IHH is an Islamist Turkish NGO whose members are predominantly Turkish Muslims, who organized the flotilla to the Gaza Strip.
ITIC uncovered a protocol from a meeting IHH held two weeks before the Mavi Marmara sailed, which shows the close cooperation between IHH and the Erdogan-led Turkish government. Reuven Erlich, ITIC head, said that "The Turkish government was behind this unprecedented provocation against the State of Israel. The Turkish government went through several levels of involvement from behind the scenes to the front. You cannot disconnect the two."
A UN Panel of Inquiry dealing with the Mavi Marmara incident of May 30, 2010, headed by Geoffrey Palmer, the former New Zealand Prime Minister concluded (September 2011) that contrary to Turkey's position, Israel's naval blockade was legal. The UN Panel furthermore agreed that attempting to breach Israel's blockade of Gaza with a large number of passengers on board was a dangerous and reckless act.
Israel's Foreign Minister Avigdor Lieberman suggested that Netanyahu's apology was a "serious mistake." He said that the apology makes Israel look weak in a region where looking weak is an invitation for violence. "Such an apology," Lieberman added, "Harms the motivation of the IDF soldiers and their willingness to go out on missions in the future, and bolsters the radical elements in the region." Lieberman also asserted that worse yet, the apology harms Israel's uncompromising struggle on behalf of the righteousness of its cause and the high moral standards of its soldiers.
According to Lieberman, pictures taken on board of the Mavi Marmara prove that the IDF soldiers acted in self-defense in face of the violence carried out by the IHH activists. Lieberman pointed out that both Germany and the Netherlands consider IHH a terrorist organization.
Lieberman blamed the Erdogan government for the deteriorating relations between Turkey and Israel. He pointed out that Erdogan used every opportunity to vilify Israel, beginning with his confrontation with Israel's President Shimon Peres in 2009, at the Economic Summit in Davos, Switzerland. Erdogan's recent statement that "Zionism is a racist movement and a "crime against humanity," speaks volumes about his attitude towards Israel. Lieberman opined that Erdogan's refusal to apologize for that statement while Israel apologized to Turkey is denigrating Israel's honor and hurts Israel's standing in the region and in the world.
Interviewed by Israel's Hebrew daily Maariv, a number of Israeli naval commandos who participated in the raid on the Mavi Marmara expressed concern over Netanyahu's apology. One of the commando members identified as "N" declared, "I don't feel we did anything wrong. We did the right thing. I am not ashamed of it, and we have nothing to apologize for." Another commando told Yediot Ahronot, (largest Hebrew daily) "We fought aboard the Mavi Marmara in terrible condition, and with this reconciliation agreement it seems that we've been given a cold shoulder."
Naftali Bennett, Israel's new Minister of Economy and Trade, responding in his official Facebook page to Netanyahu's apology, said on Wednesday that "It seems that since Netanyahu's apology, Erdogan is doing everything to make Israel regret it. He is running a personal and vitriolic campaign at the expense of Israeli-Turkish relations."
Netanyahu's apology was supported by the IDF Chief-of-Staff, Lt. General Benny Gantz, who suggested that it was good that Netanyahu took action to promote ties with Turkey since it will have a positive effect on our security and strategic interests. PM Erdogan declared in a public address on Sunday (March 24, 2013) that Turkey's ties with Israel will only normalize if Israel follows through on its promises both to ease the Gaza Blockade, and compensate Turkey for the death of nine Turkish citizens. Erdogan assured the public in his address that there will be no quick restoration of ties.
On Tuesday (March 26, 2013), Erdogan revealed that his government rejected a previous Israeli offer of reconciliation because Israel failed to meet Turkey's three demands. Foremost among these demands was for Israel to use the word "apologize," rather than an expression of sorrow for the loss of life.
It is rather ironic that Erdogan demanded an apology from Israel while failing to apologize for his anti-Semitic remarks about Zionism. To mollify U.S. criticism of his hateful remarks, Erdogan declared, "Let no one misunderstand what I said. Everyone knows that my criticism of Israel focuses on some critical issues. It's directed especially toward Israeli policies on Gaza." In his interview with Politiken, a Danish newspaper, Erdogan added, "As long as Israel denies Palestinians the right to statehood, our criticisms will continue. On the other hand, we have recognized Israel's existence within 1967 borders based on a two-state solution."
Following the 2008 Turkish intellectuals petition apologizing for the Armenian Genocide committed by Turkey, PM Erdogan felt that Turkey had nothing to apologize for. He proclaimed, "I neither accept nor support this campaign. We did not commit a crime, therefore we do not need to apologize." He added, "It will not have any benefit other than stirring up trouble, disturbing our peace and undoing the steps which have been taken."
It is doubtful that Turkey, under the Islamist Erdogan, will consider ending its hostility towards Israel. Obama might have considered the value of Israeli-Turkish cooperation on Syria, when he pressed Netanyahu to call Erdogan. But, the reality is that Erdogan's megalomaniacal ambitions to restore to Turkey the glory of the Ottoman Empire and to lead the Sunni-Muslim world precludes a good relationship with Israel.
Israelis recognize the danger of opening "Pandora's box." In fact, an Arab diplomat stated last Sunday that some Arab states are considering the possibility of demanding that Israel apologize for killings in the Palestinian Territories and in Lebanon, just as Israel apologized to Turkey over the Mavi Marmara. Most of all, however, Israelis believe that Erdogan needed to apologize to Netanyahu for his provocative actions against Israel, and his anti-Semitism.
FrontPage magazine (motto: Inside every liberal is a totalitarian trying to get out) is published and edited by David Horowitz from his Freedom Center Foundation.
Some useful links
Turkey caught in conflicting alliances
A legal intifada against Israeli plunder of resources
Israel blocks development of Gaza's own gas field
NY Times fails to publish professors' letter of protest at Horowitz advert