Women and children collect fresh water in Gaza. Photo from WHO, June 2017
Gaza Strip in peril as Hamas marks decade in power
By Adel Zaanoun/ AFP
June 14, 207
Hamas this week marks 10 years since taking power in Gaza with the Palestinian enclave at risk of conflict and facing electricity blackouts, poverty and Israel's blockade, analysts and officials say.
The situation is likely to be further complicated by the Saudi-led diplomatic row with Qatar, which has been a major donor to the Gaza Strip but may be forced to reduce its support due to the dispute.
Divisions remain deep between the Islamist movement Hamas and Palestinian president Mahmud Abbas's Fatah, based in the occupied West Bank, with reconciliation between the two rivals seemingly a long way off.
"It's the Gazans who pay the price," said rights activist Hamdi Shaqura, with nearly half of the population unemployed and more than three-quarters dependent on humanitarian aid.
Hamas has run Gaza since June 15, 2007, having seized it in a near civil war from Fatah following a dispute over parliamentary elections won by the Islamist movement.
Hamas and other Palestinian militant groups in Gaza have since fought three wars with Israel.
Israel's blockade of the strip, now more than a decade old, has heavily damaged Gaza's economy, while the enclave's crossing with Egypt has remained largely closed in recent years as well.
Egypt has also destroyed most of the tunnels Gazans used for smuggling to and from the Sinai peninsula.
Adding to those woes, Abbas's Palestinian Authority has taken steps many analysts say are designed to pressure Hamas, including salary cuts for PA employees in Gaza and slashed electricity payments, further worsening an already severe power shortage.
'Big loser is us'

A Palestinian family eats dinner by candlelight at their makeshift home in the Rafah refugee camp, in the southern Gaza Strip, during a power outage on June 11, 2017. Photo by AFP
Those moves have come as Gazans observe the Muslim holy month of Ramadan and as the summer heat sets in.
"People can no longer buy or sell," said Nahed Abu Salem, who runs a candy shop in the Jabalia refugee camp, with cuts to civil servants' salaries taking a hit on the economy.
Ayed Hassouna, a 34-year-old coffee seller, says he spends 300 shekels ($85, 75 euros) every day on a generator to operate a bean-grinding machine, making his business unprofitable.
"In any case, we can't produce anything without electricity," he said.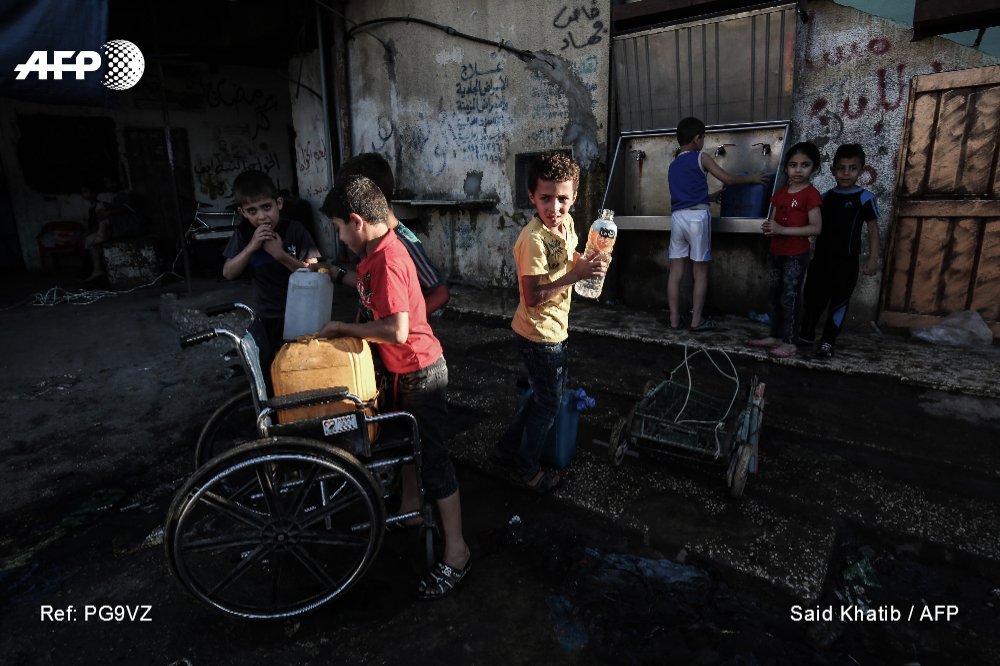 Palestinian boys fill jerrycans with drinking water from public taps at the Rafah refugee camp, 12 June 2017. Photo by Said Khatib, AFP
Many analysts say the situation could further worsen in the enclave of some two million people squeezed between Egypt, Israel and the Mediterranean Sea.
In the past, Hamas backer Qatar has regularly stepped in with financial assistance.
But Qatar now faces a diplomatic crisis, with Saudi Arabia, the United Arab Emirates, Bahrain and others cutting ties after accusing it of supporting extremist groups.
"The big loser is us," said Ahmed Yousef, a senior Hamas member who has been a pragmatic voice within the Islamist movement labelled a terrorist organisation by Israel, the United States and the European Union.
"It is us who are going to pay the price."
Hamas has sought to soften its image in recent months with a new policy document somewhat easing its stance on Israel while still not recognising the country.
But it has also faced increasing isolation.
Relations with Egypt deteriorated after the 2013 ouster of Islamist president Mohamed Morsi by Egypt's then army chief and now President Abdel Fattah al-Sisi.
It also lost Syria's support during the Arab Spring uprisings.
'It has to decide'
Gazans are left to endure the fallout.
They have been receiving three to four hours of electricity per day, but Abbas's reported decision to slash payments has led Israel to reduce supplies.
When that takes effect, the strip will be left with around two or three hours per day.
Concerns have been raised for hospitals and infrastructure such as water treatment facilities — already at risk.
The International Committee of the Red Cross has warned of the possibility of a "systemic collapse".
For Yousef, it amounts to a situation where, for many young people, "it's better to die than live".
Young people came together for protests against electricity shortages in January, including one in which thousands in northern Gaza walked to the local headquarters of the electricity company.
Hamas security forces fired warning shots and made arrests as they dispersed the protesters.
Whether the tensions will lead to another escalation between Hamas and Israel is a question constantly being posed.


Young Palestinian woman cleans the kitchen of her house during power cut in the southern Gaza Strip June 11, 2017. Photo by Ibraheem Abu Mustafa/Reuters
While UN officials have called for Israel to lift its blockade, citing deteriorating conditions, Israel says it is needed to stop Hamas from obtaining weapons or materials used to make them.
"It cannot be that Hamas collects taxes from the residents of Gaza, and these taxes go to tunnels, to rockets, not to the development of Gaza, to the development of the electricity sector, to the water sector, and now it has to decide what it wants," Israeli Defence Minister Avigdor Lieberman said on Monday.
Hamas says it must defend itself in the face of Israel's overwhelming power and that the blockade stops it from importing needed material while stifling its economy.
Mukhaimer Abu Saada, a political scientist in Gaza, said he does not see the blockade being lifted until Hamas gives up power in the strip.
For him, Hamas agreeing to do so could "avoid more catastrophes".
---
WHO steps up emergency response in the Gaza Strip
WHO press release
June 2017
The World Health Organization (WHO) has released over US$ 360 000 from its internal emergency funds to scale up its response and prevent the further deterioration and collapse of the health sector in Gaza. Following the shut-down of the Gaza Power Plant, Gaza's 14 public hospitals and 16 health facilities face partial or complete closure of essential services. The situation is immediately life threatening for all those in need for hospital services out of the 2 million populations. Coupled with this, the shortages of essential and often life-saving medicines and disposables are deteriorating the health status of the population.
According to the Ministry of Health, a number of coping mechanisms have already been adopted to conserve electricity, such as limiting sterilization services, postposing elective surgery and prematurely discharging patients. But without fuel, 40 surgical operation theatres, 11 obstetric theatres, 5 haemodialysis centres and emergency departments will be forced to close critical services.
The situation will be immediately life-threatening for 113 new-borns in neonatal intensive care units, 100 patients in intensive care and 658 patients requiring haemodialysis. Refrigeration for blood and vaccine storage will also be at risk.

A baby who will die if the power is cut. Photo by Mersiha Gadzo/Al Jazeera
"At al-Shifa Hospital 50 babies lie crowded in 30 beds in the neonatal intensive care unit. Outside, the yard resembles a factory as massive generators roar and hum, turning fuel into electricity, supplying the babies with oxygen through ventilators.But the fuel to run the generators is expected to run out soon." Al Jazeera.
However, a chronic lack of funding for the oPt is impeding action by WHO and health partners to effectively respond to increasing humanitarian needs.
These new funds, provided by WHO's Contingency Fund for Emergencies will allow WHO to rapidly scale-up priority response activity to effectively monitor and respond to the health needs by:
• Supplying fuel to critical services in hospitals, preventing the closure of surgical operation theatres, intensive care units, haemodialysis units and neonatal intensive care units
• Increasing the supply of life saving drugs to reduce avoidable mortality
• Training field workers on the monitoring of key health indicators for hospitals and primary healthcare clinics across all five governorates in Gaza
• Enhancing the emergency preparedness and contingency plans for the Health Cluster and training over 50 health partners on emergency response
Deterioration in the health sector in Gaza means increased reliance on medical referrals out of Gaza; the application process for permits from Israel can be stressful and often unpredictable
More than 65, 000 people are still internally displaced in Gaza since the war in 2014. Access to clean water is becoming increasingly sporadic and the inability to treat raw sewage due to the electricity shortages, may lead to a widespread public health hazard.
The situation requires a sustained response, without which the health sector is put under strain to effectively prevent, treat and respond to the health needs of the population. The lives of over 870 patients in critical care units are at risk and almost 4000 patients attending emergency rooms daily would be affected. Deterioration in the health sector in Gaza also means an increased reliance on medical referrals out of Gaza, for which the application process for patients for security permits from Israel can be stressful and often unpredictable.
In response to the current situation, WHO has issued a donor appeal for US$ 4.5 million.
You can access WHO's ERF appeal from here
For further information contact:
Sara Halimah
Health Cluster, WHO
halimahs@who.int