A selection of the reports: Financial Times, Guardian and Daily Telegraph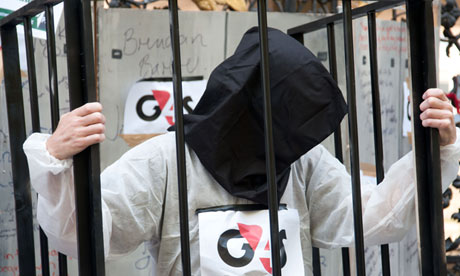 Protesters demonstrate in front of G4S's AGM. Guardian photo by Stephanie Bosset/ Demotix/Corbis
G4S shareholders lambast the board
By Gill Plimmer, Financial Times
June 6, 2013
Angry G4S shareholders bombarded the security company's board with a barrage of accusations ranging from its involvement in Israeli prisons, to the death of asylum seeker Jimmy Mubenga, low pay for staff and its suitability to run rape crisis centres in the Midlands.
At the start of the first annual meeting since its high-profile Olympics contracts failure, a group of demonstrators were forcibly ejected after disrupting the chairman's opening speech with a loud siren and chanting A procession of speakers then fired numerous questions about the FTSE 100 company's involvement in Israeli prisons in the occupied territories.
Ashley Almanza, who was facing shareholders for the first time as chief executive, said that G4S firmly believed it had not breached international law [in the occupied territories]. He added that the company took "human rights and ethical behaviour extremely seriously'' and that the issue was "close to our hearts''. "There is no complacency," he said. "We are absolutely determined to ensure we follow up these questions."
A shareholder and Stop G4S member also questioned the group's suitability for services providing medical examinations and counselling for victims of rape and sexual assault in the West Midlands. Outside the AGM, shareholders walked past noisy protesters from War on Want and the Stop G4S campaign. The protests distracted attention from both the Olympics fiasco and the resignation of former chief executive Nick Buckles.
Mr Buckles walked away from the company last month with a £16m package. His decision to quit came after G4S reported that it expected a 0.6 per cent fall in margins this year as a result of the closing of some prisons in the Netherlands, a £6m write-off on contracts in Africa and price wars in its cash solutions business. Peter Reiss, a shareholder from Hertfordshire who attends the meeting every year, said this one was "livelier than usual".
"I get the impression they've taken the issues to heart. The trouble is they are being asked to make board decisions on the hoof," he said. Additional reporting by David Oakley
---
Israeli prison contracts take centre stage at G4S shareholder meeting
New chief executive Ashley Almanza faces criticism from shareholders over Israel involvement, but says security company is not breaking international law
By Jennifer Rankin, Guardian
June 06, 2013
The new boss of G4S, Ashley Almanza, faced a barrage of tough questions over the security company's business in Israel at his first meeting with shareholders on Thursday.
Almanza was appointed chief executive of the world's largest security company last month after Nick Buckles' shock resignation that followed a string of mishaps, including failing to supply enough staff for the London Olympics last year.
Almanza, who joined the company in April from BG Group, repeatedly insisted that G4S was not in breach of international law.
One shareholder claimed that "children as young as 12 are being held in solitary confinement at G4S prisons". He asked: "When will [the board] do the right thing and withdraw from providing services to the Israeli prison service."
John Hilary, a shareholder who is also executive director of campaigning charity War on Want, told the meeting he was "profoundly concerned with G4S's exposure in Palestine".
Almanza insisted G4S was not complacent. "We believe this contract has not breached international law and we will continue to keep these matters under review, " he said. "If we were making five times as much money in Israel, our judgement wouldn't be any different."
G4S employs 620,000 people in 125 countries, although fewer than 1% of its staff are in Israel. It recently announced that it was pulling out of providing a prison and barrier checkpoints in the West Bank from 2015, but will continue to run prisons inside Israel.
G4S chair John Connolly also sought to reassure shareholders the company had tightened risk procedures following the Olympics debacle that cost the company £88m.
The meeting was twice disrupted by flash protests over the death of Jimmy Mubenga, an Angolan national who died while he was being deported from the UK. Mubenga had been restrained by three G4S security guards.
Nikolaj Villumsen, a shareholder and Danish MP, said after the meeting he was concerned that G4S had not listened to criticism over its Israeli prison contracts. "In Denmark, it is a huge issue and in the city council of Copenhagen they are discussing whether to sever co-operation with G4S," he said.
---
G4S annual meeting stormed by protesters
Protestors stormed G4S's annual meeting on Thursday, as the firm that failed to provide enough security guards for the London Olympics was berated over its Israeli prison contracts and the death of an Angolan man.
By Alistair Osborne, Business Editor, Daily Telegraph
June 06, 2013
Within minutes of chairman John Connolly's opening address, around 10 campaigners sitting among the 50 shareholders reacted to a loud horn by rushing to the front of the room and unveiling a "Stop G4S" banner.
The protestors were swiftly ejected but set the tone for a meeting dominated by questions over three Israeli prison contracts in occupied Palestine and the death of Jimmy Mubenga in October 2010.
Mr Mubenga, 46, who was being deported to Angola, became ill on a British Airways plane preparing to leave Heathrow airport after being restrained by G4S officers. He subsequently died – though prosecutors last year said they would take no action against the three G4S staff involved.
Mr Connolly and new chief executive Ashley Almanza, who only took over from the ousted Nick Buckles last month, faced repeated question over G4S's record on human rights.
Nikolaj Villumsen, a Danish MP who had flown in expressly for the meeting at Salters' Hall in the City of London, drew attention to the group's corporate social responsibility report and asked how that squared with G4S's contracts in "Israeli prisons where people say people are tortured".
Mr Almanza said "the board, management and all employees take human rights and ethical behaviour very seriously", pointing to an independent study by a law professor at Copenhagen University, Hjalte Rasmussen. That found the company had not breached any aspect of "international humanitarian law".
But another shareholder discredited Mr Rasmussen's study, claiming "he didn't actually visit any Israeli jails" and that "children as young as 12 are being held and subjected to intimidation in G4S-equipped prisons. What proposals does G4S have to disassociate themselves from child torture?" he asked.
Mr Almanza replied that "nothing is set in stone" and argued that the Ramussen report was "credible and well-researched". He later added: "This company believes it has not breached international law and we will continue to keep the matter under review."
Other shareholders urged G4S to drop the "toxic contract", while another investor questioned the group's suitability to run "sexual assault referral centres".
It took a Mr Fitzgerald to return to the more familiar themes of the abortive £5.2bn acquisition of Danish cleaning firm ISS, the Olympics fiasco and last month's profits warning that finally did for Mr Buckles.
"I'd like to ask a question about general efficiency," he said, noting that Mr Buckles "should have known a lot more about what was going on" over the Olympics contract and that recent events had conspired to hit the shares.
"When will G4S start becoming a winner and not a constant loser," he asked.
Mr Almanza noted that the botched ISS deal had cost the company £55m and the Olympics £88m. "We must ensure that we do not incur charges, which could be avoided," he admitted.
But he added: "This is a very large company operating in 125 countries and we are winning in a lot of countries. The proof of that is we have 90pc retention" of contracts.
Speaking after the meeting, Mr Almanza said the controversial Israeli contracts had "de minimis" value in the context of the group's £7.3bn sales.
The meeting also saw 22pc of votes cast against the remuneration report.