Petition: Suspend the Israeli Football Association's FIFA membership click this headline to sign
Membership of the Israeli Football Association (IFA) should be suspended until Israel respects the human rights of Palestinians and observes international law, thus enabling Palestinian footballers to play and compete nationally and internationally.Click Petition headline to sign. Argyument forpetitin at foot.
Since 1967, Israel has maintained a brutal military occupation of Palestine, building illegal settlements and a separation wall on stolen land, despite condemnation by the UN and International Court of Justice. Within Israel, over fifty laws discriminate against its Palestinian citizens. When influential sports organizations say nothing in the face of an injustice of such magnitude they are complicit.
Commercial and cultural actions worldwide are increasingly demanding an end to Israel's repressive policies.
It is now time for sports initiatives to add their voice.
The Israeli occupation specifically impacts on Palestinian football by restricting movement of players within the West Bank, between the West Bank and Gaza, and preventing them from taking part in international competitions. Israel limits imports of vital sporting equipment. Players have been harassed, detained, imprisoned and killed.
There is blatant well-documented racism within Israeli football. Players of Palestinian origin suffer insults from the terraces: Beitar Jerusalem football club is arguably worse than any in Europe with chants of 'Death to Arabs' and arson attacks. Any efforts made by the IFA to stop this abuse have been ineffective.
In 2013, footballers like Eric Cantona, Frederic Kanouté and 50 other international players challenged UEFA's decision to hold the Men's U-21 tournament in Israel. Eminent human rights activists questioned how an organisation that clearly promotes anti-racism can place a major competition in an openly racist country. Yet UEFA still plans to hold the U-19 Women's final there in 2015 and may consider Israel as a venue for preliminary matches in Euro 2020.
FIFA has recognized some Israeli abuses and created a Task Force aimed at facilitating the movement of players and equipment. But its success depends on the goodwill of the Israeli Defence Forces.
When FIFA formally suspended the membership of the South African FA between 1964 and 1992, its action contributed to international pressure to end apartheid.
Therefore, the petition asks FIFA to follow this precedent and suspend the Israeli FA. The Israeli government must at some point take notice.
---
RCIR / Kanouté, Desmond Tutu and 24 others call for Euro 2020 action
From Keir Radnedge.com
June 10, 2014
Qatar isn't the only problem in football today. UEFA has started ranking the 19 bidders for the 13 places to host the EURO 2020 new-format competition. Frederic Kanouté and leaders of the Russell Tribunal on Palestine and the Palestinian Solidarity Campaign have said that no games should be played in Israel.
· On Friday 16 May Frederic Kanouté, talking on the BBC World Football Programme, came out against holding any EURO 2020 games in Israel because of its racist laws and actions:
"… it's not in my view a good decision to… legitimise … by organising big events there [Israel] and in a way giving credit to what's happening" He adds: "Before being footballers we are citizens first…….we can't put our principles away".
In Conversation with Freddie Kanouté
· On 30th April the Independent published the following Open Letter to UEFA from Patrons of the Russell Tribunal on Palestine and the Palestinian Solidarity Campaign:
During the next five months UEFA will select 13 host cities for its Euro 2020 football competition. We appeal to UEFA to exclude Jerusalem from this list of hosts.

Israel flouts the UN position that Jerusalem should be an open city for all, making it impossible for most Palestinians to visit the holy sites there, or to visit relatives. The Israeli state supports the confiscation of Palestinian land and homes in East Jerusalem for the use of illegal settlers.

In February this year, Amnesty International published a report entitled "Trigger Happy" which documents the treatment of Palestinians by the Israeli Occupation Forces. The report describes this treatment as "unnecessary, arbitrary and brutal." Just one example of this was seen earlier this year when Israeli soldiers shot repeatedly at the legs and feet of two talented teenage Palestinian footballers at a checkpoint, maiming them for life.

Israel continues to perpetrate its devastating military occupation of the Palestinian Territories, flouts international law, totally disregards UN resolutions and imprisons hundreds of Palestinians, including children, without charge. It would be a mockery of FIFA's Mission and Statutes if Jerusalem were awarded the status of hosting games in this tournament.

Leaders of international football must respond to the pleas from suffering Palestinians to sanction Israel in the community of nations.

Signed

John Austin
Bruce Kent
Prof. Steven Rose
Victoria Brittain
Paul Laverty
Prof. Hilary Rose
Rodney Bickerstaffe
Mike Leigh
Salman Abu Sitta
Breyten Breytenbach
Ken Loach
Ahdaf Souief
Caryl Churchill
Miriam Margolyes
Baroness Jenny Tonge
William Dalrymple
Mairead Maguire
Archbishop Desmond Tutu
Rev. Garth Hewitt
Kika Markham
Alice Walker
Dr. Ghada Karmi
Prof. Nur Masalha
Roger Waters
Karma Nabulsi
· In the same programme as Frederic Kanouté the former Israeli footballer Mordechai Speigler opined that Israel should be seen as a "normal sports country". Normal if Apartheid is normal, that is. The attachment entitled "Palestine, Israel and the Beautiful Game" indicates the abnormalities of sport in Israel and the Occupied Territories.
· The Red Card Israeli Racism campaign will be highlighting to UEFA and its members the arguments against hosting any games in Jerusalem – political, social and moral.
Further information can be obtained from the website, by emailing, or by phone to Geoff Lee on 07785 311 058 and Naomi Wimborne-Idrissi on 07759 024 659
---
Houston stadium security detains soccer fan for waving Palestinian flag as 'racial slur'
By Annie Robbins, Mondoweiss
June 06, 2014

Last Sunday, Palestinian-American Buthayna Hammad attended a soccer match at BBVA Compass Stadium, Houston's downtown 22,000-seat soccer-specific stadium, home to the Houston Dynamo. About 15 minutes after the game started Hammad was approached by the head of Compass Stadium's security Nathan Buchanan. Soon she encountered a total of eight security officials, four from stadium security and the other four, Houston police officers.
Why? because she was waving a Palestinian flag. Stadium security informed her that her Palestinian flag implied a "racial slur" and therefore was in violation of BBVA Compass Stadium rules.
Hammad, a native of Houston, is an avid soccer fan. She attended the match with her "alt family from Honduras" including her Honduran boyfriend. The match was between Israel and Honduras.
The implications of this story are mind-numbing, and we'll discuss that later. First, in Buthayna Hammad's own words, cited in Free Press Houston (FPR): "Mere Existence of Palestine Deemed a 'Threatening Racial Slur' by the Houston Dynamo Organization."

Buthayna Hammad

I wore a Honduras jersey and was eager to cheer on this team, dressed to represent Honduras. To represent my own heritage as a Palestinian-American, I also brought my Palestinian flag. I made sure my flag was allowed (based on the size, etc.) and I was all ready to go. For the first 15 minutes of the match I stood up and cheered and stomped my feet with the rest of the crowd chanting "HON-DU-RAS" and waving my Palestinian flag, my colors vibrant and loud against a sea of blue and white…and apparently also racist.

I was told I had to sit down, which I did, only to be told to get back up again and follow the manager of security away from the stadium seats and into the concession area. I followed, and there waiting for me were three more BBVA security personnel and four police officers. When I asked them what was wrong, the manager of security, Nathan Buchanan, told me I am not allowed to carry this flag because it implies a "racial slur" and it is in BBVA Compass Stadium violation.

I asked him to show me evidence of his accusations and asked him how my flag, a part of my identity as a Palestinian-American, implies a racial slur. He could not answer whether he did not know or could not articulate why he was ordered to remove my flag and me from my seat. I was getting very emotional at this point, I had my flag wrapped around my neck like a scarf, and he said he would take my flag and "check it in" for me, that I was not permitted to return to my seat until I surrendered my flag.
It's almost too strange to believe. In a 22,000 seat stadium, security officials concerned themselves over Hammad waving her flag.
Another publication, Houston Press, (Security Didn't Want Her Waving Palestinian Flag During Israel Game in Houston) attempted to contact the security manager Nathan Buchanan, but he's not making himself available. A spokeswoman for BBVA Compass Stadium, Gina Rotola, appears to be walking back the inflammatory "racist" allegation. She told Houston Press that "A national flag from any country cannot be a racial slur, so if any statement of that nature were used, it would have been made incorrectly by an individual trying to de-escalate a situation."
Which begs the question, de-escalate what situation?
Gina Rotola runs a PR boutique agency in Houston, in part specializing in media management, branding, and crisis communication. So what kind of excuse rationale did she come up with?
[T]he decision to not allow the Palestinian flag to be displayed during the game was based on the sole intention of maintaining the safety of those in attendance. The flag bearer was instigating the crowd, and we felt it was important to diffuse a potentially volatile situation as emotions began to escalate. We instructed the patron that she could retain her flag but should refrain from waving it in front of fans from the other teams.
That makes no sense. Fans frequently wave flags at sports games and Hammad said she made sure her Palestinian flag complied with stadium regulations. What does "waving it in front of fans from the other teams" mean in a stadium this size?
FPR's Harbeer Sandhu asked Rotolo how Hammad was instigating the crowd. Her response? Astoundingly, Rotolo said that Hamad was waving her flag "in front of Israeli supporters" causing "emotions to escalate."
I have never been to a match at a sports stadium where emotions didn't escalate, ever. Who contacted security that day? Who complained about the flag?
Sandhu connects the dots any logical person might consider:
It is now considered "racist" for an American of Palestinian descent to wave her flag at fans of the Israeli soccer team. The First Amendment can be suspended in a stadium built with taxpayer money because some Israeli soccer fans might be moved to violence by the mere sight of the Palestinian flag. The good people of the Houston Dynamo Organization think that it is "racist" to merely remind Israeli soccer fans that Palestine exists.
I am trying to imagine what the complaint sounded like. "Excuse me, Mr. Buchanan, that flag over there is really pissing me off–causing emotional distress–and I might have to hurt the lady holding it so you better get four cops to impound that flag or else I'm going to beat her up and it will be all her fault."
What or who could have overridden Nathan Buchanan's common sense in the stadium that day and caused eight security personnel to assemble for the purpose of confiscating a national flag from an enthusiastic sports fan? And more importantly, is it enough for BBVA Compass Stadium (parent company the Anschutz Entertainment Group) to issue a statement from a crisis management professional sans any formal apology to Buthayna Hammad?
In her own words:
The Israeli government has banned Palestinians from hanging their flags outside their home, and arrests the occupants of the home for having it on display on their own land. Every day, in Occupied Palestine, Palestinians are denied entry to neighboring villages, to schools or their family's home and in many cases to hospitals thanks to Israel's apartheid state. Yes "apartheid," that word implies racism, yet my flag implies a racial slur? I asked him several times if I could go back to my seat and he would spread his arms out to create a blockade with his body and his arms so I could not pass.

"This is private property," he said.

I told him I paid for a ticket to enter. I could not keep my eyes from gathering tears, but forced myself from letting them fall.

"What country are we in again?" I asked. "Just because Israel is playing a match, does that mean you should treat me this way? Because of my Palestinian identity? I am a U.S. Citizen!"
Buthayna Hammad was eventually allowed to return to her seat after missing the first half of the game. A compromise was offered whereby Hammad was allowed to keep her flag as long as she didn't wave it.
Echoing Hammad, What country are we in again? And where's the national press on this story? Is it fair to ask, had this been an Israeli flag would the NYT be covering it? Everyone would be on it. The ADL, Houston Chronicle, and where is ESPN?
---
Reports from Middle East Online, AP and AFP.

I see no politics:FIFA President Sepp Blatter (C-L) and the head of the Palestinian Federation of Football Jibril Rajoub (C-R) watch a training session at a football academy named after Blatter, in Al-Bireh, near the West Bank city of Ramallah, on May 27, 2014. Photo by AFP.

FIFA braces for Israeli-Palestinian showdown
Scene is set at next month's World Cup in Brazil for showdown between Israel and Palestine that will be off pitch.

By James M. Dorsey, Middle East Online
May 31, 2014
The scene is set at next month's World Cup in Brazil for showdown between Israel and Palestine that will be off the pitch given that neither qualified for one of the world's most important sporting events.
The looming battle in the congress in Sao Paolo of world soccer body FIFA reflects Palestinian efforts to isolate Israel internationally and undermine its legitimacy in the wake of the breakdown of stillborn peace negotiations as well as Israeli concern that growing opposition to its policy toward the Palestinians constitutes potentially as great a threat as Iran becoming a nuclear power.
The campaign by the Palestine Authority headed by President Mahmoud Abbas to gain recognition as a state by joining a multitude of United Nations organizations and pushing for condemnation of Israel if not suspension of Israeli membership includes an effort by the Palestine Football Federation (PFF) to sanction Israel for obstructing Palestinian soccer.
The effort to persuade FIFA to expel Israel comes as plans to form a unity government that groups the Palestinians' two rival political factions – Mr. Abbas' Fatah movement and Islamist militia Hamas which controls the Gaza Strip – is meeting less international resistance than either Israel or Palestine had hoped for or expected.
Israel, which has vowed not to negotiate with Hamas as long as it refuses to recognize the Jewish state and renounce armed struggle had hoped that its allies, the United States and the European Union, would back its refusal to deal with a Palestinian government that includes Hamas, an offshoot of the Muslim Brotherhood. General Amos Gilad, the Israeli defence ministry's director of policy and political-military relations charged that the unity government was intended "to undermine our legitimacy around the world."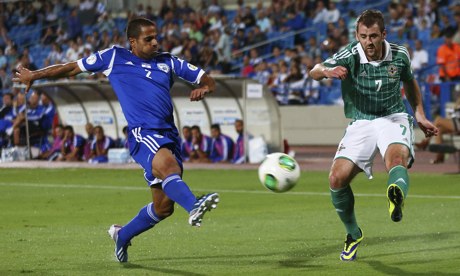 Israel plays Northern Ireland in the qualifying round. Neither got through.

His concern seemed to be borne out by diplomats of the EU which has plans to boycott Israeli products made in the West Bank. The diplomats cautiously welcomed the unity government.
The split between Fatah and Hamas was one reason why Israeli-Palestinian peace talks were stillborn. The EU has said it would continue to fund the Palestinian government provided it maintained its recognition of Israel and its agreements with Israel and continues to disavow violence. Fatah and Hamas have agreed that their government to be populated by technocrats would honour past Palestinian agreements with Israel.
The EU put its plans to boycott Israeli products from occupied territories on hold to give the US-mediated peace talks a chance. Declaration of the boycott would boost the Boycott, Disinvestment and Sanctions (BDS) movement that has gained currency in academic an artistic circles as well as among some prominent European soccer players. The movement lobbies for a boycott of Israel in a bid to force it to withdraw from territory it occupied during the 1967 Middle East war.
Israel is likely to find the solace in FIFA president Sepp Blatter's vow at the end of a visit this week to Jordan, Israel and the West Bank designed to avoid a showdown at the soccer body's congress not to sanction the Jewish state.
In a statement that flies in the face of reality in a region in which politics is written into the DNA of soccer, Mr. Blatter asserted that "I separate politics and sport." Both Israel and Palestine see soccer as a means of projecting themselves on the international stage and building soft power. PFF president General Jibril Rajoub, a former head of Palestine's Preventive Security Force and a member of Fatah's Central Committee, has ambitions to succeed 79-year old Mr. Abbas as Palestinian president.
"I don't know on what items the FIFA Congress should take action against the IFA (Israel Football Association), if they are (acting) according to the statutes and regulations of FIFA. So far, we haven't seen any breach of regulations… until then, who could take action against somebody who is a good member of FIFA? I can tell you that your federation is a good standing member," Mr. Blatter said in Jerusalem, turning to IFA president Avi Luzon.
Mr. Blatter's had hoped that his visit would rectify the failure of a FIFA task force established to mediate between the PFF and the IFA and address Palestinian disappointment in the effectiveness of a hotline between the two groups that was intended to solve problems such as Palestinian players being delayed at Israeli checkpoints.
Mr. Rajoub's latest push for sanctions against Israel follows the recent delay by Israel of the entry into the West Bank of Arab players as well as a Pakistani team coached by a Bahraini national who were slated to play in a tournament organized by the PFF. The tournament was named Al Nakba or The Catastrophe, the Palestinian term used for the Israeli expulsion of Palestinians during the 1948 war in which Israel gained its independence.
The PFF has long asserted that Israel undermines Palestinian soccer by restricting the freedom of movement of players, coaches and executives. Tension flared earlier this year when Israeli forces shot and severely wounded two Palestinian youth players in the legs and feet in unclear circumstances.
Mr. Abbas has backed the PFF campaign asserting that FIFA needed to "hold to account" the IFA. "The Israeli government is placing obstacles in the way of the PFA's activities, in contravention of international law and the regulations of FIFA," Mr. Abbas said.
The IFA has countered PFF charges that Israel is deliberately undermining the development of Palestinian soccer by asserting that areas used by the PFF serve to fire rockets at Israeli targets.
In the absence of an expulsion of Israel by FIFA, the PFF hopes that its campaign will ease Israeli impediments on Palestinian soccer. "It will force the Israelis to change their ways. Pressure is the only language that they understand," said a Palestinian sports journalist.
James M. Dorsey is a Senior Fellow at the S. Rajaratnam School of International Studies (RSIS), Nanyang Technological University. He is also co-director of the University of Würzburg's Institute for Fan Culture, and the author of The Turbulent World of Middle East Soccer blog and a forthcoming book with the same title.
---
FIFA chief: I'm an ambassador of the Palestinians
Sepp Blatter vows to help Palestinians in meeting with Palestinian President Abbas, promises solution for Israeli travel restrictions on soccer players.
By Associated Press / Haaretz
May 27, 2014
FIFA President Sepp Blatter said Monday he is determined to solve the Palestinian Football Association's ongoing problems with Israel in high-level meetings.
Some members of the Palestinian national team have been prevented from travel by what Israel calls security restrictions.
The head of the Palestinian association has called for FIFA sanctions against Israel.
Blatter told Palestinian President Mahmoud Abbas in a meeting on Monday that "we shall find a solution" but that "it will not be so easy to deal on the other side," meaning Israel.
Blatter said he will meet Israeli Prime Minister Benjamin Netanyahu on Tuesday. The 78-year-old Swiss pledged his support, telling Abbas that "your people, but also your football association, is not alone in the world".
Blatter said he is a "self-declared ambassador of the Palestine people".
---
FIFA chief rules out punishing Israel football association

By AFP
May 27, 2014
FIFA president Sepp Blatter on Tuesday ruled out punitive action against Israel's football association, after meeting Israeli and Palestinian leaders to try and end a bitter dispute.
The Palestinians called last year for FIFA to suspend Israel from international football after Arab players were denied entry to the occupied West Bank to play in a youth tournament.
Officials have threatened to call once again for Israel's expulsion at the FIFA Congress in Sao Paolo, which will take place on the sidelines of the June-July 2014 World Cup in Brazil.
"I separate politics and sport," Blatter said at a joint news conference with Israel Football Association head Avi Luzon in Jerusalem.
"I don't know on what items the FIFA Congress should take action against the IFA, if they are (acting) according to the statutes and regulations of FIFA.
"So far, we haven't seen any breach of regulations… until then, who could take action against somebody who is a good member of FIFA? I can tell you that your federation is a good standing member," he said.
Blatter said a memorandum of understanding had been presented to Israel and the Palestinians, and urged them to sign it when the FIFA Congress meets, but gave no details of the document.
Blatter met Prime Minister Benjamin Netanyahu earlier on Tuesday, and Palestinian president Mahmud Abbas in the West Bank city of Ramallah on Monday.
Abbas urged the FIFA to "hold to account" the IFA should it restrict the movement of Palestinian players — a charge repeatedly alleged by the Palestinian Football Association.
"The Israeli government is placing obstacles in the way of the PFA's activities, in contravention of international law and the regulations of FIFA," Abbas said.
"If the Israel Football Association remains subservient to the government, it must be held to account."
Israeli and Palestinian football chiefs shook hands in September in landmark talks brokered by FIFA.
The meeting came after a dispute over Israeli entry restrictions on players from Arab nations which led to the delay of a youth tournament hosted by the PFA.
In response, the PFA urged FIFA to suspend Israel from international football, charging that Israeli policies were smothering the development of the game in the West Bank and Gaza Strip.
Israel says football facilities are sometimes used by Palestinian militants to fire rockets at its cities and warns that sport has been used as a tool to disseminate anti-Israeli propaganda.
FIFA created a task force in July to address the Israeli-Palestinian dispute.
Blatter said the sides were so far cooperating in efforts to solve the dispute.
"Both of these associations have designated a liaison officer (who) is working every week, every three or four days together," he said in English.
"They have obtained already good results, but in the view of the Palestinians, not enough," he added, without elaborating.