What seemed to be a small item on Hungary turned out to be a more complex and expansive one. Here's the pick:
1) The Independent: Israel defends Hungary's 'antisemitic' portrayal of George Soros in anti-immigrant poster campaign, the story;
2) Telegraph: Don't be surprised the far right is mobilising against George Soros, brief inset – Orban is no fascist, it's whiny left-wing make-believe;
3) The Independent: Don't be surprised the far right is mobilising against George Soros, a short extract from November 2016;
4) IBT: John McCain's fascist accusation, short extract;
5) FT: Viktor Orban's Hungary crosses to Europe's dark side, by Philip Stephens and by far the most powerful piece in this selection;
6) Haaretz: On Netanyahu's Orders: Israel's Foreign Ministry Retracts Criticism of Antisemitism in Hungary and Slams George Soros, Barak Ravid;
7) Notes & Links: On the Visegrad group and George Soros' Open Society donations;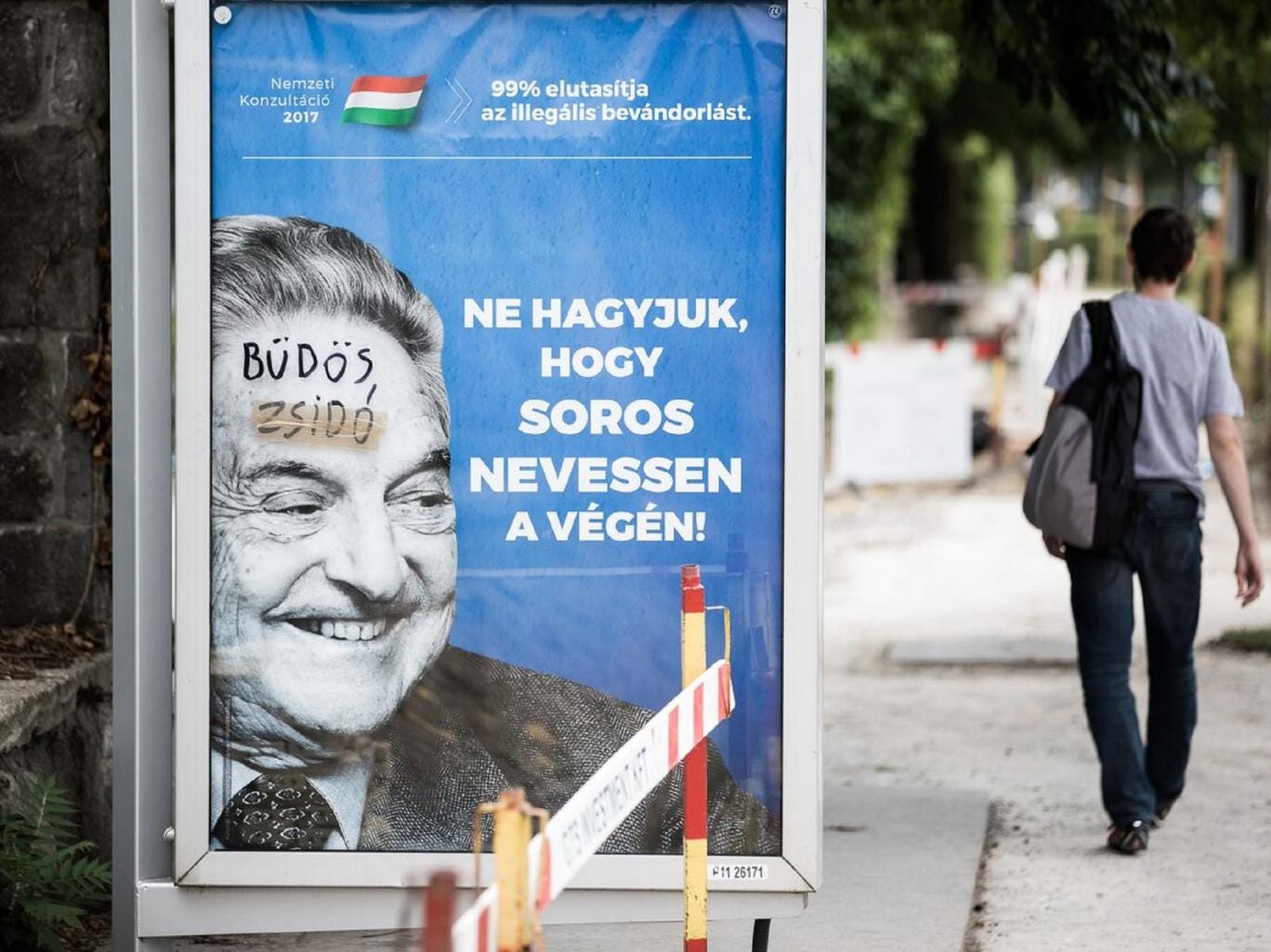 Graffiti reading 'Büdös Zsidó', ('stinking Jew') have been added to billboards reading"99 percent reject illegal migration" and "Let's not let Soros have the last laugh". Photo by Akos Stiller
Israel defends Hungary's 'antisemitic' portrayal of George Soros in anti-immigrant poster campaign
Philanthropist billionaire is a longtime critic of Prime Minister Viktor Orban's right-wing government
By Lucy Pasha-Robinson, The Independent
July 12, 2017
Hungary's Government has launched an anti-migrant advertising campaign using the image of US financier George Soros.
Billboards and full-page media adverts have sprung up across the country, with the caption: "Don't let Soros have the last laugh."
Some of the billboards have been defaced with graffiti that reads "stinking Jew".
Mr Soros emigrated from Hungary after World War Two to the US, where he made his fortune.
He has long supported groups promoting liberal, democratic and open-border values in eastern Europe and is a longtime critic of Hungarian Prime Minister Viktor Orban's right-wing government.
He said: "I am distressed by the current Hungarian regime's use of anti-Semitic imagery as part of its deliberate disinformation campaign. Equally, I am heartened that together with countless fellow citizens the leadership of the Hungarian Jewish community has spoken out against the campaign."
Michael Vachon, a spokesperson for the 86-year-old, said the image was "reminiscent of Europe's darkest hours".
"Last week the Fidesz-led government launched a nationwide billboard and television advertising campaign reminiscent of Europe's darkest hours," he said.
"The Hungarian regime's xenophobia and demonisation of refugees is anti-European." continues below inset
______________________________________


David Cameron makes nice with the EU's most anti-EU (and anti-Left, and antisemitic and anti-immigrant) politician Mr. Orban who, says the Telegraph, is no fascist despite the 'efforts of lazy western Leftists who couldn't even place Hungary on a map….Orbán has been the target of constant harassment by the EU apparat, at the instigation of the European Left who in turn have been wound up by the Hungarian opposition, chiefly the former Communists.' January 7th, 2016

_________________________________________
continued from above inset
Israel's foreign ministry also attacked the billionaire, issuing a statement to denounce him in a move that appeared to align Israel more closely with Hungary ahead of a visit to Budapest next week by Prime Minister Benjamin Netanyahu.
Mr Soros has been repeatedly targeted by Hungary's government, in particular over his support for more open immigration.
The Federation of Hungarian Jewish Federations (Mazsihisz) urged Mr Orban to halt the campaign.
"This campaign, while not openly antisemitic, clearly has the potential to ignite uncontrolled emotions, including antisemitism," they said.
In a reply to Mazsihisz, Mr Orban said that it was his duty to protect Hungarians – including the country's 100,000-strong Jewish community — from illegal migration.
"The person who uses his wealth, power, influence and a network of non-governmental organisations (NGOs) funded by him to settle millions of migrants in Hungary and the European Union puts our future in jeopardy," he said.
"The billionaire speculator George Soros has made it quite clear repeatedly that this is precisely what he wants to do."
But Mr Vachon said the claim was "fantasy."
"Soros's actual position on migration is that the international community should provide more support to the developing countries that today host 89 per cent of refugees and that Europe should accept several hundred thousand fully screened refugees through an orderly process of vetting and resettlement," he said.
Mr Orban's government fortified Hungary's southern border in 2015 against a large influx of migrants from the Middle East and Africa into the EU that year.
He also rejected a quota scheme agreed by EU leaders to distribute migrants among member states and has repeatedly depicted the mostly Muslim migrants and refugees as a threat to Europe's Christian identity and culture.
Around 100,000 Jews live in Hungary today, down from more than half a million before the Holocaust.
Additional reporting by agencies
---
Don't be surprised the far right is mobilising against George Soros

By Mike Harris, The Independent
November 15, 2016

EXTRACT

Influential financial analysts Zerohedge claim George Soros "singlehandedly created the European refugee crisis"; xenophobic rag Breitbart says Soros's funding of Black Lives Matter was part of an agenda to swing the US presidential election; and Donald Trump's favourite crank Alex Jones says "Soros is behind the Muslim takeover of the West". In August, hackers thought to be linked to the Russian government stole thousands of documents from Soros's foundation's servers and put them online, placing at risk many of the brave individuals the foundation funds.

As the world turns to the hard right, one man has become a figure of hate for resurgent nationalists across the globe: Soros has become the No 1 target for the alt-right – a figure central to wild conspiracy theories – because nationalists want to destroy for good the idea that democracy or liberal values can be promoted, or encouraged.
---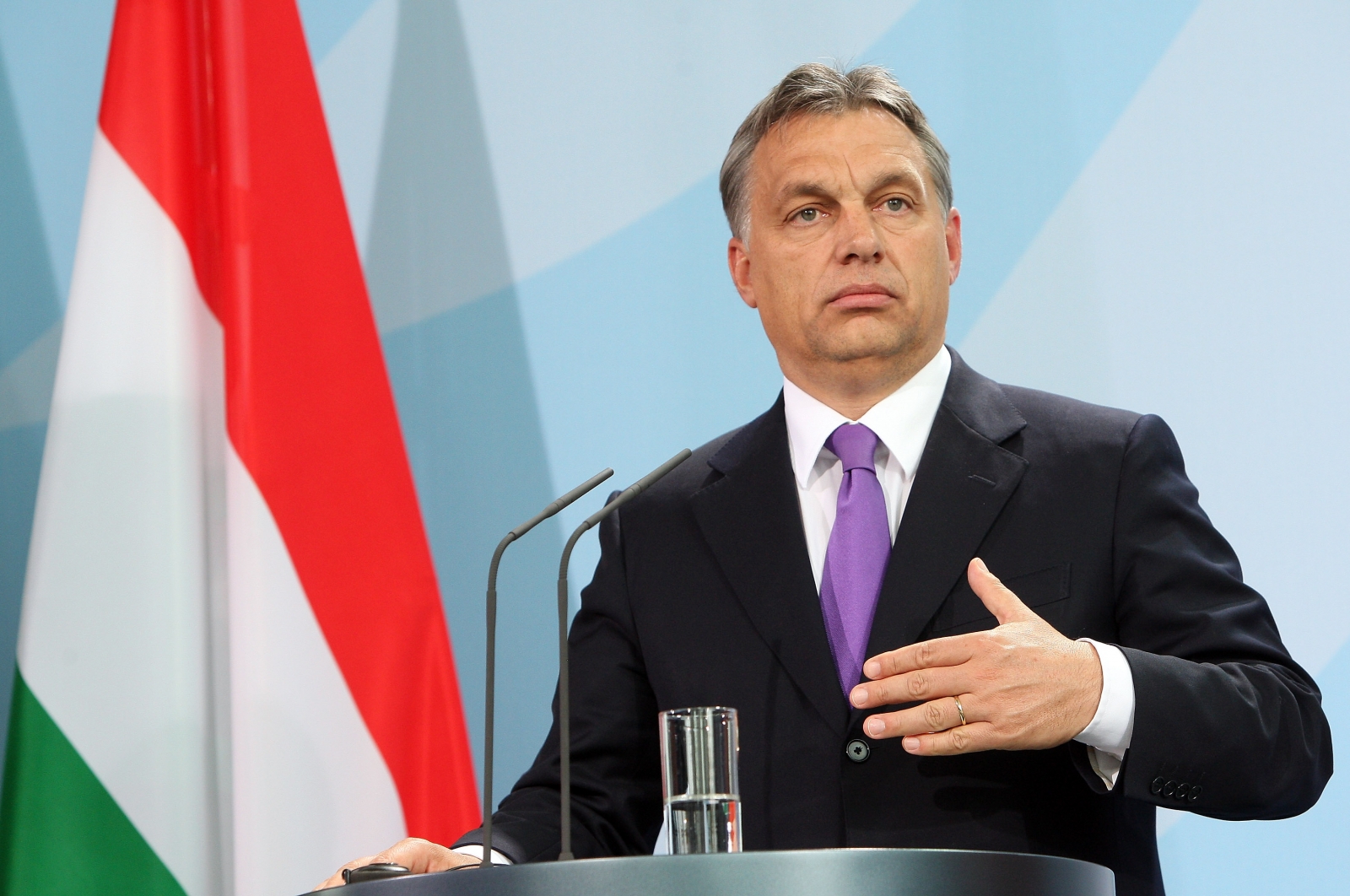 EXTRACT from John McCain's fascist accusation, IBTimes, December 3rd, 2014
Hungarian Prime Minister Viktor Orban has hit back after US senator John McCain branded him a fascist, claiming that the country's independence was "under attack".
On Tuesday, Republican senator and former presidential candidate McCain criticised the appointment of Hollywood producer Colleen Bell as new US ambassador in Budapest.
Hungary, he said, "is on the verge of ceding its sovereignty to a neo-fascist dictator getting in bed with Vladimir Putin, and we're going to send the producer of The Bold and The Beautiful as the ambassador."
Western officials have criticised Orban for weakening the independence of the country's judiciary, press freedoms and democratic checks and balances, and attempting to forge closer economic ties with Russia.
---

Budapest Jews being rounded up for deportation to death camps, Oct 1944. Wikimedia. It is estimated that between 500,000 and 700,000 of Hungary's 860,000 Jews were deported to Nazi labour or extermination camps. Many had already been killed in several massacres carried out by Hungarian police.
Viktor Orban's Hungary crosses to Europe's dark side
The campaign against George Soros digs up the demons of anti-Semitism
Philip Stephens, Financial Times
July 13, 2017
Strongmen, it seems, stick together. Viktor Orban has stirred the fears of Hungary's Jewish community with a campaign of vilification directed at George Soros, the billionaire investor and philanthropist.
The prime minister's billboard attack disinters antisemitic tropes from the dark side of Europe's history. Yet the publicly voiced concern of Israel's ambassador in Budapest has not persuaded Benjamin Netanyahu to cancel a planned visit.
The Israeli prime minister counts himself a member of the club of strongmen who disdain the "liberal" in liberal democracy. Mr Netanyahu, like Mr Orban, is a firm admirer of US President Donald Trump. Mr Orban seems to imagine himself a pocket-sized version of Russia's President Vladimir Putin. His ruling Fidesz party has removed constitutional checks and balances and seized control of state media and the judiciary. Mr Orban champions illiberalism over the pluralist values of the EU — even as he holds out a hand for hefty aid cheques from Brussels.
Last month, the Hungarian prime minister praised Miklos Horthy, the nationalist leader who colluded during the second world war in the dispatch to Nazi death camps of Hungarian Jews. He counted Horthy among the country's "exceptional statesmen" — drawing criticism from Jewish groups. The US Holocaust Memorial Museum said such statements created the impression that the government "believes that anti-Semitism, racial and religious prejudice, and genocide merit praise rather than universal condemnation".
Peter Szijjarto, the foreign minister, said Mr Orban accepted that Horthy's rule had also included some "very negative periods".
This was enough to reassure Mr Netanyahu. Others might view the murder of 565,000 Jews from Hungary as more than a "negative period". The state-funded attacks on Mr Soros began with a law to close Budapest's central European University, founded by the American-Hungarian investor to nurture freedom and democracy after the collapse of communism. Mr Orban, like all ethnic nationalists, has a keen eye for "foreign" enemies.
The country is now plastered in posters denouncing Mr Soros for challenging Mr Orban's hardline response to the Middle East refugee crisis. Mr Soros is accused of backing "illegal" immigration. Yet he has called for legal routes for those caught up in the worst of the region's violence and for EU-wide quota arrangements to share the burden.
Mr Orban is careless of such distinctions. Last year he led an Islamophobic backlash against the refugees, saying they would steal the jobs of Hungarians and infiltrate terrorists. Hungary has refused to accept any EU quota.
Dominated by a huge image of a smiling Mr Soros, the posters exhort Hungarians not to let him "have the last laugh". Some have been defaced with more overtly racist slogans — the imagery recalls the anti-Semitism that says Jews laugh at the fate of their supposed victims. Mr Soros survived the Holocaust by hiding from the Nazis in Budapest before fleeing to the US.
Andras Heisler, the president of the Federation of Hungarian Jewish Communities, says the billboards carry "toxic messages" from those times. Yossi Amrani, Israel's ambassador in Budapest, has voiced the same fear, calling for them to be removed lest they sow "hatred and fear".
Careful though it has been publicly to condemn anti-Semitism, Mr Orban's government has been permissive of the xenophobia preached by the neo-Nazi Jobbik party. Jobbik leaders have suggested registration of the nation's Jews. Opinion polls suggest the party is backed by a fifth of voters. Mr Orban, facing an election next year, does not want to be outflanked on the right.
In the circumstances it is more than puzzling that Mr Netanyahu should go ahead with the visit. True, Mr Soros has opposed the Israeli leader's hawkish stance on peace with Palestinians — prompting the Israeli foreign ministry to accuse him of undermining "democratically elected governments". But rising anti-Semitism in central Europe — a trend not confined to Hungary — should surely ring loud alarm bells.
In any event, Mr Netanyahu's relaxed attitude should not be taken by Europeans as exculpation. Rising populism has exhumed the continent's demons. Poland's government, run by the rightwing strongman Jaroslaw Kaczynski, seeks out its own ethnic enemies as it dismantles democratic safeguards. Warsaw now airbrushes from history the role played by Polish collaborators in the murder of Jews. Like Hungary, Poland is a big beneficiary of EU financial assistance. Christian nationalism, casting Islam as a civilisational threat, is on the march also in Slovakia and the Czech Republic.
Other EU governments occasionally wag a finger of disapproval. The European Commission and Parliament have issued critical statements. But for the most part, the response is a frustrated shrug. Germany's Chancellor Angela Merkel, an open critic of Mr Trump, is all but silent about Mr Orban.
This is not good enough. European leaders should remind themselves of Article 2 of the EU treaty — the one that says the union is founded "on the values of respect for human dignity, freedom, democracy, equality, the rule of law and respect for human rights, including the rights of persons belonging to minorities". Then they should set about upholding these provisions.
---

On Netanyahu's Orders: Israel's Foreign Ministry Retracts Criticism of Antisemitism in Hungary and Slams George Soros
A day after Israel's ambassador harshly called on the Hungarian PM to remove posters against the Jewish billionaire, the Foreign Ministry backtracks, says George Soros constantly undermines Israel's governments
Barak Ravid, Haaretz
July 10, 2017
At the behest of the Israeli Prime Minister's Office, the Foreign Ministry on Sunday retracted a statement issued the previous day by the Israeli ambassador to Hungary, which had called on Hungarian Prime Minister Viktor Orbán and his party to halt a poster campaign against Jewish-American financier George Soros on the grounds that it was fuelling antisemitism.
Foreign Ministry spokesman Emmanuel Nahshon issued a clarification that refrained from criticizing Orbán but also sharply criticized Soros himself, using claims similar to the ones being made against him by the Hungarian government:
"Israel deplores any expression of antisemitism in any country and stands with Jewish communities everywhere in confronting this hatred. This was the sole purpose of the statement issued by Israel's ambassador to Hungary.

In no way was the statement meant to delegitimize criticism of George Soros, who continuously undermines Israel's democratically elected governments by funding organizations that defame the Jewish state and seek to deny it the right to defend itself."
The tension comes at a particularly sensitive time, since Prime Minister Benjamin Netanyahu is scheduled to meet Orbán in Budapest on July 18, during what will be the first visit of an Israeli premier to Hungary in 30 years. The day after their meeting, Netanyahu and Orbán are scheduled to meet with the leaders of the Czech Republic, Slovakia and Poland.
On Saturday, Israeli Ambassador to Hungary Yossi Amrani issued an extraordinarily sharp statement in which he called on Orbán and his party, Fidesz, to remove posters hung throughout the country that criticized Soros.
The posters appearing all over Hungary over the past few days feature a picture of Soros laughing and are captioned, "Let's not let Soros have the last laugh."
Some of the posters were glued to the floor of train cars in Budapest and other cities, so that anyone boarding the train would have to step on them.
Orbán and Fidesz are attacking Soros – who was born in Budapest and survived Nazi-occupied Hungary – because of the latter's supposed activity against Hungary's harsh policies toward the entry of Muslim refugees.
Orbán and Fidesz have taken what many see as a nationalist, racist and Islamophobic line ahead of the 2018 election. They claim Soros funds civil society groups and liberal associations in Hungary with the purpose of "settling a million migrants" in the country.
The Jewish community in Hungary, numbering over 100,000, is extremely concerned by the messages in Orbán's election campaign – particularly the ones against Soros. Since the launch of the campaign, the Hungarian media has reported a number of incidents in which antisemitic graffiti has been spray-painted on the posters.
Senior figures in the Jewish community have conveyed very worried messages to the Israeli Embassy in Budapest about the posters, which they say have antisemitic connotations and encourage an atmosphere of aggression against Jews, especially because many Hungarians consider Soros as first and foremost Jewish.
Following the messages conveyed by the local Jewish communities, there were consultations between Amrani and Foreign Ministry staffers in Jerusalem, after which it was decided to issue a statement critical of the poster campaign. The wording of the statement was approved by the ministry's deputy director general for diplomacy, Alon Ushpiz, and Foreign Ministry Director General Yuval Rotem.
"The campaign not only evokes sad memories but also sows hatred and fear," the statement said. "It's our moral responsibility to raise a voice and call on the relevant authorities to exert their power and put an end to this cycle."
Although Netanyahu holds the foreign ministry portfolio, the senior Foreign Ministry officials that approved the wording of the statement did not coordinate its release with the Prime Minister's Office, which learned of it from the media.
After the statement was issued, there was also pushback from right-wing politicians and media outlets, which condemned the Foreign Ministry for issuing a statement that seemed to defend Soros, whom the Israeli right sees as leading the boycott, divestment and sanctions movement against Israel.
As a result of this pressure, the Prime Minister's Office ordered the Foreign Ministry to issue a clarification that included a general denunciation of antisemitism without specifically mentioning Hungary, while also criticizing Soros.
This is the second recent clash between Israel and Hungary over messages with antisemitic connotations promulgated by Orbán and his party.
At an election rally two weeks ago, Orbán praised Hungary's leader during World War II, Miklós Horthy, who collaborated with the Nazis and under whose rule 500,000 Hungarian Jews were deported to extermination camps, where most were murdered.
Israel protested about the statements to the government in Budapest. However, in order not to compromise the upcoming summit, it agreed to restrain itself and made do with a weakly worded clarification by the Hungarian foreign minister.
---
Visegrad group/ V4
V4 logo
PM Netanyahu is making the first visit of an Israeli PM to Eastern Europe since the fall of communism. He hopes to meet with the Visegrad group – Czech Republic, Hungary, Poland and Slovakia – thus highlighting the cordial trade and diplomatic relations with countries which have not shared the more critical views of today's Israeli policies that are held in western Europe. They also do not host NGOs which support Palestinian rights.
George Soros is well-known for his gifts to humanitarian and pro-Palestinian NGOs. These include Al-Haq, American Civil Liberties Union, Amnesty International, Arab American Institute, Catholics for Choice, Democracy Now! Gisha: Center for the Legal Protection of Freedom of Movement, Human Rights Watch, J Street, Jewish Funds for Justice, Machsom Watch, Palestinian Center for Human Rights, Physicians for Human Rights, Southern Poverty Law Center, and hundreds more. This list comes from Discover The Networks.org, A guide to the political left. We assume it to be accurate but have not double-checked.