The making of an icon
Articles from CNN and JPost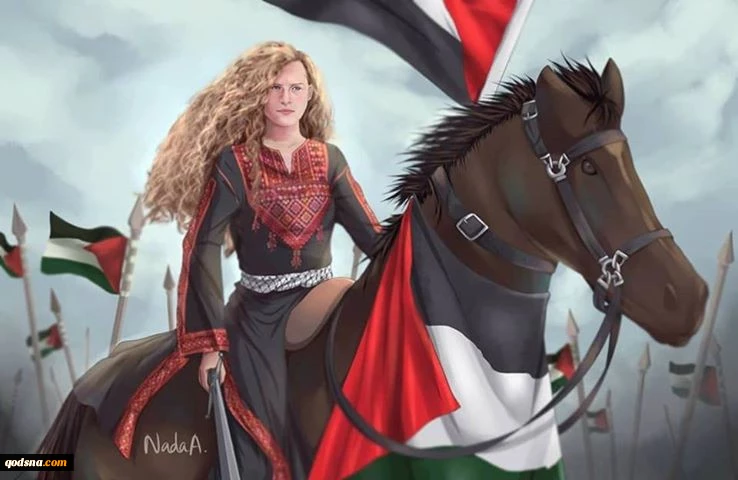 Ahed Tamimi: Palestinian heroine or dedicated trouble-maker?
By Ian Lee, CNN
January 05, 2018
Jerusalem — Ahed Tamimi is instantly recognizable. The fiery haired Palestinian girl can be seen in several viral videos and photographs confronting Israeli soldiers near her West Bank home of Nabi Saleh.
The latest shows the 16-year-old punching a heavily-armed Israeli soldier on her family's property last December. Tamimi can be heard yelling, "get out or I'll punch you!" The soldier pushes her away.
The clip has captured imaginations and divided assessments in the region and further afield – the court of public opinion trying the case, as it always does, on the internet.
For supporters, the video showed an inspirational heroine and an international symbol of Palestinian resistance to Israel's occupation. By contrast, many Israelis focused on the behaviour of the soldiers. Some praised them for showing restraint; others said they had showed weakness, with the video itself dismissed as a PR stunt.
Ahed has been called "Shirley Temper" because of her long ginger curls, and has been accused of starring in carefully choreographed "Pallywood" videos, a dismissive characterization of protests considered staged for the camera.

It's hard to find a photo of the weekly, famously non-violent, protest by villagers from Nabi Saleh which does not include Ahed Tamimi. Photo March 2016 by Haim Schwarczenberg.
Israeli Minister of Education, Naftali Bennett, said authorities should lock her up and throw away the key. Israel's Defence Minister Avigdor Lieberman praised the soldier's restraint, but added a warning to anyone who'd attack the army:
"Whoever goes wild during the day, will be arrested at night. Not only the girls and the parents but others around will not escape punishment."
A few days later, Israeli forces raided the Tamimi's house in the early morning and arrested Ahed. The army filmed the arrest and released a video of it on the Internet. Ahed's mother and cousin were also later taken into custody. An outcry over her detention quickly grew.
A mural of the teenager sprung up in Gaza.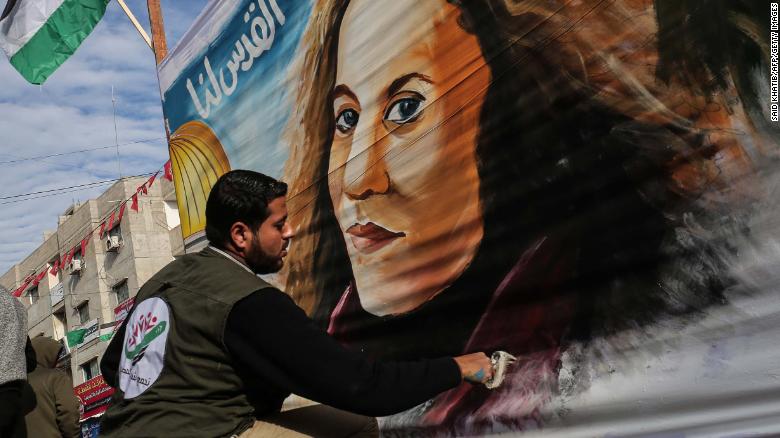 A Palestinian artist paints a portrait of Ahed Tamimi in Gaza on Wednesday [January 5th 2018].
Further up the coast, in the Israeli city of Tel Aviv, graffiti in Hebrew read, "Ahed Tamimi is a hero" and "Ahed Tamimi, we love you." Two thousand miles away in London, bus stops started showing posters with a stylized image from the video, along with the message, "Free Ahed Tamimi."
At its heart, the image is simple and striking: a teenage girl standing up to the much larger soldier. A post in the online Jewish magazine, +972, compared it to David and Goliath, with Israel representing Goliath.
Critics charge that is exactly what you are supposed to see.
They point out the Tamimi family is known for its activism, regularly leading Friday demonstrations against Israeli soldiers and the occupation in their village. The demonstrations often turn into clashes with Israeli forces. Events are filmed and then disseminated on social media making Ahed and her family online celebrities.
To be sure, Ahed has been fêted for several years. Her introduction to the world stage came in 2012 when a photograph of her with a clenched fist, staring down an Israeli soldier, went viral. Turkish leader Recep Tayyip Erdogan hosted her in Turkey where she received an award for courage. Her star would continue to rise in 2015 when a video showed her biting and hitting a masked Israeli soldier who had grabbed her 12-year-old brother.

Ahed Tamimi (C) raises her fist to an Israeli soldier during a protest in Ramallah in 2012. Another image that has gone viral.
But her activism would come at a cost. Israel has now brought 12 charges against Ahed — including aggravated assault against a soldier, incitement, obstructing a soldier in the performance of his duty, threatening a soldier, and throwing stones at troops.
Nariman Tamimi — Ahed's mother — also faces charges of incitement.
Ahed's lawyer, Gabi Laski, says the case has been blown out of proportion. The military court "exaggerated the indictment by looking into, and judging her on, incidents that happened in previous years," Laski told CNN. "This doesn't show the other side. [It is] as if her behavior took place in [a] sterile environment without taking into consideration the occupation."
Marwan Barghouti, a high-profile prisoner who enjoys considerable support among Palestinians in the West Bank and Gaza, also commented on Ahed Tamimi's situation in a letter posted on Facebook by his wife:
"My pain was not confined to the child Tamimi, who is being held in Israeli jails, but to all her generation, who are considered the most courageous generation among the Palestinians, who offer a model of sacrifice and redemption."
If convicted, Ahed could face years in prison. Prominent Palestinian politician Mustafa Barghouti says her detention will not be in vain.
"Ahed Tamimi exemplifies the spirit of non-violent resistance that is growing in the Palestinian territories because of the occupation," Mustafa Barghouti told CNN. "If they put her in jail for a long time, it'll destroy her childhood but it will send a very powerful message to Palestinians and hurt Israel's image internationally."
---

Image of Ahed Tamimi used to promote a 'Free Ahed Tamimi and all Palestinian child prisoners' protest rally in Manchester on January 6th. The image, from Palestinian prisoners' campaign,is used by Samidoun to publicise the number of Palestinian child [under 18] prisoners held in Israeli prisons.
Prison, incitement, boost hero status of Palestinian who slapped soldiers
Ahed Tamimi has become "a symbol that stands for the new generation, for the peaceful resistance and for the continuity of rejection of the occupation."
By Ben Lynfield, JPost
January 01, 2018
Ahed Tamimi, the 16-year-old Palestinian girl arrested after she was seen slapping Israeli soldiers, promises to have her newly minted status as a Palestinian hero and symbol enhanced further if she is tried and a tough prison sentence is meted out against her, Palestinian observers say.
Tamimi was indicted on Monday [January 1st] for throwing rocks, threatening soldiers and incitement to violence.
"Israel has helped build her into heroic status," said Ghassan Khatib, a vice president of Bir Zeit University. "Any person the occupation takes measures against will be perceived as a hero among the people."
Tamimi was arrested during a raid on her home in the West Bank village of Nebi Salah on December 19, after a video showing her slapping and kicking soldiers who did not respond went viral. Another young Palestinian woman filmed the action with her cellphone, suggesting that Tamimi was actively seeking to provoke a violent reaction by the soldiers. The day after Tamimi's arrest, her mother, Nariman, was also arrested.
While right-wing Israeli politicians have clamored for protracted imprisonment for the girl, what Arabs perceive as her bravery and her being targeted for punishment, have simultaneously elevated her into the newest hero to emerge in the West Bank and the Arab world as a whole. Among the thousands of pictures of Tamimi circulating in Arab social and conventional media, is one in which she is depicted as being five times as big as an Israeli soldier as she flexes a bicep wrapped in a Palestinian flag.
Another image shows her brandishing a sword as she is mounted on a horse, her blonde hair flowing. The horse is draped in a Palestinian flag. Jordan's Zain telecommunications company has created a song in her honor. She has also gained fame beyond the region. A depiction of her facing a soldier adorns bus stops in London, placed there by London Palestine Action, with the messages "Free Ahed Tamimi" and "Freedom for Palestinian Prisoners."
"She is young; she is a girl," said Jihad Harb, a political analyst based in Ramallah. "In her appearance she has Western traits, making it easy for the world to relate to her. Her family has a history of struggling against the occupation. All this gives her power."
He said for Palestinians, Tamimi is a symbol of how children can confront the occupation with "peaceful resistance," by which he means without arms. Her popularity can be one factor to help spread the idea of unarmed resistance, Harb said. At the same time, "She's become an important symbol for conveying the suffering of the Palestinians internationally"
Khatib said Tamimi has become "a symbol that stands for the new generation, for the peaceful resistance and for the continuity of rejection of the occupation."
Israeli critics have termed her "Shirley Temper," because of her blond hair and camera-conscious confrontations. But Khatib said in Palestinian eyes, it is not the color of her hair that matters, but rather that it is uncovered and that she looks secular. "Most female resistance figures come with Islamic dress, confirming the stereotype of an Islamic dimension to resistance," he said. "She breaks the stereotype and gives the impression that Palestinians of all types are against this occupation and active against it."
The way she was arrested in the middle of the night – as if she was dangerous and had jeopardized the soldiers, when in the Palestinian view there was no reason for taking her from her home – has also generated wide sympathy. The fact that her cousin Muhammad was shot in the head with a rubber-coated metal bullet during a clash days before she challenged the soldiers, has also contributed to the sense of identification with her actions.
Whether Tamimi becomes an enduring hero is too early to say, Khatib said. "It depends how she handles her new status, how Israel treats her and whether her family and friends will remain active in sustaining her role. Years in prison will increase the sympathy for her because it will be too unfair. Arresting her is unfair. Israelis do what she did in demonstrations and this is an overreaction and involves racism," he said.
Ashraf Ajrami, former Palestinian Authority minister for prisoner affairs, said:
"Because of the many Israeli accusations against this little girl, and that Israelis wanted revenge against her, Palestinian people saw her as a hero and she became a symbol of non-violent resistance. To give her a sentence in Israeli jail will give her more and more credibility and will help her be more of a symbol and hero in the Palestinian public's eyes."
But Shaul Shay, former deputy head of the National Security Council and currently director of research at the Institute for Policy and Strategy at the Interdisciplinary Centre in Herzliya, said Tamimi's case has been handled appropriately and that even if she becomes more of a hero in Palestinian eyes, Israel should not shy away from a jail sentence if that is found to be appropriate.
"It could boost her status but you can't legitimize her behaviour. If necessary, we will have to pay that price and I hope it will deter others from repeating such behaviour. Going on with business as usual is intolerable."