I'm not listening, I'll do what I want says Trump
This posting has these items:
1) FT: Trump's dangerous decision on Jerusalem this is pointless, provocative, dangerous vandalism, unnames writer tells it straight;
2) Ynet: Trump, PM Netanyahu spoke 3 times before speech; "We're making Jerusalem our pride and joy" says Israeli PM
3) Haaretz: The 'Two-state Solution Is Over,' Top Palestinian Diplomat Says After Trump's Jerusalem Speech; view of Saeb Erekat,
4) AP: Demanding Trump Backtrack on Jerusalem, Iraq Summons U.S. Ambassador, response from Muslim/Arab leaders;
5) Ynet: Thousands of Palestinians protest US Jerusalem move, grass-roots opposition;
6) New Arab: Trump's Jerusalem decision will end all hope of Palestinian-Israeli peace;
7) Al Jazeera: Trump ignores warnings with 'reckless Jerusalem move', talks to many diplomats/ politicians about the announcement;

In Gaza a boy in the December 7th protest against Trump's Jerusalem proclamation stands amidst the smoke. Photo by Mohammed Salem/ Reuters

Recognising the holy city as Israel's capital is a senseless provocation
Financial Times view
December 06, 2017
EXTRACT
President Donald Trump's decision to go ahead with a campaign promise to recognise Jerusalem as Israel's capital, and eventually to move the US embassy there, is an act of diplomatic vandalism. It is the more curious for the likelihood that no one will benefit from it, or at least no one interested in peace — not even Mr Trump himself.
He has united almost everyone against him, including his closest allies in the region, provoked outrage among Muslims, provided fuel for extremists and, not for the first time, diminished America in the eyes of the world. Nor has he served Israel's interests well — though some Israelis might disagree.
Jerusalem has been at the centre of peacemaking efforts in the Middle East ever since partition in 1947 when sensitivities surrounding the city's status (and its importance as a holy site for Jews, Muslims and Christians alike) led the UN to treat it initially as a separate entity from the Jewish state. Although Israel has always claimed the Holy city as its capital, no country has, until now, recognised it as such.
This is for good reason — the same reason that other US presidents declined to honour the 1995 act of Congress acknowledging hard facts on the ground, and seeking to move the US embassy. To recognise Israel's claims to the city is not only to stymie Palestinian hopes to claim their own capital in occupied East Jerusalem and tear up an agreement in the 1993 Oslo peace accord, which held that the city's final status would be settled by negotiation. It is also to unite Muslims against Israel at a time anti-Israeli sentiment has been relatively subdued.
Mr Trump has been warned about this unequivocally this week. The Turks have threatened to sever relations with Israel. Saeb Erekat, the PLO negotiator, said that should the US go ahead with the move it would disqualify itself from "any role in any initiative towards achieving a just and lasting peace". Hamas, the Islamist group that controls the Gaza strip, has threatened a new intifada. Nor could King Abdullah of Jordan, which has a peace treaty with Israel, stand by. He cautioned that recognising Jerusalem as Israel's would play into the hands of terrorists and enable them to "spread their ideologies".
---

The conspirators hug after making a joint statement in Jerusalem, Monday, May 22, 2017. Photo by Evan Vucci/AP
President Trump, PM Netanyahu spoke 3 times over 10-day period before speech; Netanyahu assured Trump in conversations Jerusalem status quo would be maintained, told him he was 'making history'; Israel to leverage ties in Latin America, Asia, Africa to counter criticism over speech.
By Itamar Eichner, Ynet
December 07, 2017
Prime Minister Benjamin Netanyahu took part in President Donald Trump's decision to officially recognize Jerusalem as Israel's capital, with the pair speaking three times over the past ten days alone.
In his talks with the president, Netanyahu is said to have stressed the historic importance of such a statement coming from the leader of the United States. "you are about to make history," Netanyahu said he told Trump. The prime minister also assured the president the status quo in Jerusalem will be maintained.
In the wake of Trump's controversial speech, Israel has been analyzing international responses. Those coming in from Arab, central and eastern European countries have been predictable and measured. Those coming in from Western Europe, however, have been more problematic for Israel, with the European Union stating Jerusalem should be the capital of Palestine as well as Israel.
Nevertheless, Israel has been working in several simultaneous international arenas while utilizing newly-formed links in Latin America, Asia and Africa to promote its agenda.
Prime Minister Netanyahu is expected to travel to Brussels next week to meet the European Union's foreign ministers. An Israeli premier last visited the Union's headquarters 22 years ago.
The EU's top diplomat Federica Mogherini responded to the American decision by saying she feared it could send the region back "to darker times."
The Ministry of Foreign Affairs countered by saying, "Insisting on denying Jerusalem is Israel's capital is disavowing an undisputable historical fact. Any denial of this simple truth distances peace by creating expectations detached from reality in Palestinians."

EU foreign policy chief Mogherini (R) said Jerusalem should be a capital for PA President Abbas as well. Photo: EPA
Once again congratulating Trump on his decision, Prime Minister Netanyahu wrote on his Facebook page that "There are certain great moments in the history of Zionism: the Balfour declaration, the state's founding, the liberation of Jerusalem and—(Wednesday)—Trump's declaration. I told him, 'Mr. President, you're about to make history.' And he made history."
"It's an uplifting and uniting moment: for the right and the left, the religious and the secular. We're making Jerusalem our pride and joy," Netanyahu declared.
---
At his residence in Jericho chief Palestinian negotiator Saeb Erakat watches Pres Trump give a speech on Jerusalem. Photo by Thomas Coex/AFP

The 'Two-state Solution Is Over,' Top Palestinian Diplomat Says After Trump's Jerusalem Speech
In exclusive comments to Haaretz, Saeb Erekat, chief Palestinian peace negotiator, said that Trump's decision forces Palestinians to strive for 'historic Palestine, from the river to the sea'
By Noa Landau and Jack Khoury, Haaretz premium exclusive
December 07, 2017
In exclusive comments to Haaretz, Saeb Erekat, chief Palestinian peace negotiator, sharply rebuked U.S. President Donald Trump's decision to recognize Jerusalem as Israel's capital on Wednesday.
"President Trump has delivered a message to the Palestinian people: the two-state solution is over. Now is the time to transform the struggle for one-state with equal rights for everyone living in historic Palestine, from the river to the sea," Erekat said.
Earlier, Palestinian President Mahmoud Abbas rejected Trump's speech on Jerusalem, saying America's decision to recognize Jerusalem as Israel's capital encourages the occupation and construction of Israeli settlements.
Abbas said that the move drives the U.S. further away from its role as a mediator and sponsor in peace talks between Israel and the Palestinians and undermines any attempt to achieve at two-state solution. He said Trump's decision violates international law and encourages the occupation and construction of Israeli settlements.
On Wednesday, Muslims across the Middle East warned of disastrous consequences as a result of Trump's recognition of Jerusalem as Israel's capital.
The Palestinians plan to convene all political organizations, including the Palestinian National Council, in the upcoming days, and will call in all the Palestinian factions to decide on their next steps. Abbas said that Trump's decision will not change the Palestinian position on Jerusalem and will not change the city's status as the Palestinian capital.
"This is an historical moment and we must act," said Abbas. "The U.S. can no longer function as a diplomatic sponsor and [peace] mediator."
Alongside the recognition, Trump's speech included three central points. The American president refrained from explicitly stating that the two-state solution is the only path to a peace agreement, and said the U.S. supports such a solution only if it agreed upon by both sides.
Trump also announced that he has instructed the relevant teams to begin planning the relocation of the U.S. Embassy from Tel Aviv to Jerusalem, yet did not state when such a move would take place.
Finally, Trump stressed that the American recognition of Jerusalem is not tantamount to a position on the issue of Israeli borders and sovereignty in Jerusalem. Those, he said, will be decided upon in negotiations.
"It is time to officially recognize Jerusalem as the capital of Israel," Trump said, adding that the move was "a long overdue step to advance the peace process" between Israel and the Palestinians.
He said recognizing Jerusalem as Israel's capital is not only a "necessary condition for achieving peace," but also "in the best interests of the United States of America."… He said
"We are not taking a position of any final status issues, including the specific boundaries of the Israeli sovereignty in Jerusalem or the resolution of contested borders. Those questions are up to the parties involved."
Following his speech, Trump signed the presidential waiver to delay moving the U.S. Embassy in Israel from Tel Aviv to Jerusalem for another six months.
Shortly after Trump's speech, Prime Minister Benjamin Netanyahu praised the U.S. president's announcement, saying,
"The president's decision is an important step towards peace, for there is no peace that doesn't include Jerusalem as the capital of the State of Israel.

"I share President Trump's commitment to advancing peace between Israel and all of our neighbours, including the Palestinians. And we will continue to work with the President and his team to make that dream of peace come true"…..

"I call on all countries that seek peace to join the United States in recognizing Jerusalem as Israel's capital and to move their embassies here."
Washington's official recognition signals a significant shift in American foreign policy and is expected provoke ire among Palestinians and alienate the Arab and Muslim world.
Shortly before Trump's speech, the U.S. State Department issued a cable to all its diplomatic posts worldwide on Wednesday asking its officials to defer non-essential travel to Israel, Jerusalem and the West Bank until December 20.
---

Palestinian youths protest U.S. President Donald Trump's decision to recognize Jerusalem as the capital of Israel, in Gaza City on December 7, 2017. Photo by Mohammed Abed / AFP
Demanding Trump Backtrack on Jerusalem, Iraq Summons U.S. Ambassador
Protests erupt throughout the Middle East in response to Trump recognizing Jerusalem as Israel's capital
By the Associated Press
December 07, 2017
Iraq summoned the U.S. ambassador to Baghdad to protest U.S. President Donald Trump's Wednesday announcement recognizing Jerusalem as the capital of Israel. The summons is the latest in widespread condemnations of Trump's decision across the Middle East.
Palestinians shuttered schools and shops and called for protests in West Bank towns on Thursday, in show of anger over President Donald Trump's recognition of bitterly contested Jerusalem as Israel's capital.
Trump's dramatic break Wednesday with decades of U.S. policy on Jerusalem counters long-standing international assurances to the Palestinians that the fate of the city will be determined in negotiations. The Palestinians seek Israeli-annexed east Jerusalem, captured by Israel in 1967, as a future capital.
Saudi Arabia's royal court, led by King Salman and his powerful son, condemned the Trump administration's decision in a rare public rebuke by the U.S. ally.
Saudi Arabia, a regional powerhouse that could help the White House push through a Middle East settlement, said Thursday the kingdom had already warned against this step and "continues to express its deep regret at the U.S. administration's decision," describing it "unjustified and irresponsible".

Palestinians take part in a protest against President Donald Trump's decision to recognize Jerusalem as the capital of Israel, in Gaza City, December 7, 2017. Photo by Mohammed Abed/AFP
Trump's move puts the Sunni nation in a bind. The kingdom, particularly its powerful crown prince, Mohammad Bin Salman, enjoys close relations with Trump and his son-in-law Jared Kushner, who leads Trump's efforts to restart Mideast peace talks.
U.S. Embassies across much of the Middle East and parts of Africa warned American citizens of possible protests following Trump's move.
In recognizing Jerusalem as Israel's capital, Trump was seen as siding with Israel's hard-line government which says it will not give up any part of the city.
Palestinian President Mahmoud Abbas has suggested that the United States disqualified itself as mediator between Israelis and Palestinians, a role it has played exclusively in more than two decades of stop-and-go negotiations on setting up a Palestinian state alongside Israel.
The talks, stalled in recent years, have failed to bring the Palestinians closer to the state the seek in the West Bank, Gaza Strip and east Jerusalem, lands Israel captured in the 1967 Mideast war. In parallel, Israel has steadily expanded Jewish settlements on war-won lands, even as it said it wants to negotiate a deal.
Trump's claim on Wednesday that he still wants to pursue what he has called the "ultimate" Mideast deal was met by mounting scepticism.
"With its decision, the U.S. has isolated itself and Israel, and has pushed the area into a dangerous situation and stopped the peace process," said Nabil Abu Rdeneh, a senior Abbas aid. "Without a doubt, this decision will not help at all in solving the problems in the area, but rather strengthen the extremists."
Abbas has not said what steps he would take, if any. Later on Thursday, he is to meet with his closest Arab ally, Jordan's King Abdullah II, to coordinate positions.
Jordan plays a central role in the mounting controversy and, alongside other U.S. allies in the region, has slammed Trump's decision on Jerusalem.
The king is seen as one of Washington's most dependable partners in the battle against Islamic extremism in the region.
At the same time, the legitimacy of his Hashemite dynasty is closely linked to its special role in Jerusalem, as religious guardian of a key Muslim shrine in east Jerusalem. Jordan, which has a large population with Palestinian roots, cannot afford to be seen as soft on Muslim claims to the holy city.
The consultations between the monarch and Abbas will kick off a series of meetings in the Arab and Muslim world on how to respond to Trump.
The Arab League, a group representing most states in the Middle East and North Africa, will meet Saturday. Next week, Turkey will host a gathering of the Organization of Islamic Cooperation, which has 57 Arab and Muslim member states.
The region has been bracing for fallout from Trump's seismic policy shift.
Turkish President Recep Tayyip Erdogan on Thursday accused Trump of throwing the Middle East into a "ring of fire" and said his motives were difficult to fathom. "It's not possible to understand what you are trying to get out of it, Erdogan said, referring to Trump in a speech to a group of workers at Ankara's airport.
"Political leaders exist not to stir things up, but to make peace," Erdogan said. "If Trump says 'I am strong therefore I am right,' he is mistaken."
With his announcement on Wednesday, Trump shattered decades of unwavering U.S. neutrality on Jerusalem.
Defying dire, worldwide warnings, Trump insisted that after repeated peace failures it was past time for a new approach, starting with what he said was his decision merely based on reality to recognize Jerusalem as the seat of Israel's government. He also said the U.S. would move its embassy from Tel Aviv to Jerusalem, though he set no timetable.
"We cannot solve our problems by making the same failed assumptions and repeating the same failed strategies of the past," Trump said, brushing aside the appeals for caution from around the world.
---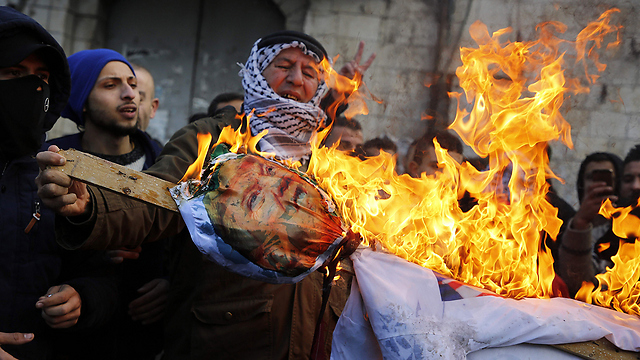 Palestinians in Nablus burn effigy of Donald Trump. Photo by Jaafar Ashtiyeh/ AFP/Getty Images
Thousands of Palestinians protest US Jerusalem move
Heeding Palestinian Authority calls for day of protests, Palestinians demonstrate in Jerusalem, major West Bank cities, and the Gaza border, coming out against US decision to recognize Jerusalem as Israel's capital.
By Hassan Shaalan, Liad Osmo, Yoav Zitun, Roi Kais, Ynet
December 07, 2017
Thousands of Palestinians took to the streets on Thursday to protest against US President Donald Trump's decision to recognize Jerusalem as Israel's capital.
At least 31 Palestinians were wounded in clashes with Israeli security forces, the Palestinians reported. Eleven protesters were hit by live fire and another 20 by rubber bullets, medics said.
An IDF spokeswoman said soldiers had used riot-dispersal gear against hundreds of rock-throwers.
Hundreds of Palestinians protested at the Damascus Gate in Jerusalem, carrying Palestinian flags. Among other things, protesters called out "We will sacrifice our lives for al-Aqsa."
Some protesters had minor clashes with the large Israeli security forces on the scene.
In the afternoon, dozens of Palestinians blocked a road near the Damascus Gate, shouted invectives and hurled water bottles and other objects at security forces. Three Palestinians were arrested.
"Trump shot himself in the foot," said Ali Mahmoud from east Jerusalem. "He doesn't get to decide anything. We're the residents here and this is our land. Trump's declaration will not change anything in our position and struggle. Al-Quds (Jerusalem's Arab name) is the capital of Palestine. Trump is better off looking for a game elsewhere, and far away from us. We've known for a while that he is a stupid person, and in the end he will lose and this will cost him."
A schoolgirl from east Jerusalem expressed disappointment of the lack of response among the Israeli Arab sector. "I won't be calm unless we fight against Trump's decision. After reading the condemnations on Facebook yesterday, I thought there was going to be war today, but unfortunately there is almost no response here," she said. "Me and many other students just want to be on the ground. If it's too difficult for the men, then us women have the strength to do a lot of things that would lead us to a right and just struggle, and not just talk."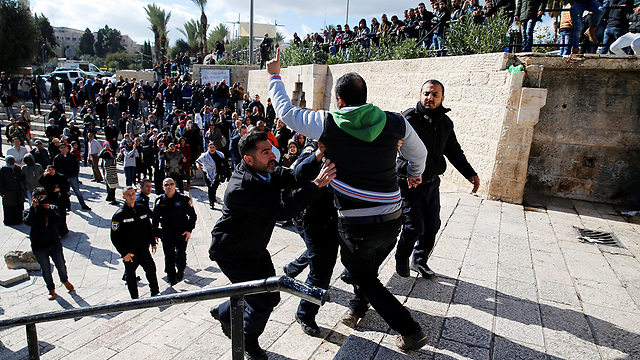 Clashes at the Damascus Gate in Jerusalem, photo by Reuters
Another east Jerusalem resident also criticized the Israeli Arab leadership. "We've had enough of slogans. Come to Jerusalem and head the demonstrations. Don't fear for your jobs, otherwise you'll lose the (trust) of the Arab citizens," he warned.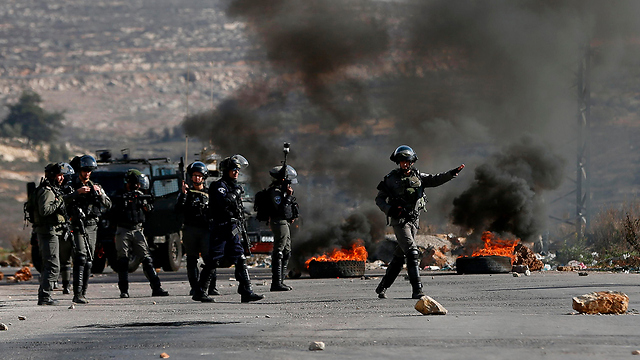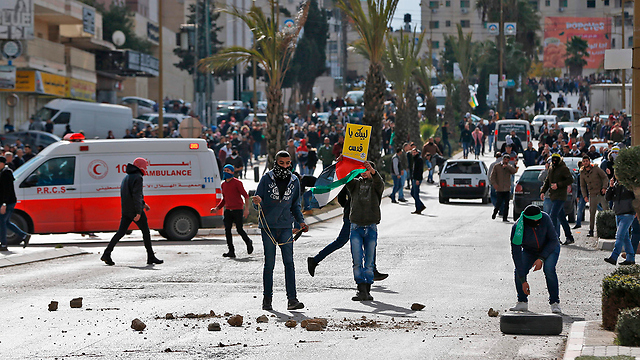 Clashes in Ramallah, photos by AFP
In the West Bank, thousands of Palestinians protested in several different cities, including Jenin, Hebron, Bethlehem, Ramallah, Beitunia, Tulkarm, Qalandiya and Nabi Salih. Protesters hurled stones at Israeli security forces, who responded with crowd dispersal measures.
Four people were wounded by live gunfire and another 20 were hit by rubber bullets, Palestinian health officials said.
In the afternoon, the Gilboa border crossing, north of Jenin, was closed due to violent rioting there.
In Ramallah, the seat of the Palestinian government, protesters set tyres on fire, sending a thick plume of black smoke over the city.
In Hebron thousands of demonstrators rallied with chants of "Jerusalem is the capital of the State of Palestine." Israeli security forces arrested six Palestinian rioters, while two other Palestinians were hurt.
In the biblical town of Bethlehem, troops fired water cannons and tear gas to disperse a crowd, in clashes that could cloud the upcoming Christmas celebrations in the town of Jesus' birth.
Protests and rioting were also ongoing in the Gaza Strip, where dozens of Palestinians gathered at two points on the southern Gaza border fence and threw rocks at soldiers on the other side. The troops responded with crowd dispersal measures and at some instances with live fire as well.
Seven protesters were wounded by live fire, one was in a critical condition, the Hamas health ministry said.
In cities inside Gaza, thousands of Palestinians rallied, some chanting: "Death to America! Death to the fool Trump!" and burning tyres.
Demonstrators also burned posters of Trump and Prime Minister Benjamin Netanyahu, as well as Israeli and US flags.
Spontaneous protests also sparked in Gaza overnight, with angry youths burning tires, American and Israeli flags and Trump posters.
Palestinian secular and Islamist factions called a general strike and rallies as part of three "days of rage" to protest Trump's decision.
Answering the call for strike, the Palestinian education ministry declared a day off and urged teachers as well as high school and university students to take part in the planned rallies in the West Bank, the Gaza Strip and Palestinian areas in Jerusalem.
Member of armed groups including from Palestinian President Mahmoud Abbas's Fatah faction, appeared at a news conference in Gaza, their faces hidden by masks and called for a resumption of armed resistance in the West Bank.
Abbas travelled to the Jordanian capital, Amman, to meet King Abdullah where he updated him on the latest developments, the Wafa news agency said.
Reuters contributed to this report.
---

Students hold a Palestinian flag in the Ain El-Hilweh refugee camp, southern Lebanon, Dec. 6th. Photo by Ali Hashisho, Reuters

Trump's Jerusalem decision will end all hope of Palestinian-Israeli peace
President Donald Trump's contentious decision to move the US embassy from Tel Aviv to Jerusalem is likely to be the death knell for hopes of peace.
By Daoud Kuttab, New Arab
December 06, 2017
Phone calls by US President Donald Trump to Palestinian President Mahmood Abbas and Jordan's King Abdullah II confirmed to anyone still in doubt that the current resident of the White House is unabashedly biased towards Israel.

Muslim men burn portraits of U.S. President Donald Trump during a rally against his decision to recognize Jerusalem as Israel's capital in Banda Aceh, Indonesia, Friday, Dec. 8, 2017. Hundreds of people across the most populous Muslim country staged protests on Friday against Trump administration's policy shift on the contested city. Photo by Heri Juanda/AP
Supporting Israel has been the hallmark of all previous US administrations, with the exception of one. All previous presidents have kept away from tinkering with the sensitivities of the peoples of the Middle East and the faithful followers of the monotheistic religions.
While in previous administrations Congress did all the heavy lifting for Israel and the pro-Israel lobby, while the executive branch and the State Department tried to retain the appearance of balance.
Public statements from all previous administrations followed the international consensus on the issue and presidents refused to publicly accept Israel's unilateral acts in Jerusalem.
International outrage
Israel's annexation of occupied East Jerusalem and the application of Israeli law in the holy city has been rejected by the entire international community. Every single country in the world has moved its embassy out of Jerusalem as an expression of their opposition to Israeli attempts at violating international law.
The Fourth Geneva Convention which regulates how an occupying power is to act, forbids Israel from carrying out any action that alters the legal and demographic nature of areas under its occupation.

Protest march, Tunis, December 7th. Photo by Zoubeir Souissi/Reuters
The Trump administration has proven to be more cordial towards Israel than the US Congress. In 1985, a pro-Israel Congress passed the Jerusalem Act, which calls for restrictions to funding of State Department in Israel if the US administration fails to move the embassy from Tel Aviv to Jerusalem. However, the act gave the administration the ability to delay such a move with a presidential waiver valid for six months. Every administration since then – both Democratic and Republican – have regularly signed the waiver and allowed the status-quo to prevail, until now.
One of this president's major donors is none other than the ultra-right-wing businessman Sheldon Adelson who has been pushing for more hawkish US action on the issue of Jerusalem, which many Israelis are not excited about it. They know it will lead to more Israeli and Palestinian blood being spilled and push back the chances of peace.
Blow to peace
Israeli media reported on Monday that 25 former Israeli ambassadors, academics and peace activists "expressed their opposition to US President Donald Trump's potential unilateral recognition of Jerusalem as Israel's capital in a letter to Trump's Mideast peace envoy Jason Greenblatt".

Turkish protesters at Trump's Jerusalem proclamation outside the US consulate, Istanbul. Tolga Bozoglu/EPA- EFE/Rex/ Shutterstock
Palestinians have consistently opposed any attempt by Israel, the US or any other party to act unilaterally when it comes to the status of Jerusalem. Former Israeli opposition leader Ariel Sharon's provocative entry to al-Aqsa Mosque in 2000 ignited violent opposition that resulted in the national-wide Second Intifada. Thousands of Palestinians and Israelis were killed and injured as a result of that single unilateral act.
| | | | | |
| --- | --- | --- | --- | --- |
| | | Congress did all the heavy lifting for Israel and the pro-Israel lobby, while the executive branch and the State Department tried to retain the appearance of balance. | | |
Last summer, Israel's attempts to place metal detectors at the entrances of al-Aqsa Mosque compound started weeks of huge demonstrations, while hundreds of thousands of Palestinians refused to enter the mosque. In the end. Israel retracted its unilateral decision.
Palestinian schools have declared Wednesday as a "day of anger" to discuss Jerusalem and its centrality to the Palestinian cause. Palestinian officials have said that the issue of Jerusalem is a deal breaker. Trump's announcement on Jerusalem comes just days after the administration unveiled its so called "ultimate deal", and the decision on the embassy should end any chance of a new peace process beginning even before it starts. It is not clear what President Trump would gain from such a provocative move except to destroy the slim chance that his son-in-law Jared Kushner could restart the stalled peace process.

Malaysian Muslims, including members of the ruling party, hold protest outside U.S. Embassy over Washington's move to recognize Jerusalem as Israel's capital. Photo by Sadiq Asyraf/AP
The current honeymoon period between Washington and Riyadh might be misguided by the Trump administration. It appears that they think that Jerusalem is simply a Palestinian issue, or judging by the phone calls Trump made on Tuesday a "Palestinian/Jordanian issue".
Jerusalem, however, is much bigger than that. It is an Arab and Islamic issue as well as an international issue for all faithful and peace-loving people around the world.
The US is totally mistaken if they think they can manage to stay relevant in the Middle East while providing naked an uncritical support for Israel and its decades' long acts of aggression and occupation.
If President Trump is serious about wanting to move the embassy, he can do it once a two-state solution is translated into reality. Then – and only then – can Israel declare West Jerusalem as its capital and Palestine can do the same with East Jerusalem. Short of that the US is playing with fire which will not be easily put out.
Daoud Kuttab is an award winning Palestinian journalist from Jerusalem. He is a columnist with al-Monitor and a former Ferris Professor of Journalism at Princeton University. Follow him on twitter.com/daoudkuttab

---

Palestinians in Jerusalem's Old City watch Trump's televised speech, photo by Ammar Awad/Reuters
Trump ignores warnings with 'reckless Jerusalem move'
By Ben Dalton, Al Jazeera
December 07, 2017
EXCERPT
Trump has "destroyed any possibility of peace" and was "pushing this region towards chaos [and] violence" said Saeb Erekat, the chief Palestinian negotiator.
"He is destroying all moderates in the region and giving power to extremists.This is the most dangerous decision that any US president has ever taken" Erekat told Al Jazeera.
Erekat said Trump had "disqualified his country from any possible role in the peace process".
"How can he talk about peace when he dictates the future of Jerusalem before negotiations begin, in total violation of international law?"
Erekat said it is "meaningless" to have a Palestinian state without Jerusalem as its capital.
The only option remaining for Palestinians, he said, "is to fight for equal rights" between the Mediterranean Sea and the Jordan River, the area of historic Palestine.
US analysts say Trump's announcement might be intended as an opening move in the administration's yet-to-be-revealed Middle East peace plan, but risks igniting a "powder keg" at the heart of the Israel-Palestine conflict.
"Jerusalem has a tendency to explode when you fool around with the status quo," said Aaron David Miller, vice president at the Woodrow Wilson Center and a former Middle East adviser to the Clinton and Bush administrations.
He said the president's decision could either be part of a strategic plan or a "one-off" born from his desire to fulfil his election campaign promise
"Some might argue that the president has succeeded at extracting certain assurances from the [Israeli] prime minister on other permanent status issues, but needed this for cover," Miller said.
"I'd love to believe … that there is a coherence here, but if there is, I am at a loss to understand what it is."
The immediate grounds for Trump's announcement was the expiration of the latest six-month waiver delaying relocation of the US embassy from Tel Aviv to Jerusalem.
The 1995 Jerusalem Embassy Act requires the US government to establish an embassy in Jerusalem, but allows the president to delay doing so by signing a waiver every six months. The waiver spares the state department financial penalties for failing to comply with the law.
Presidents Bush and Obama signed the waiver twice per year with little fanfare. However, Trump has long hinted he would deviate from his predecessors.
In the lead-up to Wednesday's speech, Mustafa Barghouti, an independent Palestinian politician, told Al Jazeera: "This is a reckless act from the side of the American president […]. This is a very dangerous act.
"It does not take into consideration what it means to 1.6 billion Muslims, 2.2 billion Christians and 360 million Arabs.
"It will create a very serious reaction and destabilise the region – and definitely destabilise the situation in Palestine itself."
Alienating Arabs
On the campaign trail, candidate Trump promised to move the embassy to Jerusalem and, according to Senator Bob Corker, was ready to do so on day one of his presidency.
When Trump used his waiver power last June, an unnamed White House official was quoted saying the move was "a question of when, not if".
Trump's announcement risks alienating Palestinians and Arab countries that would be key to any peace plan, experts say.
"Accepting to move the embassy to Jerusalem means that the US is participating with Israel in imposing facts on the ground," Barghouti said.
"This is not a single [isolated] act. This US administration that did not speak even once about a two-state solution. This American administration did not say or mention the world Palestinian state once.

"This American administration has failed to exercise any pressure on Israel on the issue of settlements, although Israel has enhanced settlement activities in the occupied territories by no less than 100 percent since President Trump was elected."
For his part, Miller said that by recognising Jerusalem as Israel's capital, Trump is implicitly "validating Israeli claims and sovereignty over part of the city that is aspired to by another national movement".
Brian Katulis, a senior fellow at the Center for American Progress, said the Trump administration has been signalling it will soon debut a plan to resolve one of the world's longest and most intractable conflicts. Wednesday's announcement could be an opening salvo in that plan – an attempt to open discussions.
"If that's what this is, it's likely to backfire given the initial reaction we've seen from some of our closest allies and partners like Jordan," Katulis said.
Public outcry could prime Arab governments to eschew rather than embrace US proposals, he said.
In a statement, John O Brennan, former director of the Central Intelligence Agency, also called Trump's action "reckless", saying it would "damage US interests in the Middle East for years to come and will make the region more volatile".
Message to Palestinians
The announcement is likely to dash hopes that the US would give equal weight to Palestinian concerns in future negotiations – hopes raised when administration officials made an effort to meet Palestinian leaders earlier this year.
"I think this will send a message that US administrations have been sending for years: that the Palestinians are not as important as the Israelis, or their views are not as important," said Katulis.
"I can't predict violence – I don't know," said Miller. "But certainly, if you wanted to make an issue out of this, a quote-unquote 'defence of Jerusalem,' it's a ready-made issue."
World leaders have warned violent reactions to the US embassy announcement are a distinct possibility.
King Abdullah II of Jordan – speaking at a press conference in Istanbul with Turkish President Recep Tayyip Erdogan on Wednesday – said the US was inviting blowback with the decision.
"Ignoring the Palestinian, Muslim, and Christian rights in Jerusalem will only fuel further extremism and undermine the war against terrorism," Abdullah said.
Erdogan also highlighted the threat of violence after the US decision.
"No one has the right to play with the fate and development of millions of people for the sake of personal ambitions. Such a step will only play into the hands of terror groups," Turkey's president said.
But analysts said the embassy decision will please religious conservatives among Trump's base, as well as major donors.
Rabbi Alissa Wise, deputy director of the left-wing advocacy group Jewish Voice for Peace, said US evangelical Christians – who voted overwhelmingly for Trump in the 2016 election – are staunch supporters of Israel's right-wing government. Wise also cited billionaire Sheldon Adelson, one of Trump's largest campaign donors, as a possible source of pressure on the president to back Israel's claim to a united Jerusalem.
Wise is worried the decision would frame a political struggle over land, rights and sovereignty in religious terms.
"Because Jerusalem is a symbol of holiness to so many religions, creating a tension around Jerusalem runs the risk of shaping or framing this conflict as a religious one, which I think gets us further and further away from a more equitable solution," Wise said.
"It really is a match in the powder keg, a decision like this."
For his part, Barghouti, the Palestinian politician, said: "This is an administration that obviously is, to a large extent, taking its decision according to the will and pressure of the Israeli Zionist lobby in Washington.
"The Palestinian people will react, with a public, popular non-violent uprising. That's what you will see tomorrow, after tomorrow and the days after.
"This is a very serious matter. People should not forget that the second intifada started because of the issue of Jerusalem and I believe that … Trump will be killing completely any future American role in any future peace process."
Also see Donald Trump and the death of the two-state solution