NIBS-Balfour, Britain's broken promise
NIBS-October 13, 2017
---
Top Japanese department store stops sales of Israeli settlement wine after civil society concerns


Photo of Israeli vineyard from Forbidden Fruit: The Israeli wine industry and the Occupation (whoprofits, 2011). See also Forbidden Fruit
October 1st 2017, Business and Human Rights Resource Centre
Mitsukoshi Ginza, one of the leading high-end department stores in Japan, removed wines produced in Israeli settlements from an event promoting Israeli wines, pursuant to concerns raised by the Palestine Forum Japan and other civil society organisations. The event was also shortened and considerably scaled back. All Israeli settlements in Palestine are in violation of international law, and Israeli settlement activity has been condemned by numerous UN resolutions and bodies. In April 2016, the Human Rights Council demanded that businesses "avoid contributing to the establishment or maintenance of Israeli settlements or the exploitation of natural resources of the Occupied Palestinian Territory" and instructed the High Commissioner of Human Rights to create a database of all businesses profiting from Israeli settlement activity.
---
Hebrew U professor: Israel today similar to Nazi Germany
[Although this comment was made last June it is worth noting it given the response of Dame Rothwell, Manchester U, to what was to have been a public meeting addressed by Hungarian historian Marika Sherwood who chose the title "You're doing to the Palestinians what the Nazis did to me".]
By Yocheved Laufer, JPost, June 23, 2017
Hebrew University Professor, Dr. Ofer Cassif, compared recent Israeli legislation, both proposed and passed, to those of the Third Reich in Nazi Germany, reported Channel 2 on Thursday as a recording of his class became public.
The statement occurred in a Politics and Government course as part of a preparatory college program at Hebrew University in Jerusalem.
One of Cassif's students objected to the comparison, but the political science professor continued with his analogy stating that it is comfortable to deny the situation in order not to come to terms with reality, but that it would very dangerous to do so.
He also explained to his students that the comparison is a matter of fact rather than opinion. His personal thoughts on the matter are even far more reaching.
Cassif further criticized the current state of of affairs in Israel saying, "those who refuse to see the similarities between what is happening in Israel, specifically in the past two years, and Germany in the 1930s, has a problem and will be responsible for the potential situation of the state."
Cassif drew specific parallels from recent Israeli legislature regarding Arabs and Jews, to policies of Nazi Germany.
The Hebrew University professor stated that the proposed Israeli nation-state law is similar to 1930s Germany's methods of creating a hierarchy of citizens according to classes.
---

Some 30,000 people took part in the Women Wage Peace rally in Jerusalem on Sunday night in Independence Park.
The rally was the high point of a "peace walk" that began two weeks ago in Sderot in the Negev and passed through the territories and Israel, with the participation of thousands of Israeli and Palestinian women, calling for a peace agreement. Adina Bar-Shalom, founder of an ultra-Orthodox women's college and the daughter of former Sephardi Chief Rabbi Ovadia Yosef also participated.
By Nir Hasson, Haaretz,  October 08, 2017
---

Cosseted boy soldier Elor Azaria. Miriam Alster/Flash90
News in Brief Snippets
October 09, 2017
The Israeli soldier, Elor Azaria, was convicted of manslaughter, and jailed for 18 months, for the March 2016 killing of Abdel al-Fattah al-Sharif in the occupied West Bank
September 28, 2017
Israel's military chief of staff has cut the jail term being served by a soldier who shot a wounded Palestinian in the head in Hebron. On Wednesday, however, the army announced that it was reducing his sentence by four months, "out of consideration of the fact that he is a combat soldier and a warrior" who had "endured a lot", a spokesperson explained.
According to reports, if "Azaria gets one-third of his sentence off for good behaviour, he could be released as early as March 30, 2018".
Mustafa Barghouti, senior member of the Palestinian Liberation Organization (PLO) central council, told Al Jazeera that "the reduction of the sentence is an encouragement for Israeli soldiers to commit violations" against Palestinians.
---
BICOM's quarterly journal, Fathom, has produced a special issue for the Balfour centenary
The editors say:
We have three essays on the genesis of the Declaration.
Efraim Halevy, the former head of Mossad, offers a fascinating study of the World War One Jewish spy network in Palestine, NILI – an acronym for the biblical Hebrew phrase, Netzakh Yisrael Lo Yeshaker, meaning 'The Eternal One of Israel will not Lie'. He argues that both the victory of the British Army led by General Allenby and the Balfour Declaration itself were in good measure the result of this first successful foray of the Jewish people into modern international intelligence-gathering and espionage.
The British Prime Minister David Lloyd George believed that Chaim Weizmann would be become 'the one name that will be remembered in Jewish history a thousand years from now'. Hyperbole, for sure, but Azriel Bermant's recent researches in the Guardian Archive at the University of Manchester have revealed that Weizmann was indeed central to the discussions that led to the Balfour Declaration.
Ronnie Fraser tells the little-known story of the British Labour movement's War Aims Memorandum, which expressed support for Zionism three months before the Balfour Declaration. 'The British Labour Movement,' declared the Labour leaders, 'expresses the opinion that Palestine should be set free from the harsh and op­pressive government of the Turk, in order that the country may form a Free State, under inter­national guarantee, to which such of the Jewish People as desired to do so may return, and may work out their salvation'. The Balfour Declaration itself was welcomed by several Labour leaders including Arthur Henderson, George Lansbury and Ramsay MacDonald, while the left wing magazine The New Statesman welcomed the Balfour Declaration as 'one of the best pieces of statesmanship' adding 'It is hard to conceive how anybody with the true instinct for nationality and the desire to see small nations emancipated can fail to be warmed by the prospect of emancipating this most ancient of oppressed nationalities.'
---
Legacy of Balfour Declaration: IJV film
October 09, 2017
Independent Jewish Voices' new film, "100 years after Balfour", spelling out the troubling legacy of the 1917 Balfour Declaration, is live on You Tube, Facebook and our website. We're asking friends to help us spread the word. Please can you share it widely to help it go viral?
https://m.youtube.com/watch?v=a2Y3Pllutjo&feature=youtu.be
#NoCelebration #JewsSpeakOut
---
New stage of unity a prelude to Israeli-Palestinian peace
Times of Israel, October 8th, 2017
Egyptian President Abdel-Fattah el-Sissi on Sunday said the current Egypt-backed reconciliation talks between the Palestinian Authority and Hamas are "preparation" for an Israeli-Palestinian peace deal.
"Ongoing Egyptian moves to help our Palestinian brothers start a new stage of unity in the Palestinian ranks is preparation for a just peace between Palestinian and Israeli sides, and the establishment of an independent Palestinian state to meet legitimate aspirations of the Palestinian people for a secure, stable and prosperous life," Sissi said during a cabinet meeting, according to a statement published by his official spokesperson.
Egypt was set to host delegations from the rival Palestinian factions Fatah and Hamas later this week, as the two sides continue to negotiate the terms of a unity government that would see the PA assume civil control of the coastal enclave.
Despite Egypt throwing its weight behind Fatah-Hamas reconciliation, Palestinian Authority President Mahmoud Abbas has been reluctant in his support, saying any unity deal must lead to the PA assuming "full control" over the Strip and see the Hamas terror group cede its military arsenal.
Hamas, however, has been adamant it will not part from its weapons.
---
EU representatives commend reconciliation talks
JPost, October 4th, 2017
The European Union Heads of Mission in Jerusalem and Ramallah have commended leaders on the recent reconciliation talks between the Palestinian Authority and Hamas.
Palestinian Authority Prime Minister Rami Hamdallah and the PA's cabinet traveled to Gaza earlier this week to hold a meeting with Hamas ministers.The larger focus of the meeting was to discuss territorial divisions of the West Bank and Gaza and how the PA would take over the latter. Despite little progress on this – and Israel's firm stancethat it will not accept any conclusions reached by the various Palestinian leaders – the EU representatives celebrated the push by the PA to "assume its responsibilities in Gaza."
---
ICAN, the International Campaign Against Nuclear Weapons was awarded the Nobel Peace Prize this year. Israel is the only state with nuclear weapons not to have made it public or acceded to the Non-Proliferation Treaty (NPT). Although it has demanded that Iran's nuclear-weapons capability be open to inspection its own arsenal is off limits. According to the Stockholm International Peace Research Institute's SIPRI Yearbook of 2014, Israel has approximately 80 nuclear warheads.
Nine states altogether now possess a nuclear arsenal.
The first five  to acquire nuclear weapons are parties to the NPT – the United States, the Russian Federation (successor to the Soviet Union), the United Kingdom, France, and China.
Since the NPT entered into force in 1970, three more states have conducted nuclear tests, India, Pakistan, and North Korea. North Korea had been a party to the NPT but withdrew in 2003.
Information from Wikipedia
---
Other peace prize winners
There is significant scepticism about the wisdom of the Norwegian Nobel Committee in choosing the recipient.
1973 Henry Kissinger. "Political satire became obsolete when Henry Kissinger was awarded the Nobel peace prize." Tom Lehrer
1978 Menachem Begin was a commander in the paramilitary Irgun, though he did also negotiate a peace treaty with Egypt whose leader, Sadat, also won the prize.
1991 Aung San Suu Ky
1994  Shimon Peres, Yitzhak Rabin and Yasser Arafat share the prize for signing the Oslo Accords. The Palestinian National Authority it created is still hobbled and Israel's aggressive settlement expansion contradicts the spirit of the accords says Avi Shlaim and in  Chapter 13 of International Relations of the Middle East,OUP
---
By Amihai Attali, Ynet, October 5th, 2017
Visiting gay nephew's wedding was not about homosexuality, but about family, former Shas MK Guetta says; 'Every Sephardic family has one of each kind: Haredi, secular and gay. We embrace them all,' he adds. He  spoke with political activists and current MKs, breaking his silence for the first time on his tumultuous 
resignation
 from the Knesset following his attendance of his gay nephew's wedding.
"The fact spiteful people presented it as if I attended some gay party in Tel Aviv is pure maliciousness. It wasn't about homosexuality at all. It was about the value of family," Guetta said in the talks.
---
Tensions high as Israelis storm Al-Aqsa Mosque for Jewish holiday
MEMO, October 5, 2017
Israeli settlers have increased the number of break-ins at Al-Aqsa Mosque in the run up to Jewish holidays, straining tensions in occupied East Jerusalem, according to the Palestinian Information Centre.
Dozens of Israeli settlers stormed the compound again this morning, performing religious rituals at the Muslim holy site. Some settlers also delivered speeches on the alleged Jewish temple that Israel insists existed prior to the building of the mosque. Despite no evidence being found to credit their belief, Israel has used the allegation to justify continued excavations and tunnelling under Al-Aqsa.
---
Israel issues 18 administrative detention orders against Palestinian detainees
Ma'an news, October 02, 2017
Israeli authorities last week handed down administrative detention orders — Israel's widely condemned policy of internment without charge or trial — to 18 Palestinian prisoners, according to official Palestinian Authority news agency Wafa
Although Israeli authorities claim the withholding of evidence during administrative detention is essential for state security concerns, rights groups have instead claimed the policy allows Israeli authorities to hold Palestinians for an indefinite period of time without showing any evidence that could justify their detentions…
Rights groups have claimed that Israel's administrative detention policy has been used as an attempt to disrupt Palestinian political and social processes, notably targeting Palestinian politicians, activists, and journalists.
According to prisoners rights group Addameer, there were 6,279 Palestinians in Israeli prisons as of August, with 465 being held in administrative detention.
---
---
1-7 October 2017
This year, both the Sun and the Daily Express marked Rosh Hashanah and Yom Kippur with explanations of these hitherto obscure festivities. This is the Sun's on September 30, 2017:
Yom Kippur ends today – what is the holiest day in the Jewish calendar about?
Held on the tenth day of the Jewish month of Tishri, Yom Kippur, is seen to be the holiest day of the year for Jews
By Hannah Crouch
30th September 2017
THEMES of atonement and repentance are central to the the Jewish celebration of Yom Kippur – but what exactly is it all about?
Yom Kippur completes the annual period known in Judaism as the High Holy Days or Days of Awe that commence with the Jewish New Year – Rosh Hashanah – and here is a guide to the Jewish holiday.
What is Yom Kippur?
Yom Kippur is held on the tenth day of the Jewish month of Tishri and is seen to be the holiest day of the year for Jews.
To mark the 'Sabbath of Sabbaths', Jewish people fast for 25 hours and pray devoutly for most of the day, with five different sessions called Maariv, Shacharit, Musaf, Minchah and Neilah.
….
This year, the one-day celebration began in the evening of Friday September 29 and ends this evening, Saturday September 30.
---
Petition on Child Prisoners, organised by Palestine Solidarity Campaign
End the mistreatment of Palestinian children in Israeli military detention
Click headline above to go to petition
We, the undersigned, support an end to the mistreatment of Palestinian children under Israeli military detention and for the rights of Palestinian children to be upheld in accordance with international law.
We call upon the British government to make a public statement that it will take immediate, effective and meaningful action-including through international bodies-to ensure all the following requirements are implemented by the Israeli government without delay:
1.       Children must not be prosecuted in military courts that lack basic and fundamental due process guarantees;
2.       Detention must only be used as a measure of last resort;
3.       Children must not be arrested at night;
4.       Children must not be subjected to any form of physical violence;
5.       Children must have access to legal representation and parents prior to and during interrogations;
6.       All interrogations of children must be audio-visually recorded;
7.       Any statement made as a result of torture or ill-treatment must be excluded as evidence in any proceeding; and
8.       All credible allegations of torture and ill-treatment must be thoroughly and impartially investigated in accordance with international standards, and perpetrators brought promptly to justice.
[Note these requirements are those set out by Defense for Children International Palestine -a national section of Defense for Children International (DCI) – and can be found at http://www.dci-palestine.org/issues_military_detention ]

See the PSC factsheet on Palestinian Child Prisoners for more information.
---
Jewish Voice for Labour is not an anti-Zionist group
Guardian letters, September 28, 2017
John Crace, whose contributions are always good value, has got it wrong (Sketch, 27 September). I chaired the meeting of Jewish Voice for Labour he mentions in passing. What he discusses in his sketch is in dispute but, in any event, it happened at an entirely separate meeting – not ours. JVL is not, as he claims, an anti-Zionist group, nor was the Holocaust mentioned, let alone questioned at our hugely popular launch on Monday evening at the Labour party conference, attended by close on 300 people.
Our mission is to contribute to making the Labour party an open, democratic and inclusive party, encouraging all ethnic groups and cultures to join and participate freely. The sole ideological commitments members make is to broadly support what is contained in our statement of principles. These include a commitment "to strengthen the party in its opposition to all forms of racism, including antisemitism".
Describing JVL as "anti-Zionist" fundamentally misrepresents us. Our statement of principles makes no mention at all of Zionism. Rather our objective is simply to uphold the right of supporters of justice for Palestinians to engage in solidarity activities. I gave an assurance from the chair that, in accordance with our statement of principles, you need hold no position on Zionism – for, against or anything else – to join and work with us.
Jenny Manson
Chair, Jewish Voice for Labour
---
School cancels Balfour poetry contest that fails to mention Israel
St Olave's Grammar School in Orpington announced be hosting the poetry competition on November 2.
Ben Weich, Jewish Chronicle
September 29, 2017
A Kent grammar school has abruptly withdrawn from hosting a poetry competition marking the Balfour Declaration centenary which only asked for submissions on the theme of Palestine.
St Olave's Grammar School in Orpington announced in its June newsletter that it would hold an international poetry competition on November 2.
The competition, sponsored by The Balfour Project, Shortlands Poetry Circle and Bromley International Cluster, is open to students aged between 10- and 18-years-old from "all faiths and none", and will award £500 to the winner.
The school was contacted by Board of Deputies vice president Sheila Gewolb over why Israel was not mentioned.
Headmaster Aydin Önaç told Mrs Gewolb that the school was "simply hosting the competition"…..
But when contacted by the JC on Wednesday, the headmaster said the school was no longer hosting the event. He declined to comment further.
---
Palestinian citizens of Israel constitute at least a fifth of Israel's population and yet they are often overlooked, by Israel and by the international community. Inspired by Mohammed Amin's 2016 article,
Remember the Forgotten Israelis
, we ask how these 'forgotten Israelis' can advance against the discrimination they face? What efforts are already being made by Jewish and Palestinian Israeli organisations on the ground? What role could and should Britons play?

To address these questions, and more, we are hosting a panel discussion with experts in the field of Israel-Palestine, inter-group and inter-faith dynamics, and peace. Panellists Mohammed Amin MBE, Dr Nava Sonnenschein, Dr Marwan Darweish, and Dr Jane Clements, will be chaired by Professor Rosemary Hollis.
Monday 9th October 2017
6:30pm — 8.30pm
Fleet Street Venue
Tea and Coffee will be providedTo register, and for full venue details, please email office@oasisofpeace.org.ukAdmission is free but donations would be greatly appreciated (suggested minimum £15 per person).See also
---
National March and Rally – Justice Now: Make it right for Palestine
Organised by Palestine Solidarity Campaign
Start: Speakers' Corner, Hyde Park
Marble Arch – London
November 4th, 2017
12:00 pm – 4:00 pm
---
 and another video clip of JfJfP signatory
Leah Levane
 on whether the Labour conference should be discussing antisemitism
---
Portrait of Palestine – Food and Art as Resistance St Leonard's Street, Bromley by Bow, London, E3 3BT, London 5 OCT 2017
6:30 PM – 8:30 PM VIEW
Organised by PSC
---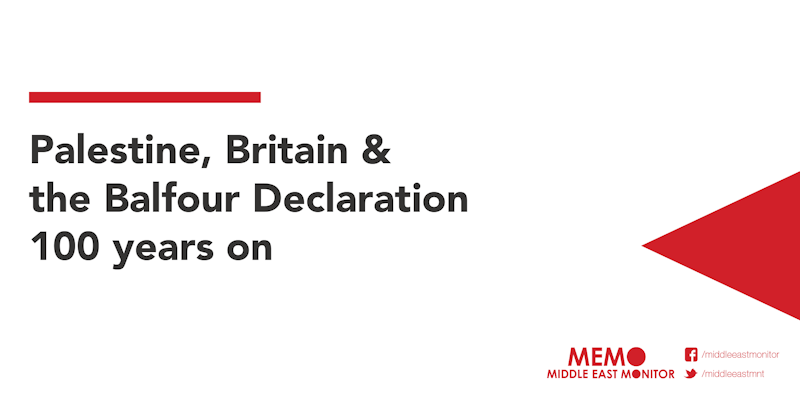 Join Middle East Monitor on the 7th of October at the British Library in Central London to learn more about and discuss the declaration, how it came about, its legal standing and consequences, and to look at Britain's role in the continued oppression of Palestinians.
Panelists:
Prof. Avi Shlaim, renowned Israeli historian and professor of International Relations at the University of Oxford
Clare Short, former cabinet minister serving as the Secretary of State for International Development (DFID)
Prof. Penny Green, professor of Law and Globalisation at the University of London (Queen Mary)
Peter Oborne, Associate Editor of the The Spectator, and a columnist for the Daily Mail and Middle East Eye
Prof. John Dugard, former UN Special Rapporteur of Human Rights in Palestine, and a judge at the International Court of Justice
Dr Basheer Nafi, a senior research fellow at the Al-Jazeera Centre for Studies and a regular columnist for several publications
Prof. Jonathan Schneer, a celebrated author and a modern British historian at the Georgia Institue of Technology
Dr Peter Shambrook, is a Historical Consultant to The Balfour Project, as well as an author and academic.
Dr Victor Kattan, author of the critically acclaimed book From Coexistence to Conquest and a senior research fellow at the Middle East Institute
Salma Karmi-Ayyoub, a criminal barrister and legal consultant for the Palestinian human rights organisation Al-Haqq
Dr Mohsen Saleh, General Manager of Al-Zaytouna Centre for Studies and Consultations, and Editor-in-Chief of the Palestinian Strategic Report
David Cronin, author, journalist and political activist, as well as a contributing editor with the Electronic Intifada
Dr Jacob Cohen, a former member of the Zionist youth movement, and now an author and commentator on French-Israel relations
---
Britain's Broken Promise:
Time for a New Approach
Learning from the past for the sake of the future
Please join us at this unique event marking the centenary of the Balfour Declaration.
In words, film and music, it will acknowledge Britain's historic responsibilities in the Middle East. It will offer an opportunity to commit ourselves to support Palestinians and Israelis in building a peaceful future based on equal rights for all.
Among the speakers will be:
Baroness Helena Kennedy QC, Principal, Mansfield College, Oxford University
Rt Hon Tom Brake MP
Dr Philippa Whitford MP
Richard Burden MP
Sir Vincent Fean, former UK Consul-General, Jerusalem
Rabbi Danny Rich, Senior Rabbi, Liberal Judaism
Dr Imad Karam, award-winning film-maker
AT Methodist Central Hall Westminster, Storey's Gate, London, SW1H 9NH
---
Another Palestinian West Bank Village to Be Emptied, Israeli Security Official Says, Ha'aretz premium
A senior security official has said that residents of the Palestinian village of Sussia in the southern West Bank will be evicted within a few months, like the Bedouin village of Khan al-Amar.
---
Israeli forces destroy water pipes, agricultural road in Jordan Valley
By Ma'an, Bethlehem, September 28, 2017 — Israeli forces late on Wednesday 27th destroyed water pipes and a rural road that serves Palestinian farmers in the Jordan Valley-area village of Atouf, according to the Palestinian National Authority (PNA) Wafa news agency. The destruction caused clashes to break out between locals and Israeli forces.
---
PLO to request ICC investigation of Israeli settlement activity
By Ma'an
September 25, 2017
BETHLEHEM  –The Palestine Liberation Organization (PLO) has decided to submit an official request to the International Criminal Court (ICC) to investigate illegal Israeli settlement activity in the occupied West Bank and East Jerusalem, PLO Executive Committee member Dr. Hanan Ashrawi told Ma'an on Monday.
---
Palestinian Settler-Colonialism
By Dr. Alex Joffe
September 03, 2017
EXECUTIVE SUMMARY: The concept of "settler colonialism" has been applied with almost unique vehemence against Israel. But the fact that Jews are the indigenous population of the Southern Levant can be proved with ease. In contrast, historical and genealogical evidence shows Palestinians descend primarily from three primary groups: Muslim invaders, Arab immigrants, and local converts to Islam. The Muslim conquest of Byzantine Palestine in the 7th century CE is a textbook example of settler-colonialism, as is subsequent immigration, particularly during the 19th and 20th centuries under the Ottoman and British Empires. The application of the concept to Jews and Zionism by Palestinians is both ironic and unhelpful.
BESA Center Perspectives Paper No. 577, September 3, 2017
---
PLO to request ICC investigation of Israeli settlement activity
Ma'an
September 25, 2017
BETHLEHEM  –The Palestine Liberation Organization (PLO) has decided to submit an official request to the International Criminal Court (ICC) to investigate illegal Israeli settlement activity in the occupied West Bank and East Jerusalem, PLO Executive Committee member Dr. Hanan Ashrawi told Ma'an on Monday.
---
TED talk by Tony Klug, Sep 22, 2017. Asking who's 'right', Israelis or Palestinians gets us nowhere. 'We' must learn to listen, empathetically, to the other's subjective story. A deft naming of the emotions and projections involved. Self-determination and statehood for both people still seems the only answer. For that development, Occupation must be ended. All anti-Occupation activists must come together.
---
More than half British people support racial profiling of Muslims and Arabs for security reasons, survey reveals
Survey shows stark differences between opinions held by Leave and Remain voters Independent sept 25
The Independent, September 25, 2017
---
Inside the alt-right: 'Genocidal behind closed doors'

An anti-fascist activist who infiltrated the alt-right describes its growing influence and international connections.
The report that followed – The International Alt-Right: From Charlottesville to the White House – exposes the movement's connections to the administration of US President Donald Trump and the impact of alt-right ideas on far-right European political currents.
Hermansson's findings detail a movement rife with racism, anti-Semitism, Holocaust denial, neo-Nazism and conspiracy theories.
By Patrick Strickland, 25.09.17, Al Jazeera
---
Israel's Irrational Rationality
By David Shulman, NY review of Books
June 22, 2017
By Guy Laron, Yale University Press, 368 pp., $28.00
By Nathan Thrall, Metropolitan, 323 pp., $28.00
By Matti SteinbergTel Aviv University/Moshe Dayan Center, 503 pp., ₪100.00 (paper)
Edited by Michael Chabon and Ayelet Waldman, HarperPerennial, 434 pp., $16.99 (paper)
by Gershon Shafir, University of California Press, 283 pp., $26.95
---
PLO to request ICC investigation of Israeli settlement activity
Ma'an news
September 25, 2017
The Palestine Liberation Organization (PLO) has decided to submit an official request to the International Criminal Court (ICC) to investigate illegal Israeli settlement activity in the occupied West Bank and East Jerusalem, PLO Executive Committee member Dr. Hanan Ashrawi told Ma'an on Monday.
According to Wafa, during an Executive Committee meeting on Sunday, the PLO condemned Israel for "ethnic cleansing and racial segregation," which they highlighted were "considered war crimes that should be investigated by the ICC."
---
UN official welcomes Hamas decision to dissolve administrative committee
By WAFA, Palestinian News and Information Agency 
September 18, 2017 
United Nations Special Coordinator for the Middle East Peace Process Nickolay Mladenov welcomed on Sunday the decision by Hamas to dissolve the administrative committee that operated as a government in the besieged Gaza Strip since March.
He also welcomed the decision to allow Prime Minister Rami Hamdallah's National Consensus government to assume its responsibilities in Gaza.
Mladenov, who urged all parties to "seize this opportunity to restore unity and open a new page for the Palestinian people," said "the United Nations stands ready to assist all efforts in this respect."
---
By Institute for Palestine Studies,  (no date)
The news of Hamas' decision to dissolve its administrative committee in the Gaza Strip, which it established in March, 2017, has once again reignited Palestinian hopes about the prospect of reconciliation between the Islamic movement and the Palestinian Authority in the West Bank. According to Hamas, the seven-member committee was established to fulfill needs in the Gaza Strip that were not met by the Palestinian Authority's unity government as led by Prime Minister Rami Hamdallah. However, the Palestinian Authority long maintained that Hamas' committee constitutes a parallel government that has entrenched the rift between the Gaza Strip and the West Bank. A result of talks mediated by Egypt between the rival political factions, the decision to disband the committee comes only four months after Hamas released a new set of principles guiding the movement, which some observers described as a turning point in the movement's political identity.
---
Note based on BBC Middle East, March 2016
Between 25 and 35 million Kurds inhabit a mountainous region straddling the borders of Turkey, Iraq, Syria, Iran and Armenia. They make up the fourth-largest ethnic group in the Middle East, but they have never obtained a permanent nation state. Other principal groups are Arab, Jewish, Persian (Iranian) and Turkic.
In recent decades, Kurds have increasingly influenced regional developments, fighting for autonomy in Turkey and playing prominent roles in the conflicts in Iraq and Syria, where they have resisted the advance of the so-called Islamic State (IS) jihadist group. 98% of Kurds are Sunni Muslims.
The Kurds are an indigenous people of the Mesopotamian plains and the highlands in what are now south-eastern Turkey, north-eastern Syria, northern Iraq, north-western Iran and south-western Armenia.
See also Who Are the Kurds and Why Are They Seeking Independence From Iraq?
Haaretz, September 25, 2017
---
How Israel is silently transferring Palestinians from East Jerusalem
By Mersiha Gadzo on September 25, 2017, Mondoweiss
In January, Manwa al-Qanbar's 28-year-old son was shot dead after ramming his truck into a group of Israeli soldiers in the illegal Jewish settlement of East Talpiot, killing four. Two days later, al-Qanbar received a notice from the Israeli Ministry of Interior informing her of their intent to revoke her permanent residency status. Ten other members of al-Qanbar's extended family also received notices that their permits will be revoked, including two minors aged 8 and 10. By punitively revoking residencies, civil society organizations say Israel is illegally engaging in a "silent transfer and colonization" of Palestinians with the aim of maintaining a Jewish majority in Jerusalem.
---