Cyber censorship is illegal says Adalah

Almost two-thirds of Palestinians have a mobile phone, statistics say. The number of mobile phone subscribers in the West Bank and Gaza Strip reached 3.6 million of the total Palestinian population of five million, the Palestinian Central Bureau of Statistics (PCBS) and the Ministry of Communications and Information Technology said on Wednesday in a joint press release. Text and photo from The Gaza Post, May 17, 2017.
Israeli forces detain Palestinian man over 'inciting terrorism' on social media
By Ma'an News
September 24/25, 2017
BETHLEHEM — Israeli police forces have detained a 35-year-old Palestinian man for allegedly threatening violence and "inciting terrorism" on social media.
Israeli police spokesman Micky Rosenfeld said in a written statement that the man was detained in Jerusalem "on suspicion of threats to violence and incitement and supporting terrorism" on social media. The suspect, Rosenfeld said, saw his detention extended on Sunday until Sep. 27.
"Police are continuing intelligence and operations to find suspects that are involved in incitement and terrorism and using social media as a platform," the statement concluded.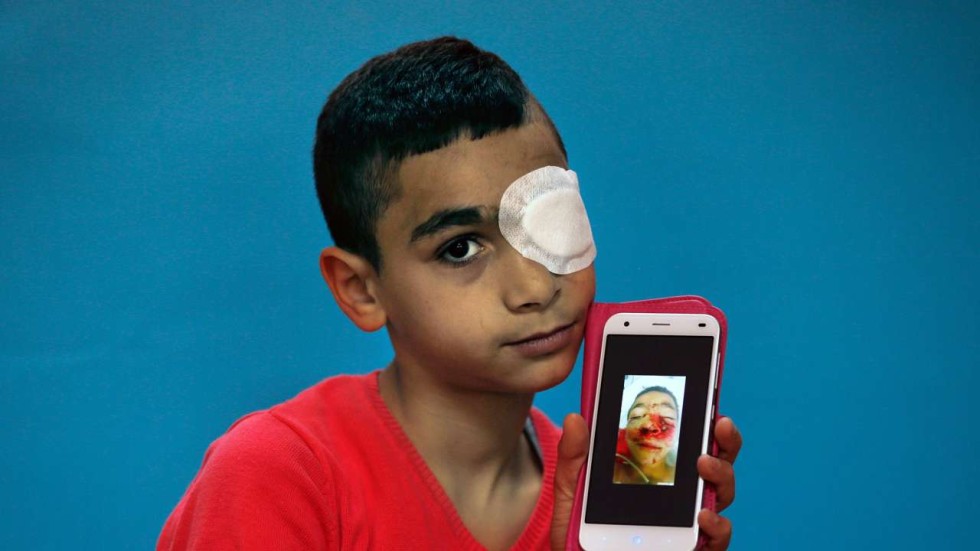 Ahmed Abu al-Homs, 13, hit by a stray Israeli anti-riot bullet, recorded on a mobile phone. From AFP, South China Morning Post.
In recent months, Israel has detained hundreds of Palestinians for social media activity, alleging that a wave of unrest that first swept the occupied Palestinian territory in October 2015 was encouraged largely by "incitement."
Critics have instead pointed chiefly to the frustration and despair brought on by Israel's decades-long military occupation of the Palestinian territory and the absence of a political horizon as reasons for the rise of unrest.
The Israeli government has also been accused of utilizing "anti-terrorism" discourse in order to justify and further entrench the Israeli military's half-century occupation of the West Bank and decade-long siege of the Gaza Strip.
Adalah, the Legal Centre for Arab Minority Rights in Israel, has meanwhile called on Israel to shut down its so-called Cyber Unit, which collaborates with social media platforms to censor content, saying the unit has "no legal authority." [see below]
By contrast, a February report released by the Arab Centre for Social Media Advancement, 7amleh, documented that slanderous, provocative, and threatening posts made by Israelis against Arabs and Palestinians had more than doubled in 2016, reaching 675,000 posts made by 60,000 Hebrew-speaking Facebook users — with only very few cases being opened against Israelis.
Meanwhile, since Palestinian President Mahmoud Abbas issued a far-reaching Cyber Crimes Law in June, Palestinians in the occupied West Bank are now also vulnerable to being arrested by Palestinian security forces for expressing their opinions online.
---
A reluctant upgrade

The poster campaign greeting Pres. Obama in Ramallah, 2015.
Israeli authorities were reluctant to upgrade the mobile phone network to 3G which makes it more difficult for Israeli security to monitor communications. The decision to allow an upgrade to 3G, attributed to Quartet persuasion, was announced in November 2015 as Israel accused Palestinians of "inciting violence" on social media and YouTube.
Full story Good reception: Palestinian 3G and the economic peace plan, New Arab, 23.11.15
---

A Palestinian protester uses his mobile to film clashes with Israeli soldiers on the Israeli border of Gaza. Photo by AP
Israel's 'Cyber Unit' operating illegally to censor social media content
Briefing by Adalah
September 09, 2017
Israeli State Attorney's Office's 'Cyber Unit' collaborates with social media platforms – including U.S.-based giants Facebook and Twitter – to censor users' posts, but has no legal authority.
Israel's state attorney's office is running a "Cyber Unit" which, in collaboration with major social media outlets, is illegally censoring user content. Adalah – The Legal Centre for Arab Minority Rights in Israel sent a letter on 2 August 2017 to Attorney General Avichai Mandelblit, State Attorney Shai Nitzan, and Cyber Unit director Haim Vismonsky demanding that they immediately cease the illegal operations of the state attorney's Cyber Unit.
The unit began operation during the second half of 2015 and is responsible for "dealing with cyberspace enforcement challenges" via censorship of social media posts. This censorship – conducted in collaboration and coordination with social media outlets, including U.S.-based giants Facebook and Twitter – entails the removal of content added by users, restriction of access to certain websites, and outright blocking of users' access to these sites.
Adalah Attorney Fady Khoury wrote in the letter that much of the unit's censorship operations are conducted without any basis in Israeli law:
"Nothing in the law allows state authorities to censor content based solely on an administrative determination… that the content amounts to a criminal offense. Likewise, there is no explicit directive in [Israeli] law authorizing the removal of content determined to amount to a criminal offence, even by a court."
According to the Cyber Unit's own end-of-year 2016 report, it handled 2,241 cases of online content that were ostensibly posted in violation of the law; 1,554 of these were removed as a result of the unit's operations.
While private bodies such as social media corporations are not subject to Israeli public law and therefore may lawfully choose to remove content in accordance with their terms of service, state agents – such as the Cyber Unit – are indeed subject to Israeli law and much of their censorship activities are therefore illegal. According to Attorney Khoury, Cyber Unit operations are a clear violation of free speech:
"In this context, a determination by the State's Attorney's Office, through the Cyber Unit, that a certain expression posted on social media websites amounts to a criminal offence is tantamount to an unproven suspicion. The Cyber Unit cannot impose sanctions based solely on this suspicion, let alone severe sanctions in the form of censorship. The authorities are not allowed to demand the removal of speech that has not yet been proven to be criminal, even if it is unpleasant to their ears. All speech should enjoy a 'presumption of legality' (akin to the presumption of innocence) until a court of law declares it illegal… When the Cyber Unit appeals to a service provider with a request to censor content based on its suspicion that the concerned content is expression forbidden by law and without a final [judicial] ruling in the matter, this constitutes an unconstitutional violation of freedom of speech."
Adalah also noted that Cyber Unit operations are a violation of the principle of separation of powers:
"The pretence of deciding upon the criminalization of expression, without appealing to the court or conducting any legal proceeding – and upon this basis determine censorship sanctions – impinges upon and supplants judicial authority and leads to the infringement of the principle of separation of powers. Cyber Unit clerks and administrative officials decide for themselves, within the framework of an alternative enforcement system, if a certain instance of expression 'is incitement to violence and terror, and support of a terror organization' or is a 'forbidden publication towards public servants in the framework of their jobs…' The obvious conclusion is that the state attorney is usurping judicial authority –reserved for the judicial branch – illegally and without any legal authorization."
Adalah demands that the Israeli attorney general, state attorney, and Cyber Unit halt all internet content censorship activities using the "alternative enforcement system" operated by the state attorney's Cyber Unit.
Twitter, Facebook regularly remove content at request of governments
According to Twitter and Facebook transparency reports, available on their websites, the respective sites remove a significant amount of content at the request of governments around the world. The reports note that the companies fulfil government requests upon finding that the post violates either their Community Standards or the requesting government's laws, although the former does not count in the total numbers reported by Facebook. For Twitter, the total number of requests made by governments is included below. For the July-December 2016 period, the sites granted requests for the following countries (among others):
Twitter Australia: 4/15 requests were granted; Canada: 11/38; France: 1334/2431; Germany: 236/371; Israel: 12/13; Italy: 6/13; Norway: 1/2; Sweden: 0/2; UK: 65/307; US: 100/381
Facebook: Australia: 2 requests were granted; Canada: 0; France: 683; Germany: 919; Israel: 661; Italy: 11; Norway: 0; Sweden: 0; UK: 177; US: 0
In the United States, there have been high profile instances of government requests to censor specific online content.
One successful attempt was in the case of recordings posted by Korryn Gaines, a woman who was shot dead by Baltimore County police officers. The killing was the culmination of an hours-long standoff between her and police, during which time Gaines had live posted a recording on Facebook. She also posted to her Instagram account a video of an earlier interaction with police. Following her killing, both of these accounts were taken offline following a request from police. While the accounts were eventually reinstated, two of the videos Gaines posted continued to be restricted for violating Facebook community standards.
Not the first time
This is not the first time Adalah has revealed Israeli state agents operating without any domestic legal authority.