Orthodox Jews in the US stay silent on white supremacy
Three articles, 1) Cleveland Jewish News, 2) Cleveland 19, 3) Forward.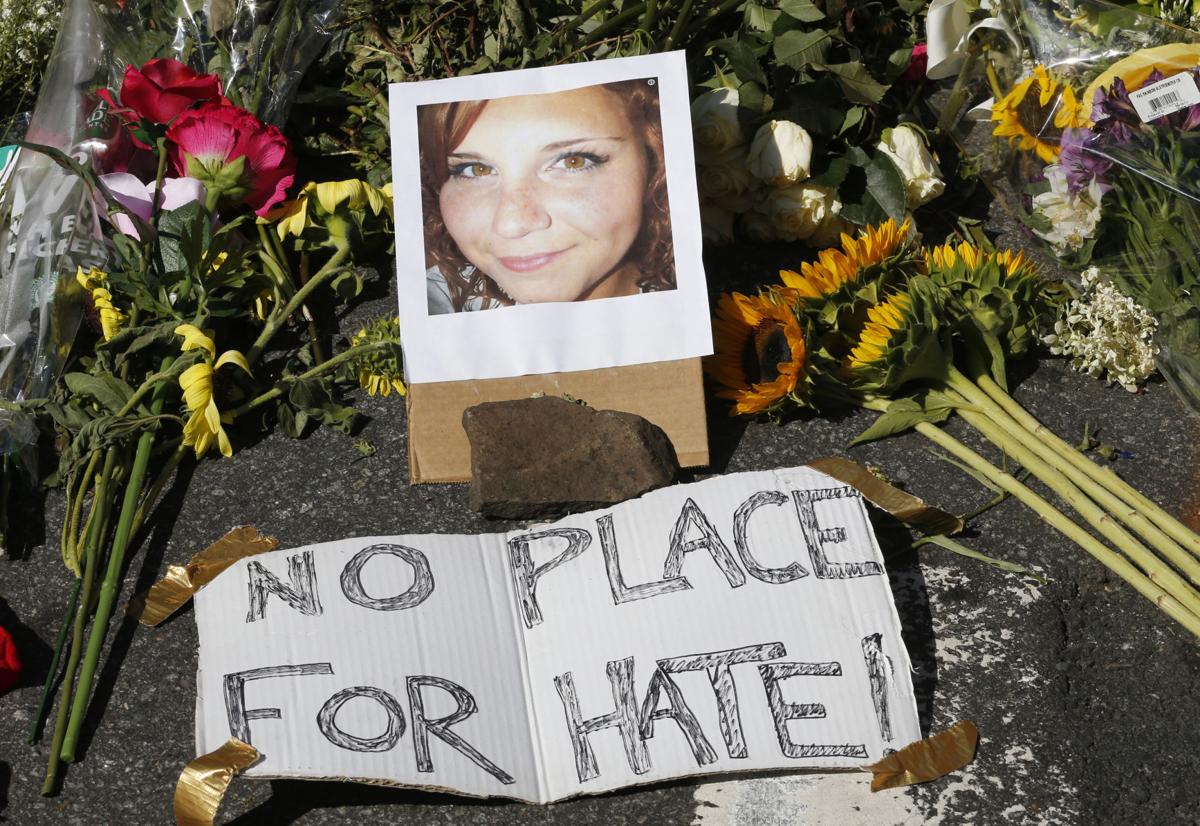 The makeshift memorial to Heather Heyer, killed when a white supremacist drove his car into a crowd in Charlottesville, August 13th.
Jewish groups condemn Charlottesville violence; rally planned in Cleveland
By Bob Jacob,managing editor Cleveland Jewish News |
bjacob@cjn.org
August 13/15, 2017
Response to the violence at a white nationalists rally Aug. 12 in Charlottesville, Va., that resulted in three deaths came quickly from Jewish groups and others in the area and around the world.
A car ploughed into a crowd of people peacefully protesting in the Virginia college town, leaving Heather Heyer, 32, dead and more than one dozen injured. Shortly after, a Virginia State Police helicopter that officials said was assisting with the rally crashed outside Charlottesville, killing pilot Lt. H. Jay Cullen of Midlothian, 48, and trooper-pilot Berke M.M. Bates, 40.
Community Notice
TONIGHT!
NOT IN OUR TOWN
Interfaith Peace Vigil Against Hate
TODAY! Monday, August 14 at 5:30 PM
Join Together in Solidarity Against White Supremacy, Bigotry and Hate
Steps of Cleveland City Hall
601 Lakeside Avenue
Cleveland, Ohio 44114
Join in Solidarity in support of the victims of bigotry and violence.
There should be no place for hate, not in Charlottesville, not in Cleveland, not anywhere.
"The hate and violence that played out in Charlottesville is something the ADL has been warning about for months," Anita Gray, regional director of the Anti-Defamation League in Cleveland, told the Cleveland Jewish News on Aug. 13.
"We have been working on the ground and behind the scenes leading up to during and after the rally. Our Center on Extremism has been collaborating with law enforcement for weeks, providing intelligence on the various white supremacist groups who subsequently showed up in Charlottesville, and investigating specific threats in real time. We remain in close contact with law enforcement, elected officials, community leaders and others and continue to provide critical research, resources and community support. All of our offices have been working around the clock to respond, inform and take action. We are thankful so many organizations and individuals have stepped forward to show their support for human dignity and condemnation of the events in Charlottesville. I personally appreciate all of our community partners who have taken the time to email me expressing their support."
Charlottesville descended into violence after neo-Nazis, skinheads, Ku Klux Klan members and other white nationalists gathered to "take America back" and oppose plans to remove a Confederate statue, and hundreds of other people came to protest the rally. The groups clashed in street brawls, with hundreds of people throwing punches, hurling water bottles and beating each other with sticks and shields.
The turbulence began on Aug. 11, when the white nationalists carried torches though the University of Virginia campus. It quickly spiralled into violence the next morning. Hundreds of people threw punches, hurled water bottles and unleashed chemical sprays.
President Donald Trump condemned "in the strongest possible terms" what he called an "egregious display of hatred, bigotry and violence on many sides" after the clashes. He called for "a swift restoration of law and order and the protection of innocent lives."
We ALL must be united & condemn all that hate stands for. There is no place for this kind of violence in America. Lets come together as one!
Trump said he had spoken with the governor of Virginia, Terry McAuliffe, and "we agreed that the hate and the division must stop and must stop right now."
Ivanka Trump, who converted to Judaism, said, "There should be no place in society for racism, white supremacy and neo-Nazis. We must all come together as Americans – and be one country united."
Barack Obama's Tweet – below – has become the most liked tweet ever says Twitter.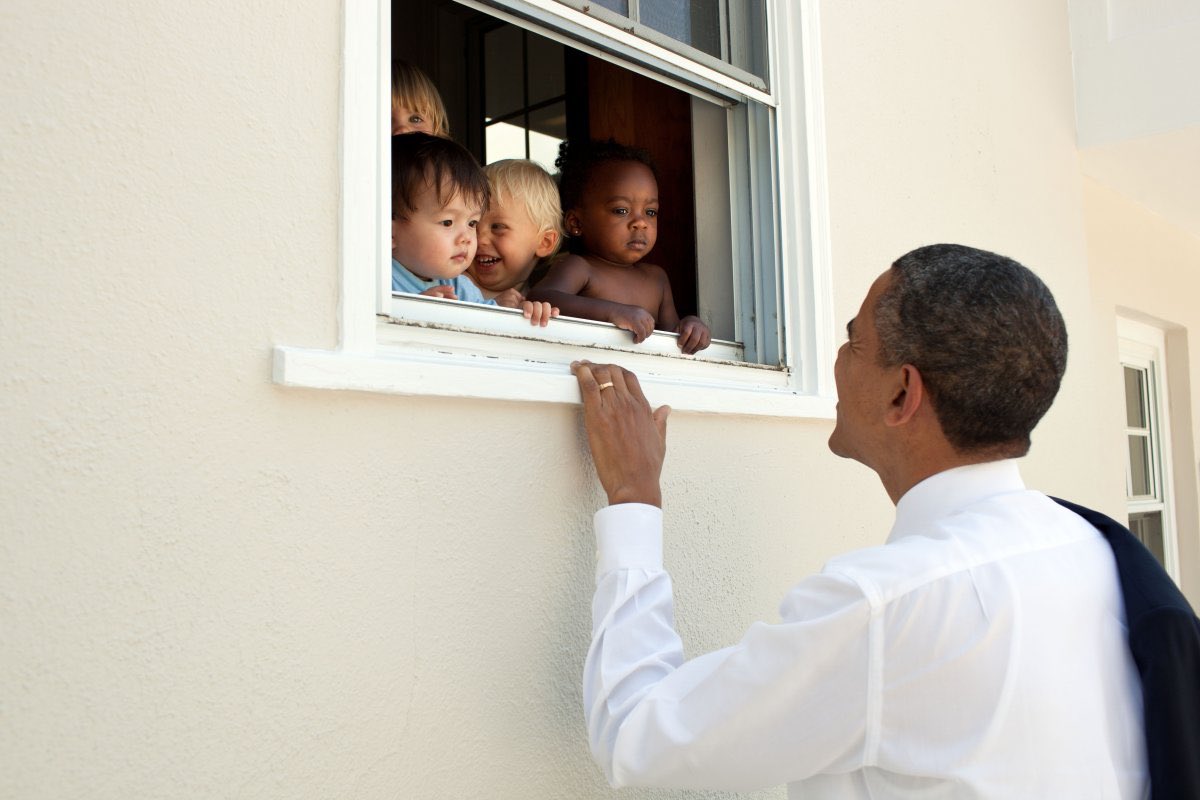 "No one is born hating another person because of the color of his skin or his background or his religion…"
Twitter spokesman Nick Pacilo said Mr Obama's tweet set the mark shortly after 10pm Eastern time in the United States on Tuesday night by passing Ariana Grande's tweet that followed a deadly bombing at her concert in Manchester in May.
Charlottesville Mayor Michael Signer said he was disgusted that white nationalists had come to his town; he blamed President Donald Trump for inflaming racial prejudices, which led to three deaths and at least one dozen injuries.
"I'm not going to make any bones about it," said Signer, who is Jewish and previously has been the target of antisemitic tweets. "I place the blame for a lot of what you're seeing in American today right at the doorstep of the White House and the people around the president."
The Cincinnati Enquirer reported the vehicle that struck a crowd of counter-protesters was purchased from a Greater Cincinnati car dealership and last registered in Ohio, online records show. It is not known if the driver, who has been taken into custody, is the owner of the vehicle, the newspaper said.
The Ohio license plate number seen in photographs taken by The Daily Progress of Charlottesville tracks to a vehicle identification number of a 2010 Dodge Challenger last registered in Maumee, near Toledo, the Enquirer reported.
A Carfax report shows the vehicle was purchased by its latest owner in June 2015 from Kerry Toyota in Florence, Ky. The title for the vehicle was updated the next month in Maumee.
The vehicle was not listed as stolen by the National Insurance Crime Bureau as of Saturday afternoon. The Ohio Bureau of Motor Vehicles also lists the vehicle as registered out of Lucas County, where Maumee is located.
The Charlottesville Police Department said that Fields, of Maumee, was charged with second-degree murder, three counts of malicious wounding and one count related to leaving the scene.
Bishop Tony Minor of Community Faith Assembly in Cleveland is organizing an interfaith prayer rally against hate and racism to be held at 5:30 p.m. Aug. 14 on the steps of City Hall in downtown Cleveland.
"Faith leaders and people of good must lift their voices against evil in all its forms and speak against hate, racism, and the white supremacy of the KKK, Alt Right, and the Nazi movement," Minor said. "We stand united and declare 'not in our town.' We will stay together to advocate and organize for a more just and peaceful society."
Rabbi Robert Nosanchuk of Anshe Chesed Fairmount Temple in Beachwood told the CJN he will speak, along with pastors across all lines of race, culture, religion to unequivocally condemn the hateful actions, terror anti-Semitism and violence of the white nationalists and Nazis who sought to harm Charlottesville.
Nosanchuk said his colleagues at Fairmount Temple, Rabbi Joshua Caruso and Rabbi-Educator Jordana Chernow-Reader, plan to attend as well as other area rabbis.
The Jewish Federation of Cleveland said in a statement signed by Stephen H. Hoffman, president; Gary L. Gross, board chair; and Bradley J. Schlang, community relations committee chair:
"The Jewish Federation of Cleveland is appalled by the hate and violence in Charlottesville, Virginia, on Saturday. The display of bigotry, racism and anti-Semitism by white supremacists and neo-Nazis is contrary to everything America must stand for. We cannot and will not tolerate hate in our midst.

"The tragic consequences of hate were all too evident with the deaths of Heather Heyer, Lt. H. Jay Cullen and Berke M.M. Bates. We send our deepest condolences to their families and wish a speedy recovery to all those who were injured.

"The Federation stands together with our faith and community partners in fierce opposition to hatred in all its forms, here in Northeast Ohio and across the nation."
Cuyahoga County Executive Armond Budish said, "When rage, racism and intolerance rear their heads, we as a civilized, multi-cultural community must stand up and say, 'We are not this. We will not tolerate these acts of terrorism.'
"My thoughts and prayers are with Heather Heyer's family and with all the wounded who were simply and peacefully standing up against hatred spewed by white supremacist and Nazis."
Ohio Treasurer Josh Mandel, a Republican from Beachwood, tweeted, "So sad what happened in VA today. No place for hate and violence in America."
U.S. Sen. Sherrod Brown, D-Cleveland, tweeted, "Ohio stands behind Virginia as the state copes with this senseless violence."
Steven Dettelbach, former U.S. Attorney for the Northern District and an attorney with Baker Hostetler in Cleveland, tweeted, "A terrible tragedy. My prayers for the families of those who died today. Thanks to law enforcement for their bravery."
Lee C. Shapiro, regional director of AJC Cleveland, said
"We mourn the senseless and tragic loss of life this past weekend in Charlottesville and pray for the full recovery of the many injured. The white supremacist hate rally and the act of vehicular terrorism should be condemned unequivocally by elected officials and community leaders.
"The KKK, neo-Nazi and other hate groups that traffic in racism, anti-Semitism and violence are anathema to the social fabric and values of America. This moment in our history calls out for moral clarity. We thank the members of the Ohio congressional delegation who have issued condemnations and call on all elected leaders – starting with the White House – to denounce and oppose these purveyors of hate.

"AJC Cleveland will join with others in our community, to pray for Charlottesville, and stand united against hatred. We will work hand-in-hand, collaboratively, to advocate for a more just and peaceful society for all."
The U.S. Holocaust Memorial Museum said, it
"mourns the loss of life in Charlottesville, Va., and strongly condemns the violence and neo-Nazi, racist and anti-Semitic symbols and language used by some of the participants, including reported chants of, 'The Jews will not overtake us.' Neo-Nazism in any form is antithetical to American values and has no place in American society.

"Holocaust history teaches that the targeting of Jews was central to Nazi racist ideology and that it began with hateful rhetoric. By the end of World War II, the Germans and their collaborators had murdered 6 million Jews and millions of other innocent civilians, many of whom were also targeted for racial reasons."
The Rabbinical Council of America, the leading organization of Orthodox rabbis in North America, strongly condemned the violence and bigotry displayed at the White supremacist, alt-right, neo-Nazi and pro-Confederate gathering and mourned the deaths and injuries that resulted.
"We are appalled by wanton displays of violence and hatred that erupted in Charlottesville on Saturday," said Rabbi Elazar Muskin, president of the Rabbinical Council of America. "We pray for the injured and express our condolences to the families of those who were killed. We join our voices with all those who embrace the best of our country's values of respect, tolerance and decency."
"The World Jewish Congress unequivocally condemns the inconceivable violence exhibited at the neo-Nazi demonstration today in Charlottesville," he said. "Our prayers are with the victims of this violence and their families.

"It is utterly distressing and repugnant that such hatred and bigotry still run rampant in parts of this country. There is no place in our democratic society for such violence and intolerance. We must be vigilant and united in our opposition to such abhorrence.

"We commend the Charlottesville authorities and local government for their quick action in quelling these protests and restoring calm, and sincerely hope that this will serve as a deterrent for future demonstrations of violence," Lauder said.
Rabbi Rick Jacobs, president of the Union for Reform Judaism, said,
"The vile presence and rhetoric of the neo-Nazis who marched this weekend in Charlottesville is a reminder of the ever-present need for people of good will to stand strong, to speak loudly against hate, and act both to delegitimize those who spread such messages and to mitigate the harm done to the commonweal of our nation and to those that are the targets of hate messages.

"Racist, anti-Semitic, and xenophobic views have no place in a society that cherishes freedom and liberty for all. The right to speak and to hold repugnant views is not a right to circumscribe the ability of others to live in peace and security. Torch-lit marches of hate evoke the KKK; the image of a heavily armed "militia" standing among the neo-Nazi protestors should send an alarm to every person of good conscience in our nation.

"Once again hate has killed [and] we mourn the loss of life and those injured in the violence. We call on all, no matter what their views, to eschew violence and condemn in the strongest terms the car attack that killed and injured protestors.

"We commend the opening of President Trump's statement condemning the 'egregious display of hatred, bigotry and violence' but are deeply troubled by the moral equivalence evident in President Trump's statement today. White supremacists wielding Nazi flags and spewing racist vitriol need to be specifically condemned, not only violence and hate 'on many sides.' If our leaders can't call out this virulent strand of hate we will surely fail to stop it.

"As we bid farewell to the Sabbath, we pray that the week to come will be filled with calm and safety, and that those who have committed crimes will be brought to justice."
Rabbi Jake Rubin, the Hillel director at the Brody Jewish Center at the University of Virginia, posted the following on its website Saturday:
"It has been a difficult 24 hours in Charlottesville. The violence, loss of life, and hatred displayed here today is heartbreaking.

"While it would be easy to be consumed by despair, we are overwhelmed with the outpouring of love and support from so many around the country, most of whom we have never met.

"To our students: We are always here to listen, talk, and support you. Hillel will always be a safe space for you and all students at UV seeking refuge. There is much work to do to repair this broken world in which we live. We look forward to your return next week and for the opportunity to work with you to make our community and this world a better place.

"We are proud of the Jewish Leadership Council for their leadership and their statement below."
[This JLC is a Jewish students' body at the U.of Virginia]
"The Jewish Leadership Council strongly condemns the violence and hate that has taken place within our community this weekend. The white supremacist groups who have come to rally in Charlottesville stand for exclusion and inequality, and those things have no place in our community.

"We stand firmly on the side of love and acceptance; it is the diversity at our University and in the city of Charlottesville that makes it such a wonderful place to be. We believe in creating a place where no person feels unsafe or unwelcome, both here in Charlottesville and throughout the United States. No individual should feel unsafe or unwelcome anywhere based on their race, religion, sexual orientation, or anything else that makes them who they are as a human being.

"As the new school year approaches, we hope we can all join together once again to reject all bias and hate within the University of Virginia and greater Charlottesville community. We are eager for all students to return to Grounds in a few short days and work together to fulfill the Jewish value of Tikkun Olam, repairing the world. Our thoughts and prayers go out to the victims of violence."
Israeli Minister of Diaspora Affairs and Security Cabinet member Naftali Bennett said,
"The unhindered waving of Nazi flags and symbols in the U.S. is not only offensive toward the Jewish community and other minorities, it also disrespects the millions of American soldiers who sacrificed their lives in order to protect the US and entire world from the Nazis. The leaders of the U.S. must condemn and denounce the displays of anti-Semitism seen over the past few days."
————-
The Associated Press contributed to this report.
---
Interfaith Prayer Rally condemns hate in Cleveland
Posted by Shelby Miller, Cleveland 19 reporter
August 15, 2017
BDT DOWNTOWN CLEVELAND, OH (WOIO) – Clergy from all faiths gathered on Monday evening on the steps of City Hall to rally against hate.
"We must stand together. Together we can rule out this wicked and malicious disease and so tonight we declare hatred is not welcome in our town," said Suburban Temple Rabbi Allison Van.
Passionate speeches by people, like Rabbi Van, brought about a round of applause from the crowd and fellow clergy members.
"Bigotry is not welcome in Cleveland. Racism is not welcome in Ohio City. Hatred is not welcome in Shaker Heights," said Rabbi Van.
Mt. Zion of Oakwood Village Reverend Larry Macon said it's more important than ever for the community to come together.
"What happened in Charlottesville impacts the entire nation and it also sends a message to other cities in the nation. I think Cleveland needs to be one of the first places to speak out and do things to prevent that violence from happening here," Rev. Macon said.
He said people in Cleveland are afraid that what happened in Charlottesville could happen here. He believes the best way to keep the peace is to get to know one another.
"We need to sit down at the table together. We have to call for constant unity. We have to see each other's differences. We should never allow our differences to lead to the kind of escalation that we heard in the Charlottesville," he said.
Other speakers, like Fairmount Temple Rabbi Robert Nosanchuk, also spoke out about racism and nationalism.
"You can believe hateful things, you can speak hateful messages, but we know that the America you want to claim to want again is beyond your grasp. You cannot have this country back, and it was never really yours," said Rabbi Nosanchuk.
As Greater Cleveland leaders condemned hate, they stood together to try to set an example of acceptance and unity.
"Love, you are welcome here. Welcome home," said Rabbi Van.
---
Why Won't Orthodox Condemn Trump's Ties to White Supremacists After Charlottesville?
By Avital Chizhik-Goldschmidt, Forward
August 14, 2017
Over the past two days, we have been flooded with horrifying images of the largest white supremacist demonstration in decades. We've also been met with President Trump's shameless failure to condemn the white supremacists. A president who has no qualms condemning journalists for doing their jobs, or retailers for not carrying his daughter's handbags, could not bring himself to condemn white supremacy as abhorrent racism.
But even more disturbing than Trump's equivocation was a deafening silence closer to home. While Trump has been widely condemned for his insistence that the violence of the weekend came from "many sides," one group has failed to make their voices heard. The Orthodox and ultra-Orthodox leadership has, in general, refused to condemn the President's anodyne response, and it's embarrassing.
The Orthodox Union took two days to put out a statement in response to the weekend's events. And when they finally got around to it, the statement danced around any mention of the Trump administration itself, calling instead on " local, state and federal officials" to ensure justice is served. The Rabbinical Council of America mourned "violence and bigotry", but not our leader's failure to condemn it. Agudath Israel, the organization that represents America's ultra-Orthodox community, has been totally silent on Charlottesville. Asked for comment, spokesperson Rabbi Avi Shafran wrote that the fact that the Agudah doesn't issue official statements about hate crimes should itself be seen as "a function of the tragic frequency of hate crimes in our country."
Then there are the smaller, politically conservative Orthodox rabbinic coalitions. Both TORA, which found time to welcome the appointment of Ambassador David Friedman, and Coalition for Jewish Values, which "advocates for classical Jewish ideas and standards in matters of American public policy," ignored the weekend's events entirely.
All of these groups have weighed in on controversies over the last year – just not this one.
You may not be as shocked as I was. After all, many Orthodox Jews voted for Trump. Still, you'd think the whole point of voting for someone is because you think they will represent you. So when the president you helped elect fails to condemn American Nazis, you would think it would be an obvious time for the Orthodox and right wing leadership to step up and make their voices heard.
Not so, it seems. The very organizations that have previously rushed with heady smiles to applaud administration policies and to pose for photo-ops with the White House's court Jews are now speechless.
The silence on the part of right wing Jews is shameful. But it's also mysterious. What could possibly keep Orthodox Jews from decrying a president unable to call out Nazis? In an era when any minor occurrence warrants a statement from yet another not-for-profit organization, what has suddenly caught the tongues of the so-called leadership? How truly difficult was it to release a statement? How deeply complex, how many board meetings and iterations of a document are necessary, for a junior communications professional to draft a paragraph that calls on the leader of the free world to say that swastikas are bad, that Nazis are bad?
Perhaps it stems from a shtetl-minded paranoia, a fear of upsetting the Tsar for complaining about a little pogrom. Or perhaps the President's visceral inability to condemn white nationalism flies in the face of our diehard need for him to be "good for Israel". Whatever the reason is, in this community, the President has become untouchable, and this silence sets a precedent for community members to dismiss white supremacists as marginal, and to construe the President's avoidance of condemning them as normal. The leadership's silence turns white supremacists from a threat against Jews to a partisan issue, a leftist media agenda, Luegenpresse, fake news, whatever.
Yes, we are officially living in the age in which Nazis in our midst is no longer something Jews can unite around; it's fake news.
And it's strange, because white supremacy used to be a valuable educational tool for the Orthodox community. Not even a decade ago, day schools and summer camps, showed us videos of KKK parades — You see, kinderlach, Nazism still exists, the Holocaust can happen again, anti-Semitism doesn't leave, it's lurking right under us. And wasn't it just minutes ago that our school-teachers read to us that warm story of the Christmas Menorah, the story of the Jewish homes in Billings, Montana which were vandalized for displaying menorahs and the kind Christian townspeople who chose to display pictures of menorahs in their own windows, in solidarity? And wasn't there an underlying message therein, a sort of uneasy warning: People hate us here in America, too, even now, in the 90s. Pack a suitcase and keep it under your bed, just in case, just in case They might come for us again, and our Golden Age here will end. "In every generation, they rise to destroy us, and the Holy One saves us from their hands," we sing every Passover.
And where on earth is that same concern now, when, for the first time in a good long while, it actually may be legitimate?
We have been raised in the shadow of the Holocaust. But when a tiny echo of that period emerges, when we are confronted with real-live Americans shouting, "Jews will not replace us!" and a President who remained silent for far too long — our leadership dismisses it.
It is crucial that our leaders protect us by condemning Trump's refusal to alienate his support among white supremacists. To not do so is to remain complicit.
What a shameful missed opportunity. The silence is not just deafening. It's damning. And one day, we will answer for it.
Avital Chizhik-Goldschmidt is the Life/Features editor at the Forward.
---
CAIR Condemns Terror Attack on Va. Anti-Racist Rally, Decries Trump's 'Failure of Moral Leadership'
CAIR statement, posted by PRNewswire-USNewswire/
August 12, 2017
WASHINGTON — The Council on American-Islamic Relations (CAIR), the nation's largest Muslim civil rights and advocacy organization, today condemned an apparent terror attack on anti-racist protesters at a gathering of white supremacists, neo-Nazis, the KKK, and other racists in Charlottesville, Va.
[NOTE: A representative of CAIR's New York chapter joined clergy and faith leaders in Charlottesville to show spiritual opposition to the racist rally. CAIR-NY Board Member Sahar Alsahlani was on hand to offer pastoral care immediately after today's apparent terror attack.]
Hundreds of racists from around the nation attended the "Unite the Right" rally on Saturday, to challenge the removal of a statue of Confederate General Robert E. Lee from a city park. One person was killed and at least 26 were injured when a car drove into a crowd of people peacefully protesting the racist rally.
Last week, CAIR condemned the racist rally and urged cities nationwide to remove Confederate memorials.
Earlier today, President Trump blamed "many sides" for the violence between the anti-racist protesters and white supremacists in Charlottesville and failed to specifically repudiate the white supremacists, neo-Nazis or the KKK who organized the "Unite the Right" rally.
In a statement, CAIR National Executive Director Nihad Awad said:
"We condemn this apparent act of domestic terrorism targeting anti-racist protesters in Charlottesville, Virginia, and urge all Americans to denounce the racists and Islamophobes brought to that city by the 'Unite the Right' rally.

"Virginia Governor Terry McAuliffe today rightly called out the 'white supremacists and the Nazis' — saying 'go home, you are not wanted. . .shame on you, you pretend that you are patriots, but you are anything but a patriot' — something President Trump failed to do in his weak reaction to the terror attack.

"President Trump's reluctance to both denounce the act of terrorism and to call out the white supremacist and racists groups by name constitutes a failure of moral leadership and sends the wrong message to newly-empowered racist groups nationwide."
GOP Sen. Marco Rubio echoed CAIR's views when he tweeted: "Very important for the nation to hear @potus describe events in #Charlottesville for what they are, a terror attack by #whitesupremacists"
CAIR said it has witnessed an unprecedented increase in hate incidents targeting members of minority groups since the election of Donald Trump.
CAIR recently launched an app to share critical "know your rights" information and to simplify the process to report hate crimes and bias incidents. CAIR is urging American Muslims and members of other minority groups to download the app and utilize this resource to stay informed and empowered.
CAIR is America's largest Muslim civil liberties and advocacy organization. Its mission is to protect civil liberties, empower American Muslims, and build coalitions that promote justice and mutual understanding.
CAIR = Council on American-Islamic Relations