Voices for restraint and reconciliation raised against hubbub for revenge
Unless otherwise credited, the many photos in this posting are by AFP and taken from the i24 website. They are interspersed through the following six items:
1) UFree network: Israeli mass arrest campaign since 12th June 2014, a pie-chart and figures from UFree on the numbers and locations of arrests of Palestinians so far (July 2nd);
2) Ynet: Deaths of teens sparks calls for retribution and reconciliation in Israel, the first part of this article, on the calls for revenge and the use of Facebook to spread them, has been omitted because of previous postings (below this one) on the subject;
3) WP: Violence widens as Israeli troops, Palestinians clash in east Jerusalem, the spectre of worse to come;
4) FT: Killing of Palestinian teenager prompts riots in East Jerusalem, has the most information from and about Palestinians
5) Al Jazeera: East Jerusalem clashes follow teen's murder, despite Ramadan and summer heat, Palestinian youth fight all day
6) VOA: Column: Israel Shouldn't Turn Tragedy into Fiasco, reasons for posting this – firstly the source, secondly the fact that it's set up as a personal 'column', and third that VOA should nonetheless have published it. America urges no all-out attack on Hamas.


Updated: Israeli mass arrest campaign since 12th June 2014
Media centre, UFreeNetwork
July 02,2014
639 Palestinians including 11 MPs and dozens of ex-detainees [have been] detained so far since Israel started its arbitrary mass arrest campaign throughout occupied West Bank on Thursday evening 12th June 2014.
44 arrests were carried out last night in different parts of occupied West Bank including the activist in prisoners' issue Bushra Al-Tawil.
230 arrests were carried out in Hebron, while 102 arrests were reported in Nablus. 61 Palestinians were detained in Ramallah, 62 detainees were documented in Jenin and 25 others in Tulkarm, while 14 Palestinian citizens were arrested in Qalqilya.
85 Palestinians were also detained in Bethlehem, while 39 from Jerusalem were detained. Including 10 arrests were reported in Tubas town near Nablus, and 10 others in Salfit city near Nablus, while one Palestinian was detained in Jericho.
---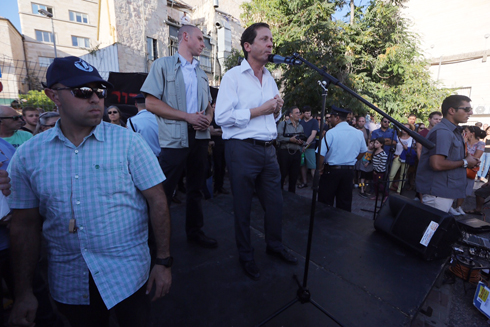 Isaac Herzog, Labour party leader, speaks at the Jerusalem meeting for reconciliation.

Deaths of teens sparks calls for retribution and reconciliation in Israel
Israeli public shocked following deaths of three boys, leading many calls for bloodshed and revenge. However, some Israelis urge peace.
By Michal Margalit, Kobi Nachshoni, Ynet news
July 03, 2014
EXTRACT
The campaign calling for revenge [against the killing of the three Israeli boys] did not go without protest, with political leaders and left-wing demonstrations calling for restraint.
Opposition leader and Labor Chairman Isaac Herzog spoke at a Wednesday evening protest in Jerusalem against the violent calls for revenge which emerged in the wake of the discovery of the missing boys' bodies. "Israel will not allow the extremists to rule the day, not on our side and not on the Palestinian side."
Herzog addressed the murder of a Palestinian teen earlier in the day: "If this was motivated by nationalism it is absolutely an act of terror. I trust the police and the security forces to find the murderers and bring them to justice."
Some 1,000 people demonstrated in the city center against the rightwing calls for revenge against the Arab population. "The sights we witnessed yesterday in Jerusalem were not done in our names and do not represent our ways," said Meretz MK Nitzan Horowitz.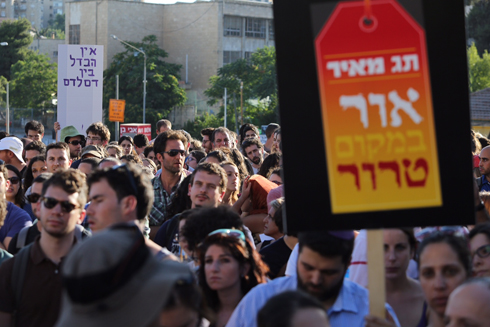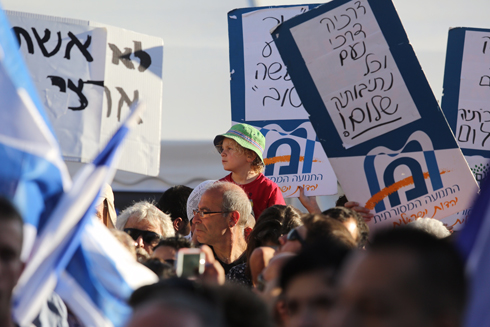 Jerusalem protest against calls for revenge. Photos by Gil Yohanan.

The demonstration was a response to the murder of Palestinian youth Muhammad Abu Khdeir. Members of Knesset, rabbis, public figures, and members of the city's pluralistic movements attended the protest.
Despite the efforts of the demonstration's organizers, not a single widely-recognized right-wing figure arrived to support the protest.
Herzog emphasized the importance of moderation in this difficult time: "Jews and Arabs will have to live side-by-side in this country forever, and we must work together to curb any attempt to harm the delicate fabric of our relations.
"The extremists on both sides are trying to drag all of us into a circle of blood, but most of the Jewish and Arab society disapproves of them and want to live in peace," said Herzog.

An unknown man tries to block the soldiers.
Former Ambassador to the United States also slammed recent calls for revenge for the murder of three Israeli teens: "As deeply as we mourn the murders of Eyal Yifrah, Naftali Fraenkel and Gilad Shaar, we, as Israelis and Jews, must condemn the racist calls for vengeance against innocent Palestinians," Oren said in a statement on his Facebook page
"One of the sources of Israel's moral strength has been our refusal to resemble our enemies in their obsession with revenge and blood. I categorically condemn all acts of violence and racism which dishonor the memory of our three precious boys".
---


Violence widens as Israeli troops, Palestinians clash in east Jerusalem
By Ruth Eglash, Washington Post
July 02, 2014
JERUSALEM — The abduction and suspected revenge killing of an Arab youth sparked intense clashes between Palestinian protesters and Israeli security forces in East Jerusalem on Wednesday, raising the specter of wider violence two days after three kidnapped Israeli teenagers were found dead in the occupied West Bank.
Israeli police said late Wednesday that they had yet to confirm the circumstances of 16-year-old Mohammad Abu Khieder's disappearance or the identity of a badly burned body found in a forested area of Jerusalem, but Israeli news media, citing anonymous security officials, said authorities had determined that Khieder was probably killed by Jews in a "nationalistic crime."
Israeli Prime Minister Benjamin Netanyahu called for restraint as he convened his security cabinet for the third straight night to discuss a response to the kidnappings and killings. Israel has blamed the slaying of the Israeli teens on the militant Islamist group Hamas, and on Wednesday, Palestinian leaders accused extremist Jewish settlers of killing Khieder.
Palestinian President Mahmoud Abbas accused settlers of "killing and burning a little boy." He demanded, in a statement, that Israel "hold the killers accountable."
As reports of the Palestinian teen's death spread, street battles broke out between security forces and residents from the youth's neighborhood in East Jerusalem, which has been annexed by Israel. Palestinian protesters hurled firebombs and stones at Israeli police officers and soldiers and smashed and set fire to transit stops in the neighborhood. Israeli forces responded with tear gas, rubber bullets and smoke grenades. Clashes were continuing Wednesday night but had calmed somewhat, witnesses said.
The kidnapping of the Palestinian youth occurred one day after Israel buried the three teenagers — Naftali Fraenkel, 16, Gilad Shaar, 16, and Eyal Yifrach, 19 — who disappeared June 12 while hitchhiking home from their religious schools in the West Bank. Their bodies were discovered Monday in a field near the city of Hebron, prompting a national outpouring of anger and grief.
Relatives of the Palestinian youth said he was abducted about 4 a.m. Wednesday while waiting alone outside his home for the early-morning call to prayer. Bushra Abu Khieder, his aunt, said a surveillance camera at her husband's nearby store recorded the scene, which showed a Hyundai car being driven toward her nephew and turning around three times. When it stopped, one of the passengers approached him, asked a question and then grabbed him and pushed him into the car, she said. Israeli police said they were reviewing the video footage.
Khieder's mother, Suha Abu Khieder, told reporters that her son had been "robbed from my lap." Referring to the slain Israeli teens, she said, "Their sons were important to them, just like my son is important to me."
Netanyahu urged police to "swiftly investigate who was behind the loathsome murder and its motive" and called on all sides "not to take the law into their own hands."
Israeli police spokesman Micky Rosenfeld said officers located the body within 90 minutes after receiving reports that a Palestinian teenager had been pulled into a car. He said police were trying to determine whether Wednesday's killing had a "criminal or nationalistic" motive.
As the situation simmered, there was rising fear that the spiraling violence could be the spark that ignites a third Palestinian intifada, or uprising, against the Israeli occupation, just months after the collapse of the latest round of Middle East peace talks.
Israeli forces have carried out a massive security operation across the West Bank in recent weeks, arresting more than 400 alleged terrorist operatives and killing at least five Palestinians during a search for the three Israeli teens and their captors.
The Israeli military said that nine rockets had been fired Wednesday at Israel from the Hamas-controlled Gaza Strip and that all landed in unpopulated areas. Israel responded in the late afternoon with airstrikes on what the military said were the launching sites of four of the rockets.
At the same time, protesters in Jerusalem gathered at the western entrance of the city to protest what they said had been an inadequate government response to the killing of the Israeli teens. "The people demand collective punishment,'' they chanted.
The recent Israeli security sweep served to "raise the temperature in Palestinian society," said Qais Abu Layla, a member of the Palestinian Legislative Council. "The Israeli government has gradually been building up the factors for the eruption of a new intifada."
Yet Layla and other Israeli and Palestinian observers said they thought tempers might cool in the coming days.
U.S. Secretary of State John F. Kerry issued a statement condemning "in the strongest possible terms the despicable and senseless abduction and murder" of the Palestinian teen.
"At this tense and dangerous moment, all parties must do everything in their power to protect the innocent and act with reasonableness and restraint, not recrimination and retribution,'' he said.
Attacks by Jewish settlers on Palestinians and their property — "price-tag" attacks that started as a campaign meant to avenge Israeli military or Palestinian actions against settlements — have increased in recent years, and some Palestinians said Wednesday that Khieder's killing was the latest example of vigilante justice.
The increase in such attacks, which have rarely involved grave physical harm, prompted Israeli lawmakers to consider labeling them a form of terrorism earlier this year, but the proposal died in January. Few perpetrators have been arrested and convicted, human rights organizations say.
Yishai Fraenkel, an uncle of one of the slain Israelis, condemned the Palestinian youth's killing. "There is no difference between blood and blood," he told Israeli reporters. "A murderer is a murderer, no matter his nationality and age.''
Bushra Abu Khieder, the slain Palestinian's aunt, said the boy's father, Hussein Abu Khieder, accompanied the body to a forensic lab in Tel Aviv being used by Israeli investigators. Her nephew, she said, was a "sweet, quiet person, who always made people laugh and was quick to help others out."
On Wednesday, Hamas spokesman Sami Abu Zohri said the organization held Netanyahu and other Israeli leaders "directly responsible" for Khieder's kidnapping and killing and vowed revenge.
"They will pay the price of all these crimes, and you will see it soon," he said.
Islam Abdul-Kareem in Gaza City, Sufian Taha in Jerusalem and Daniela Deane in London contributed to this report.
---

Burning the Israeli flag in Shuafat, E. Jerusalem. Photo by Hadas Parush/Flash90


Killing of Palestinian teenager prompts riots in East Jerusalem
By Joel Greenberg, Financial Times
July 02, 2014
Clashes erupted in East Jerusalem on Wednesday after the charred body of an Arab teenager was found in a forest near a Jewish neighbourhood of the city early Wednesday following reports that he had been forced into a car.
News of the death set off street clashes in the Shuafat neighbourhood between groups of youths who hurled stones at police, burnt tires and wrecked a station of an Israeli-run light rail line. Stones were also thrown in Jerusalem's old city, near al-Aqsa mosque, Islam's third holiest site. Riot officers responded with stun grenades, tear gas and rubber-coated bullets.
The slaying came a day after the funerals of three Israeli teenagers kidnapped and killed in the West Bank, raising suspicions that it was an act of revenge. However, police said they were investigating whether the killing was a criminal act or was politically motivated.
Muhammad Abu Khdeir, killed on his way to Ramadan dawn prayer. His body was part burned and dumped in a nearby forest.
On Tuesday night, crowds of militant Jewish youths rampaged through the centre of Jerusalem, shouting "Death to Arabs" and assaulting Palestinian workers in the area.
Witnesses in Shuafat said that 16-year-old Muhammad Abu Khdeir had been outside the local mosque at about 3:45am on Wednesday ahead of the dawn prayer during the holy month of Ramadan.
A car pulled up and its occupants pulled the teenager inside the vehicle and sped away as local youths gave chase, residents said. About an hour and a half later, the burnt body of the youth was found in the Jerusalem Forest, a natural area bordered by Jewish neighbourhoods.
Micky Rosenfeld, an Israeli police spokesman, said that police received an initial report that Abu Khdeir had been forcibly bundled into a car, followed by a later phone call from the teenager's parents, reporting him missing.
Mr Netanyahu stopped short of condemning the killing of Abu Khdeir, but issued a statement saying that he had ordered a speedy investigation to discover 'who is behind the despicable murder and the background of the deed'.
The Palestinian Authority accused Israeli settlers of carrying out the slaying. Mahmoud Abbas, PA president, who had condemned the abduction of the three Israeli teenagers in the West Bank, demanded that Israeli Prime Minister Benjamin Netanyahu issue a similar condemnation of the slaying of Mr Abu Khdeir.
"The president demands that Israel take real steps to end the settler attacks and chaos caused by the Israeli government's policy on the ground," said a statement carried by WAFA, the official Palestinian news agency.
Nabil Abu Rudeineh, a spokesman for Mr Abbas, said Israel bore responsibility for the killing and demanded that the Israeli authorities bring the killers to justice.
Dimitri Diliani, a senior official of Mr Abbas's Fatah movement, accused the Israeli government of providing cover for violence by Jewish extremists.
"Will Netanyahu block off the settlements and will his forces raid the settlements and arrest 600 settlers?" Mr Diliani asked, alluding to a crackdown by Israeli forces in Palestinian cities and towns in the West Bank following the abduction of the three Israeli teenagers.
Mr Netanyahu stopped short of condemning the killing of Abu Khdeir, but issued a statement saying that he had ordered a speedy investigation to discover "who is behind the despicable murder and the background of the deed".
"The prime minister calls on all parties not to take the law into their own hands – Israel is a law-abiding state and it is incumbent on everyone to obey the law," the statement said.
The mayor of Jerusalem, Nir Barkat, also condemned the killing, calling it "a horrible and barbaric act" and urging restraint.
---

Palestinian protestors roll a burning tyre during clashes with Israeli police in Shuafat neighbourhood in Israeli-annexed East Jerusalem, July 2nd, 2014. Photo by Ahmad Gharabli / AFP/Getty Images

East Jerusalem clashes follow teen's murder

Biggest clashes in years erupt amid probe into link between Palestinian's killing and murder of Israeli settlers.
By Gregg Carlstrom, Al Jazeera
03 July 2014
Occupied East Jerusalem – Dozens of people have been injured in the largest clashes in occupied East Jerusalem in years, as Palestinians fought with police after the mutilated body of a boy was found dumped in a forest outside the city.
The body may belong to Mohammed Abu Khdair, a 17-year-old from the Shuafat neighbourhood, who was abducted on Wednesday morning.
Police say they are investigating whether the murder was a revenge attack, carried out after three kidnapped Israeli settlers were found dead earlier this week in the occupied West Bank.
A police spokesman said Abu Khdair was reported missing early on Wednesday. Witnesses said that he was abducted around 3.45am and thrown into a car by two or three men as he was walking to the mosque.
"I heard screaming outside: 'Mohammed has been kidnapped'," said Abu Moussa Abu Khdair, a cousin who was in the mosque at the time.
"When I ran outside he was gone, and the youth [outside the mosque] said he was taken in a car."
By nightfall, though, the body was still unidentified. DNA samples have been taken as the body was too badly burned to be recognised.
Relatives said his father spent most of the day in a police station.
Stun grenades
The discovery led to more than 12 hours of clashes in Shuafat on Wednesday.
Local Palestinian youths blocked the light railway and threw stones at Israeli border police, who fired stun grenades and rubber-coated steel bullets.
Clashes dragged on throughout the day, despite the summer heat and the Ramadan holiday.
The heaviest fighting was outside the Abu Khdair family home, and the mosque where he was abducted.
The Palestinian Red Crescent said that more than 50 residents were injured throughout the day; there were no injuries among the police. Among the injured were at least four journalists, including two from Palestine TV, one of whom was seriously injured.
"From 7am the army tried to block off this neighbourhood," said Akram al-Salameh, the owner of a nearby bakery who was wounded.
"They forced me and my employees to leave … . I think they are taking revenge for what happened," he said, referring to the kidnapping.
The kidnapping happened just hours after a funeral for the three settlers, who were abducted on June 12 while hitchhiking home from their religious seminary in the occupied West Bank.
Their bodies were found on Monday near Hebron, prompting fear of retaliatory attacks against Palestinian citizens of Israel, who make up 20 percent of the population.
Micky Rosenfeld, a spokesman for the Israeli police, said the department was investigating whether the abduction and possible murder were "criminal or nationalistic".
Additional officers have been sent to Jerusalem, where several Palestinian neighbourhoods were closed to traffic, and in northern Israel.
Facebook campaign
In a statement, Benjamin Netanyahu, the Israeli prime minister, called the incident "a heinous murder".
"I call on all sides not to take the law into their own hands. Israel is a nation of laws for all, and all are compelled to follow the law," he said,
Mahmoud Abbas, the president of the Palestinian Authority, demanded that Israel did more to stop future attacks.
"We call for providing international protection for the Palestinian people against settlers' attacks that, under the protection of Israeli occupation forces, have continued unabated," he said in a statement.
The mood in Jerusalem, in particular, has been extremely tense since Monday.
Dozens of people were arrested at a right-wing rally on Tuesday night, where protesters chanted "Death to the Arabs".
One man was jailed overnight for attacking a Palestinian worker in a fast-food restaurant in the city, and two other assaults were reported on Tuesday.
"Palestinian blood is no less valuable than the blood of settlers," Ahmed Tibi, a Palestinian member of the Knesset, said during a visit to Shuafat on Wednesday.
Israeli aircraft carried out several strikes in the Gaza Strip early on Thursday, an official and witnesses said, after Palestinians fired rockets into southern Israel.
At least 10 civilians were injured in the northern Gaza Strip, including a woman who was described as being in critical condition by the Gazan emergency chief Ashraf al-Qedra.
The Israeli government has blamed Hamas for the abduction of the three settlers, and it has carried out dozens of air raids this week in Gaza.
In a statement, Hamas said Israel would "pay the price" for Abu Khdair's abduction: "Our people will not let this crime pass, nor all the killings and destruction by your settlers."
---

Column: Israel Shouldn't Turn Tragedy into Fiasco
By Barbara Slavin, Column, Voice of America
July 01, 2014
The murder of three Israeli teenagers in the West Bank has sent shock waves through Israeli and Palestinian society and raised fears that the relatively quiescent Arab-Israeli front will explode into a new war.
A stormy Israeli cabinet session considered a variety of retaliatory options for the killings of Naftali Fraenkel, Gilad Shaar and Eyal Yifrah, including another major military operation against Hamas in Gaza and further boosting Israeli settlement construction in the West Bank.
In fact, the steps already taken by Israeli authorities in the 18 days between the boys' disappearance and the discovery of their bodies under a pile of rocks not far from their settlement homes amounted to pre-emptive retaliation: Hundreds of Hamas operatives in the West Bank were arrested and five young Palestinians killed by Israeli forces responding to violent protests. In the immediate aftermath of the confirmation of the murders, Israel destroyed the homes of the suspected killers and bombarded largely empty fields in Gaza while Hamas leaders went into hiding.
Israel is right to hunt down the two Palestinians who are believed responsible for the killings; to do more and inflict additional mass punishment on the entire Palestinian population is simply to perpetuate the violence and deepen generations-old grievances.
Israel and the West Bank have been relatively quiet during a period of intense turmoil in the region but it was naïve to assume they would stay that way in the absence of serious peace negotiations.
During nine months of talks, Israeli leader Benjamin Netanyahu never tabled a proposal demarcating possible borders for a Palestinian state, while profiting from cooperation by Palestinian security forces.
The U.S.-mediated negotiations collapsed in April after Netanyahu reneged on a third promised Palestinian prisoner release and the Palestinian Authority leader, Mahmoud Abbas sought recognition from 15 U.N.-related agencies. The final shoe dropped last week when the State Department announced that Martin Indyk, a former U.S. ambassador to Israel, was resigning as U.S. special envoy for Arab-Israeli peace and returning to his Washington think tank.
Recent polls show deepening pessimism among both Israelis and Palestinians about the prospects for a two-state solution. Sixty percent of Palestinians on the West Bank now believe that an Israeli state and a Palestinian state cannot peacefully co-exist. Nearly half – 45 percent – of Israelis agree with them.
Strong leadership could change those numbers. But Abbas is old and thinking about stepping down while Netanyahu wants to stay in power and fears being outflanked by politicians to his right. Meanwhile, the Barack Obama administration appears to have given up. It never put forward its own peace plan, acknowledging that it lacked the political will to try to compel either party to accept U.S. ideas. These days, U.S. officials are more concerned about staving off Israeli objections to a potential nuclear deal with Iran and saving what remains of Iraq than trying to resolve what is still a core issue provoking anti-U.S. and anti-Israel sentiment throughout the region and the wider Muslim world.
Short-termism also infects Israelis, who fear taking any risks for peace and seem to believe that military might alone will preserve their control indefinitely over territory that soon will be neither majority Jewish nor democratic. To rely on military power alone, however, condemns Israel to a never-ending cycle of violence and diminishing international support.
The late Israeli Prime Minister Yitzhak Rabin used to say that Israel should "fight terrorism as if there is no peace process and pursue peace as if there is no terrorism." Unfortunately, Israel's current leaders have forgotten the second part of the equation.
The Palestinian leadership, too, bears responsibility for not confronting a clan that has a history of undermining peace agreements and even acting counter to the direction of Hamas. The murder of the Israeli teens is a major blow to the unity agreement Abbas reached with Hamas last month; how the Palestinian Authority deals with this incident will likely determine the future of that accord. However, an overly aggressive Israeli response will only strengthen groups even more radical than Hamas, and make it more difficult for Abbas to cooperate with Israel in security matters going forward.
As shown by the growth of the Islamic State of Iraq and Syria (ISIL) – now styling itself hubristically as the Islamic State – the Arab world is seething with anger and frustration. Much of that anger is now playing out in fighting between Arabs. Inevitably, however, Israel and the United States will also be targets. Israeli leaders must think carefully about how they retaliate for the deaths of these unfortunate teenagers, one of whom was a dual U.S.-Israeli citizen. They should not let this tragedy escalate into a larger confrontation that will only embitter and endanger more Israeli and Palestinian young people in the future.
Barbara Slavin is a senior fellow at the Atlantic Council's South Asia Center and a correspondent for Al-Monitor.com, a website specializing in the Middle East. She is the author of a 2007 book, Bitter Friends, Bosom Enemies: Iran, the US and the Twisted Path to Confrontation, and is a regular commentator on U.S. foreign policy and Iran on NPR, PBS, C-SPAN and the Voice of America.
Note from Wikipedia:
Voice of America (VOA) is the official external broadcast institution of the United States federal government. It is one of five civilian U.S. international broadcasters working under the umbrella of the Broadcasting Board of Governors (BBG). VOA provides programming for broadcast on radio, TV and the internet outside of the U.S., in 43 languages. VOA produces about 1,500 hours of news and feature programming each week for an estimated global audience of 123 million people, "to promote freedom and democracy and to enhance understanding through multimedia communication of accurate, objective, and balanced news, information and other programming about America and the world to audiences overseas."[1] Its day-to-day operations are supported by the International Broadcasting Bureau (IBB).

A 1976 law signed by President Gerald Ford requires VOA to "serve as a consistently reliable and authoritative source of news." The VOA Charter states: "VOA news will be accurate, objective and comprehensive." VOA radio and television broadcasts are distributed by satellite, cable and on FM, AM, and shortwave radio frequencies. They are streamed on individual language service websites, social media sites and mobile platforms. VOA has more than 1,200 affiliate and contract agreements with radio and television stations and cable networks worldwide.