Three Israeli boys found dead
The three reports here are from IB Times, Jewish Forward and Huffington Post.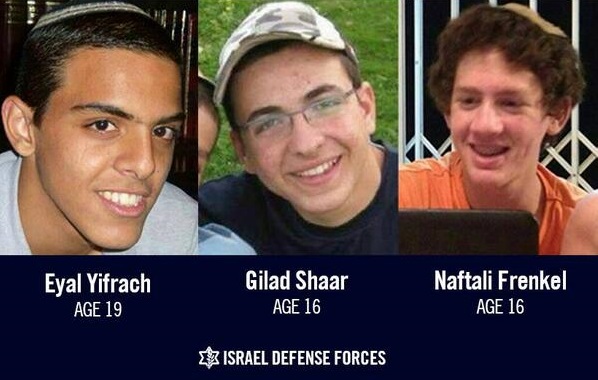 Naftali Frenkel, Gilad Shaar and Eyal Yifrach, above, went missing near Hebron on 12 June
Israel: Fears that Bodies of Three Kidnapped Teenage Settlers Found near Hebron
By Umberto Bacchi and Jack Moore, International Business Times
June 30, 2014
There are growing fears that the Israeli army has found the dead bodies of the three kidnapped Jewish settlers who went missing in the occupied West Bank.
Sources from Al Jazeera and Abc said that the bodies were found near Hebron, the city where two suspects in the case – Marwan Qawasmeh and Amer Abu Aisha – lived.
Journalist Amir Tibon tweeted:
Israeli officials have convened an emergency security cabinet meeting at 9.30 pm local time, amid new details in the ongoing search for the three teens with a statement from Israeli Prime Minister Benjamin Netanyahu expected afterwards.
Israeli Defence Forces (IDF) sent in troops in the Hebron area and set up roadblocks around the city, following the new developments in the investigation.
Buzzfeed Middle East Correspondent Sheera Frenkel tweeted:
Confirmed: Friend in Hebron says IDF forces entering area. "We are being told to stay indoors, looks bad."
Clashes with Palestinian protesters erupted in the city of Halhoul, north of Hebron, and IDF troops adopted crowd dispersal measures, Ynet newspaper reported.
Some IDF vehicles were reported damaged during the clashes.
Twitter user Zishey Twersky wrote:
Israel has accused Hamas of abducting the teens, who went missing on June, 12.
Sixteen-year-olds Naftali Frenkel, Gilad Shaar and 19-year-old Eyal Yifrach disappeared while hitchhiking at night from the Jewish settlement of Gush Etzion.
Israel launched a wide-range operation in the West Bank to find them. More than 400 people, most said to be members of Hamas, were arrested and more than 1,300 sites were searched.
The massive manhunt exacerbated tension in the region and six Palestinians have been so far killed in clashes with Israeli forces.
Israel's internal security agency Shin Bet named Marwan Qawasmeh and Amer Abu Aisha as suspects last week, saying the two were associated with Hamas and had served time in an Israeli prison for "terrorist activity".
"The two principal terrorist suspects in the kidnapping are Marwan Kawasmeh and Amer Abu Eisheh, members of Hamas in Hebron, who are wanted" by Israeli authorities, said a Shin Bet statement.
Since the trio went missing, Israeli forces have arrested 410 people and searched more than 1,300 sites.
---
Israel's Kidnapped Boys Reportedly Found Dead

Israeli Media Under Gag Order, Briefing This Afternoon
By Josh Nathan-Kazis and Anne Cohen, Jewish Forward
June 30, 2014.

Israeli forces have identified the bodies of the three missing Israeli teens, ABC News and other international outlets are reporting.
The teens, who went missing in the Israeli-occupied West Bank on June 12, have been the subject of a massive search in recent weeks. Israeli forces have arrested hundreds of Palestinians in the course of the search.
According to ABC, the teens were found dead in the vicinity of Hebron, a large West Bank city.
A gag order in effect on Israeli media has meant that no Israel-based outlets have reported on the discovery of the teen's bodies. A press conference is scheduled for 1:15 PM ET, according to Tweets from reporters. New York Times Jerusalem bureau chief Jodi Rudoren tweeted that Israeli forces are blocking roads into and out of Hebron.
Ahead of any official announcement, rumors were swirling on Twitter that the three boys had been found dead.
Haaretz's Chaim Levinson was one of the first to tweet the news, despite a gag order on Israeli media until the Cabinet press conference. His message has since been deleted, but the International Business Times managed to grab a screenshot.
Eyal Yifrach, Gilad Shaar and Naftali Frenkel, also a U.S. citizen, have been missing since the night of June 12.
---
Israel Finds Bodies Of 3 Kidnapped Teens Near Hebron: Officials
By Huffington Post
June 30, 2014
Soldiers have found the bodies of 3 Israeli teens who were kidnapped earlier this month, Israeli officials confirmed on Monday.
Gilad Shaar, Naftali Frenkel and Eyal Yifrach were last seen near Gush Etzion, a cluster of Israeli settlements in the West Bank, late on June 12. The young men were students at yeshivas in the kibbutz of Kfar Etzion and the city of Hebron.
In the days after their disappearance, Israel's security forces launched a massive operation throughout the West Bank to locate the missing teens.
More from the Associated Press:
JERUSALEM — The Israeli military found the bodies of three missing teenagers on Monday, just over two weeks after they were abducted in the West Bank, allegedly by Hamas militants. The grisly discovery culminated a feverish search that led to Israel's largest ground operation in the Palestinian territory in nearly a decade and raised fears of renewed fighting with Hamas.

Israeli Prime Minister Benjamin Netanyahu was huddling with his Security Cabinet late Monday to discuss a response.

Eyal Yifrah, 19, Gilad Shaar, 16, and Naftali Fraenkel, a 16-year-old with dual Israeli-American citizenship, disappeared while hitchhiking home near the West Bank city of Hebron late at night on June 12 and were never heard from again. Despite the dangers, hitchhiking is common among Israelis traveling in and out of Jewish settlements in the West Bank.

The Israeli military and the Shin Bet security agency announced late Monday that the bodies had been found. "The bodies are currently going through forensic identification. The families of the abducted teens have been notified," the army said. The Shin Bet said the bodies had been buried in a field near the village of Halhul, just north of Hebron.

Binyamin Proper, who was among the civilian volunteers that found the bodies, told Channel 2 TV that a member of the search party "saw something suspicious on the ground, plants that looked out of place, moved them and moved some rocks and then found the bodies. We realized it was them and we called the army."

Israel accused Hamas of being behind the abductions and launched a frantic manhunt throughout the West Bank, arresting nearly 400 Hamas operatives in the process. Last week, Israel identified two well-known Hamas operatives as the chief suspects. The two men remained on the run late Monday.
Palestinian President Mahmoud Abbas condemned the kidnappings, and his forces coordinated closely with Israel during the search for the teens. But Netanyahu has called on Abbas to dissolve a unity government recently formed with the backing of Hamas, saying it is impossible to be committed to peace while simultaneously sitting together with a group that kidnaps Israelis. Abbas has so far refused the calls, saying his new government is committed to his political program. Hamas is not part of his government, but has lent its backing from the outside.

The search for the teens captured the nation's attention. The Israeli media delivered round-the-clock updates on the search, and the mothers of the three teens became high-profile figures as they campaigned for their sons' return. Israelis held daily prayer vigils, including mass gatherings attended by tens of thousands of people at the Western Wall, the holiest prayer site in Judaism, and in a downtown square in Tel Aviv.

Late Monday, dozens of Israeli forces moved into the village of Halhul. There were no further details on the operation.

In Washington, White House spokesman Josh Earnest said, "We obviously condemn in the strongest possible terms violence that takes the lives of innocent civilians."