Operation Brother's Keeper morphs into operation destroy Hamas
1) report from Tikun Olam, 2) UN statement, 3 and 4) two reports from Ynet.

A bedroom at the Balata refugee camp after it had been ransacked by Israeli soldiers. Photo by Jaafer Ashtiyeh /AFP
Israeli Military: Reliable Evidence Three Kidnap Victims Were Murdered
By Richard Silverstein, Tikun Olam
June 25, 2014
SCOOP: An Israeli source confirmed via the military that it has received "reliable intelligence" confirming that the three teenage Israeli kidnap victims were murdered. The IDF mission has now been changed from a rescue to recovery operation. The IDF is focussing its search efforts on the area north of Hebron. The source also confirmed that today's announcement the IDF was drastically scaling back its operations (i.e. invasion) in the West Bank was directly related to the new information.
Further, one might speculate that Netanyahu feels he's inflicted enough collective punishment on Palestinians and that going any farther is liable to draw the U.S. into the fray on the Palestinians' behalf. It may be no accident that Defense Secretary Chuck Hagel had a phone call yesterday with Bogie Yaalon in which:
He [Hagel] also updated Ya'alon on U.S. views on the events unfolding in the Middle East…
That sounded so marvelously vapid that I had to wonder whether it meant that Hagel chewed out Yaalon and told him to get the hell out of there pronto. It may mean that given the confirmation of the murder of the boys, the IDF feels there is no further justification for such a large force operating in Palestine. It also appears that so much damage has been done both to the Israeli-Palestinian relationship and to Israel's image in the foreign media, that Israel's leadership thought this might be an opportune time to scale back.
A little speculation on the nature of the intelligence affirming the murders. It could've come from interrogations of the 500 detainees currently in Israeli custody. Though I'm not sure why it took 12 days to elicit the information. But I wonder whether the new details emanated from the Palestinian side. Could the PA security services or even Hamas itself have made a deal with Israel to convey the new material in return for Israel scaling back its invasion?
If any of this is true, it would indeed be extremely sensitive since Palestinian collusion or cooperation with Israel is a dangerous topic for Palestinians. I also couldn't help wondering whether today's announcement that Palestinian prisoners were ending their hunger strike might be part of a package deal worked out between the Israeli and Palestinian sides that included this definitive information about the murders. One way to test this out is to determine whether the victims' bodies are found in a relatively short time or whether the search takes longer. Finding them in a brief period would indicate there might be specific intelligence Israel is using that it developed from these sources. If it takes longer it may mean that Israel has no specific direction regarding where to search. There is great dissension between the IDF and Shin Bet over the paucity of good intelligence developed by the latter. Yediot Achronot wrote (as told by Middle East Monitor):
Israeli media reported on Tuesday that, 12 days after the disappearance of three settlers, some officers in the Israel Defence Forces are expressing disappointment over the investigation carried out by the Shin Bet internal security agency. According to Israeli newspaper Yedioth Ahronoth, the investigation carried out by Shin Bet has not yielded any results that could benefit the IDF in its operations involving thousands of Israeli soldiers.
The newspaper quoted a senior officer in Israel's Central Command as saying that the IDF has no information on the kidnapped young men. He expressed his disappointment for the failure of Shin Bet to provide information during the Israeli campaign to arrest hundreds of Palestinians over the past two weeks. "Without intelligence information, it is almost impossible to search houses and wells in areas with a population size of 700,000 people," he said. "We will have to ask ourselves some difficult questions." He added his criticism of Shin Bet for only now issuing warnings about Palestinian intentions to kidnap illegal settlers.
It appears that Israel's highest intelligence echelons failed in this operation both in preventing it and in solving it after it happened. It indicates, as I posted last night, that Israel's vaunted security services often are found wearing no clothes, just like the proverbial emperor.
---

Israeli soldiers confiscate Hamas flags and banners from Birzeit university student union. Photo Allison Deger.
UN political chief urges restraint by Israelis, Palestinians amid volatility on the ground
Under-Secretary-General for Political Affairs Jeffrey Feltman briefs the Security Council on the latest developments in the Middle East.
UN News Centre
23 June 2014
Amid a "critical" security situation on the ground, the United Nations political chief today called on Israelis and Palestinians to exercise maximum restraint and find a way to return to negotiations.
"With peace negotiations suspended since the end of April and despite restraint initially displayed by both sides, the situation on the ground has turned highly volatile with several disturbing developments," Jeffrey Feltman, Under-Secretary-General for Political Affairs, told the Security Council as he briefed the 15-member body on the latest developments.
He reported that intensive search operations in the West Bank for the three Israeli students abducted near Hebron on 12 June are ongoing with a corresponding increase in violence in the West Bank. In addition, the hunger strike by Palestinian administrative and other detainees since 24 April continues; new settlement units have been announced; and the fragile calm in Gaza was interrupted by multiple rockets fired at Israel and Israeli military response.
"All these issues, on which the United Nations has pronounced itself unequivocally, can only be addressed if the parties act responsibly and with restraint," stressed Mr. Feltman.
"Only then can any renewed attempt by the parties to find their way back to meaningful negotiations and to address the much lacking political horizon in order to avert further escalation take hold."
Regarding the situation in the West Bank, Mr. Feltman reported "significant" increases in the number of Palestinians detained, killed or injured since last month's briefing, including an estimated 928 Palestinians detained during Israeli search and arrest operations. Twelve Israeli security forces personnel were also injured during the past month.
Demolition of Palestinian structures and settler attacks were on the rise during the reporting period, while settlement activity – illegal under international law – continued apace, he added.
Meanwhile, in Gaza, the prevailing calm started unravelling, especially following the abduction of the Israeli youth. In addition, the persisting dire socio-economic situation resulting from a tightened access regime and continued violence has seriously complicated the prospects for the new government of national consensus in assuming its functions and delivering tangible improvements to the lives of Gazans.
"Both sides have a responsibility to exercise maximum restraint in order to contain what has rapidly developed into a critical security situation on the ground, to restore the calm and to see opportunities to return to a negotiating process," Mr. Feltman stressed.
"This is a time for renewed impetus and political will to end the conflict and the occupation that has already scarred the lives of far too many Israelis and Palestinians for far too long."
Below: Palestinians inspect the results of an air-strike by Israeli airforce on Rafah in the southern Gaza Strip on June 15, 2014. Photo by Said Khatib /AFP

---
IDF arrests 10 Palestinians amid signs of that hunt for teens drawing down
Previously unknown group claims kidnapping; Palestinian shot after fleeing forces, another dies after succumbing to wounds sustained in clashes with IDF.
By Yoav Zitun, Ynet news
June 26, 2014
IDF forces continued Operation Brother's Keeper Wednesday night with the arrest of 10 additional Palestinians in the Hebron area. A Palestinian who tried to flee from security forces was wounded and taken to the hospital.
Meanwhile, a hitherto unknown terrorist organization claimed responsibility for the kidnapping of the three Israeli teens in the West Bank two weeks that led to the IDF operation; this is the third such group to do so.
The search operation conducted to find Eyal Yifrach, Gil-ad Shaer and Naftali Frenkel has also seen a massive crackdown on Hamas and its non-profit organizations.
Search efforts in Hebron (Photo: AP)
According to the army, the 10 Palestinians were arrested on suspicion of taking part in terrorist activities, and signifies a continued drop in the number of detentions from previous days. Some 17 Palestinians were arrested overnight Tuesday, down from 37 the day before, an IDF spokesperson said Wednesday, indicating search efforts could be winding down.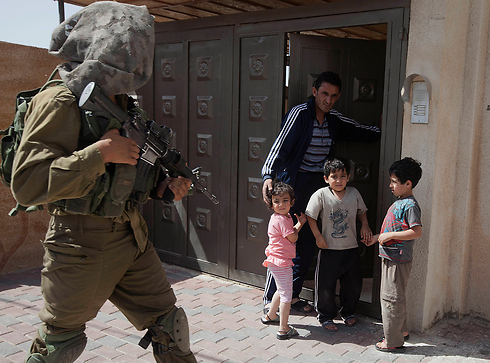 Photo: AP
Meanwhile in Ramallah, another Palestinian died of his wounds after taking part in clashes with Israeli security forces last week. Five Palestinians have been killed since the beginning of Operation Brother's Keeper.
Hezbollah pesence
Palestinian media sources reported Thursday that an unknown organization called "Regiments of Hezbollah" had claimed responsibility for the kidnapping of the missing teens, though it was unclear how credible the claim might be. The group is now the third to have claimed responsibility for the kidnapping; the previous two claims are considered to be illegitimate.
The group reportedly cited the 2008 killing of Hezbollah commander Imad Mughniyah as motivation for the attack.
The latest detentions bring to 381 the number of Palestinians arrested since the three teens disappeared from a hitchhiking post in the southern West Bank.
Of that number, 282 are allied to the Hamas movement, an IDF spokesperson told AFP. He said soldiers had searched 1,955 locations and raided 64 Hamas institutions. An additional 136 structures were searched Wednesday night.
Escalate out of control
A senior United Nations official cautioned Monday that the IDF action risked provoking a revolt, while Palestinians in the West Bank have turned on Abbas for offering to help Israel find those behind the kidnapping.
With the Muslim holy month of Ramadan set to start on Saturday, a government official in Jerusalem said members of Prime Minister Benjamin Netanyahu's security cabinet had expressed concern that events could "escalate out of control".
Growing international criticism about the impact on ordinary Palestinians has also been taken into account, he said.
"Following this, a decision was made to significantly narrow the operation and focus it on pinpoint actions to return the abductees," said the official, who declined to be named.
"We are continuing intelligence and operational efforts to bring about the release of the abductees and to get our hands on the kidnappers. That hasn't changed at all," Defense Minister Moshe Ya'alon told reporters.
But, acknowledging the number of arrests had dropped sharply over the past day, he said "a large part of the operation" against Hamas had been completed now that dozens of activists were in custody and many of its institutions were closed.
AFP and Reuters contributed to this report
---
Israel names two prime suspects in teens' abduction
Shin Bet suspects Amar Abu-Eisha and Marwan Kawasmeh from Hebron, who previously served time in Israeli prisons, played major role in kidnapping.
By Yoav Zitun, Ynet news
June 26, 2014

Amar Abu-Eisha, 33, and Marwan Kawasmeh, 29, from Hebron, Palestinian terrorists who previously served time in Israeli prisons, are the two main suspects in the abduction of the three Israeli teens – Eyal Yifrach, Gil-Ad Shaer and Naftali Frenkel, it was cleared for publication on Thursday, two weeks after the teens had been taken.
The Shin Bet said in a statement both Hamas men, believed to have played a central role in the kidnapping, had been wanted and at large since the kidnappings, adding that several other Palestinians suspected of involvement in the abductions were being questioned.
Hamas officials in Hebron confirmed the two suspects were members, and said IDF troops have targeted the men's homes since the beginning of the operation.
The officials, speaking on condition of anonymity because of fears for their safety, said the brothers and wives of the two men had been taken into custody, though the women have since been released. They said troops had entered the homes several times, conducting intense searches and confiscating certain items as evidence.
A senior Palestinian intelligence official said the two suspects are believed to be hiding and that Palestinian security forces were also searching for them. He said the fact that the two men have been missing since the kidnapping is "clear evidence they have links with the abduction."
Prime Minister Benjamin Netanyahu said the suspects were only part of the group behind the kidnappings and reiterated his call on Palestinian President Mahmoud Abbas to abrogate a unity pact with Hamas, a group that holds power in the Gaza Strip and calls for Israel's destruction.
Past terror activity
Already at 18 years of age, Kawasmeh was arrested, tried and sentenced to ten months in Israeli jail, where he served his time until August 2004. He has since been arrested on four other occasions and has been held in administrative detention.
In his most recent investigation in 2010, he admitted to having been recruited to the Hamas military wing in the Hebron area in 2009. He was involved in military training in caves in the Hebron area, was active in obtaining raw materials for the production of explosives and assisted the organization in recruiting additional youths for Hamas activities. For these actions, he was imprisoned until March 2012.
Eisha was first arrested in November 2005,investigated and held in administrative detention until June 2006. He was arrested again in April 2007 and held for a short time.
Eisha's father, Omar, said he last saw his son at a wedding party on June 12 before he disappeared later that night. "I don't know where he is," he said, asking whether Israel might have arrested him.
He said Israeli forces have arrested seven family members, including two other sons, and that the family's homes have been raided eight times.
"They have searched every item of the house, every centimeter of the house," he said, including a sheep pen outside the home. "They have turned the whole house upside down, but they did not find anything."
He claimed Amar, who is married with three small boys, was not involved in politics, but acknowledged that his son had spent seven months in Israeli custody in 2005.
He also said he himself had been arrested by Israel in 1995 for hiding a Hamas fugitive – and said Israel had demolished his home as punishment. He said another son was killed by Israel in November 2005. The Israeli army confirmed the death, saying he had been throwing a bomb at Israeli troops at the time.
The search continues
Hundreds of people arrived at the Nof Ayalon synagogue on Thursday evening for a rally of prayer and solidarity with the families of the kidnapped teens.
"We've known the identities (of the suspected kidnappers) for two weeks know," Rachel Frenkel, Naftali's mother, told Ynet. "What we need to know now is where they are."
Earlier, the families met at the Frenkel home to coordinate the next steps in the campaign to bring to the return of their sons.
"Intelligence knows exactly what they're doing when they publish the names, I hope this advances (the investigation)," Frenkel added.
Meanwhile, the IDF in the past 24 hours has expanded the search for three missing teens. Security forces have been using advanced methods and technological means for locating missing persons and for finding evidence that could help track down the abducted teens.
In tandem with that, security forces are searching wrecking facilities for stolen cars in one of the villages north of Hebron.
In addition to using both day and night observation means, including thermal cameras that can differentiate cold and heat, soldiers from the Engineering Corps are searching the woods west of the Gush Etzion Junction, several hundred meters from where the teens are believed to have been taken. The Engineering soldiers are using advanced detectors and sapper knives to search the ground.
The IDF added observation blimps to the search effort, mostly in the area north of Hebron. The blimps join tracking dogs, Air Force drones, artillery corps drones and radars, all utilized in the search.
Ten Palestinians suspected of terror activity were arrested overnight Wednesday, most of them at the Hebron area. A Palestinian was critically wounded while trying to escape IDF troops during a raid at the as-Samu village south of Hebron.
Reuters and the Associated Press contributed to this report.