Marking the Nakba as much more than an annual protest
The article on the 2014 Nakba protest is followed by one from AIC. All the photos by Active Stills come from PHOTOS: Nakba commemorations from Gaza to the Galilee in +972, May 16th, 2014, where names of the individual photographers are given.

Mostly-peaceful rallies marking the Nakba were marred by the killing of two Palestinians in Ramallah. Photo by Gregg Carlstrom/Al Jazeera

Palestinians mark 'Nakba' day amid violence

Israeli troops kill two Palestinians during a Nakba day demonstration near the West Bank city of Ramallah.
By Dalia Hatuqa and Gregg Carlstrom, Al Jazeera
May 15, 2014
Ramallah, Occupied West Bank — Two Palestinians, Mohammad Abu Al Thaher and Nadim Nuwara, were shot dead by Israeli soldiers on Thursday during Nakba Day commemorations near the Israeli military base of Ofer just outside Ramallah.
Palestinians in Israel, the West Bank and Gaza Strip were observing what they refer to as the 'Nakba' or 'catastrophe' that befell Palestinians in the 1948 war.
At noon, an eerie silence fell on the West Bank city of Ramallah as sirens wailed for 66 seconds. Following a march from the late President Yasser Arafat's mausoleum, hundreds stood at the city centre.
The nakba still affects us too. We live here but the state does not see us as equals, it sees us as a threat. Abed Hassoura, Jerusalem resident
Alongside a bagpipe-playing marching band and local scout groups, Palestinians, young and old, carried maps of historic Palestine and large metal keys—symbols of their homes lost decades ago, and the right to return to them. Actors, mounted atop a stationary truck, re-enacted scenes depicting the Nakba.
Mohammad Eliyan, who heads the Committee to Commemorate the Nakba, said the Palestinians' right of return to their ancestral homes was key to a just solution to the conflict. "This May 15, as we observe this sad occasion, we say that we are stronger and more determined to stand up to the Israeli government's policies that continue to dispossess Palestinians," he said.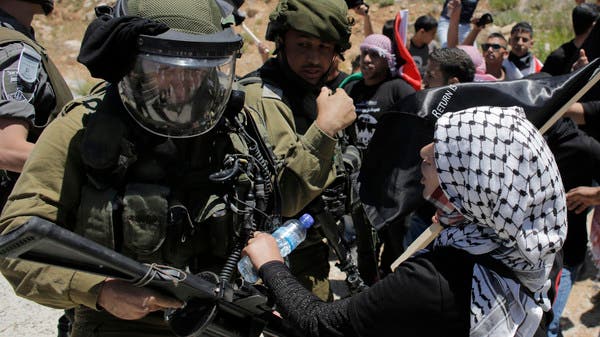 An Israeli soldier during a protest marking the 66th anniversary of Nakba, in the West Bank village of El Walaja near Bethlehem May 15, 2014. Photo by Reuters
Similar marches took place in the West Bank cities of Bethlehem, Nablus, Qalqilia, Jenin and Tubas to mark the day. At least five Palestinians, two of whom were later declared dead, were injured by Israeli soldiers in the environs of Ramallah and the southern city of Hebron, as protesters were met with live fire, teargas and rubber-coated steel bullets.

Palestinians hold torches marking the 66th anniversary of "Nakba," or "catastrophe" referring to their uprooting in the war over Israel's 1948 creation, in Ramallah, Wednesday, May 14, 2014 (Times of Israel caption). Photo by Majdi Mohammed / AP

Palestinians also held rallies and remembrances throughout Israel, where they make up 20 percent of the population. At least two people were hurt, and several others arrested, when police tried to disperse a peaceful demonstration outside the Damascus Gate of Jerusalem's old city.
"The nakba still affects us too," said Abed Hassoura, a Jerusalem resident holding a portrait of his son Louay, who was jailed three years ago on security offences. "We live here but the state does not see us as equals, it sees us as a threat."

Some 15,000 Palestinian citizens of Israel take part in the March of Return to Lubya, a village in what is now northern Israel, which was destroyed in the Nakba of 1948. The event was held on May 6, 2014, the same day that Israeli Jews celebrate Independence Day. Nakba, Arabic for "catastrophe," is the term given to the forced displacement of some 750,000 Palestinian refugees from 500 communities by Zionist forces before, during and after the 1948 War. Caption by +972
Demonstrators waved banners that said "return" and "all of Palestine is ours," and echoed Eliyan's comments about the right of return. The issue has been a controversial one during decades of negotiations, with Israel insisting that it will not accept more than a token number of refugees. Palestinian President Mahmoud Abbas seemingly renounced it in a 2012 interview with Israeli television, saying that he no longer had the right to live in Safed, the town of his birth.
'Sacred right'
"It's a right, a sacred right. You cannot ask us to accept a solution if our people cannot return, if maybe we cannot even stay," said Asmaa Majid, referring to proposals backed by some Israeli politicians that would cede towns with large Palestinian populations into a future Palestinian state.

Palestinian youth throw stones at Israeli forces on the path of the Israeli separation barrier under construction on land belonging to the West Bank village of Al Walaja in a Nakba Day protest, May 15, 2014. As with 85% of its route, the separation wall is being built on Al Walaja land inside the West Bank, rather than on the internationally recognized border, or Green Line, with Israel.
During the past year, the Israeli government has pushed plans to expel tens of thousands of Bedouin from their land in southern Israel, and to reduce Palestinian representation in the Knesset by raising the electoral threshold. Prime Minister Benjamin Netanyahu said earlier this month that he would introduce a "basic law," the Israeli equivalent of a constitutional amendment, declaring the country a "Jewish state."
The right of return for Palestine refugees to their homes from where they were forcibly transferred is a sacred right that can not be compromised, a right guaranteed by international law and enshrined in UN General Assembly resolution 194

Marwan Barghouti, Fatah leader
"Since the beginning of the current government, with its coalition of right-wing racists, we have been confronted with 'wars' on multiple fronts," Basel Ghattas, a Palestinian member of the Knesset, said on Thursday.
Protests were also planned for Thursday evening in Jaffa, Haifa, and other cities with large Palestinian populations. In the northern city of Akka, residents will hold a remembrance at the home of a woman who faces eviction from her nearly 50-year-old family home.
On Wednesday, the eve of the anniversary, Palestinians clad in black shirts carried 66 torches through the streets of Ramallah. In a statement broadcast on local television later that night, Abbas accused the Israeli government of making the two-state solution more difficult to attain, leaving one of two possibilities: a bi-national state or a racist apartheid regime.
"It is time for the leaders of Israel to understand that there is no homeland for the Palestinians except Palestine, and it is here we are staying," Abbas said. "It is time to end the longest occupation in modern history."

Children from Aida Refugee Camp carry keys symbolizing the right of return toward the Israeli separation wall during a Nakba commemoration event, Bethlehem, West Bank, May 14, 2014.
Two Palestinians killed, dozens injured in Nakba rallies
By AIC
May 15, 2014
Israeli forces shot and killed two Palestinians during a demonstration marking the 66th anniversary of the Nakba near the West Bank city of Ramallah.
Palestinian media reports that the victims are 22-year-old Muhammad Audah Abu al-Thahir from the village of Abu Shukheidim and 17-year-old Nadim Siyam Nuwarah from the al-Mazraa al-Qibliyya village, both in the Ramallah district.
Conflicting reports currently exist as to whether the victims were shot by steel or rubber-coated steel bullets.
Medics said three teenagers were also injured by live bullets at the rally, conducted near Israel's Ofer detention center. Protesters were also demonstrating solidarity with the some 100 Palestinian prisoners held in administrative detention who have been on hunger strike for three weeks.
Speaking to Israeli reporters on his return from an official trip to Japan, Israeli Prime Minister Netanyahu stated that "We will also give an additional answer to 'The Nakba' – we will pass the nationality law that makes absolutely clear to the world that Israel is the state of the Jewish people."

Right-wing nationalists from the group Im Tirzu protest as Palestinian students living in Israel and Israeli supporters commemorate the Nakba outside Tel Aviv university, May 11, 2014.
Some 2,000 Palestinians from the city of Hebron and its neighbouring towns and vilages gathered in Hebron Thursday morning to commemorate the Nakba. The gathering was called for by the Palestinian political parties and the Popular Committee for the Commemoration of Nakba Day.
Crowds gathered in Hebron's Aiyn Sara Street before marching together to the nearby Iben Rushd Square, where political leaders gave speeches about the Nakba the right of Palestinian refugees to return to their homeland in accordance with United Nations Resolution 194.
Following the speeches, dozens of Palestinian youth gathered in the Bab El Zaweya area, located between areas H1 and H2. Clashes with Israeli soldiers ensured, during which the forces shot tear gas and rubber-coated steel bullets. Most clashes took place near the entrance of Al Shuhada Street, closed to Palestinians.
Below, Spreading recognition: Israeli activists from the organization Zochrot hang portraits of Israelis holding a statement of recognition of the Palestinian Nakba, on the 1948 headquarters of the militant Zionist organization Irgun, located in the area of the destroyed Palestinian village of Manshyia, near the city of Jaffa, May 5, 2014. The action was held on the evening of the Israeli Independence day to commemorate the Palestinian 1948 Nakba.