Hamas meets Fatah – nowhere else to go
Here is a round-up of articles on the Hamas-Fatah talks from early doubts through first meetings and statements to actual decisions:
1) Al Arabiya: Hamas clears out of Abbas' Gaza home in unity push, highly significant gesture, May 15th;
2) Ma'an news: Haniyeh: Details of security forces reconciliation worked out, first significant joint decision, May 16th;
3) Albawaba: Hamas, Fatah commence unity government talks Wednesday, May 14th;
4) Ma'an ews:Jailed Fatah leader backs reconciliation moves,imprisoned Marwan Barghouti gives his blessing;
5) CarnegieMEC: Palestinian National Unity: Tactical Maneuver or Strategic Choice?speculation on May 1st;
6) Hurriyet: Palestinians will never recognize Israel as 'Jewish state': Abbas, Abbas sticks to the diplomatic rules, April 26th;
7) Al Monitor: Fatah, Hamas Again Delay Reconciliation Implementation, one year ago Daoud Kuttab doubted if decisions-makingtalks would happen, May 15th, 2013;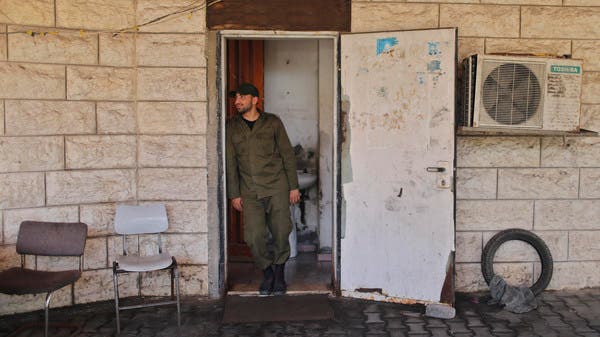 A member of the Palestinian security forces loyal to Hamas keeps guard at the house of Palestinian president Mahmoud Abbas in Gaza City May 14, 2014. Photo by Reuters

Hamas clears out of Abbas' Gaza home in unity push
By AP /Al Arabiya
May 15, 2014
Hamas on Wednesday cleared out of the private Gaza residence of Palestinian President Mahmoud Abbas, in the most concrete sign yet that the rivals are moving toward reconciliation.
The Islamic militant Hamas took over the residence when it seized Gaza from the Western-backed Abbas in 2007, leaving him with only parts of the West Bank. Since then, the rivals have become entrenched in their respective territories, setting up separate governments.
Repeated reconciliation efforts have failed, but the current one might have a better chance because both sides seem to have more compelling reasons than in the past to strike a compromise.
Hamas has faced growing regional isolation and a crippling financial crisis in recent months, largely a result of an asphyxiating border closure by neighboring Egypt. Abbas, meanwhile, suffered a political setback when the latest nine-month round of peace negotiations with Israel ran aground last month.
On April 23 the two sides agreed to revive a previous reconciliation deal that was never implemented. Under that deal, Abbas is to form an interim unity government of technocrats by the end of May. The main task of the government is to prepare for general elections by 2015.
The ideological gap between Abbas and Hamas remains wide, and a temporary government of technocrats is meant to paper over those differences.
At the same time, Abbas needs to reassure Western donor countries, which consider Hamas a terror organization, that the Islamic militants will not play a role in his new administration. Abbas has said any unity government would recognize Israel, renounce violence and uphold previous interim deals – positions Hamas rejects.
Gaza Prime Minister Ismail Haniyeh said Wednesday that Hamas is willing to do its part to end the Palestinian split, but that the movement would not "abandon its fixed political positions." He also said a new government would require the approval of the Palestinian parliament – elected in 2006 but not functional since the split – where Hamas has a majority.
It remains unclear whether Hamas would refrain from challenging Abbas' positions publicly during the interim period in order to ensure the continued flow of foreign funding.
While many in the West Bank and Gaza remain skeptical about reconciliation, recent measures on the ground suggest a greater willingness by the two sides to move forward. Last week, Hamas for the first time lifted a six-year ban and allowed the sale of a West Bank newspaper that is considered close to Abbas.
On Wednesday, Hamas security forces removed belongings from the Abbas villa in Gaza City. They loaded mattresses, desks and chairs onto pickup trucks and drove out of the gated compound.
The security forces, which had used the compound as a base, barred camera crews and photographers from filming or taking pictures as the items were driven away, but later allowed them into several rooms on the ground floor.
A modest living room with a flat-screen TV was devoid of decorations, but two large photo albums on a shelf contained pictures of Abbas with various leaders and officials, including former U.S. mediator Dennis Ross.
Iyad Al Bozum, a spokesman for the Interior Ministry in Gaza, confirmed that security forces cleared their belongings from the residence, but that a formal handover of the villa requires another government decision.
"Our presence there during the past seven years was to protect the place," he said.
---

Haniyeh: Details of security forces reconciliation worked out
By Ma'an news
May 16, 2014
GAZA CITY– Prime Minister Ismail Haniyeh said on Thursday evening that Hamas had agreed to the details of the reunification of security forces with Fatah, resolving a key obstacle in the implementation of the national reconciliation agreement.
"We agreed on all the details of the security file, we are committed to what we signed. We will not allow the return of security disorder to the Gaza Strip," Haniyeh said in a graduation ceremony in the besieged coastal enclave.
"We will not give up the weapon of resistance, and we will not forsake resistance," Haniyeh added, stressing that Hamas "will not depart the position of manliness and dignity and will remain loyal soldiers of Palestine."
Haniyeh added that no employees in Gaza will be fired after the unity government is formed, explaining that "we will work on the basis of partnership, and will build security forces in the West Bank and Gaza."
The development of two independent Palestinian security forces — one under Hamas in the Gaza Strip, the other under the Fatah-led Palestinian Authority in the West Bank — has been a key issue as both parties attempt to work out a national reconciliation plan agreed upon in late April.
---

Hamas, Fatah commence unity government talks Wednesday
May 14, 2014
By Albawaba news
The two main Palestinian political factions of Hamas and Fatah have begun talks to form a transitional government.
In another step toward reconciliation and unity, the talks between senior officials from the Palestinian resistance movement of Hamas and Fatah party leaders started in the besieged Gaza Strip late on Tuesday.
Reports said that acting Palestinian Authority chief Mahmoud Abbas has ordered his delegation to strike a deal with Hamas on the new government.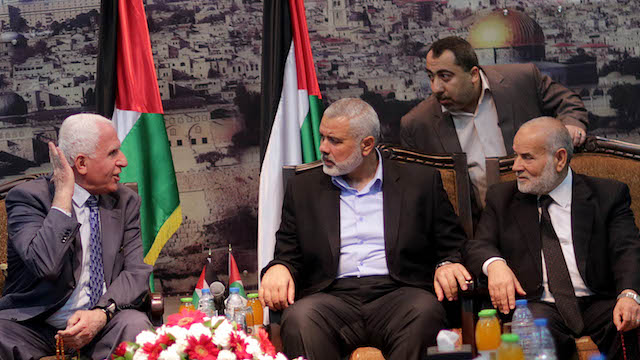 The head of the PLO delegation and Fatah negotiator Azzam Al Ahmad (L), Hamas Prime minister Sheikh Ismael Haneiya (2-R) and senior Hamas leader Ahmad Nahar (R) sit together during a meeting in Gaza City, Gaza Strip, 22 April 2014
Salah Al Bardaweel, a spokesman for Hamas, said earlier in the day that Azzam Al Ahmad, a senior member of Fatah, would arrive in the Gaza Strip from the West Bank city of Ramallah later on Tuesday.
"Al Ahmad will arrive in Gaza to hold talks with Hamas leadership on the formation of the agreed-upon transitional technocrat unity government," said Al Bardaweel.
The two sides have reportedly exchanged lists of ministerial candidates so far.
On April 23, Hamas and the Palestine Liberation Organization (PLO), which includes Fatah, pledged to settle their differences and form a unity government. Under the long-awaited deal, Hamas and Fatah are to establish the unity government within five weeks and hold national elections six months later.
The Israeli regime reacted to the act of reconciliation among the Palestinians by canceling the so-called peace talks with the Palestinian Authority and threatening sanctions against it.
The besieged Gaza Strip is administered by Hamas while the Palestinian Authority governs parts of the West Bank.
Hamas and Fatah have been at odds since Hamas won the Palestinian parliamentary elections in January 2006. The dispute marginalized Hamas governance to the Palestinian territory of the Gaza Strip. Fatah, however, set up headquarters in the Israel-occupied Palestinian territory of the West Bank.
---

Jailed Fatah leader backs reconciliation moves
By Ma'an news
May 14, 2014
Marwan Barghouti, photo by Ma'an Images.
RAMALLAH – Jailed Fatah leader Marwan Barghouthi gave his blessing to a Palestinian reconciliation deal, in a statement also marking the 66th memory of the Nakba.
Barghouthi saluted all Palestinian martyrs and emphasized that the right of return for Palestinians who have been displaced from their homes is a sacred, non-negotiable right. He said any solution for the Palestinian cause that does not include the right of return is not a legitimate solution.
Barghouthi highlighted that national unity as the key for freedom for repressed nations. He called for protecting the reconciliation agreement between Hamas and Fatah and providing every opportunity to make it happen.
The jailed leader stressed the need for a national strategy for facing the challenges threatening the Palestinian cause, mainly the Israeli occupation as well as "Judaisation" of Jerusalem and its Islamic and Christian religious sites.
He encouraged Palestinian efforts for joining international treaties, agreements and organizations for the need of obtaining the Palestinian rights. He also encouraged the Palestinian, Arab and international economic, political and diplomatic boycott of Israel along with increasing public resistance.
Barghouthi said that for two decades negotiations with Israel have been unsuccessful because of the constant Israeli rejection of ending occupation and admitting Palestinian rights.
He also backed an ongoing hunger strike and called for all Palestinians and Palestinian parties to support their prisoners in Israeli jails.
In Gaza City on Wednesday, Hamas and Fatah officials held a three-hour meeting in what officials described as a "positive" atmosphere.
Head of Fatah's negotiation team Azzam al-Ahmad said after the meeting that talks will continue and officials will abide by a five-week deadline to form a unity government.
Mousa Abu Marzouq, head of the Hamas negotiating team, said the talks would be finalized next week and a unity government would be announced shortly afterwards.
The proposed candidates for the unity government are politically "impartial," Fatah official Fayez Abu Atiyeh told Ma'an, with Hamas spokesperson Sami Abu Zuhri adding that the formation of a proposed unity cabinet is nearly complete.
Earlier, Gaza prime minister Ismail Haniyeh said that he believed the unity government would achieve its goals and "our mission is to make it succeed and to mobilize our people behind its national goals."
"We will clean the road to reconciliation from all obstacles and landmines, and I hereby call on our brothers in the West Bank to take the same path and to maintain freedoms," he said, while addressing Gaza members of the Palestinian Legislative Council.

Palestinians in Gaza celebrate the start of talks in Gaza, April 26th, 2014
On April 23, the Fatah-led PLO and Hamas announced a national unity deal to end seven years of political division between the largest two Palestinian parties, with a national unity government to be set in place within five weeks.
The groups have made failed attempts at national reconciliation for years, most recently in 2012, when they signed two agreements — one in Cairo and a subsequent one in Doha — which have as of yet been unimplemented.
---

Palestinian National Unity: Tactical Maneuver or Strategic Choice?
Carnegie Middle East Center, Op-Ed Al Hayat*
May 01, 2014
On April 23, representatives of Fateh and Hamas, the two movements that have dominated Palestinian politics for decades, announced a new attempt to end the bitter feud that has divided them since June 2007. Under the terms of the reconciliation agreement they signed in Gaza, a national unity government will be set up within five weeks, to be followed by presidential and parliamentary elections in six months. The security agencies are to be restructured, measures leading to societal reconciliation adopted, and public freedoms restored.
The record of past attempts at building national unity is far from encouraging. Fateh and Hamas have never shared a common institutional framework: Hamas has yet to join the Palestine Liberation Organization (PLO), which Fateh has dominated since 1969, and Fateh refused to join the national unity government that Hamas offered to form after it won the Palestinian Authority's general election of January 2006. Reconciliation agreements signed by Fateh and Hamas in Cairo in April 2011 and in Doha in February 2012 were not implemented, as neither movement was genuinely committed and both lacked internal consensus on moving forward. This explains the sceptical welcome given by most Palestinians to the accord of April 23, 2014.
*Al-Hayat is a widely read Arabic newspaper produced in London, with many offices round the world
---

Palestinians will never recognize Israel as 'Jewish state': Abbas
By Daily News/Hurriyet, AFP
April 26, 2014
RAMALLAH -Palestinians will never recognize Israel as the "Jewish state," president Mahmud Abbas said April 26, as his leadership convened to chart a course of action after Israel halted peace talks.
"In 1993 we recognized Israel," Abbas told members of the Palestine Liberation Organisation's Central Council, adding that the Palestinians should not be forced to go a step further and recognize Israel's religious identity.
Abbas also said the new unity government he is set to head with Hamas backing would reject violence and recognize Israel and existing agreements with it.
"The upcoming government will obey my policy," he told members of the Palestine Liberation Organisation's Central Council. "I recognize Israel and reject violence and terrorism, and recognize international commitments."
"The speech had mostly positive points, and we cannot but support it on topics such as Jerusalem, reconciliation and not recognizing (Israel as) the Jewish state, in addition to the failure of (peace) negotiations," Bassem Naim, an adviser to Hamas' Gaza Strip prime minister Ismail Haniya, told AFP.
Israel had made recognition of it as a "Jewish state" a key demand in peace talks, which it withdrew from after Abbas's PLO on April 23 signed a reconciliation deal with the Islamist Hamas movement, which does not recognize Israel's right to exist.
Any new measures would follow a raft of financial sanctions unveiled this month when the Palestinians applied to adhere to 15 international treaties.
"The pact with Hamas kills peace," Netanyahu told NBC television shortly after the cabinet decision. Netanyahu said it was signed "while Israel was making efforts to advance the negotiations with the Palestinians" and was "a direct continuation of the Palestinian recalcitrance to promote negotiations," due to expire on April 29.
Israel's chief negotiator, Justice Minister Tzipi Livni, said they had proposed a "creative solution" on April 22 that would enable extending talks. She said Israel was only "suspending" talks and "the door has not been shut today," stressing the sanctions planned were "measured" and "would not collapse the Palestinian Authority."
But senior Palestinian official Saeb Erakat told AFP "Netanyahu's government has been asked for years to choose between peace and settlements, and it chose settlements." He said the Palestinian leadership would "look into all options to respond" to Israel's decisions.
Arab League chief Nabil al-Arabi said in a statement the group "fully supports Palestinian president Abbas in facing all the pressures applied on him by Israel."
U.S. envoy Martin Indyk has repeatedly met both sides to try to salvage the negotiations, and met with Abbas in Ramallah on April 24.
U.S. Secretary of State John Kerry insisted peace talks could still advance if the sides compromised. "There's always a way forward, but the leaders have to make the compromises to do that. We may see a way forward, but if they're not willing to make the compromises necessary it becomes very elusive," he said.
---

Fatah, Hamas Again Delay Reconciliation Implementation
Fatah and Hamas appear to have reached agreement on their outstanding issues but have postponed implementation, to allow current peace efforts with Israel to move forward.
By Daoud Kuttab, Palestine Pulse/ Al Monitor
May 15, 2013
The news out of Cairo regarding Palestinian reconciliation efforts appears to be generally positive. The delegation headed by senior Hamas official Mousa Abu Marzouk and Fatah's Azzam al-Ahmad met and agreed on a package deal that seems to address all the outstanding issues between the two parties. Statements issued in Cairo and published on the official websites of both groups are identical, which is a good sign. Details of the emerging
agreement appear to indicate that the major outstanding tests needed for success have been passed:
● The composition of a new national unity government should be agreed to within one to three months.
● Once the composition of the government is resolved, Palestinian Authority President Mahmoud Abbas will issue a presidential decree to that effect and simultaneously present another calling for parliamentary and presidential elections in the West Bank and Gaza.
● Hamas and Fatah delegations will meet to finalize agreements on an election law, the work of the Palestinian Legislative Council (PLC) and a mechanism for selecting a unified Palestinian National Council (PNC), the highest body within the Palestine Liberation Organization.
●A meeting headed by the current PNC chairman, Salim Zanoun, will take place in Amman on May 21 to begin the final push toward agreement on the mechanism for choosing the members of the next PNC. This meeting is to conclude within two weeks.
Both sides agree to the role of Egypt as sole arbitrator for the reconciliation process.
While the agreement has been generally well-received by Palestinians, the continued delay in reaching it has elicited criticism from various circles. The Palestinian cartoonist Khalil Abu Arafe summed up indignation over the three-month delay by showing two women discussing the agreement under the Arabic words "Ala mahilh" (taking their time).
The delay is possibly unrelated to the time actually needed to reach consensus on the issues, which have been debated ad nauseam for years. Rather, there is a widespread belief that the Palestinian leadership has given US Secretary of State John Kerry two months to work out details for restarting Palestinian-Israeli negotiations. While the discussions were held in secrecy, some of the information emerging from Ramallah, Tel Aviv and Washington seem to indicate that some pieces of the puzzle are falling into place. Israel appears to be willing to quietly stop settlement activity outside the major West Bank settlement blocks, while the Palestinian leadership has postponed all attempts at becoming a full member of UN agencies, in particular the International Court of Justice.
It is unclear what the true relationship is between Palestinian-Israeli peace talks and reconciliation efforts. For some time, Hamas officials have complained that Israel and Western countries, in particular the United States, have placed a veto of sorts on reconciliation efforts since they have vowed not to engage with Hamas.
Palestinian officials in Ramallah reject such claims, saying that national unity is a private Palestinian affair, and no one has the right to interfere or attempt to delay it. They also note that whatever new government is established, it will be Mahmoud Abbas' government, even if its members include ministers who belong to the Hamas-affiliated Change and Reform Bloc of the PLC.
Neither Fatah or Hamas believes that if a breakthrough in peace talks were to be reached in the next month, it would produce results that would jeopardize the reconciliation process due to added pressure on keeping Hamas out of any new government. But the question remains unanswered as to why both Palestinian parties have chosen to wait yet another three months to agree on issues that they had previously agreed upon.
Daoud Kuttab is a contributing writer for Al-Monitor's Palestine Pulse. A Palestinian journalist and media activist, he is a former Ferris Professor of journalism at Princeton University and is currently the director-general of Community Media Network, a not-for-profit organization dedicated to advancing independent media in the Arab region.
On Twitter: @daoudkuttab
---
Link
Palestinian Fatah Hamas unity deal announced Youtube