Christians blocked, bullied and blasted away from holy sites at Easter

Israeli police fire tear gas at Christian worshippers at the Tomb of Lazarus in al-Eizariya in East Jerusalem, Easter 2014. Ma'an images.
UN envoy urges respect for religious freedom after Israeli forces disrupt Easter procession

UN news centre
19 April 2014
A top United Nations envoy on Saturday said he was dismayed that a peaceful Easter procession led by Palestinian Christians through Jerusalem's Old City was disrupted by Israeli security forces.
"Once again I call on all parties to respect the right of religious freedom, granting access to holy sites for worshippers of all faiths and refraining from provocations not least during the religious holidays," said Robert Serry, the Special Coordinator for the Middle East Peace Process.

An Israeli police checkpoint blocks access to the Old City of Jerusalem, April 19, 2014. The day before Easter, thousands of Palestinian Christians and international pilgrims attempt to enter Jerusalem's Old CIty to participate in the "Saturday of Light" or "Holy Fire" celebration in the Church of the Holy Sepulchre, the traditional site of the crucifixion, burial and resurrection of Jesus. Photo by Ryan Rodrick Beiler/Activestills.org
According to a statement issued by the Special Coordinator's office, Mr. Serry and members of the diplomatic corps visited an Easter procession from the New Gate to the Holy Sepulcher at the invitation of the Palestinian Christian community in Jerusalem. The procession was stopped at a security checkpoint prior to the entry on the church grounds.
"Despite earlier assurances to the Palestinian Christian community in Jerusalem of unhindered access to the Holy Sepulcher Church on the occasion of Easter celebrations, the Israeli police refused to allow such entry claiming they had orders to that effect," the statement said, adding that a "precarious" standoff ensued ending in an angry crowd pushing their way through.
"The Special Coordinator was dismayed that a peaceful procession on the occasion of Easter in the Old city was disrupted by unacceptable behaviour from the Israeli security authorities."
---
Palestinian Christians 'Bitter and left out' of Easter celebrations
The West Bank and Gaza faithful bemoan Israeli restrictions they say deny them their 'right to worship' in Jerusalem
By Dalia Hatuqa, Al Jazeera
April 19, 2014 
RAMALLAH, West Bank — Seeking comfort in prayer, hundreds of Palestinians gathered at the Greek Catholic Church in Ramallah's Old City to solemnly commemorate Good Friday, during a long weekend that marks when Jesus is believed to have been crucified, buried and resurrected more than 2,000 years ago.
During what's known as the "funeral" procession, Palestinian Christians re-enacted the burial of Jesus, along with a lengthy ritual of prayer, Gospel recitations and hymn singing. Later, the Catholic congregation joined Greek Orthodox worshippers from a nearby church. Together, and with a choir and marching band of a local scout troop, they completed a circuit around the Orthodox church holding a shrine symbolizing Jesus' casket.
This year, both Orthodox and Catholic churches — which normally mark Easter at different times — celebrated the holiday the same week; also coinciding with the Jewish Passover.
The sermon drew hundreds more as night fell, but not everyone was content to be celebrating far from Jerusalem, where other Christians, including many from around the world, converged upon the Holy City to mark the holy occasion.
"It is not fair," said Rand Tawasha, a 21-year-old student from Birzeit University, near Ramallah, referring to Israeli restrictions on movement that often prohibit Christians' access to holy sites in nearby Jerusalem. The Holy City has been out of bounds for Palestinians in the West Bank and Gaza Strip since 1967, when Israel defied international law to occupy and effectively annex East Jerusalem, home to the city's most sacred sites. Today, Palestinians' only means to reach the city is through a special permit issued by Israeli authorities.
Tawasha is the only one in a family of five who received a permit this Easter season. "Having access to the Holy City or to churches there especially at this time of year is our normal right as Palestinians," she said. "It should not be associated with anything political."
This reality had drawn similar sentiments from official clergy. "It is very painful to see people coming from the whole world, from places [as far as] Japan, and they can easily reach the holy sites while our people and Christians from Iraq, Jordan and other [Arab] countries cannot," Fouad Twal, the Latin Patriarch of Jerusalem, told journalists in the lead-up to Easter celebrations.
Palestinian Christians carry an effigy of Jesus Christ covered by flowers, during a symbolic funeral as part of their services marking Good Friday in the West Bank village of Al-Zababedah near Jenin, Friday, April 18, 2014. Photo by Mohammed Ballas / AP.
Restrictions on Palestinian movement were tightened further after Israel first started erecting a separation barrier in 2002 — mostly inside Palestinian territory — citing security needs. However, only about 20 percent of the structure, made of concrete slabs and fences, follows the internationally recognized border between Israel and the West Bank known as the Green Line. This effectively barred Palestinians, from all different religious backgrounds, from entering Jerusalem without Israeli permission.
Israel issues some permits to both Christians and Muslims during religious holidays, but this can be a fraught, bureaucratic process, making such authorizations difficult to come by. They are mostly given to older, married Palestinians; and Christians have to apply through their churches and parishes. Furthermore, the number of permits issued are not always reflective of the population, and do not always get issued on time.
This year, some 17,000 permits were issued to Christians inside the West Bank, and 600 in the Gaza Strip, according to the Coordinator of Government Affairs in the Territories (COGAT), Israel's defense ministry arm that deals with Palestinian civilian issues.
For many in the coastal enclave, Jerusalem is often thought of as an impossibly far-away destination, despite it being only some 50 miles away. "In the past 10 years, I have not been issued a permit for the Christian holidays," said a Gaza-based mother of three, who declined to give her name for fear that Israel would not grant her a work, medical or religious permit in the future.
The Jerusalem Municipality and Coordinator of Government Affairs in the Territories did not respond for requests for comment before publication.
Some of those who received permits this year still did not make it to Jerusalem to attend festivities for the holiest season in the Christian calendar since the rest of their family members were not granted them. "I feel bitter and left out," the Gaza-based mother said. "Many members of my family who are older managed to go. My husband, who is 36, received one but refused to leave me and the children behind."
This year, permits for Gaza's Christians were issued only to those who are younger than 16 and older than 35. Samer Shahin, also from Gaza City, said he and his 7-year-old twins received permits; his wife, didn't. "We have been denied the joys of Easter in Jerusalem," he said.
For many Christians, Easter is hailed as a time for renewal and revival, said Jamal Khader of the Latin Patriarchate of Jerusalem, but revival can be difficult when the number of Palestinian Christians is dwindling every year due to restrictive measures.
"We are noticing less Christian locals this year and large numbers of tourists, in addition to the even larger number of Israeli soldiers around the Christian sites, especially the Church of the Holy Sepulcher," Father Khader said. The church, built on what's believed to be the site where Jesus was crucified and resurrected, is one of Christianity's holiest sites.
"The permit system imposed by the Israeli authorities effectively controls the freedom of worship," Father Khader added. "It controls who can come to Jerusalem and in what numbers." Even those with permits might not be able to attend the festivities, he explained, saying there is a strict closure imposed on the Old City.
As part of the annual Easter processions, Christians walk the Via Dolorosa, or the "Way of Sorrows" — the path Jesus was forced to take to his crucifixion. For some, this walk — which is marked by 14 stations or stops — takes on a whole different meaning.
"The [path] resonates especially with Palestinian Christians," said Nora Carmi of Kairos, a Palestinian Christian activist movement. "The first station is the 'Nakba' or when the world decided not to recognize us as a people with a right to live on our land with freedom." The "Nakba," Arabic for catastrophe, refers to when hundreds of thousands of Palestinians fled or were driven out of their homes in 1948 by Zionist forces seeking to create the state of Israel in the land of historical Palestine.
In 1944, there were some 30,000 Christians living in Jerusalem's Old City, according to figures provided by the Palestine Liberation Organization's Negotiations Support Unit. Today that number does not exceed 11,000. These families are part of the 52,000 Christians living in the West Bank and Gaza Strip — which comprise only about 1.3 percent of the total population.
As access to holy sites becomes increasingly difficult, this year East Jerusalem residents and church groups filed a petition with Israel's High Court to ask authorities to ease the restrictions imposed upon them, such as roadblocks and barricades which Israel says are erected for the safety of pilgrims.
Israeli Police spokeswoman Luba Samri told Al Jazeera, "The police doesn't discriminate between foreigners and local residents. We are talking here about numbers, the police regulate this for the safety of people whether its local residents or foreigners."
The restrictions are not limited to Easter or other Christian holidays, but reflect a policy that contributes to declining Christian numbers, said former Palestinian ambassador Hind Khoury. "An Israeli identity is being imposed on the city that doesn't include Islamic and Christian elements," she said. "Israel is trying to politicize religion and to impose its legitimacy on all the Palestinian territories, especially Jerusalem, which represents the crux of the conflict."
Atallah Hanna, the Greek Orthodox Archbishop of Sebastia, an ancient village in the northern West Bank, echoed Ambassador Khoury's sentiments: "The [Israeli] occupation measures do not differentiate between Muslims and Christians, and between church and mosque. We are all targeted and we are all oppressed."
---
Christian pilgrims in Jerusalem find their path to the Via Dolorosa is an ever harder road

Palestinians from Gaza and the West Bank say police restrictions on access to the Old City to stop overcrowding are destroying their traditional freedom of worship in Holy Week
By Peter Beaumont in Jerusalem, Observer
April 20, 2014
The limestone stairs of the Nuns' Ascent are glassy-slick from the countless feet that have polished them. Descending steeply, they emerge by the Chapel Sanctuaries of the Flagellation and Condemnation on the Via Dolorosa, the start of the route which – tradition says – Christ took to his crucifixion.
On Good Friday, the stairs are packed with foreign pilgrims walking the Stations of the Cross. Among them is a large party from Serbia carrying crosses, who begin their jostling descent to join the milling crowds below. They slow down to pass an Israeli border police barrier on the stairs, one of a number along the route. It lets them pass without remark.

Orthodox Christian nuns stand trapped behind an Israeli police barrier in the Old City of Jerusalem, April 19, 2014. Photo by Ryan Rodrick Beiler/Activestills.org
The crowd on the steps thins momentarily. As it does, an elderly Palestinian man in a white headscarf descends stiffly. Alone among all the foreign pilgrims he is stopped, checked by the police and sent down another street. It is not clear if he is a resident of the Old City or even a Christian.


Israeli police restrict the movement of Christians in the Armenian Quarter of the Old City of Jerusalem while letting a Jewish man pass through, April 19, 2014. Photo by Ryan Rodrick Beiler/Activestills.org

It is an experience, however, familiar to many local Palestinian Christians in Holy Week – which culminates on Easter Sunday – especially those from towns and parishes of the Occupied Territories. Uniquely among would-be pilgrims, Palestinian Christians from the West Bank and Gaza are required to seek permission to travel to the Old City, a lottery in which it is never clear how many permits a family will receive, if any. Last week Christian leaders complained that – as in recent years – they had faced either obstruction from the Israeli authorities or a lack of travel permits preventing many from celebrating Easter in Jerusalem's Old City.
It is not only local Christian leaders who have been critical. A US state department report three years ago also highlighted the problems of Palestinian Christians in reaching key religious sites, a complaint reportedly echoed by a recent internal EU document.
On Saturday, Israeli police refused to let the UN's peace envoy to the Middle East, other diplomats and a crowd of Palestinians pass through a barricade. The UN envoy, Robert Serry, said he had waited with Italian, Norwegian and Dutch diplomats for up to half an hour, crushed against a barricade by a crowd, while Israeli officers ignored his appeals to speak with a superior. Israel dismissed the complaint, calling it an attempt to inflate a "micro-incident".
This year is doubly sensitive, because in just over a month Pope Francis will visit the Holy Land on his own pilgrimage, in which he will celebrate mass in Bethlehem on the West Bank – a fact that has refocused the spotlight on freedom of worship for Palestinian Christians.

Israeli police block the way to the Church of the Holy Sepulcher, April 19, 2014. The Israeli High Court of Justice ruled this month that Palestinians' rights are being violated by checkpoints and other restrictions that annually create obstacles to worship. Photo by Ryan Rodrick Beiler/Activestills.org

It is sensitive, too, because of a series of controversial incidents during last year's Holy Week. Then Orthodox worshippers complained of a heavy-handed Israeli police presence at the Holy Fire ceremony on Easter Saturday at the Church of the Holy Sepulchre, with many worshippers denied access. In a separate incident several Egyptian diplomats complained of being assaulted by police. All of which has served – say some Palestinian Christians – to discourage even some of those with permission to go to Jerusalem from attending the Easter celebrations.
On Wednesday of Holy Week, I meet Father Firas Aridah, priest of St Joseph's parish in Ramallah on the West Bank at the Latin patriarchate. "Jerusalem is the city of the Cross," he explains. "Christians want to come here during Holy Week. The Israeli authorities have said they are giving more permits this year to come from the West Bank, but the point is that Christians should be able to come here without permits. I've spoken to people in Bethlehem. Most say they still haven't received their permits, and among those who have, it is only a couple of members of the family. It may be those who don't have them now will get them one or two months later, as happened last year."
This year 20,000 permits have been issued by the Israeli authorities for the 50,000 Palestinian Christians, in a system Israel says is designed to prevent dangerous overcrowding and maintain security. Earlier this month, in a submission to a court case on policing of Easter events, Israel's police service reiterated that concern: "As every year, there will be roadblocks around the Church of the Holy Sepulchre and participants' entry will be supervised, to prevent a disaster."
While many accept the need to police religious events, what they challenge is how it is done, which many argue discriminates against Palestinian Christians. Palestinian church leaders last week questioned the reasons for the restrictions. Among them was the Orthodox archbishop Atallah Hanna, who criticised the Israeli authorities for imposing what he claimed were obstacles on Orthodox worshippers wishing to enter the Church of the Holy Sepulchre in Jerusalem.
The complaints about the difficulty of worshipping come as denominational leaders concede that Palestinian Christianity in the Old City, in particular, is in a continuing decline. In 1944 the Old City had some 30,000 Christians living within its walls. Today the Christian population of the whole city is now 11,000, with one estimate suggesting that within five years that number could drop by half.
Archbishop Fouad Twal, the Latin patriarch, last week blamed the decline of Christians from 20% to 2.5% on both demographics and exhaustion. "Christian families have fewer children and there is more emigration by those who can't face the situation here. And those who are leaving are the young people who don't see a future despite years of [peace] negotiations."
On Palm Sunday, he adds, there were people he was waiting to greet who never made it through. And they were not alone. Of the 10 Palestinian Scout bands who had planned to be in the Old City that Sunday, only five managed to arrive. And what many Palestinian Christians most fear is that their traditional connection with Jerusalem and its religious sites is being gradually eroded – not least in the last half a decade which has seen new police restrictions around the Holy Sepulchre on Easter Saturday.
Bassem Khoury is an Orthodox Christian, a pharmacist and former Palestinian economics minister. "Palestinian Christians have been celebrating their traditions in Jerusalem for hundreds of years," he said last week. "Over the past five years or so, however, there has been systematic abuse [of our freedom of worship]." That culminated controversially in last year's ceremony of Holy Fire, which, Orthodox Christians complain, saw many worshippers blocked from entering the Church of the Holy Sepulchre, leading Israel's supreme court this year to insist on unhindered access.
Khoury said that last year "there were more police than worshippers" for the Holy Fire, an eastern Christian ceremony on Easter Saturday that produces the flame which is then carried to parishes around the Orthodox world to mark Christ's resurrection. "Some of the police were smoking in the Holy Sepulchre. They should be more respectful in that place," Khoury said.
There is something more Christians fear is being lost – a tradition with meaning beyond the spiritual. Writing last week for the Independent Catholic News service, Rifat Kassis, a member of the Palestine Israel Ecumenical Forum, summed up that feeling. "As a little boy, I remember travelling to Jerusalem with my late father along the old road – a trip that took many hours due to the 'no-man's-zone' that forbade us from directly accessing the divided city.
"Despite the obstacles that existed even then, I remember going to Jerusalem as a deeply happy event. It meant eating the sweets we couldn't find in our village, and visiting the holy places we'd only heard about in school and church.
"When the first intifada broke out in 1987, Jerusalem was sealed off to those of us who lived in the so-called West Bank, and we had to obtain special permits in order to enter the city. Legally, visiting Jerusalem became impossible for me; because I was a past political prisoner, I was put on some kind of state blacklist, and so the Israeli authorities wouldn't grant me a permit.
"Since 2002, I have not returned to Jerusalem. My 29-year-old son, Dafer, has never visited it at all."
On Saturday, for the Holy Fire, a large section of the Old City was blocked off by barriers that sealed off the upper section of the Via Dolorosa and the Christian quarter. In a restaurant, two pilgrims – a German man and an Iraqi woman, resident in the US – sat wearily down to eat. "I came here for pilgrimage," the woman said with a mixture of sadness and anger, "and I haven't been able to see the Holy Sepulchre."
UN Special envoy Robert Serry, here in Simferapol:  Israeli police refused to let the U.N.'s peace envoy to the Middle East, other diplomats and a crowd of Palestinians pass through a barricade to attend a pre-Easter ritual in the Jerusalem church that Christians revere as the burial site of Jesus, the U.N. official said on Saturday, Reuters. Photo by Vasily Fedosenko
On Sunday morning it emerged that Israeli police had prevented the UN's peace envoy to the Middle East, Robert Serry, other diplomats and a crowd of Palestinians from attending the Holy Fire ceremony on Saturday.
Serry said in a statement Israeli security officers had stopped a group of Palestinian worshippers and diplomats in a procession near the church, "claiming they had orders to that effect".
Serry added in separate remarks to Reuters he had waited with Italian, Norwegian and Dutch diplomats for up to a half hour, crushed by a crowd against a barricade, while Israeli officers ignored his appeals to speak with a superior.
Serry accused the Israeli authorities of "unacceptable behaviour" and demanded in his statement that all parties "respect the right of religious freedom".
An Israeli foreign ministry spokesman rejected Serry's version of events and accused him of displaying "a serious problem of judgment".
---
Israeli police block U.N. envoy during procession with Palestinian Christians
By Greg Botelho and Kareem Khadder, CNN
April 20, 2014
Jerusalem — Israeli security forces halted Palestinian Christians — joined by a U.N. envoy — participating a pre-Easter procession Saturday in Jerusalem's Old City, an action the envoy sharply criticized but that an Israeli official dismissed as a "non-event."
Robert Serry, the U.N. special coordinator for the Middle East peace process, was among a large, tightly packed group trying to walk together on what is Holy Saturday on the Christian calendar. A woman yells out at one point, "They are preventing us from accessing our churches to pray."
Some time later, the people are stopped by security forces. Barricades are set up, only to be picked up and taken away. There's also some pushing and shoving before the scene eventually calms down.
The special coordinator's office explained that the group had intended to move from the area's New Gate to the Holy Sepulchre "at the invitation of the Palestinian Christian community in Jerusalem." It said the group had been earlier given "assurances … of unhindered access," only to have "the Israeli police refuse … to allow such entry claiming they had orders to that effect."
Serry expressed "dismay" over the incident, adding, "I call on all parties to respect the right of religious freedom, granting access to holy sites for worshippers of all faiths and refraining from provocations, not least during the religious holidays."
Yet Israel's government saw the matter in a different light.
Foreign Ministry spokesman Yigal Palmor — in a message retweeted by Israel Defense Forces spokesman Peter Lerner — said, "UN envoy #RobertSerry shows poor judgment in fabricating an incident out of a non-event, mishandling sensitive issue of religious freedom."
Palmor told the Jerusalem Post that police were acting to limit the number of those packed into the church and the narrow streets around it, dismissing what happened as "a micro-incident."
This incident is not Serry's first run-in with authorities: The U.N. envoy said he was threatened by armed men in Crimea, which broke away from Ukraine and joined Russia.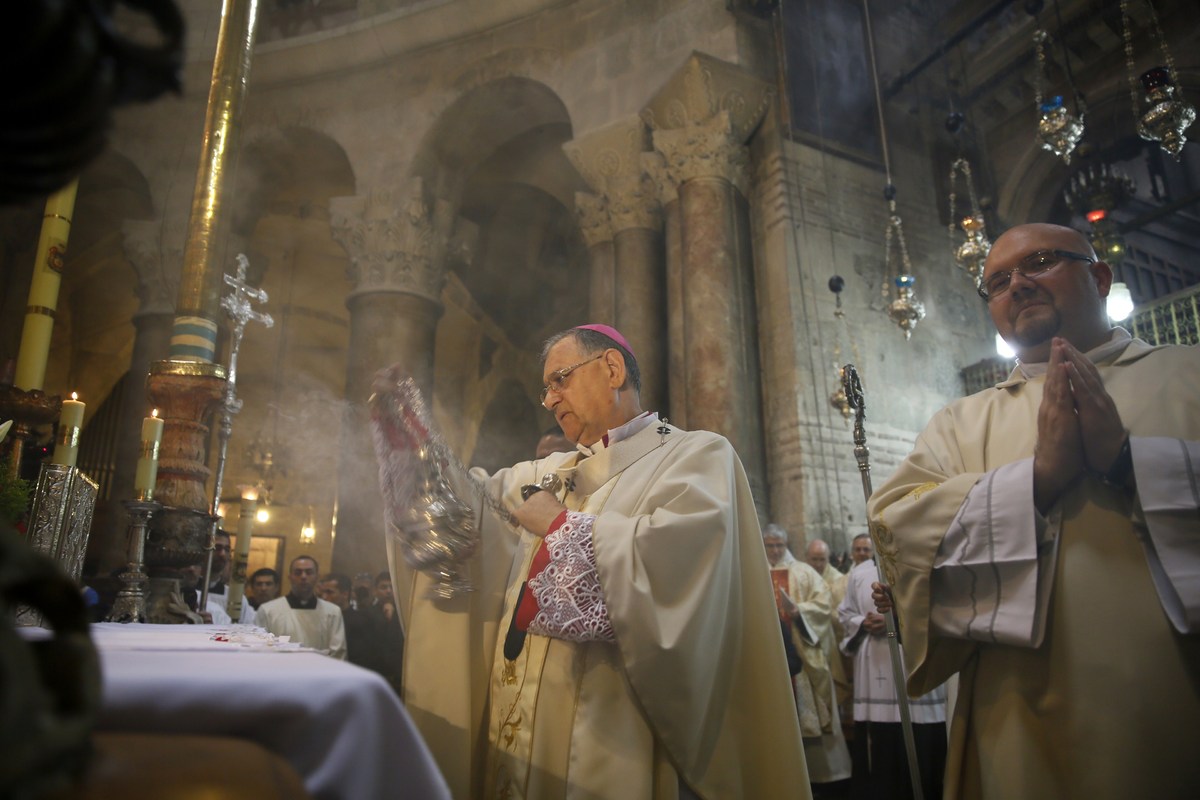 The Latin Patriarch of Jerusalem and Head of the Roman Catholic Church in the Holy Land, Fuad Twal, leads an Easter Sunday mass in the Church of Holy Sepulchre in Jerusalem's Old City on April 20, 2014. Thousands of Christian pilgrims thronged the Church of the Holy Sepulchre in Jerusalem's Old City amid tight security to celebrate Easter. Photo by Gali Tibbon/AFP/Getty Images.

Whatever its origins or conclusions, Saturday's ordeal did not prevent other activities in and around the Church of the Holy Sepulchre, which is where many Christians believe Jesus was buried and rose from the dead.
On Saturday, the church once again was home to the Holy Fire ceremony, including the sight of dozens of people holding candles or small torches.
CNN's Kareem Khadder reported from Jerusalem; Greg Botelho wrote and reported from Atlanta. CNN's Mohammed Tawfeeq contributed to this report.